Alsace is a region that checks all the boxes. It is a region that produces dry wines and sweet wines, sparkling wines and still wines, and while the majority is white wines, they also produce red wines and rosé sparkling wines, as well as small quantities of rosé and orange wines. The white wines are fresh and aromatic, and the red wines are elegant. With a respect for nature, Alsace is a leader in biodiversity and biodynamic farming. And Alsace is about authenticity with family-owned wineries, each with a different story.
Alsace is located in the northernmost part of France, on the eastern border near Germany. The smallest region in France, it is a long, narrow region that runs 115 miles north to south and only 25 miles east to west. That means it is almost four times longer than it is wider. There are 3812 winegrowers and 761 brands. Alsace does not feel like the rest of France. It has a different culture with a special dialect. And this small region has a rich history and diverse offerings.
Vine growing in Alsace dates back centuries. In 900, there were 160 vine growing areas and Alsace rivaled Bordeaux as the largest wine producing area in terms of quality and quantity. By 1400, there were 430 wine producing villages, but a 30-year war in the 1600s ravaged the villages and vineyards. In 1871, Alsace was annexed by Germany for the first time and the vines were wiped out by phylloxera. Alsace was annexed by Germany again in 1940. Alsace rejoined France in 1945 and in 1962, Alsace joined the French AOC system.
The wines of Alsace, as in Bordeaux and Burgundy, distinguish the best of the best vineyards as "Grand Cru" and there are 51 unique Grand Crus in Alsace. The first Grand Cru, the Schlossberg, was declared in 1972. In addition, there is the overarching AOC Alsace, which is usually followed by the name of the grape variety. And there is the AOC Crémant d'Alsace for the sparkling wine which was created in 1976. Crémant d'Alsace is the top AOC sparkling wine from France, after Champagne, and makes up over 25 percent of the wine produced in Alsace.
Alsace is home to quite a vast range of white wines. In fact, ninety percent of the wine production in Alsace is white wines. The primary white grape varieties are Sylvaner, Muscat d'Alsace, Pinot Blanc, Riesling, Pinot Gris, and Gewurztraminer. Only ten percent of the wine production is red wine and Pinot Noir is the primary red grape.
With such a range of white wine production, Alsace is a reference for white wines. All of the wines are fresh and structured. Riesling is the king, known for its freshness and structure; Gewurztraminer is known for its exuberance; Pinot Gris and Pinot Blanc are well-balanced.
Protected by the Vosges Mountain range, Alsace is a semi-continental climate. But, within the small region, there is huge geological diversity. On the mountain edges, the soils are granite, gneiss, schist, volcano-sedimentary, and sandstone. The Vosges foothills have limestone, calcareous sandstone, marly sandstone, marly limestone, marly clay, and marly calcareous sandstone soils. And the soils of the plains are alluvial, loess, and colluvial.
The diverse soils are reflected in the wines. Alluvial soils reflect the pure essence of the grape varietal. Granite and gneiss soils produce aromatic wines with fine acidity. Sandstone soils express the grape variety and help make lively wines. Limestone soils result in wines with lemony flavors with long acidity. Marly limestone yields full-bodied, well-structured wines with peppery notes. Marly clay produces coarse, almost tannic wines whereas schist results in svelte, austere wines and volcanic, sedimentary soils produce wines with body and smoky and briny notes.
In addition to the range of grape varieties and the diversity of soils, Alsace is a pioneer in France for organic and biodynamic farming. Thanks to the dry, windy climate, 19 percent of vineyards farm without chemicals and are certified organic or biodynamic.
If a trip to Alsace is not in your immediate future, then open a bottle of Alsatian wine and you will be transported there. Here are some suggested producers to seek out.
PRODUCERS
Domaine Zind-Humbrecht
Thirteen generations of Humbrechts have been growing grapes since the 17th century. In 1959, the combining of Humbrecht vineyards and Zind family vineyards resulted in the creation of Domaine Zind-Humbrecht. Certified organic in 1998, and certified biodynamic in 2002, the family has 100 acres spread across six communes.
Zind-Humbrecht Pinot Gris Calcaire 2018
A neutral grape that gets its flavor from vinification, the wine is fresh and savory with stone fruit and mineral notes. It is full-bodied with ripe acidity and a long, mouthwatering finish. The wine has a little spicy note on the end, as well as a delicate almond finish.
Dopff Au Moulin
Established in 1574, the Dopff family is also a thirteen-generation family winery that is run by Etienne-Arnaud Dopff. Owners of 173 acres, Dopff is one of the largest owners in Alsace, as well as pioneers of Crémant d'Alsace. Etienne's great grandfather was the first to do Method Champenoise in Alsace in 1900, after seeing it at the Paris Expo at the age of 17. He trained in Champagne and returned to Alsace with the intention to make bubble. Initially, he imported Champagne must to make Champagne but started to play with Alsatian grapes, concluding that grapes from the Pinot family worked best.
Dopff Au Moulin Alsace Grand Cru Schoenenbourg Riesling 2017
The Riesling is from Schoenenbourg, an Alsace Grand Cru vineyard, and has notes of pear, apple, lemon, minerals, and petroleum and linear acidity.
Domaine Sylvie Spielmann
Located in the center of Alsace, Sylvie Spielman took over her family winery in 1988. As a child, she always helped in the winery and the vineyard. She studied viticulture and worked in the U.S. and Australia before returning to Alsace in 1988 and taking over the family winery at the age of 23. In 1999, Sylvie began converting her 22 acres of vineyards to biodynamics, which includes 17 acres planted in the old gypsum quarry from which her ancestors once made plaster. After seven years of running the winery, Sylvie put her name on the label. In addition, she was one of the founders of DiVINes d'Alsace, an organization of women working in wine in Alsace.
Domaine Sylvie Spielmann Complantation Wine Gypsum Terroir Unique 2018
The Pinot Blanc is sourced from the old gypsum quarry with gypsum marls soils that increase the minerality in the wine. The grapes are fermented with indigenous yeasts and aged on the lees for 8 months resulting in a fresh wine with aromas of white fruits and flowers.
Domaine Allimant-Laugner
The Allimant and Laugner families have both been growing grapes for eleven generations, dating back to the seventeenth century. Mariette Allimant married René Laugner and in 1984, their son Hubert created Domaine Allimant-Laugner. Today the 30-acre family winery is run by Hubert and Francoise Laugner and their son Nicolas who joined the winery in 2013. Nicolas oversees the cellar, production, and marketing and is focused on collaborating with his neighbors to promote Alsace.
Domaine Allimant-Laugner Alsace Grand Cru Praelatenberg Gewurztraminer 2018
Nicolas Laugner explained that Praelatenberg is the only Grand Cru in Alsace with gneiss soils, resulting in a wine with beautiful aromatics of tropical notes and flowers.
Domaine Melanie Pfister
Domaine Pfister began in 1780 and before Melanie Pfister, the idea of a woman taking charge was unheard of. Her father, being the first-born son, had to take over the winery at the age of 15. But, when it came to his three daughters, he did not obligate any of them to take over. Melanie took over Domaine Pfister in 2008 after studying viticulture and completing various internships. Today she oversees 25 acres located in the north of Alsace, near Strasbourg. Being located in the north brings freshness to the wines and limestone soils give structure to the wines. Certified organic in 2021, Domaine Melanie Pfister is moving towards biodynamics.
Domaine Melanie Pfister Alsace Grand Cru Engelberg Riesling 2017
A pure, elegant fresh Riesling with citrus and apricot notes and full-bodied acidity.
Meyer-Fonné
Félix Meyer is the third generation in his family to be making wine. His grandfather founded the winery in the late 19th century and his father began bottling wines for local sales in 1963. Félix took over in 1992, modernized the winery, expanded vineyard holdings, and today the winery exports 60% of what they produce. After working organically for more than a decade, Meyer-Fonné was certified organic in 2020. Meyer-Fonné has 45 acres spread across five Grand Crus and three special appellations.
Meyer-Fonné Alsace Grand Cru Kaefferkopf Pinot Gris 2018
Kaefferkopf is one of Alsace's most famous Grands Crus with a history dating back to 1328. Clay and limestone soils result in a structured wine with notes of dried fruits and baking spices.
Dirler-Cadé
Jean Dirler is a 5th generation winemaker who in 2000 joined his family vineyards with his wife Ludivine Cadé's family vineyards, which date back to the 16th century. Today they have forty-five acres across four Grand Crus – Saering, Spiegel, Kessler and Kitterlé. In addition, the Domaine also has plantings in the 5 lieux-dits known as Belzbrunnen, Schwarzberg, Bux, Schimberg, and Bollenberg. Dirler has been practicing biodynamic farming for more than 20 years and only sulfur and homeopathic doses of 'horsetail' are used against disease and pests, and fertilizers are never used.
Dirler-Cadé Alsace Grand Cru Saering Riesling 2017
With pure aromas of minerals and citrus fruit, the wine is crisp and clean with a long juicy finish.
Mure
Siblings Veronique and Thomas Mure are the 12th generation in their family, who started making wine in 1650. Located in the south of Alsace, they have seventy acres all farmed biodynamically, including 25 acres in the monopole Clos St. Landelin which was the first parcel in the family. Veronique and Thomas share responsibilities and taste together every day, although he spends more time in the vineyard and cellar and she handles the commercial aspect. Veronique is also the president of Le DeVine d'Alsace which supports women working in production in Alsace.
Mure Vorbourg Clos Saint Landelin Riesling 2019
Sourced from terraced vineyards with clay and limestone soils, the Riesling has aromas of tangerine and spice, fresh acidity, and the bitterness of the citrus skin on the finish.
Agathe Bursin did not grow up in a family of winemakers. Her grandfather grew grapes that he sold to the cooperative and she remembers tasting the juice when she was very young. And as a child in school, she would draw pictures of tractors with grapes and knew she wanted to be a winemaker. Agathe studied in Burgundy and started making wine in Alsace with seven acres from her mother's family. Today Agathe has 17 acres consisting of calcareous and red stone soils that she farms organically.
Agathe Bursin Alsace Grand Cru Zinnkoepflé Riesling 2019
A full-bodied Riesling with notes of underripe apricot, the wine fills the mouth with bold acidity and has a lovely mineral and saline finish.
Bott-Geyl Domain
Continuing a family tradition that dates back to 1795, Jean Christophe Bott has been responsible for Domaine Bott-Geyl since 1993. A boutique family winery, Jean Christophe has 37 acres of vines across six Grand Cru vineyards. He converted the vineyards to organic in 2000 and then biodynamic in 2002. As a farmer, Jean Christophe aspires to produce wines with emotion and character that express the personality of the place.
Domaines Barmès-Buecher
Domaine Barmès-Buecher was founded in 1985 by Geneviève and Francois Barmès after combining land holdings from each of their families. The approximately 40 acres of vineyards were converted to biodynamic and certified in 2001. Today, Geneviève runs the winery with her daughter Sophie and son Maxime who bring a youthful energy to the winery. Domaines Barmès-Buecher is trying to bring a new image of wine tasting to Alsace, offering a relaxed environment filled with beautiful views and good music.
Domaine Schoffit
Located in the center of Alsace, Domaine Schoffit was started on an old vegetable farm by Robert Schoffit. Thirty years ago, his son Bernard Schoffit took over and acquired 16 acres of land in Rangen, the southern-most Grand Cru of Alsace, which has volcanic soils, steep slopes, and extremely low yields. Today Domaine Schoffit has a total of 42 acres and is producing intense wines with pure varietal character.
With such diverse terroir and a range of grape varieties, Alsace is a region to explore. Alsace is the place to find anything you want, from dry wine to sweet wine, from sparkling to still, to pair with everything from cheeses to fish and meat to spicy foods.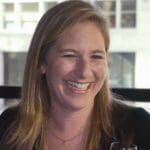 Allison Levine is the owner of Please The Palate, a boutique agency specializing in marketing and event planning for the wine and spirits industry. With over 15 years of experience in communications, marketing, and event planning, Allison is passionate about the world around her and the diverse people in it. Allison is a freelance writer and contributes to numerous publications, as well as her blog at www.pleasethepalate.com. She is the host of the podcast WineSoundtrack USA where she interviews winemakers and winery owners who share their stories, insights, and some humorous anecdotes. She also co-hosts a wine video series on YouTube called Crush On This. Allison holds a master's degree in International Communications with a focus on cross-cultural training from the American University School of International Service. She also holds a WSET Level 3 Certificate from the Wine & Spirits Education Trust (WSET) and is a member of the Circle of Wine Writers.