Up Close and Personal: Wine Tasting from your Living Room
Paso Robles, a California Central Coast town with cowboy roots, where the James brothers hid out from "the law," over the last 20 years has firmly established itself as a trendsetter in California's wine country.
Covid19 restrictions on travel, dining, and wine tasting make current wine travel adventures challenging, however, you can still taste Paso Roble's liquid gold up close and personal, meeting and being hosted by winemakers and wine educators….as you sip and enjoy.
So, put on your most comfortable shoes or slippers, your jeans, sweats, or jammies, sit back in your happy chair, invite family and friends to virtually join you, as you prepare to enjoy a personal wine tasting adventure. Convert your home office, family room, or kitchen table into a wine room for an hour.
Paso Robles winemakers have been creating fun, intimate wine tastings, with ZOOM technology. Following is a description of just a few of Paso Robles ZOOM wine tastings that await you.
One thing all these ZOOM experiences have in common: You will be tasting with the winemaker or knowledgeable wine ambassador, one on one. Explore the wines, learn about terroir, sip, relax and interact—this is YOUR private time to chat one on one—uninterrupted.
Please check websites for all details and winery information. Once you have booked your ZOOM tasting and received your wines, all you have to do is provide the glass, then sign-in online to ZOOM at your pre-arranged time-and experience the best of Paso Robles! Cheers!
LATE HARVESTERS
They were "late" in harvesting a winemaking career, having had unrelated first (second and even third) careers before plowing their way into the vineyards. But their experience, maturity, and passion for winemaking have contributed to the accolades making Paso Robles wine country what it is today.
MONOCHROME WINES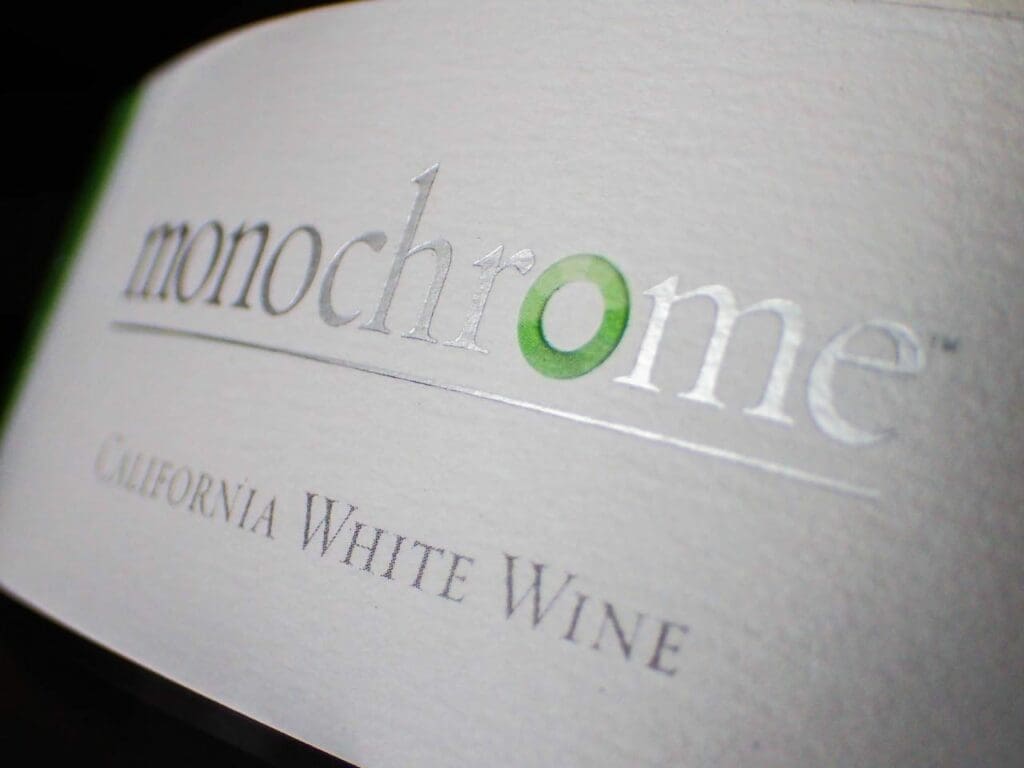 It's about the whites
Dave McGee isn't your typical rocket scientist. His multiple careers included radar design, stealth aircraft technology, in addition to being involved in sophisticated medical field technological innovation. Developing an interest in wine later in life, it was only "natural" for Dave to study, take extensive course work, become a winemakers apprentice, have a vision, and jump into a new profession as a winemaker in his late 40's!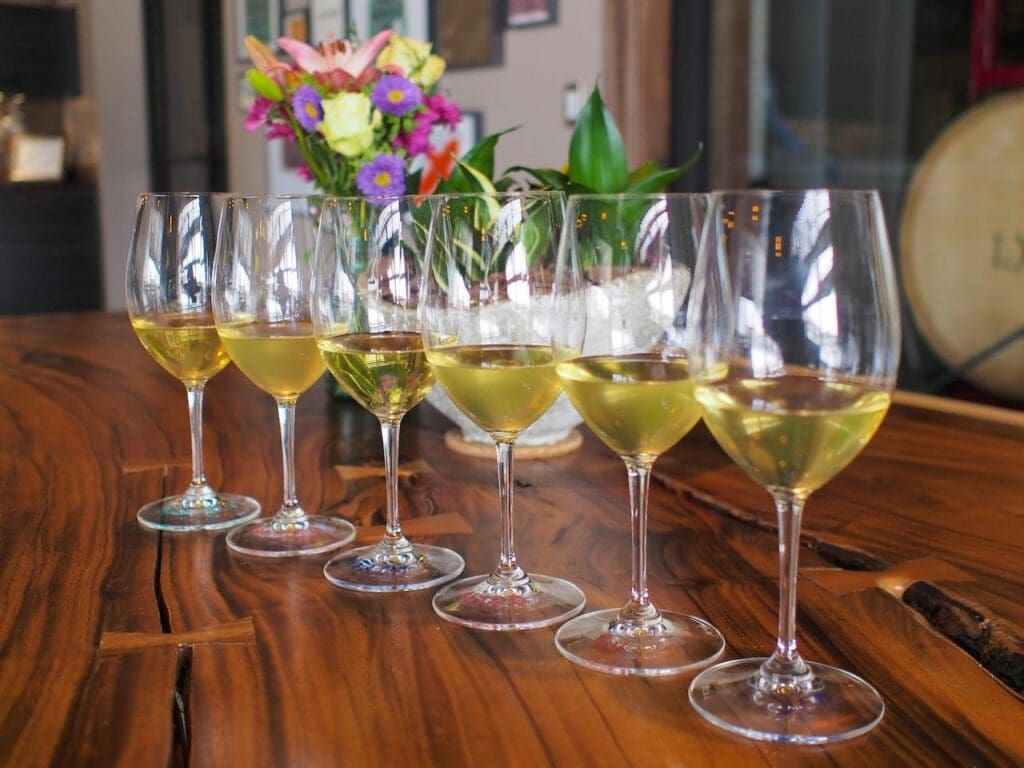 Being, a "mad" scientist, pushing the envelope and wanting to stand out from the crowd, led to Dave's winemaking philosophy: To produce and showcase ONLY white wines. He believes that white wines are just as complex, intricate, and enticing as their red counterparts, and has proven that to be so. To my knowledge, Monochrome is the only winery in the Paso Robles area producing an extensive selection of exclusively white wines.
Virtual tastings with Dave are easy. Go online, order his tasting kit (five 2 oz. bottles of 90+point wines), and sign up for a day and time. You and a friend, or several friends in different locations are in for a treat.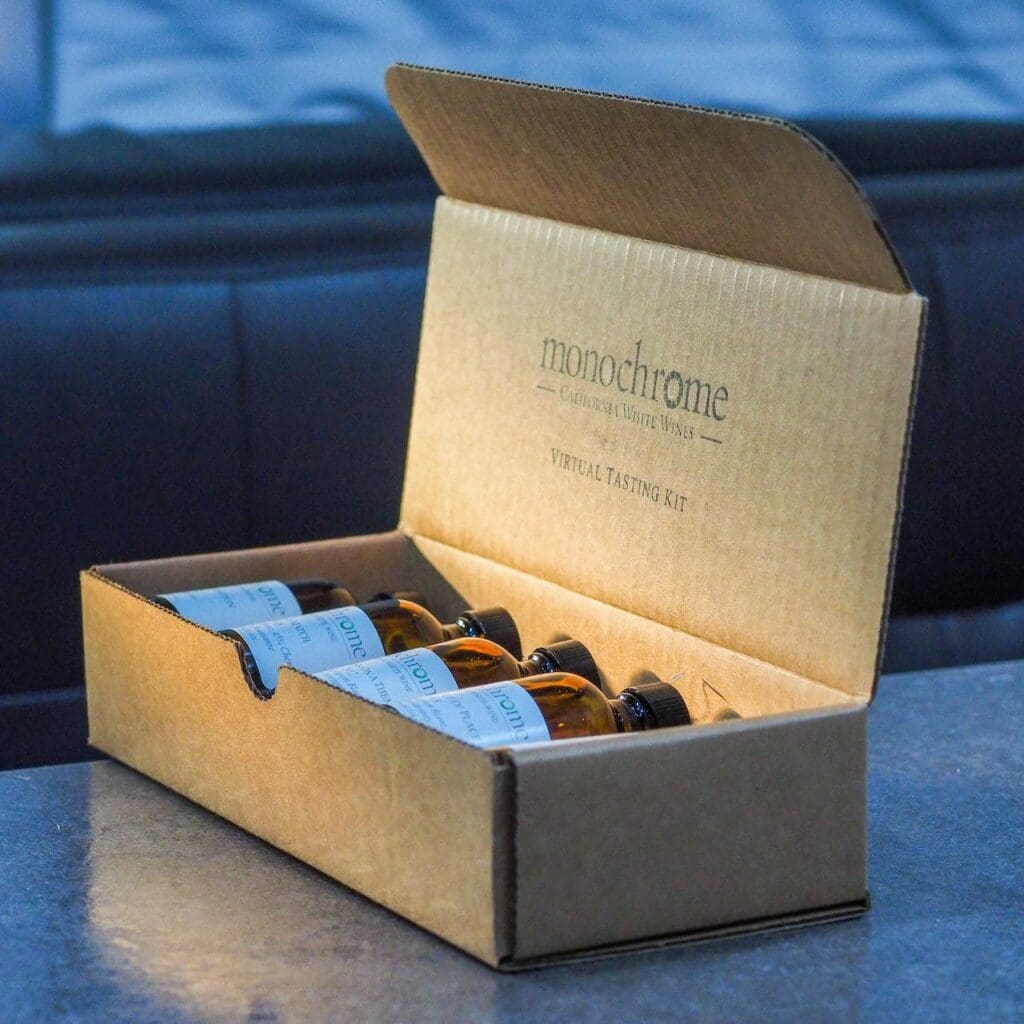 Spend 45 minutes to an hour sipping, chatting, and learning, just as you would in the tasting room, up close and personal with Dave McGee. Check out a Monochrome virtual tasting experience now—-and book it!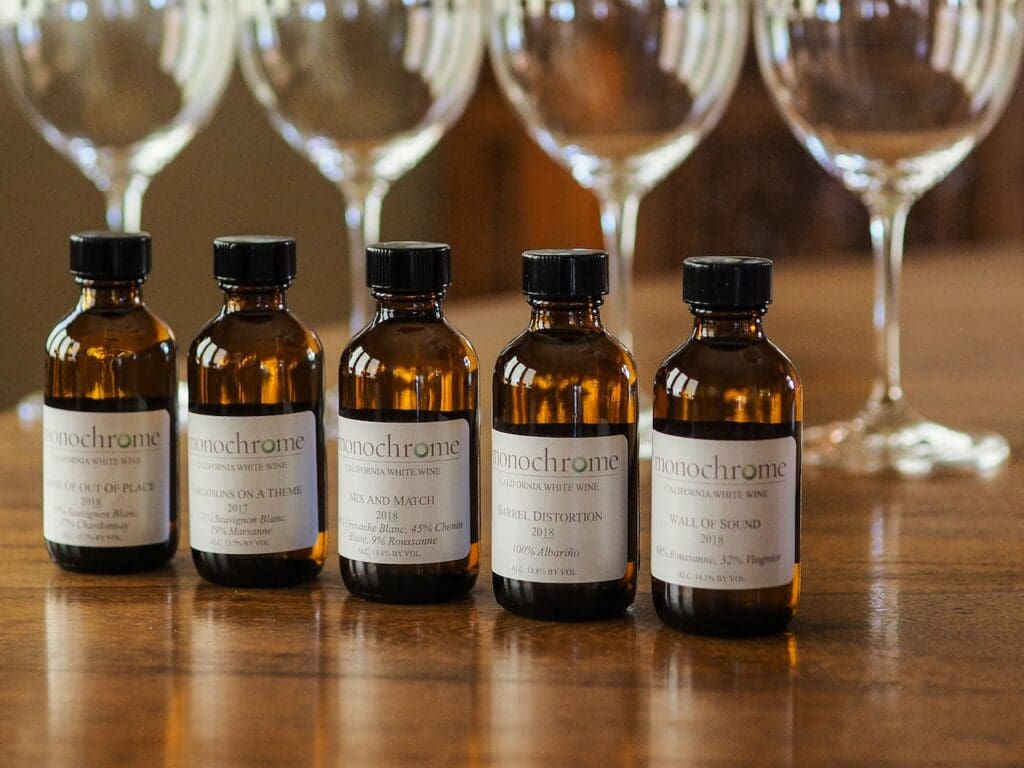 ALTA COLINA WINERY
Where Great Wines are Grown
Bob and Lynn Tillman are among a group of retired professionals who became winemakers in Paso Robles. After careers in science and engineering, retiring from Hewlett-Packard after 30 years, they moved to the Central Coast. They had been wine enthusiasts for decades, and while traveling with their family would explore wines and wine regions throughout the world. So, what better place to retire than to wine country?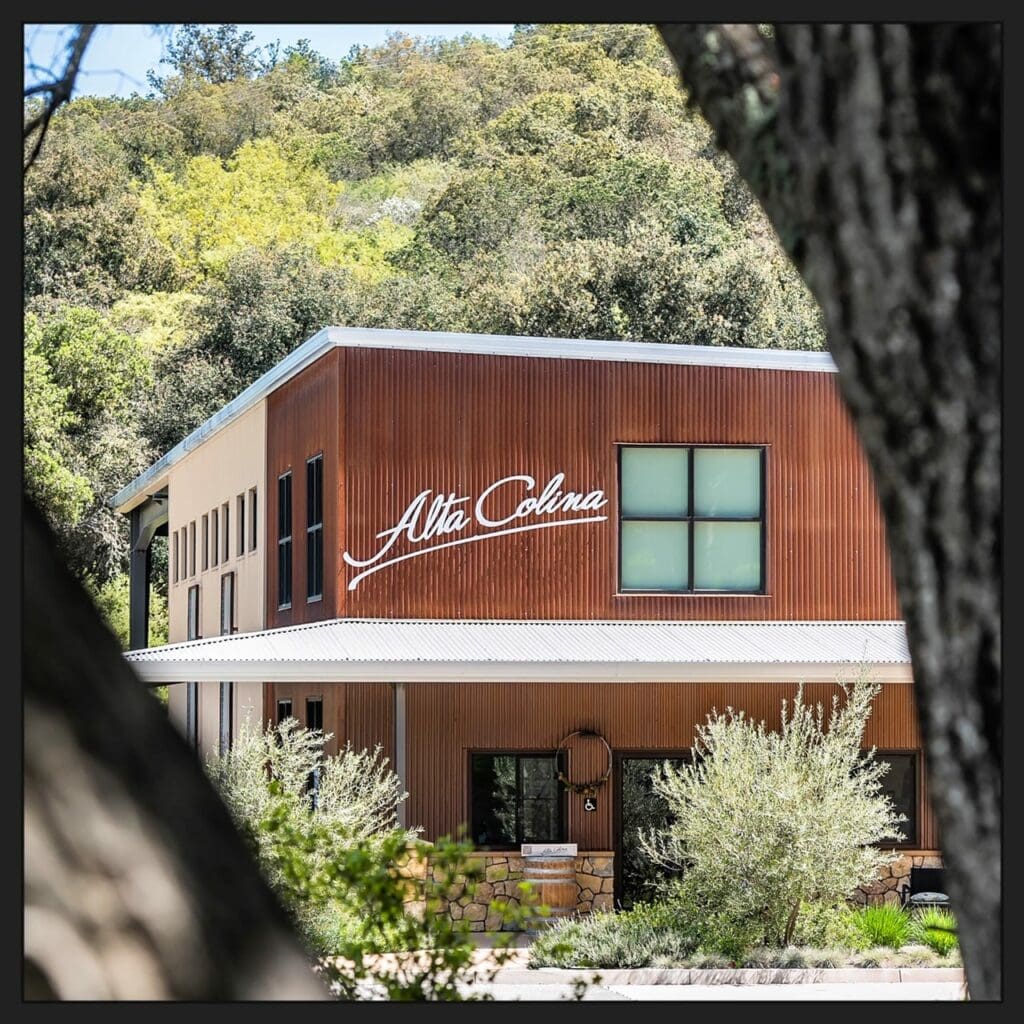 Moving to San Luis Obispo, the Tillman's made frequent trips to wineries in neighboring Paso Robles. Bob became immersed in studying wine and winemaking. He tasted, queried, learned about geology and how that affected growing and winemaking. Bob met with and learned all aspects of winemaking by working with early Paso wine pioneers, including Scott Hawley of Torrin Wines (who eventually mentored Bob). Becoming totally engrossed in the wine culture, they purchased land in Paso Robles in 2003, naming their vineyard Alta Colina (High Hill). Vines were planted, and Bob started growing wine.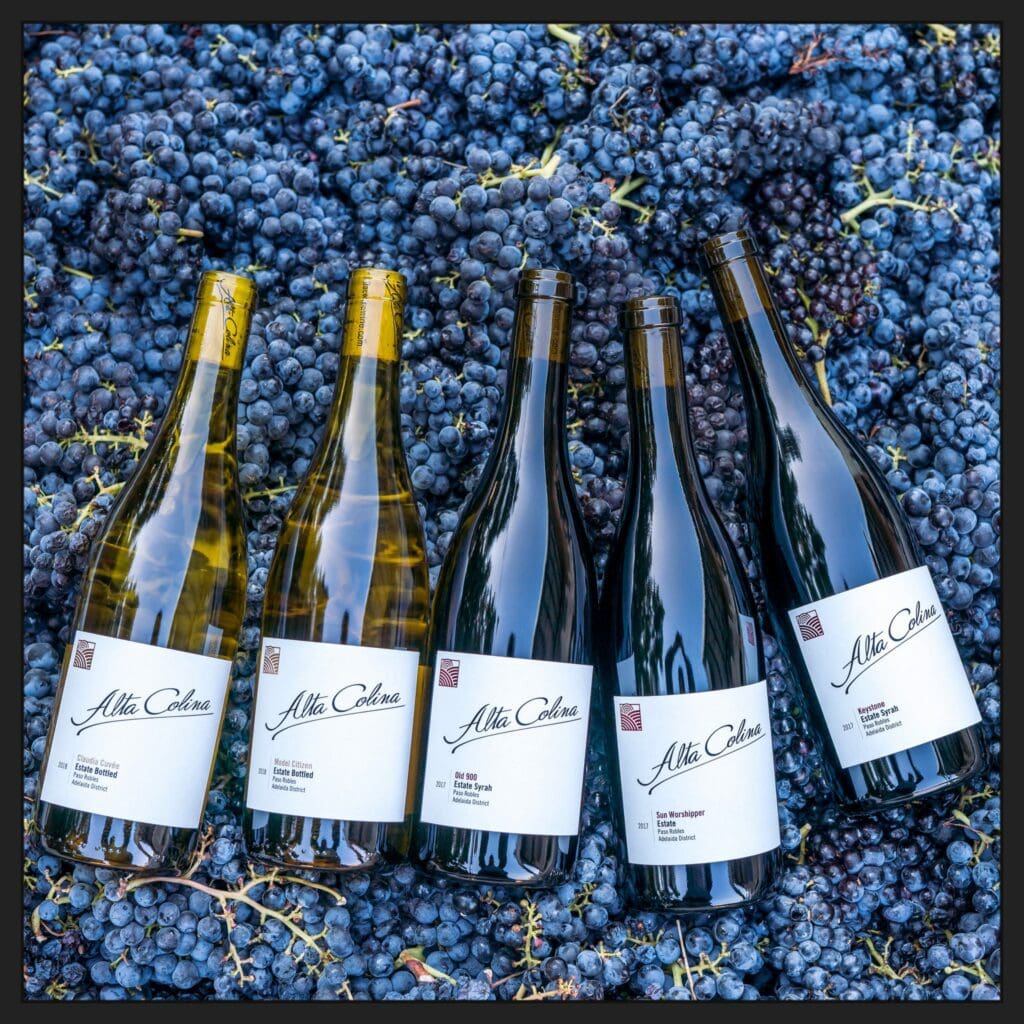 Alta Colina's first release was in 2007, a selection of estate Rhones. Accolades quickly followed, and this family winery (Bob, Lynn, their daughter Maggie, and the vineyard dog Honey) became part of a trendsetting group of boutique premium producers that has catapulted Paso Robles into a respected, cutting-edge California wine region.
A tasting with Alta Colina is a sensory experience. A personal vineyard tour with Bob is just mind-boggling, as he imparts his knowledge of geology, terroir, weather, and how that affects wine growing. Bob can pull a weed out of the ground, then point across the road and explain how, because of the slope and direction, vines and grapes will be different, just feet away. Best of all, he explains this in a way the novice can understand. Until personal tours can resume, Alta Colina offers two different wine tasting experiences.
SELF-GUIDED TO-GO VINEYARD TASTINGS: If you are in Paso Robles, do not deny yourself the opportunity to enjoy the outdoors on Alta Colina's Sundowner Deck (by reservation). You can relax and decompress in your own "private park," surrounded by vineyards and California Oaks, as you sip and enjoy the surrounding flora and fauna. Purchase a tasting kit, designed for a party of 4, which includes wine, glasses, and brief tasting notes for each wine. Then, book your private time to sip back and enjoy.
VIRTUAL TASTING: Taste, relax, and learn in the comfort of your own home. Once you purchase your tasting kit Alta Colina will contact you to arrange shipping and a one-hour ZOOM private tasting with either Melissa, Ivey, or Maggie. Learn about Alta Colina, their wines, the area, and the people. It's YOUR hour…so ask away! AND, because the wine assortment changes by the season, you'll want to put this on a regular schedule!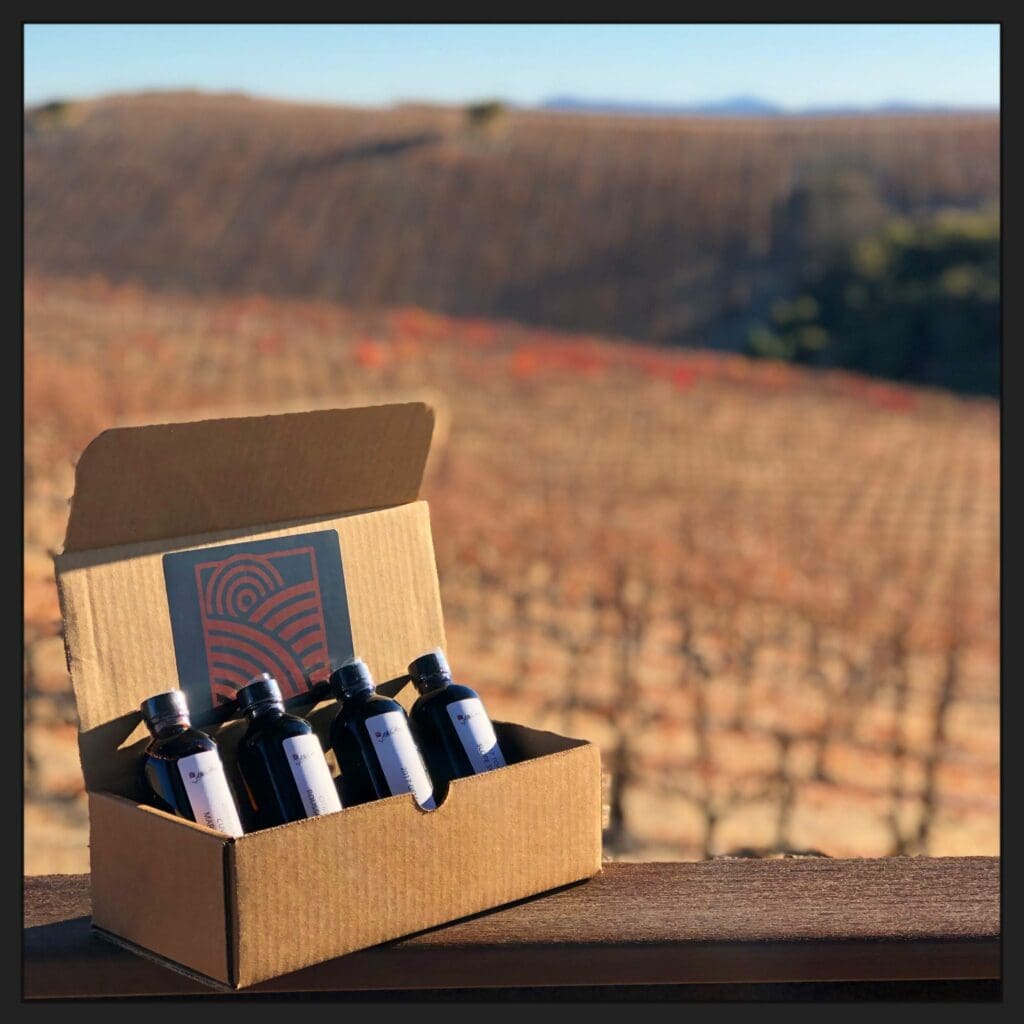 Enjoy elegant, highly regarded wines grown by Alta Colina….at the winery (when open again), on their deck surrounded by the bucolic landscape, or in the privacy of your home. For a complete description of ALTA COLINA…. visit their website: www.altacolinawine.com
CALIZA WINERY
From Wanna Be Rockstar to Rockstar Winemaker
Carl Bowker grew up in Hawaii and wanted to be a Rockstar one day. However, with his father being in the irrigation business, and Carl frequently accompanying his father on jobs, Carl was exposed to "dirt" from an early age. He also realized he didn't have a lot of musical talent but found a love of the earth.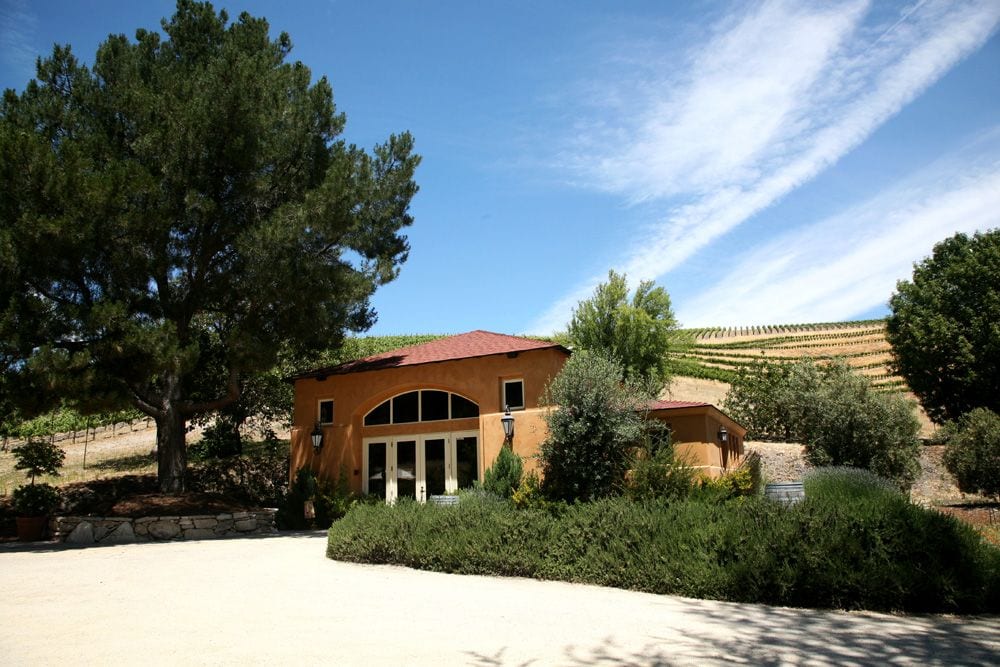 Following a successful corporate and entrepreneurial career (starting a national business renting flowers and plants to trade show exhibitors), it was after a 2001 trip to Europe that Carl decided to pursue his next adventure-that of the winemaker. Research, investigation, additional trips, and studies eventually led Carl and his wife Pamela to Paso Robles, purchasing acreage in 2005, and planting vines. Their initial release in 2008 of the 2006 Azimuth, Companion, and Syrah was enthusiastically received by wine lovers and wine professionals. Those same three blends today remain Caliza's most sought after wines, among the Caliza family of wines. Today Carl Bowker can be considered a "Rockstar" of the Central Coast, specializing in Rhone varietals (especially Syrah!).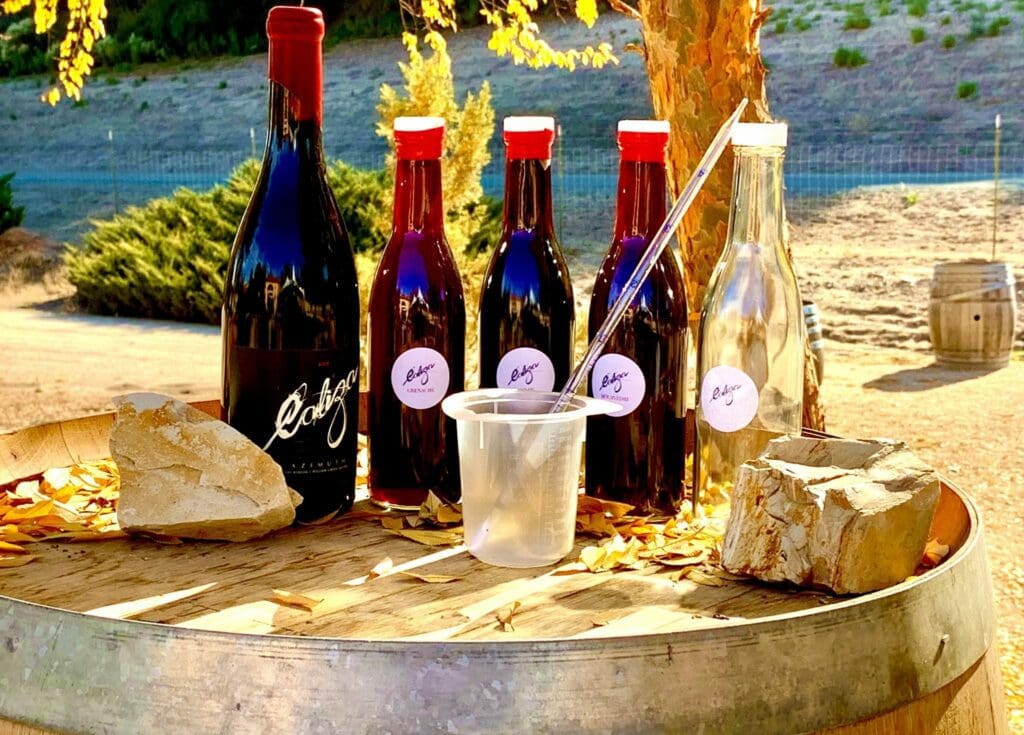 Virtual Tasting Experience: You don't have to make a trip to Paso Robles to sample Caliza's award-winning wines. Gather friends and family, virtually, of course, to meet and sip with Carl or one of his talented wine educators. You will have fun being guided through five current releases-learning about the grapes, terroir, and winemaking, in the comfort of your home. And, when you order your tasting kit, you have the option of adding on a specially selected artisan cheese pairing to enhance your wine tasting adventure.
Virtual Blending Experience: This deep dive adventure is designed for the more serious (and budding) potential winemaker in you.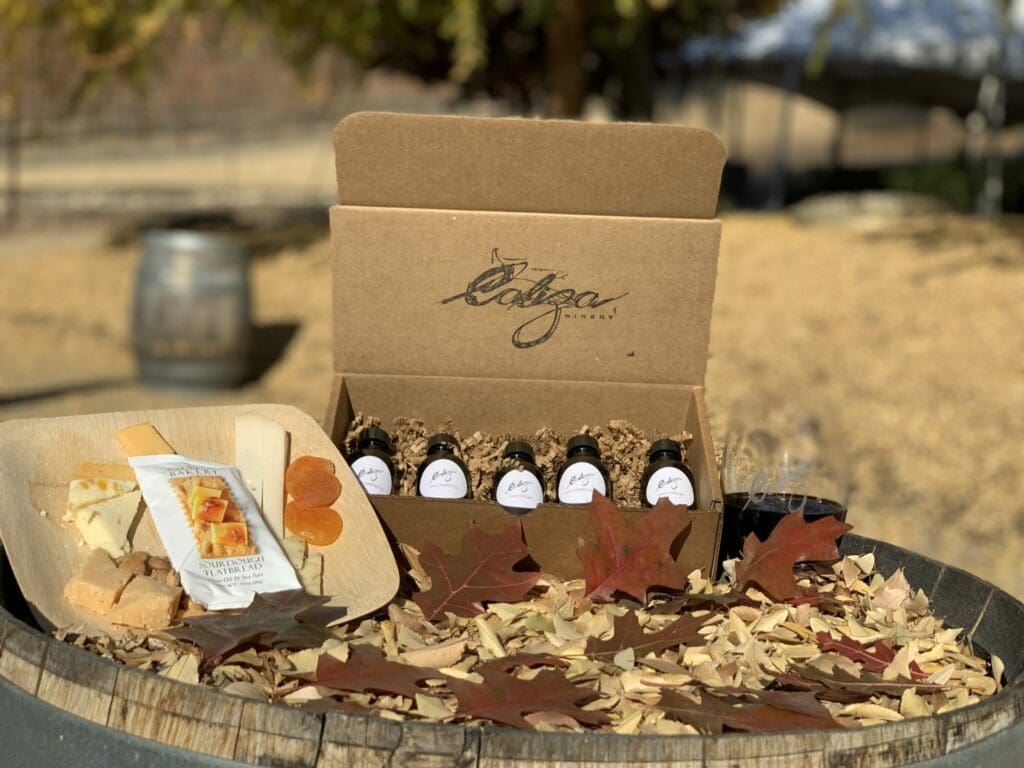 These small group meetings are conducted personally by Carl on a monthly** basis. Pre-purchase your kit, book your ZOOM, and join other like-minded curious, potential future winemakers. You'll have a blast as Carl answers questions, explaining what is involved in blending wine-as you experiment and try your hand at making your own blend.
The next blending experiences are:
Get all the information on Caliza's history, wines, and events—-and—until (or even after) we can all meet again personally…. sip, chat and relax with Caliza' s Carl Bowker.
There are many unique virtual experiences being offered from many of the over 200 wineries in Paso Robles. Check out some of the following links:
Paso Robles Virtual Experiences
In Part 2 you will meet the brothers Fabre-two brothers, bringing a six-generation love of wine from the Old World to the New World…….and have the opportunity to sip and learn about their wines, from the comfort of your living room.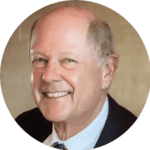 Don Sonderling is a freelance writer covering California's Wine Country lifestyle, and culture. He and his wife are constantly sipping their way from Santa Barbara to Napa, focusing on Paso Robles and the Central Coast, where they have explored for about 25 years. Don has earned his WSET2 (Wine and Spirits Education Trust) certification, has completed the Bourgogne Masterclass through the Napa Valley Wine Academy, and is a member of the LA. Wine Writers.
Focusing on the people and unique experiences to be had, Don's goal is to have people read about California's amazing wine country adventures, seeing it through his eyes, and say: "I want to go there, try that, meet them," and enrich the lives of others as his has been, by exploring California's wine roads.