Napa Valley, California is the crown jewel of wine regions in the United States, and perhaps in all of the New World. It is 35 miles long and 5 miles wide, but you might not think of downtown Napa as a place to wine taste. Urban tasting rooms are becoming more and more popular in commercial and downtown areas, as they provide accessibility and ease. No need to worry about 20 – 30 minute drives between tasting rooms! Over 50 tasting rooms reside in the few square blocks of downtown Napa.
The downtown area boasts luxury hotels such as the Archer and the Andaz, and the R Inn Napa, a modern take on a luxury hotel, well worth the stay. Restaurant and dining choices abound, including the ever-popular Oxbow Public Market. Many wine tasting rooms round out the downtown area, where you can find something for everyone to enjoy. From straight luxury and opulence, to natty wines and no pretense, downtown Napa has you covered.
For: The Luxury Lover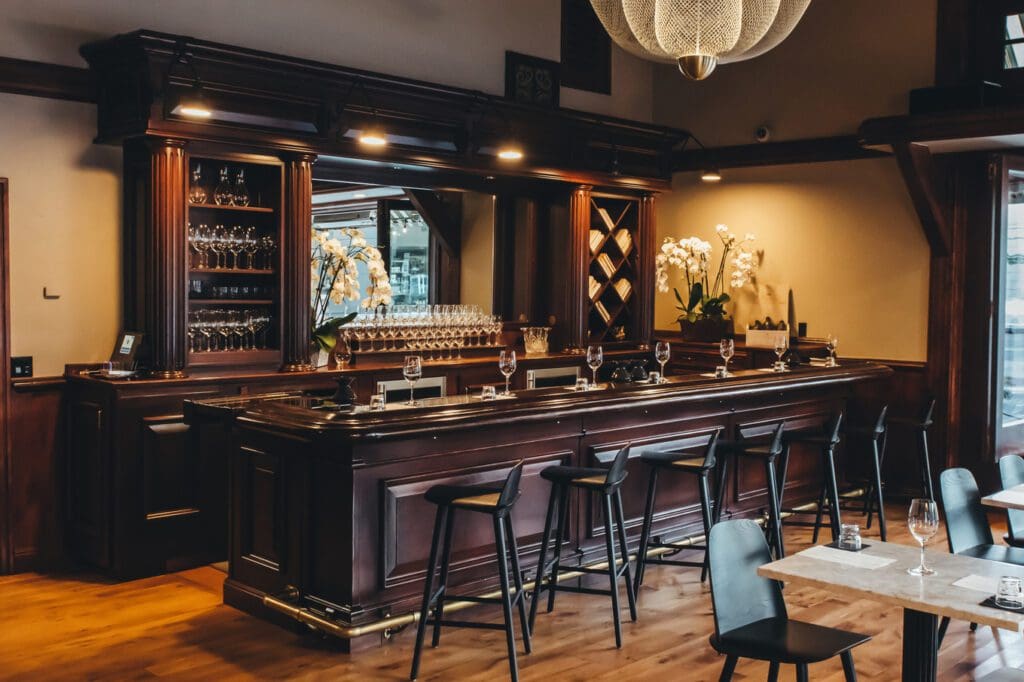 Highlighting wines from three distinct wineries owned by Robin and Michelle Baggett, the Alpha Omega Collective is a place to get a healthy dose of luxury from the dark cherrywood bar to the premium wine selections. Tastings range from $50-$100 per flight and showcase the Bordeaux-inspired wines from Alpha Omega in Napa Valley, Burgundian style wines from Tolosa on the San Luis Obispo Coast, and Mediterranean reds from Perinet in Spain's Priorat.
For: The Classicist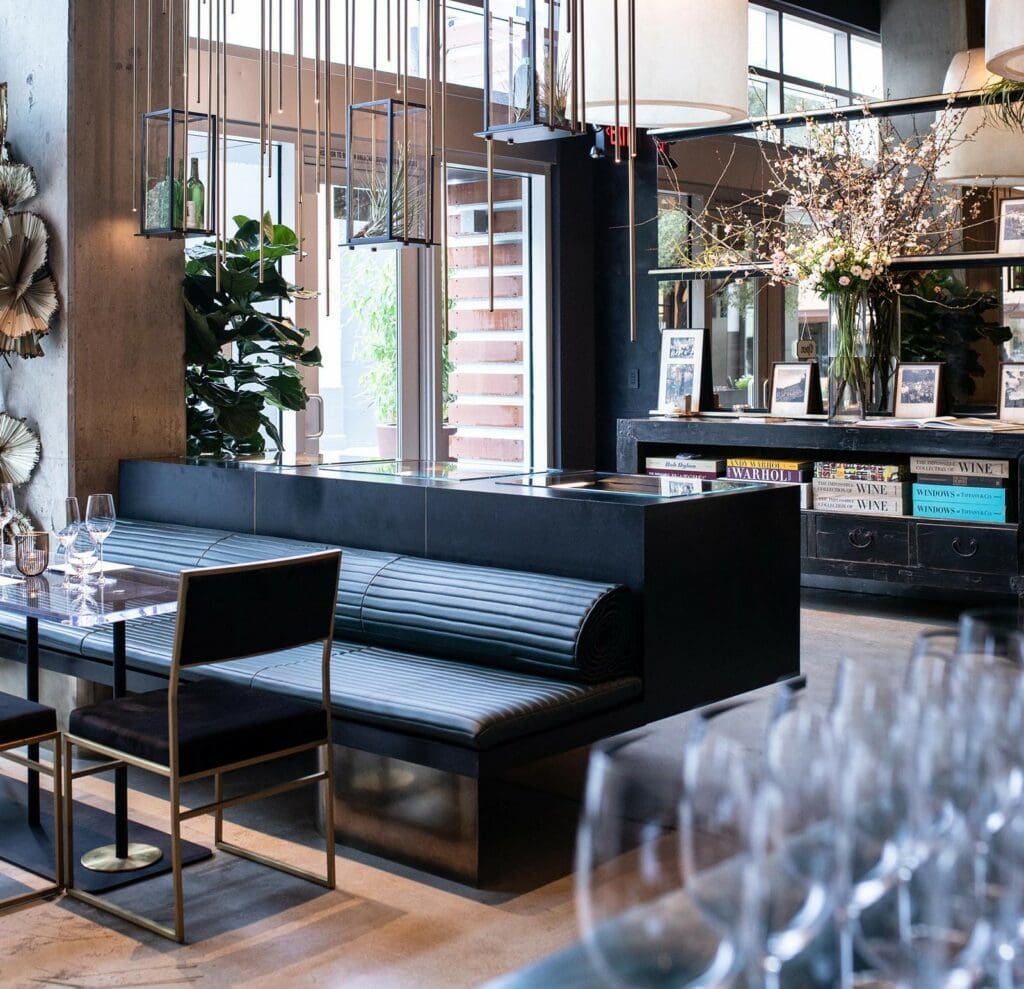 Founded in 1889, the Mayacamas estate near the summit of Mount Veeder is one of the oldest and most storied vineyards and wineries in Napa Valley. They have been making wines since the 1950s, with a focus on classic Cabernet Sauvignon, Chardonnay, and Merlot. The tasting room features a classic setting with collectible coffee table books, dramatic design elements, and local cheeses to pair with the wine flights. Tastings range from $35-$85 per person.
For: The Millennial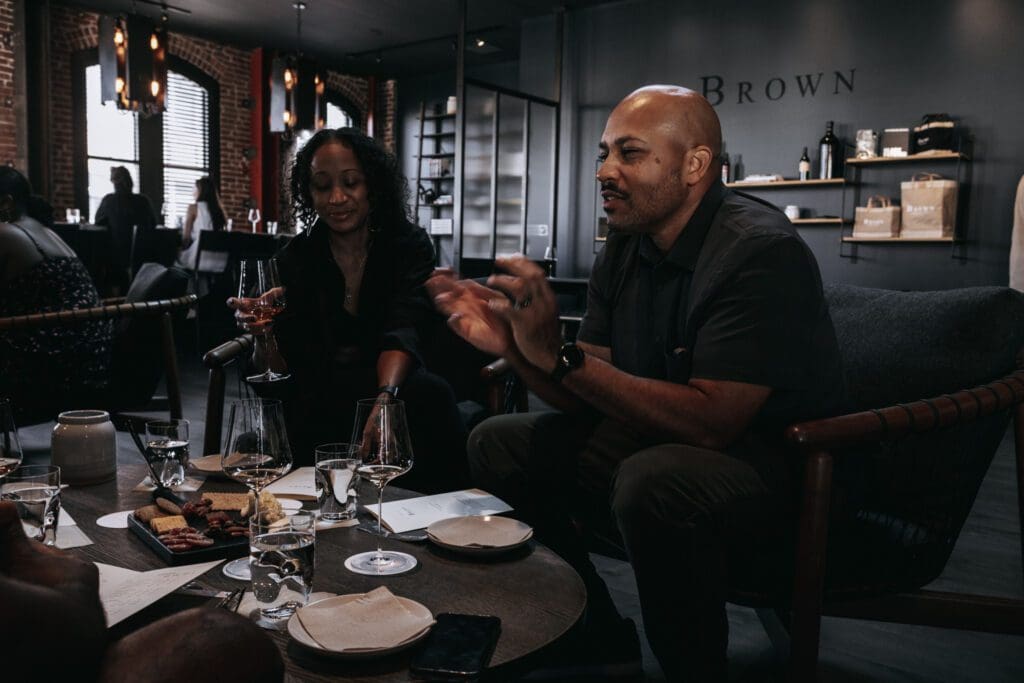 One of the few Black-owned wineries in Napa Valley, Brown Estate is a family affair. Today the second generation is at the helm with siblings Deneen, David, and Coral Brown. Brown Estate is a sleek, modern, and gorgeous place to taste in downtown Napa. Grab a few friends and don't forget to try their flagship Zinfandel wines when you visit.
For: The Familial Vibe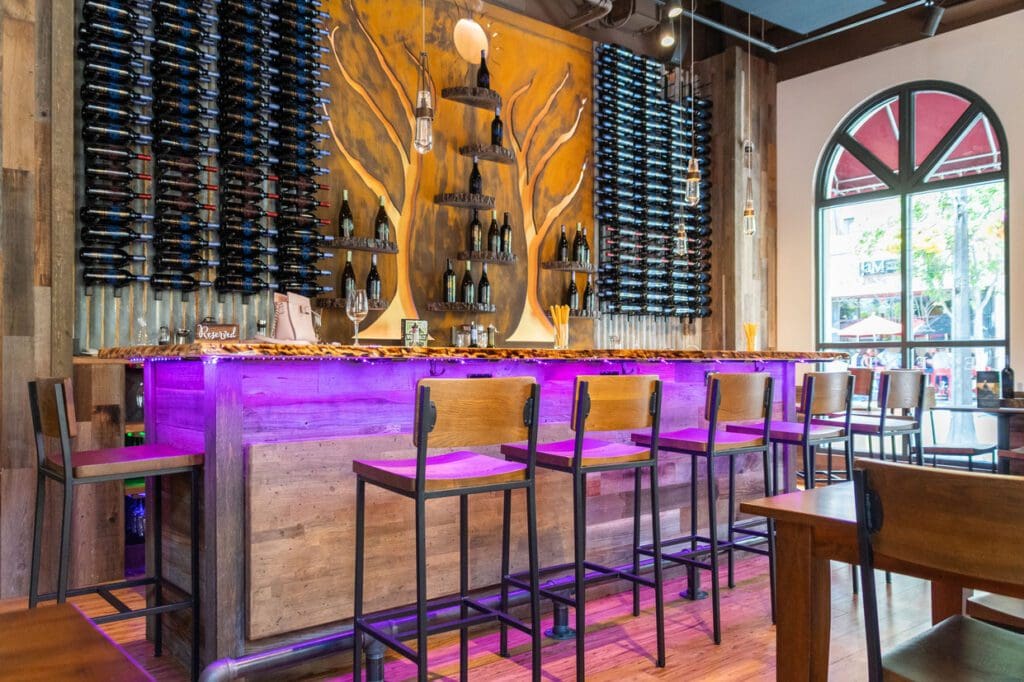 Founded by James Gianulias and his son David, the Levendi Winery tasting room gives a laid-back and comfortable familial vibe when you walk in. "Levendi," is the word used in a Greek toast to celebrate the good life, a hard day's work and achievement. Alison Doran, a UC Davis grad who credits Andre Tchelistcheff as her mentor, makes Levendi wines with international varietals in their intense and concentrated house style. A flight of wines runs $40 per person.
For: The Contrarian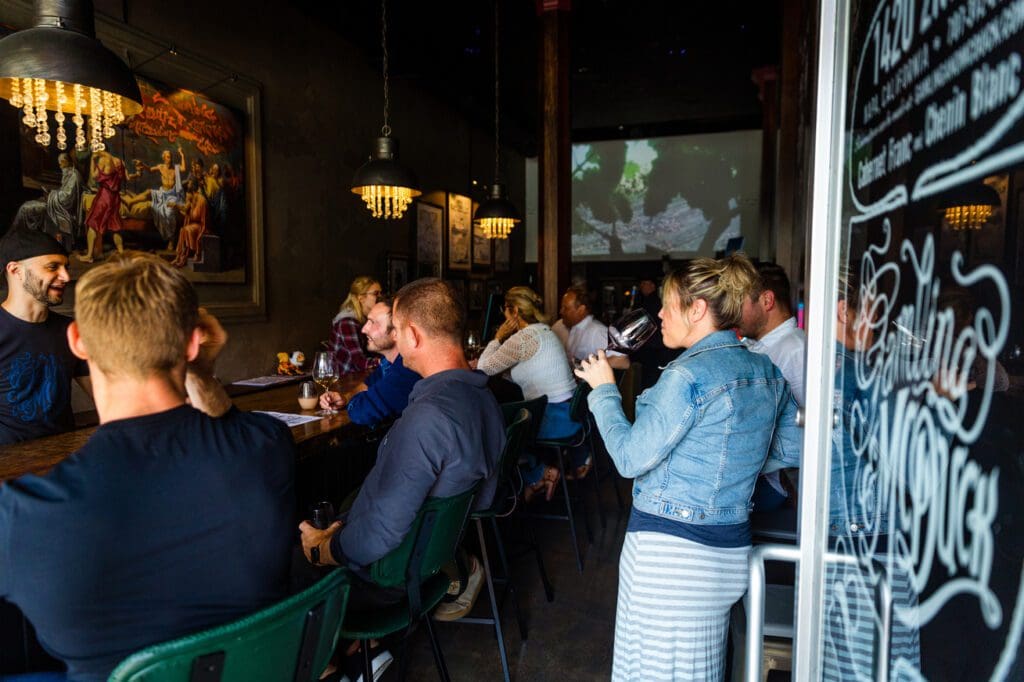 I present to you a Napa tasting room that serves no Cabernet Sauvignon. <insert clutched pearls>. Adam McClary takes what they do seriously, but Gamling & McDuck doesn't take themselves too seriously. Case in point: Adam drew a comic book that lives on the walls of the tasting room, alongside an image of the Blade Runner dragon. At Gamling & McDuck you'll find wines made in the natural style (they believe in more farming and less winemaking). Grapes are sourced from all over California with a focus on Chenin Blanc and Cabernet Franc. A tasting of 5 wines runs $35 per person.
For: The Laid-Back Taster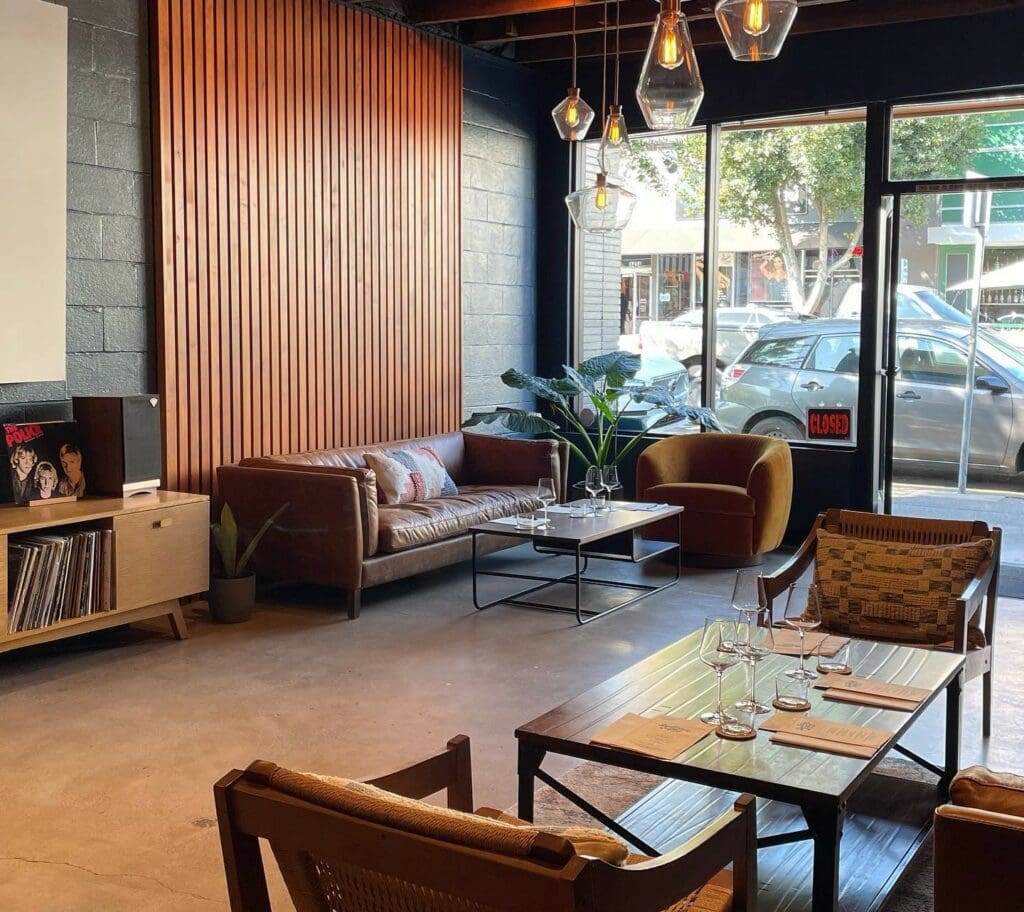 The newly opened Benevolent Neglect tasting room is NOT for the "Napa Classic" taster. Ben Brenner sources grapes from all over the Central and Northern Coasts of California. Their wines are low intervention in style, including sparkling and skin contact wines. They have a Vermentino and a rosé on draft and, don't fret, you can get a Cabernet Sauvignon as well. The tasting room vibe is chill and loungey. And the name "benevolent neglect" comes from vine stress so desired in the vineyard. A flight of 5 wines runs $35. No extra charge for the tunes played on vinyl.
For: The Art Lover
With a focus on estate-grown Cabernet Sauvignon and Sauvignon Blanc from their Atlas Peak vineyards, Acumen is top quality all the way. Not only do you visit the tasting room to enjoy a flight of wines (starting at $60 per person), but you can also enjoy (and buy) artwork from both emerging and established artists. The current exhibit features urban artists from the Bay Area, with proceeds from all sales helping to raise funds and awareness for Ukraine.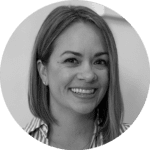 Brianne Cohen is the principal in a lifestyle brand and business based out of Los Angeles. She has been producing events and weddings for over 10 years in Los Angeles and San Francisco. To complement the event and wedding arm of her business, she added her love of wine and offers her services as a wine educator, writer, and consultant to inspire people of all ages. Since COVID hit, Brianne has educated and entertained hundreds of people through her "Virtual Vino" online wine classes, both public and private. Brianne regularly judges at the International Wine & Spirits Competition and the International Wine Challenge in London. She also completed the entire curriculum with the Wine & Spirits Education Trust and traveled to London in January 2019 in order to receive her Diploma certificate, which is one of the most coveted and difficult wine certifications. She also holds a Master of Business Administration from Loyola Marymount University and currently blogs at www.BrianneCohen.com.