Dinner parties can be intimidating to some, but they really couldn't be any easier to throw together. All you really need is some form of a salad and a delicious braised piece of meat in a rich and decadent sauce. For this dinner party, I decided to purchase everything that I would need at my favorite quaint Italian market which I've been frequenting since I was an infant. My mother and father would bring me in and as soon as we stepped through the doors the pungent aroma of aged provolone that was hanging from the walls hit my face. It was incredible. An older gentleman named Ross would greet us with that incredible warm hospitality that the Italians have perfected. He would slink behind the butcher counter and run a large hunk of prosciutto through the meat slicer and hand me the thin slice of cured meat while remarking "for you Bella."
This may have been the moment I fell in love with food. I was two. It's those precious food moments that I've experienced ranging from passionate butchers or Italian market owners that I try to translate through my cooking. It was only fitting that I bought most of my ingredients and wine from the man who gave me one of my earliest food memories, especially since I had decided to go with an all Italian menu.
Burrata with Roasted Pepper Salad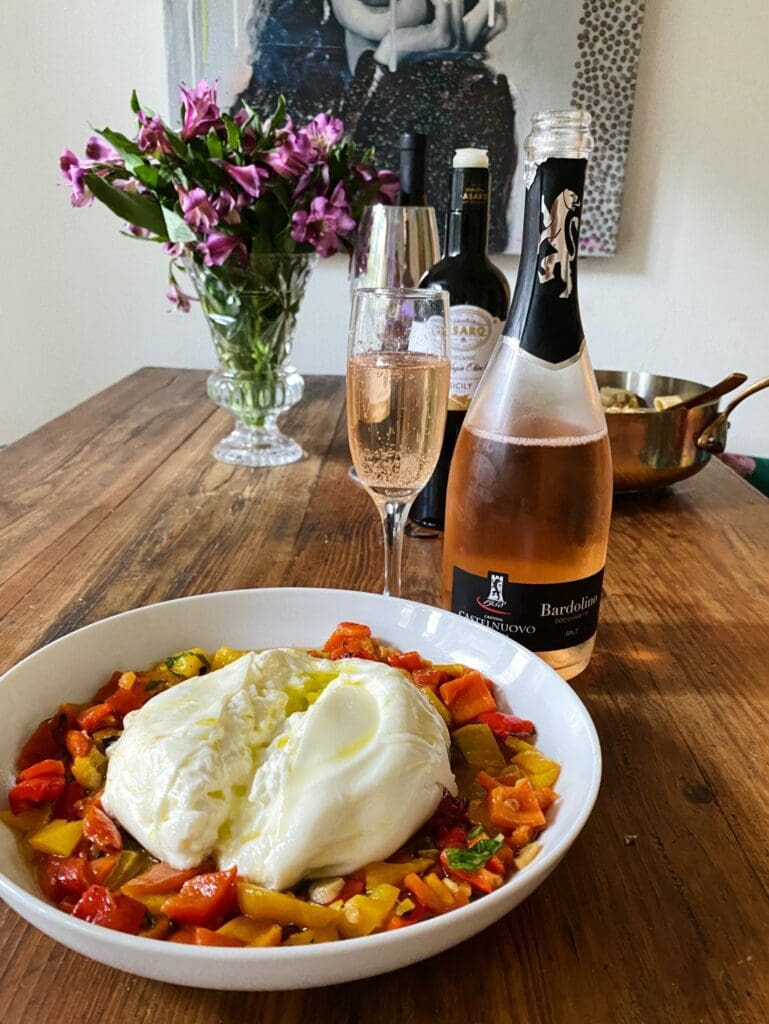 Ingredients:
1 big ball of burrata
2 red bell peppers
2 yellow bell peppers
1 tbsp chopped basil
1 tbsp olive oil
3 garlic cloves roughly chopped
1 tsp sherry vinegar
1 tsp salt
Directions:
First, roast your peppers by placing them directly on a gas burner and turning the flame on. Let them char on each side, turning them over with long tongs. Once each side is completely charred and softened, allow them to cool. If you don't have a gas burner you can place them on a sheet tray and roast them in the oven at 400 degrees for 30 min.
Once the peppers have cooled, peel them by rubbing the charred skin off with your fingers. Small dice the peppers and transfer them to a large mixing bowl.
Using a medium saucepan, heat the olive oil until it starts to sizzle. Add the garlic until it turns golden brown and take it off the heat. Pour the hot garlic-infused olive oil over the peppers and add the sherry vinegar, basil, and salt. Mix well,l place in the fridge, and allow all the salad to marinate for at least 2-3 hours.
30 min before you serve the salad, take the burrata out of the fridge allowing it to warm up slightly. Transfer the roasted pepper salad to a serving bowl and place the burrata on top. Gently crack the burrata open and drizzle high-quality olive oil over it and a sprinkle of salt. If you are coursing this out, I would suggest serving this with toasted bread.
Wine pairing: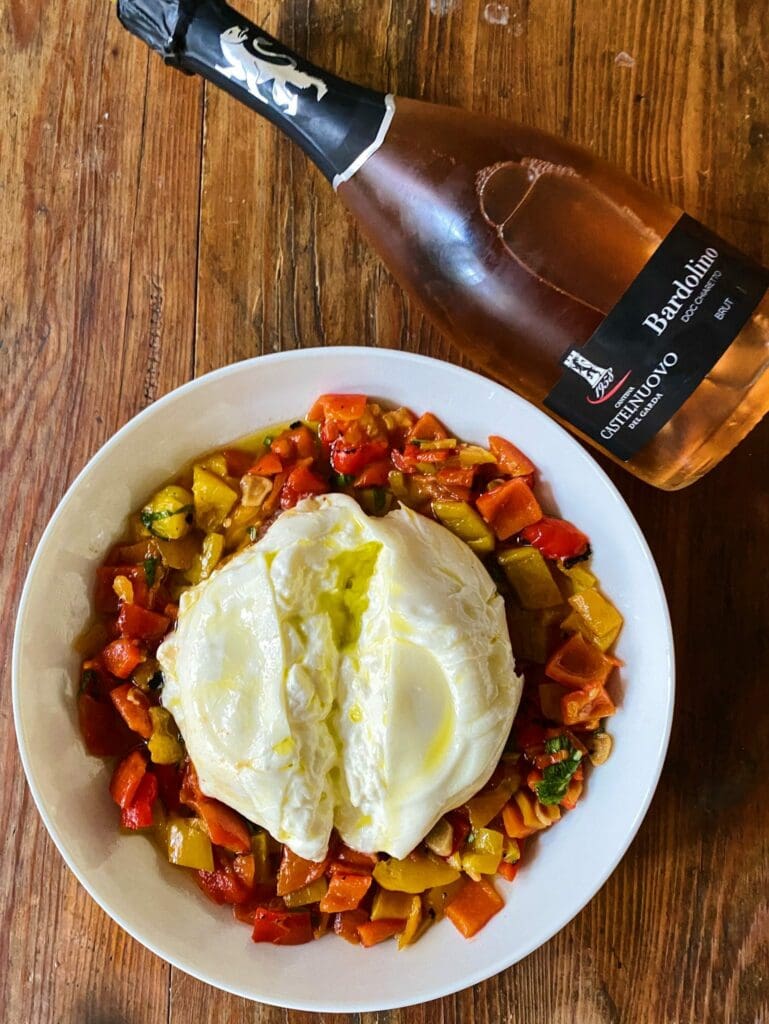 Castelnuovo del Garda
Bardolino
DOC Chiaretto Brut
For the first course, I paired my burrata and roasted pepper salad with a sparkling rose' wine from Bardolino made from the grape Corvina. This wine is zesty, fruit-forward, and high in acid. Works great with the creamy rich burrata that needs some acid to cut through that richness.
Sausage, Pea, and Pecorino Pasta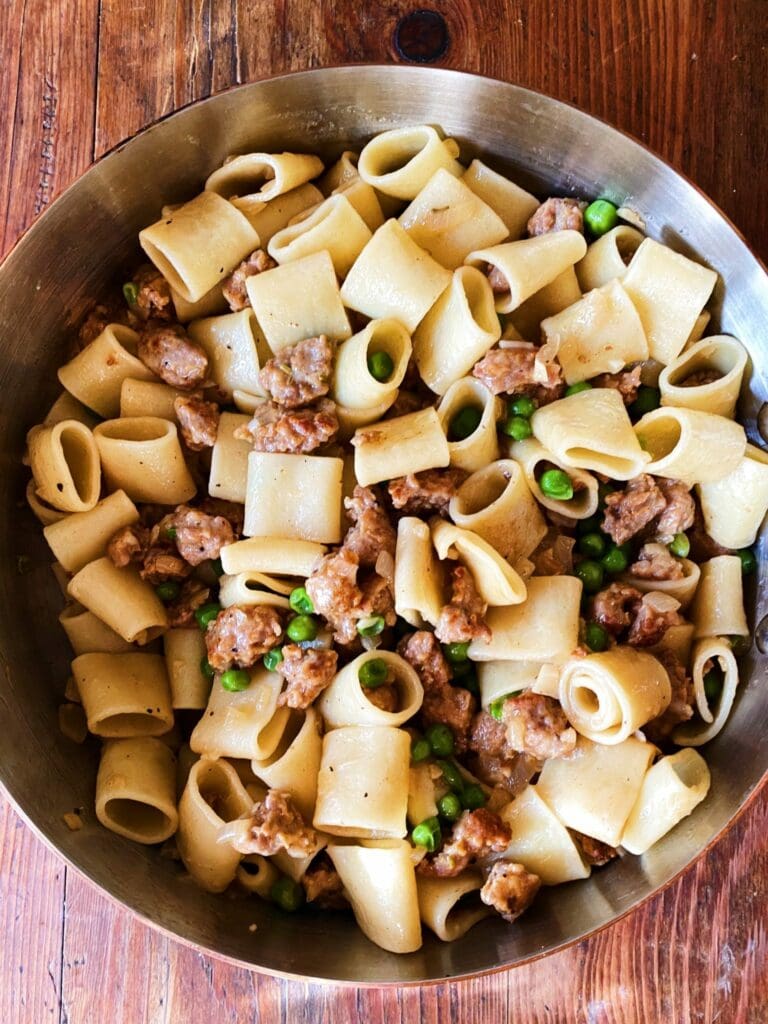 Ingredients:
1 box of either penne, tubbetone, or rigatoni
1 pound of sweet italian sausage (taken out of its casing)
1 cup frozen peas
2 tbsp butter
2 tbsp grated pecorino
¼ cup of chicken stock
¼ cup of white wine
1 tbsp olive oil
2 shallots sliced
3 garlic cloves minced
1 tsp salt
Directions:
Bring a large pot of salted water to a boil (it should taste as salty as the sea) .While you are waiting for the water to boil, you can start on your sauce. Once the water does boil, add your peas and cook for 5-8 min. Fish them out with a strainer, and save the water to use for cooking your pasta. Once your pasta is cooked make sure to save ½ cup of water.
In a large saucepan, add the olive oil and cook the italian sausage on medium high heat. Crumble the sausage by firmly pressing down on it with a wooden spoon. You want to get the sausage into as small of pieces as possible. Once the sausage is almost fully cooked, transfer to a plate and save for later.
Using the same pan on medium heat, add a tbsp of butter and saute the shallots and garlic. Once the shallots have softened, add your sausage back in along with the chicken stock and white wine. Turn the heat to high letting the liquid reduce. Once there is a tbsp of liquid left, mix in a tbsp of butter.
Lower the heat to medium and add your cooked peas and cooked pasta and give everything a good stir, mixing in the pasta water. Cook until the sauce is thick enough to coat the back of a spoon. Add the grated pecorino and mix well. If you have a nice sauce pan, serve the pasta out of it.
Wine Pairing: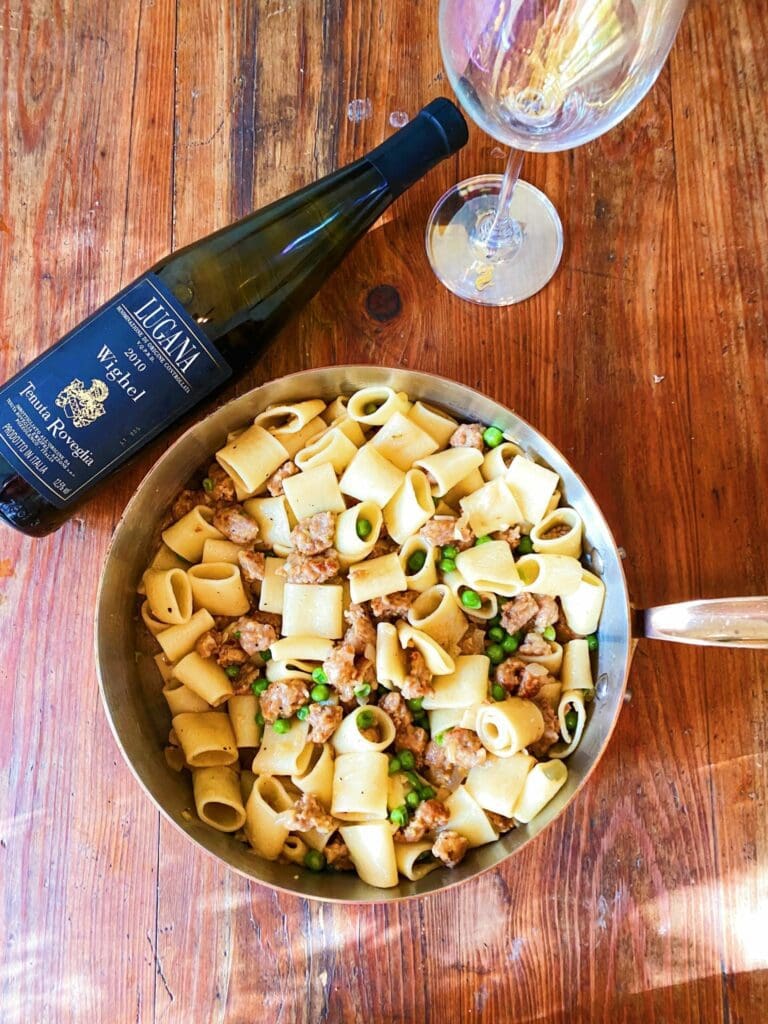 Tenuta Roveglia
Lugana
Wighel
2010
For the second course, I went with a really special white wine from Lugana, Lombardy. This wine was aged for 10 years, really deepening and concentrating its flavor. The when has tropical notes on the palate redolent of mango, pineapple with a heavy dose of almond. I chose to pair this wine with the sausage and pea pasta because the heavy body of the wine goes so well with the pasta that has a lot of body itself. The concentrated fruit notes in the wine complement the sweet Italian sausage perfectly.
Braised Lamb Shanks in Tomato Sauce With Polenta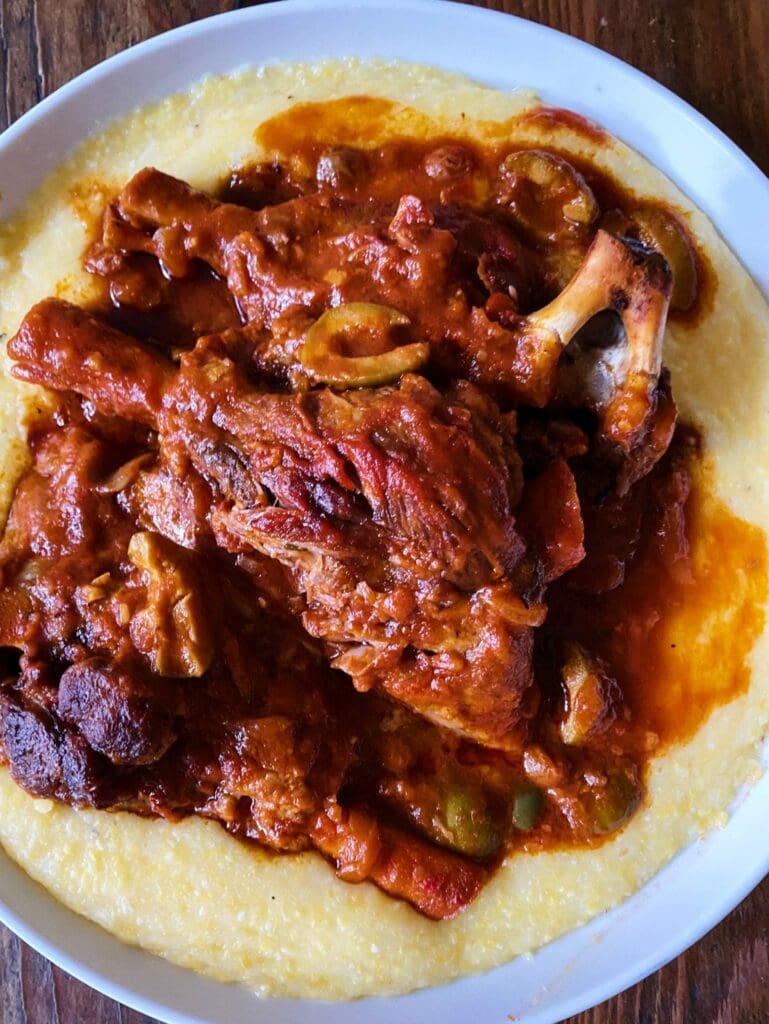 Ingredients:
2 lbs of lamb shanks
¼ cup of flour
1 tsp salt
1 tsp pepper
¼ cup of grapeseed oil
1 yellow onion diced
2 garlic cloves
1 cup of tomato puree
2 tbsp olive oil
¼ cup of red wine
2 cups of beef stock
1/2 cup of green pitted olives cut in half
¼ cup golden yellow raisins
1 tsp calabrian chilies
¼ tsp cinnamon
Polenta
1 cup of cornmeal
2 cups of water
1 tsp salt
3 tbsp grated pecorino
2 tbsp butter
Directions:
Preheat the oven to 300 degrees.
In a large mixing bowl, add the flour salt and pepper. Mix well and add your lamb shanks making sure they are evenly coated in the seasoned flour.
Turn the heat to high and sear your lamb shanks until every side is golden brown. Take them out of the dutch oven and turn down the heat. Add your yellow onion and garlic and cook until softened. Turn the heat to high and add your red wine, letting it reduce to a tbsp. Add your tomato puree, beef stock, green olives, salt, cinnamon, and calabrian chilies. Nestle the lamb shanks back in the sauce and let the sauce simmer for 20-30 letting the sauce reduce by ½.
Once the sauce has reduced, place a lid on the dutch oven and pop it in the oven for 3 hours or until the meat is falling off the bone.
To make the polenta, add the water and salt to a sauce pot and bring to a boil. Whisk in the cornmeal and lower the heat to low, so that it is barely simmering. Keep an eye on it and add more water if necessary. The polenta should take only 30 min to cook and once it's fully cooked and has a porridge consistency, mix in the butter and pecorino and add salt to taste.
Spoon the polenta in a large shallow bowl and top with the braised lamb shanks and a generous spoonful of the sauce.
Wine Pairing: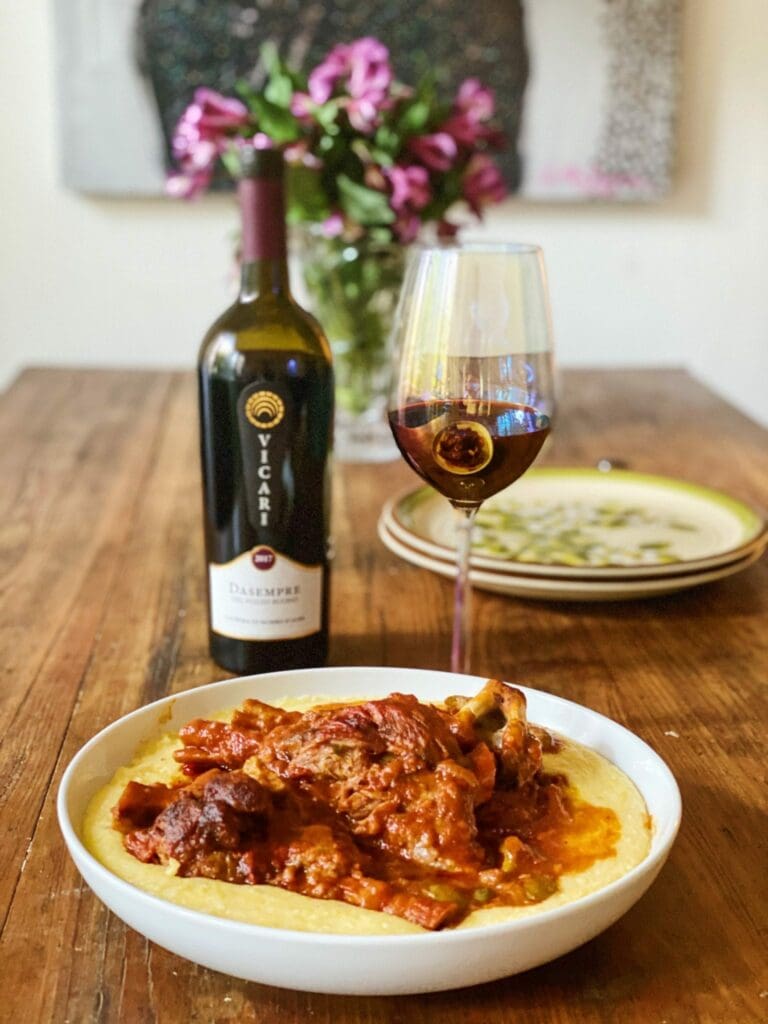 Vicari
Lacrima di Morro d'Alba
2017
Last but certainly not least, I chose a red wine made from the Lacrima grape to pair with the slow-braised lamb shanks in tomato sauce. This wine hails from the Marche region of Italy and is a medium-bodied wine with a fair amount of acidity. The tannins aren't overt but still present. Lamb always wants to pair up with a red wine since it's such a flavorful and gamey meaty that needs a wine that can stand up to it. The Lacrima does this beautifully while lending powerful notes of wild herbs, licorice, and black cherry.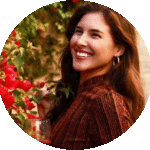 It was while attending The Culinary Institute of America that Lucia first fell in love with wine and wine pairings. To Lucia, food and wine are completely synonymous and the fact that wine can make food taste even better, is pure magic! Some of her favorite pairings include Montrachet with lobster and grower champagne with fries. You can find her pairing her recipes with her favorites wines on her successful instagram @lucilovesfood.