For special nights, my hubby and I like to order top notch takeout to enjoy at home and hearken to a fine dining experience. I do love a restaurant, but there is something to staying at home in your comfy clothes, putting on some great TV, and having the good food come to you!
Being in the wine business, I have a pretty extensive collection of wine at home. Pairing these wines with takeout is a blast. Enjoy this series as we pair exquisite wines with delectable takeout that takes it up a notch! Today we explore pizza.
Pizza is perhaps the original, classic American takeout cuisine. I am a child of the 80s and I can't tell you how many Friday nights we ordered good 'ol Domino's or Pizza Hut and the family piled on the couch to watch TGIF.
I honestly don't think I tried good, quality pizza until I was an adult. You know, true wood-fired pizza where you can almost taste the flame on the bottom of the crust. Living in Los Angeles, I am spoiled AF, and can literally order any cuisine to my doorstep. It's quite amazing if you think about it. This Halloween I spent the night in. We watched Hocus Pocus, ordered a pie, and drank a bottle of bubbles. A great night in my book.
The Pizza
Pizzeria Da Michele was founded in Naples in 1870. This is the pizza spot people travel to Naples for, sometimes waiting hours for a taste of their famous pizza. L'Antica Pizzeria da Michele arrived in Los Angeles spring 2019. The first U.S. location of the historic Da Michele pizzeria featured in the film Eat Pray Love, L'Antica Pizzeria da Michele serves traditional Neapolitan pizza, using the same recipes and importing the same ingredients used at its original restaurant in Naples.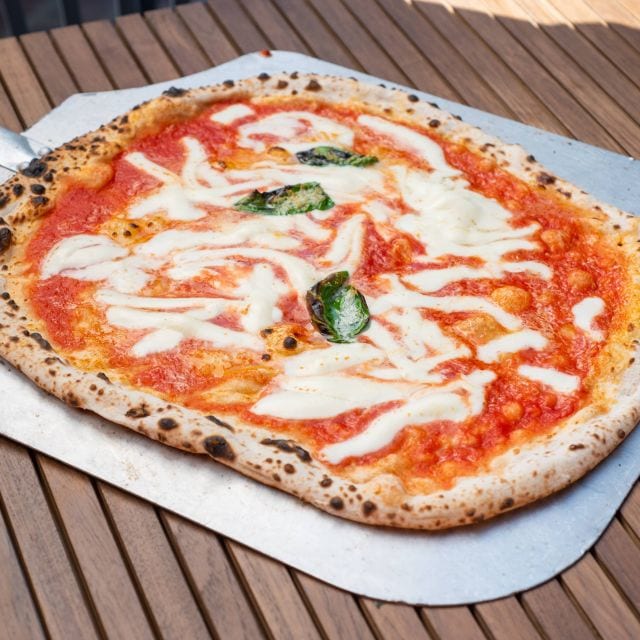 We ordered the classic Bianca pizza containing only Fior di Latte (mozzarella), pecorino, and basil. I do not hesitate to say, this was the best pizza I have ever had in my life. My father is a great cook, following in the footsteps of my grandfather Nicolas, who specialized in cooking Italian cuisine, prevalent in Argentina, his home country. My dad makes a wicked homemade pizza, so my standards are high. This Bianca pizza met those standards, easily.
The Wine
A Blanc de Blancs made of 100% Chardonnay. This wine is aged at least 50 months sur lie (on the yeasts), giving warm, yeasty, toasty notes. Every time I take a sip of this wine I notice something different. The front palate delivers persistent acid that you want from a quality aged sparkler. Then you notice the green fruit (apples) plus a slight nuttiness. The back palate serves a mouth coating yeastiness and doughiness that works PERFECTLY with this Napoli-style pizza with char marks on the bottom from the wood-fire. That acid also balances out the rich and fatty Fior di Latte (mozzarella) cheese. I could go on and on.
Say you're not eating a Bianca pizza and need an equally good wine to pair with a classic red sauce pizza. I GOT YOU!
North, South, and Everything in the Middle
"Like with like". So the saying goes in regards to food and wine pairings. If you're eating pizza, which hails from Italy, it's a good idea to stick with Italian wine. Italian wines tend to be a bit rustic and have strong acidity. These characteristics work well with the rusticity of a wood-fired pizza. And the acid in the wine matches the acid in the red sauce, making a delightful match.
Here I offer three alternative options for a great pizza wine. One hailing from the north in Piemonte, one from the south in Sicily, and one super special stunner from Tuscany. Buon appetito!
The history of Fontanafredda is a noble one and began in 1858 after the unification of Italy, when the country's first king, Vittorio Emanuele II, purchased this beautiful estate in Piedmont's Langhe region for his mistress. Quite the scandal! In 2017 Fontanafredda was named European Winery of the Year by Wine Enthusiast. Barbera carries a natural high acidity, which as I mentioned, works well with acidic pizza sauce. Dark fruit, spice, and soft tannins come together to create a great pizza wine. Specifically, I'd enjoy this wine with a meat-centric pizza.
Go big or go home. "Gran Selezione" wines are at the top of the quality pyramid in Chianti Classico and only 5% of Chianti Classico wines receive this designation. The wines have specific aging requirements (30+ months) and the grapes must be estate-grown. A committee meets weekly to taste wines and decide if they are worthy of the Gran Selezione designation. Giovanni Mazzei represents the 25th generation of the Mazzei family to be at the helm of Castello di Fonterutoli. This is a single vineyard wine with strong terroir identity and perfect for a meat-heavy pizza with strong cheeses.
Don't sleep on Frappato! Frappato is the supporting red grape in Sicily (second to Nero d'Avola). It is super light in color, high acid, and full of red fruit + spice (and everything nice). This Mandrarossa Frappato is a PERFECT pizza wine. I'd serve this slightly chilled and with an assortment of pizzas.
This is the most versatile wine of the bunch.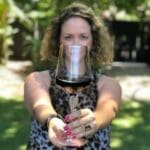 Brianne Cohen is an LA based event producer, certified sommelier, wine educator, and wine writer. During the pandemic, Brianne entertained over 7,000 people through her "Virtual Vino" online wine classes, regularly highlighting diverse (i.e. Black, BIPOC, female, and LGBT) owned wineries. She now offers both in-person (and virtual) wine tasting experiences for her corporate clients. Brianne regularly judges at international wine competitions, including the International Wine Challenge (IWC) in London and holds the WSET Diploma certificate. She writes on her own blog and for outlets such as Decanter, Vintner Project, and Kiplinger. She also holds an MBA from Loyola Marymount University. Brianne Cohen Wine & Events is a certified woman-owned business with WBENC.