What a Difference Terrior Makes
Elegant Wines-Elegant Tastes
A Tale of Two Wineries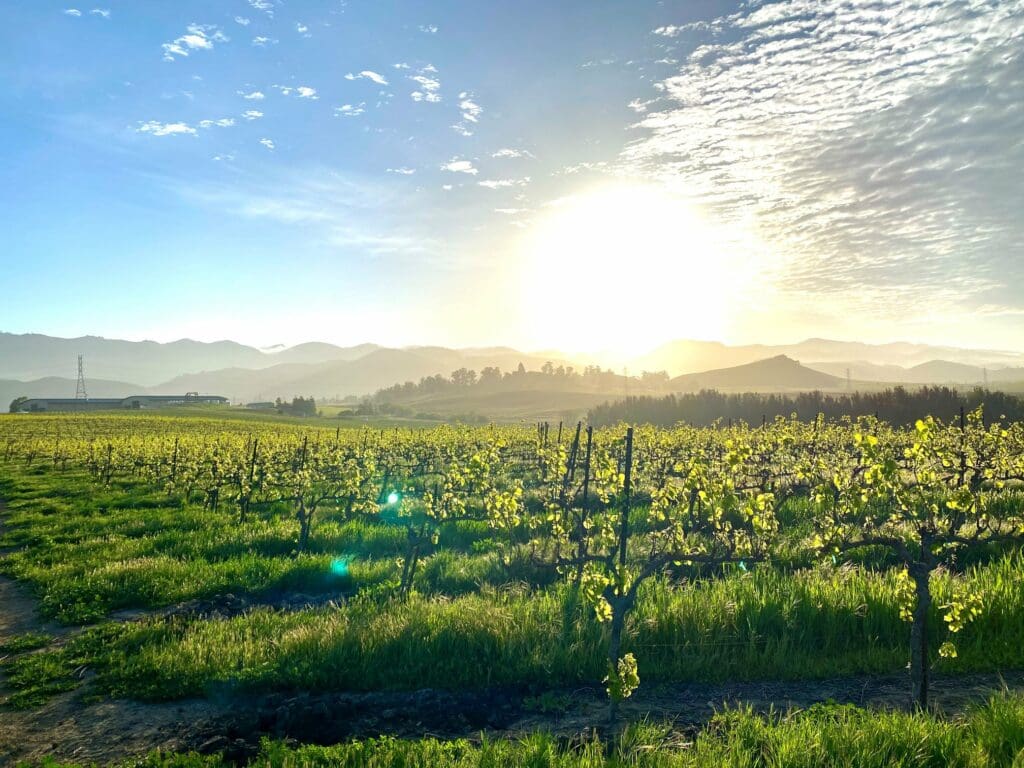 Talk to almost any winemaker, and they will tell you that wine is made in the vineyard. From one vineyard to another, from one geographic area to another, it's all about terroir and climate. These two elements will affect the grapes, and therefore the wine, in very distinct manners. Most often, when you go for a wine tasting, you will be tasting wines from grapes grown in one specific area. Or sometimes, you may be offered the opportunity to explore and compare wines of the same varietal, from the same vintage year, but harvested from different areas. By comparing these wines side by side, you will begin to get a feeling for what a difference terroir (or place) makes.
On your next trip to Napa, plan to explore the difference terroir makes at two different wineries with Pinot Noir and Chardonnay. You will come away with a heightened appreciation for how soil, weather, location, and of course the winemaker, influences the juice in the bottle.
Pinot Noir, especially has a reputation for being "one of the trickiest grapes to grow." And of course, it's famous Burgundian counterpart, Chardonnay, highlighting many different, enticing nuances. These are two great varietals to compare the difference place and weather make.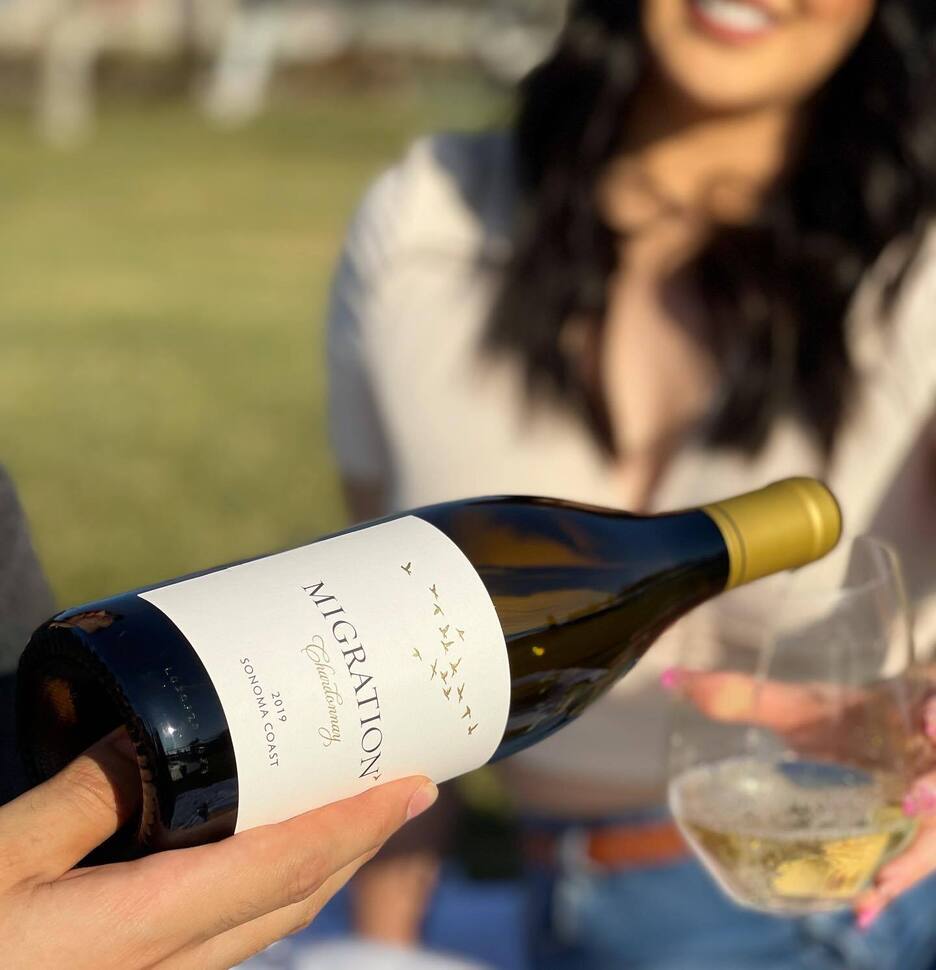 At Migration Winery you can take the "California Challenge." Taste Pinot Noir and Chardonnay from the Northern California's Russian River Valley, then taste the same varietals from Santa Barbara County's Sta. Rita Hills AVA in Southern California.
At WALT Wines, you will have a slightly different experience. Go on a road trip with 1000 miles of Pinot, as you sip and compare Pinot Noir from as far north as the Willamette Valley in Oregon, travelling south through Sonoma, Monterey, and California's Central Coast, until you reach the Sta. Rita Hills.
Don't think for a moment these two focused experiences are for wine geeks only. They are fun, informative, low key, instructional, and are just another example of what awaits you on a Wine Tasting in the Napa Valley!

So, ready to go wine road trippin, from the comfort of a tasting room? Let's go!
MIGRATION WINERY
Comparing Two California AVA's: North vs. South
Migration Winery (part of The Duckhorn Portfolio) offers a unique, comparative wine tasting experience where you will evaluate small lot, elegant Chardonnay and Pinot Noir from elite Northern and Southern California vineyards. The winemaking team, headed by winemaker Dana Epperson, focuses on terroir driven Chardonnay and Pinot Noir.
An interesting note, and how that relates to the wine tasting experience, is the name of the winery, "Migration," which symbolizes movement. As birds migrate, or move, it is Migration's goal to move up and down the coast, finding the best vineyards in two distinct areas, from which to source and grow fruit, producing wines differentiated by their geographical and geologically expressive locations.
Sourcing both Chardonnay and Pinot Noir from Sonoma's Russian River Valley, the winemaking team concentrates on bringing out the ultimate expression of land and climate from the fruit grown in these regions. Renowned for their cool climate and ideal conditions, these grapes produce elegant, refined wines. As you begin to taste, the fun begins.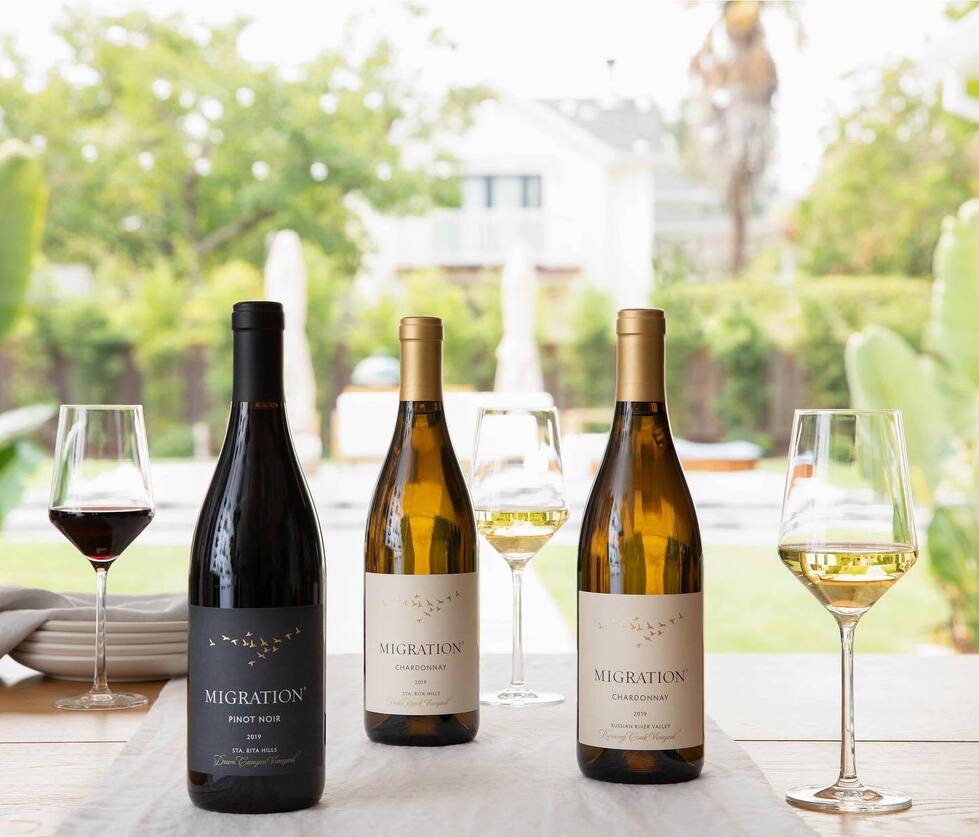 Tasting these two varietals from Northern California's Russian River Valley and comparing those with wines from Santa Barbara County's St. Rita Hills, you will pick up the differences in aroma and flavor. These areas have established a reputation of growing some of the finest Burgundian grapes in California, exhibiting flavor differences of the specific terroir and climate.
The Russian River Valley is an extraordinarily complex region with a rich geologic history of plate collision, mountain building, volcanic eruptions, and marine incursions. Fine-grained sandstone and marine fossils found in today's soil tell the story of the prehistoric shallow oceans which once dominated the landscape 3 to 5 million years ago. The nearby ocean still influences the landscape today by its maritime fog intrusion.
The Sta. Rita Hills landscape glistens white in the sunlight from diatomaceous earth bedrock. This is an extremely rare rock type rich in silica derived on the bottom of the prehistoric ocean 4 to 5 million years ago in the Pliocene. Additionally, unlike the typical northwest-southeast mountain trend of most of the California coast, the Sta. Rita Hills are extraordinarily unique because they formed in a west-to-east orientation which allows cool marine air to funnel into the valleys.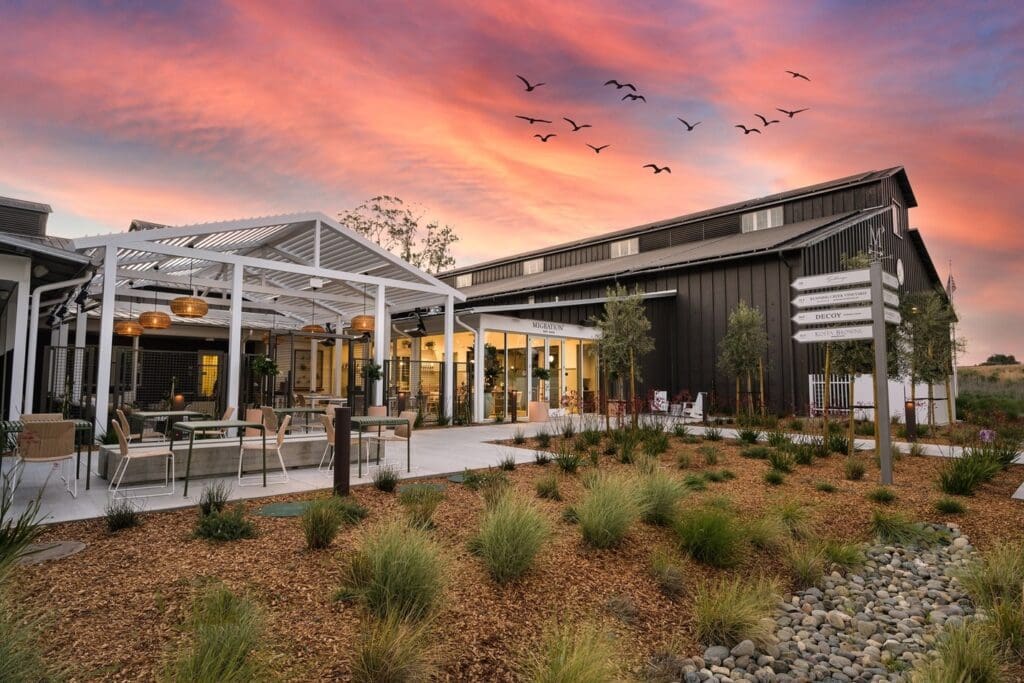 Of course, these are general descriptions of the geology of these regions. Micro-climates, sun exposure and other variances will affect the grapes, but this will give a good example of the variances that occur over a 400 mile stretch of California's grape growing coastal region.
As your palate evaluates these two California areas, enhance your wine tasting by ordering one of Migration's add-on plates which will bring out even more flavors in your tasting experience:
– Charcuterie Platter: Featuring an assortment of cheeses, meats, and dried fruits
– Vegetarian Platter: Featuring Hummus, cheeses, spreads with fresh and dried fruits
– Chocolate Confections: If you're a hybrid like I am, (running on wine and chocolate), this platter of chocolate covered strawberries, mixed nuts and caramel sea salt popcorn is for you.
AND…. for the four-legged member of your family, so as not to feel left out, there will always be a water bowl that you can pair with a special Barkuterie plate!
Enjoy the movement from North to South with the migration of flavors, textures, and aromas, then and see for yourself what a difference terroir makes, as you relax in Migration's "indoor" or "outdoor" living space.
WALT WINES
A 1000 Mile Trip down the West Coast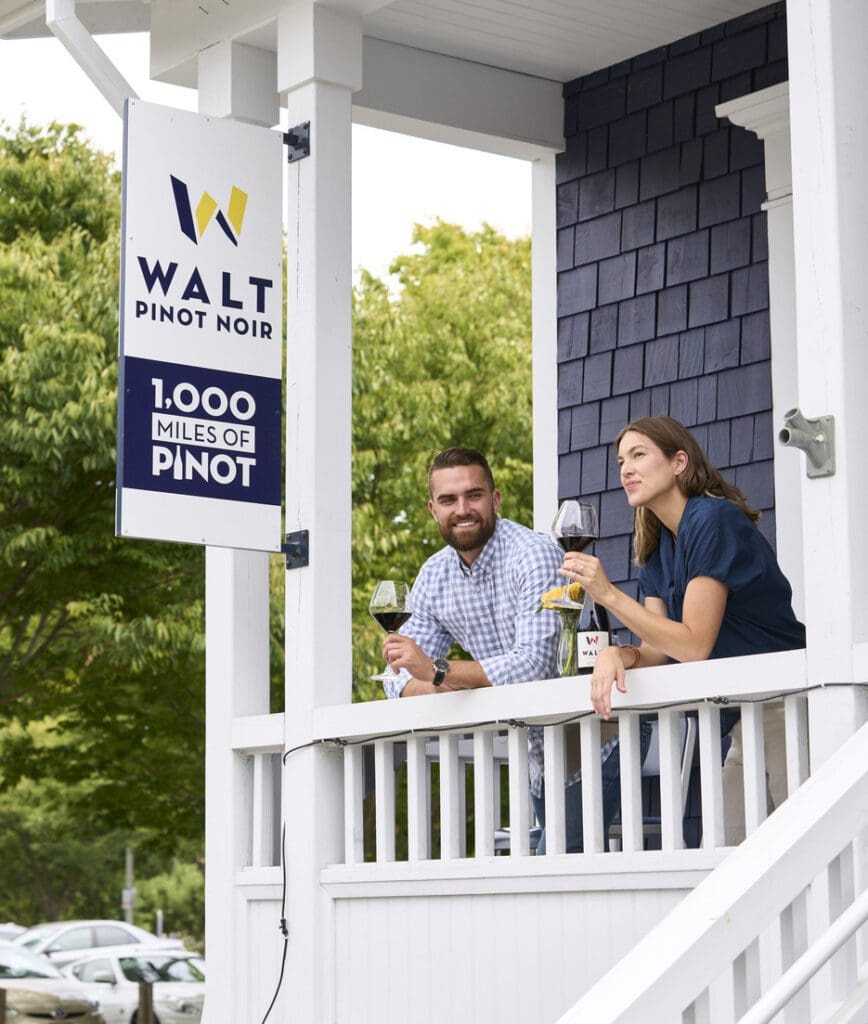 WALT Wines (*), part of the Hall Family of Wines (which also includes BACA), has a special niche in the wonderful 'world of wine.' Where HALL focuses mainly on Cabernet Sauvignon, and BACA on Zinfandel, WALT focuses on what has been often referred to as "the heartbreak grape," Pinot Noir. However, a tasting at WALT will be anything BUT a heartbreak for you. This will be an interesting, enjoyable palate pleasing, and educational experience.
(*): Of interest is that WALT is Kathryn Hall's family name. Kathryn's father, Bob Walt, was a Northern California grape grower. Expanding from a grape growing family, together with her husband Craig Hall, HALL and WALT were founded, with different focuses. Today, Jennifer Brown, the Hall's daughter, has founded her own luxury brand, BACA, concentrating on Zinfandel.
Taste the difference 1000 Miles of Terroir Makes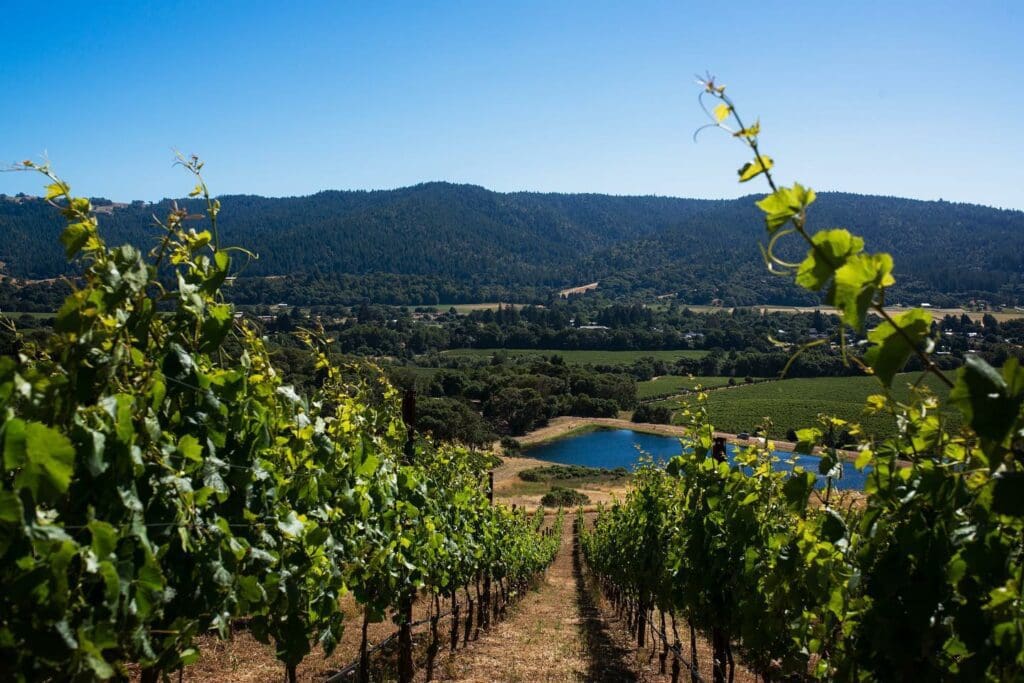 A tasting at WALT Wines (either their Napa Oxbow or Sonoma Square location) will take you on a 1000-mile trip tasting various Pinots from WALT's estate vineyards or from elite WATT contracted vineyards. You will travel from the Willamette Valley, down to the California Anderson Valley, Sonoma, Napa, Monterey, ending up in the Sta. Rita Hills. You will savor, smell and sip how climate and terroir change the expression of the grape.
Nowhere that I know of, has any single producer offered the Pinot lover such an expression of wine nuances from a single grape. It may be 'the same' grape varietal, but oh, does the place it is grown have influence! And now, YOU can compare and taste the differences.
Although WALT offers several types of Pinot Noir tastings, (including a Pinot and Chocolate tasting), for the ultimate Pinot travel tasting experience, you must try the ROOT 101 Experience. Your trip will start with wine sourced from Walt's Shea Vineyard in Oregon's famous Willamette Valley.
Your next stop, 450 miles down the 101 takes you to the California Anderson Valley, with your second highly rated vineyard designated Pinot. Then, just another sixty miles or so to the south, enjoy Pinot from the Sonoma Coast.
From here, you will travel to the Monterey coastal area, where you will again savor another expressive and individualistic Pinot Noir, with similar, yet very different nuances. Finally, after another 200 miles down Highway 101, you come to Santa Barbara's Sta. Rita Hills, where you will experience wine from Clos Pepe or Rita's Crown vineyards.
Having the glasses set up side-by-side, you are able to go back and forth comparing aromas and tasting the flavors of each distinct area, while the flavors are enhanced by their perfectly paired accompaniments.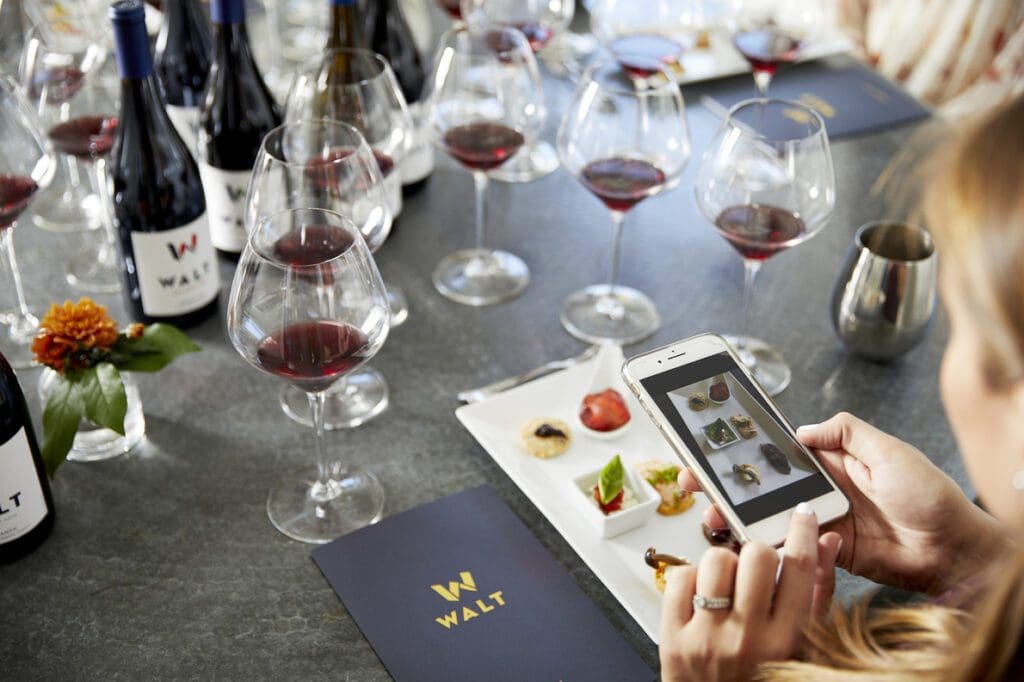 The current ROOT 101 Experience treats you to the following wines and pairings:
2019 Shea Vineyards, Willamette Valley Pinot
The Willamette Valley is a multifaceted area comprised of multiple AVA's, all with unique characteristics and a fascinating history. In addition to tectonic plate collisions, volcanic eruptions, and mountain building events that shaped the west coast mountain ranges, the Willamette Valley was impacted by massive, catastrophic glacial outburst floods 15 to 20 thousand years ago, leaving behind thick blankets of silt. Higher elevations, untouched by the glacial floods, have a much older bedrock (~ 35 million years old). Shea Vineyards is located in the Yamhill-Carlton District AVA situated right on the interface of flood deposits and 35 million year old fossil-rich sandstones and mudstones.
This wine selection is paired with Carpaccio and grilled king trumpet Relish.
2018 Corners Vineyard from Anderson Valley.
Much of the Anderson Valley AVA is on geologically recent alluvium and terrace deposits from the Pleistocene (younger than 2 million years old), surrounded by Cretaceous rocks approximately 100 million years old.
You will enjoy the Corner's Vineyard Pinot along with Choucroute Duxelles on Sourdough.
2018 Gap's Crown Pinot from the Sonoma Coast
Sourced specifically the Petaluma Gap AVA, which is a blend of Pliocene marine deposits (2-5 million years old), ancient plate collision remnants (~100 million years old) and recent valley sediments (< 2 million years old).
This will be paired with Copa Cup and Quince Chutney.
Finally, you will complete your trip with two selections from the Central Coast's Sta. Rita Hills, (As described in more detail above, this area of the Sta. Rita Hills is characterized by diatomaceous earth from the bottom of prehistoric Pliocene oceans (4-5 million years old).
2018 Clos Pepe Sta. Rita Hills Pinot accompanied with Duck Pave and flavors of "al pastor."
2019 Rita's Crown Sta. Rita Hills Pinot, paired alongside Ropa Vieja on a Plantain Chip.
Chef Ken Frank from La Toque in Napa and Chef Bryan Jones in Sonoma create each Root 101 pairing for their particular WALT tasting room location.
For a more detailed understanding and description of the small bites, you will have to personally experience the ROOT 101-thousand-mile journey of terroir. WHAT a road trip this is – from the comfort of a very relaxing tasting room.
(On the day my wife and I experienced the 1000 Miles of Pinot, Paige Johnson was our wine host. Suffice to say, she is a fountain of knowledge and a "party in a glass." Thank you, Paige!)
Book your WALT tasting experience here: https://www.waltwines.com/walt-visit-us
Terroir, Terroir, Terroir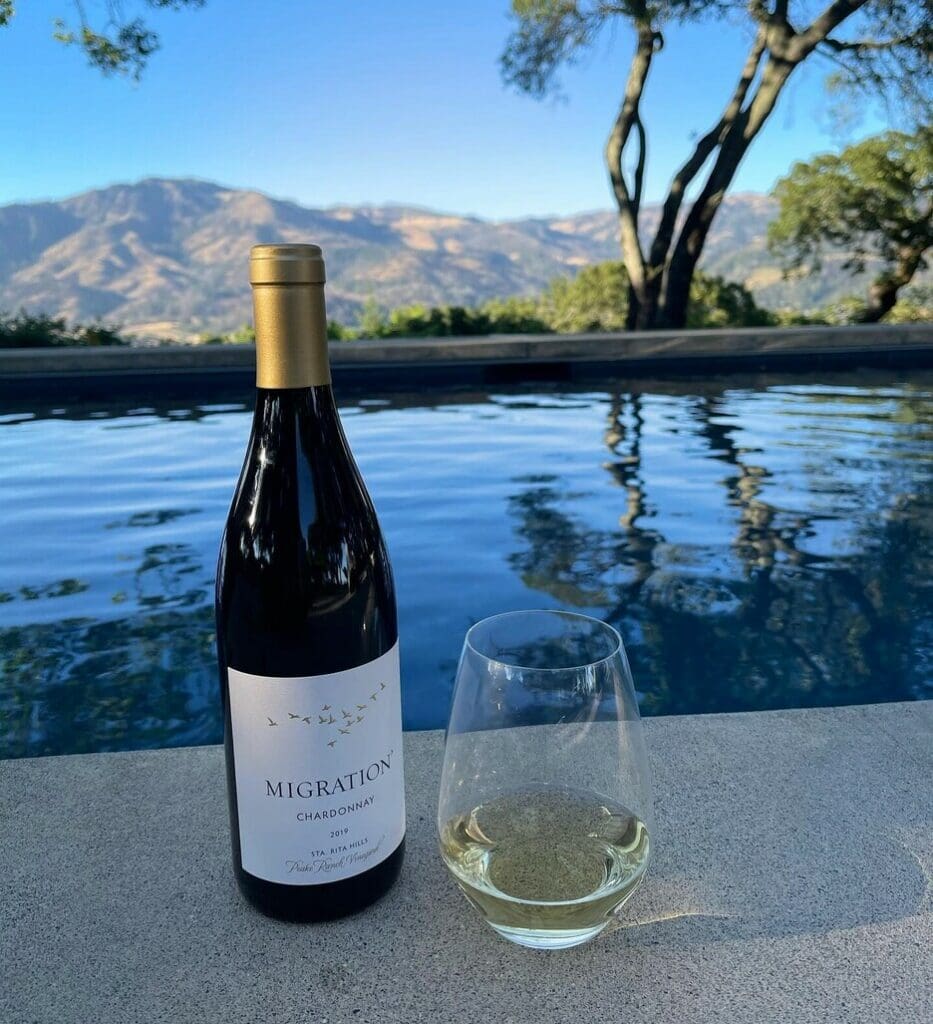 There is a timeworn expression in the real estate world: All that matters is location, location, location.
In the world of wine, all that matters is terroir, terroir, terroir. Enjoy the difference between Northern and Southern California Pinot Noir at Migration's new tasting room, following up by expanding your travel adventure at one of the WALT wine tasting rooms. Your senses will experience the difference that terroir and climate can make along the California Coast or along a thousand miles of Pinot.
The tastings at Migration and WALT you don't want to miss; you will come away with a new awareness and appreciation of how the fruit is influenced by weather and place. And how exciting is it, to sip wine made from the same grape varietal, exhibiting the characteristics of different places, it's almost like drinking two different wines.
Lifting a glass to you and your new wine adventures, cheers.
PLEASE BE CERTAIN TO CALL IN ADVANCE FOR TASTING APPOINTMENTS AT BOTH MIGRATION AND WALT WINES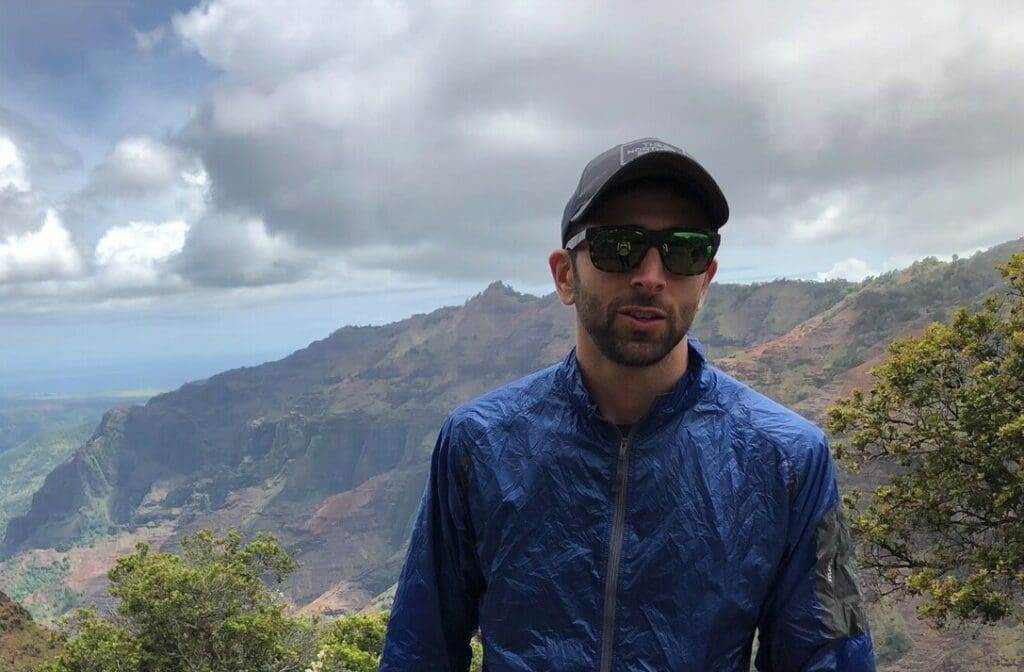 Note: Ben Schupack is a Senior Geologist for a multinational integrated energy company. He has successfully explored for oil and gas around the world including Brazil and West Africa. Ben pursued his undergraduate education at Whitman College surrounded by the Palouse Hills in Walla Walla Washington. It was there that he was introduced to not only the distinct Cayuse Vineyard in one of his geology classes, but where he started on a path of wine appreciation, discovering for himself the differences terroir makes. I am fortunate to consult with Ben regarding specifics of vineyards, AVA's and grape growing regions.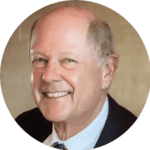 Don Sonderling is a freelance writer covering California's Wine Country lifestyle, and culture. He and his wife are constantly sipping their way from Santa Barbara to Napa, focusing on Paso Robles and the Central Coast, where they have explored for about 25 years. Don has earned his WSET2 (Wine and Spirits Education Trust) certification, has completed the Bourgogne Masterclass through the Napa Valley Wine Academy, and is a member of the LA. Wine Writers.
Focusing on the people and unique experiences to be had, Don's goal is to have people read about California's amazing wine country adventures, seeing it through his eyes, and say: "I want to go there, try that, meet them," and enrich the lives of others as his has been, by exploring California's wine roads.