January tends to be the month where we give our bellies some reprieve from the gluttonous eating that we indulged in during the holidays. Fresh vibrant green salads start to look extra appealing for most, along with lean and healthy proteins such as salmon or chicken. One of the biggest challenges is making sure the healthy food you are consuming is still packed with big and bold flavors. Below are 3 recipes that are the antithesis of bland paired with three wines that will perfectly complement the vibrant flavors that come through in the three recipes.
Grapefruit, Avocado, and Shrimp Salad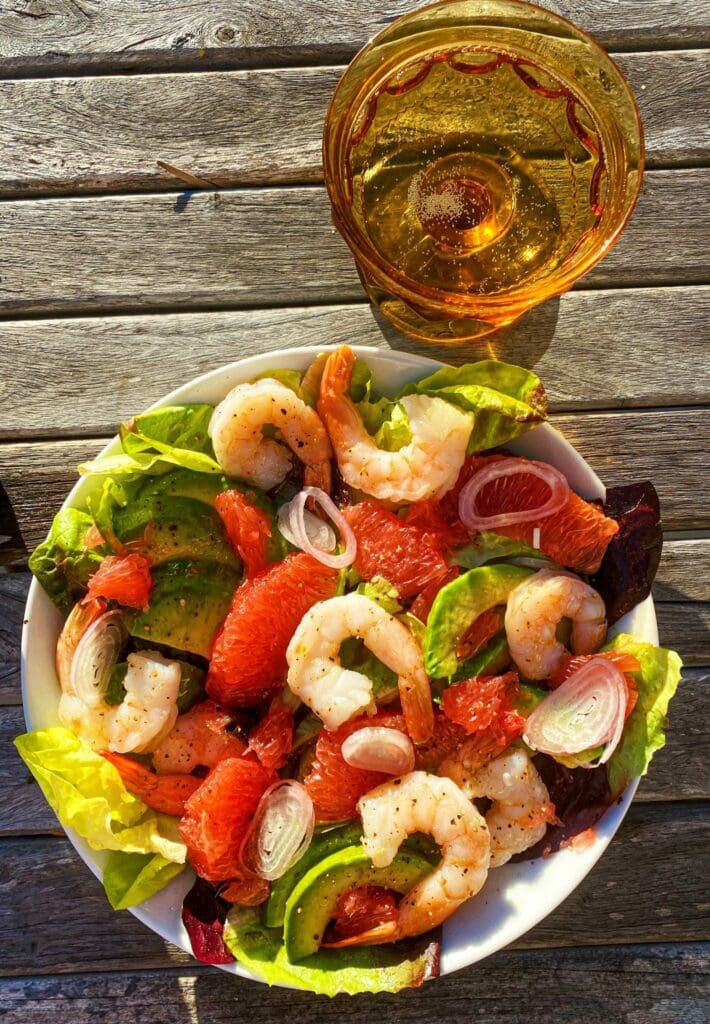 Prep time: 7 min
Cooking time: 30 min
Total time: 37 min
Ingredients:
1/2 lb of cooked shrimp
2 avocados pitted and sliced
2 grapefruit peeled and segmented (save the juice that comes out)
1 small shallot chopped
1 package of butter lettuce
1 tsp soy sauce
½ tsp honey
1 tbsp olive oil
½ tbsp grapefruit juice
1 tsp lemon juice
1 tsp ground black pepper
1 tsp salt
Directions:
1.) Wash the cooked shrimp thoroughly. Next, make the dressing in a medium mixing bowl by adding the shallot, lemon juice, grapefruit juice, soy sauce, honey, salt, and pepper in a bowl and mixing well with a whisk. Slowly drizzle in the olive oil while constantly whisking, resulting in a smooth emulsified dressing.
2.) Add the shrimp to the bowl with the dressing and toss well. Cover the bowl with plastic wrap and place it in the fridge to marinate for at least 30 min.
3.) While the shrimp is marinating, prep your avocado, and grapefruit.
4.) Arrange your butter lettuce nicely in a shallow bowl, and place the avocado and grapefruit with intention. Alternating between the two makes for a nice presentation. Scatter the shrimp and finish with a generous drizzle of the dressing, or use as much as you like.
Wine pairing:
Domaine Pichot Sparkling Vouvray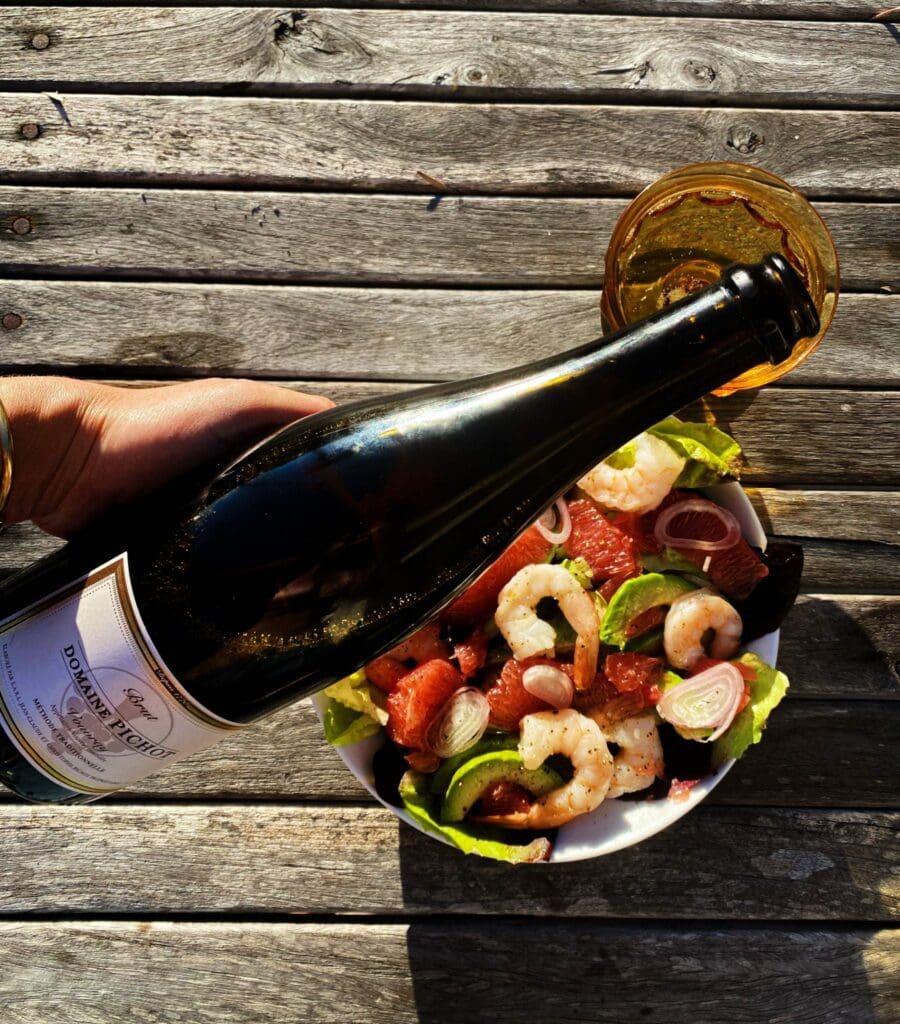 This sparkling Vouvray from the Loire Valley, France has notes of honey, white wildflowers, juicy citrus, and stone fruit. Those citrusy notes mimic the tart grapefruit in the salad perfectly, while the soft texture of the Chenin blanc grape found in Vouvray complements the creamy avocado. When it comes to pairing salads with wine, one must also take into consideration the dressing. This dressing has a fair amount of tartness due to the grapefruit and lemon, so it needs a high acid wine to match that tartness. Sparkling Vouvray delivers on that tartness with its high acidity.
Slow Roasted Salmon with Harissa, Winter Citrus, Fennel and Olives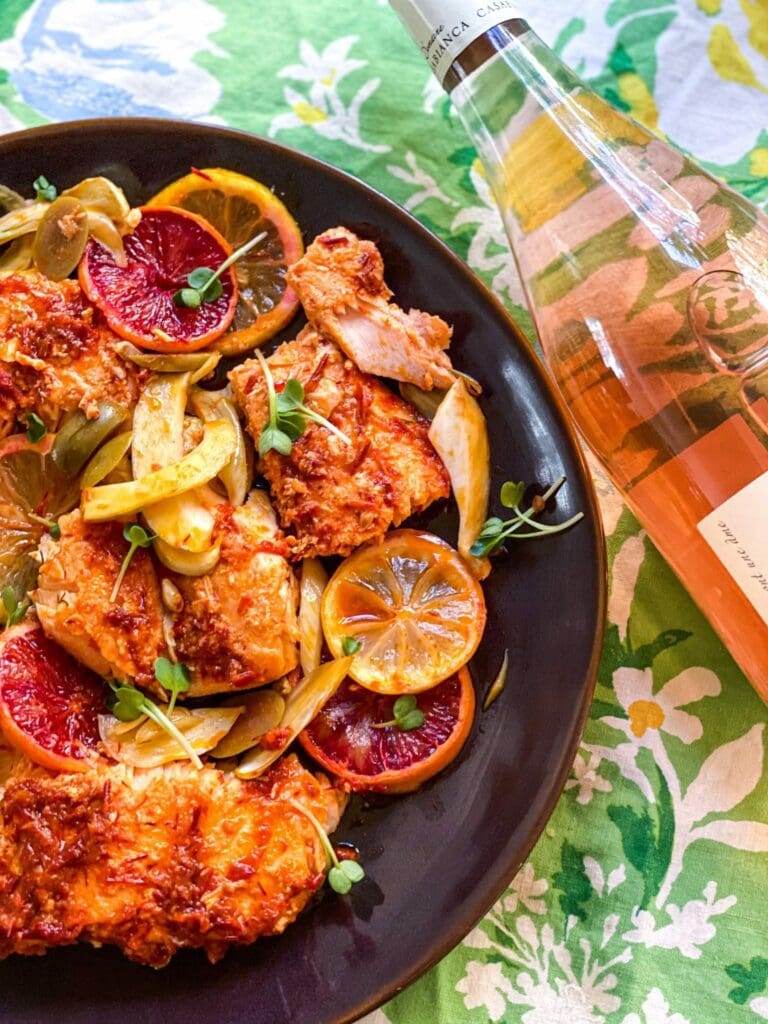 Prep Time: 10 min
Cook Time: 30 min
Total Time: 40 min
Yield: 4 People
Ingredients:
1.5 pound fillet of salmon
2 fennel bulbs, cored and sliced
1 lemon sliced
1 blood orange sliced
1 tbsp harissa
3 tbsp olive oil
¼ cup of pitted and chopped green olives
Directions:
1.) Preheat the oven to 375 degrees F.
2.) In a small bowl, whisk together the harissa and olive oil until you get a pasty consistency. In a baking dish, lather the salmon with the ¾ of the paste, making sure to get every nook and cranny. Lay the lemon and blood orange slices on top of the salmon, making sure to completely cover it.
3.) Scatter the olives and fennel around the salmon. Add a bit more olive oil to the rest of the paste and drizzle the oil over the vegetables. Place in the oven and cook for 30 min for medium-rare.
Wine pairing:
2019 Jean-Bernadin Casabianca Corse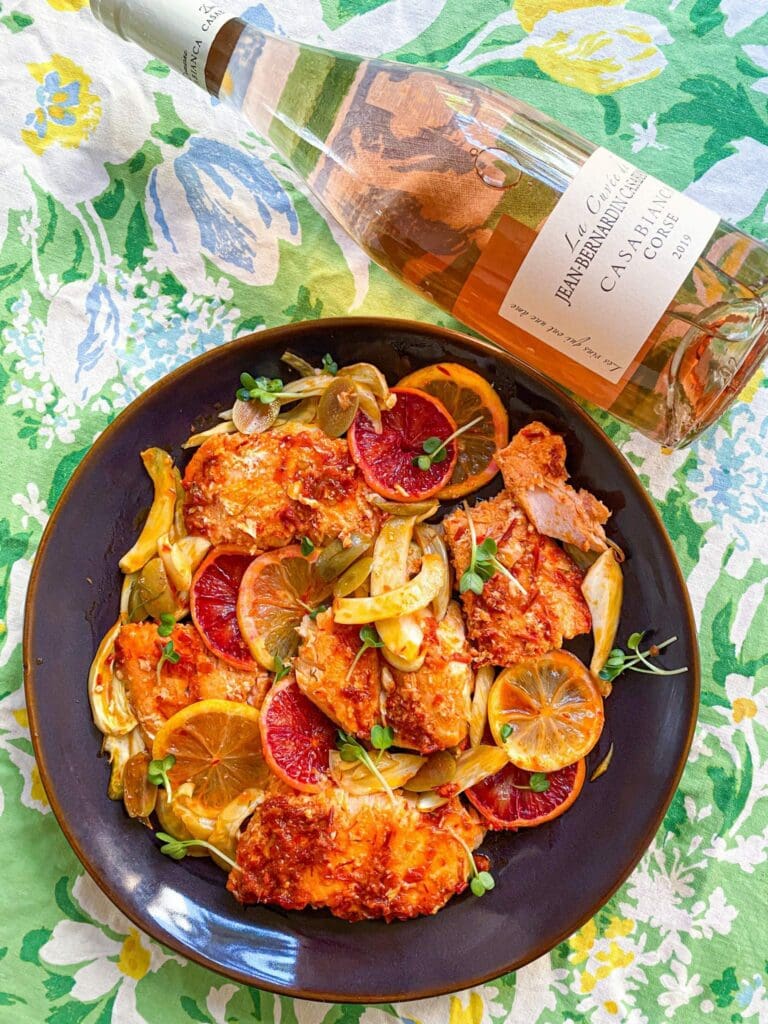 Corsican Rosé is one of my favorite Rosé because it gets the best of both worlds by being in France's beautiful Mediterranean and right to stunning Sardinia. Because of its terroir, this rosé has notes of French lavender and tarragon as soon as you lift the glass to your nose. Since Corsica is in the Mediterranean, this wine is best paired with Mediterranean dishes that have the same Mediterranean ingredients such as green olives, lemon, and olive oil in this roasted salmon recipe. Lastly, when in doubt, it can help to just pair the color of the wine with the same color of the dish, hence the rosy hue in the salmon matching perfectly with the Rose'.
Chorizo and White Bean Stew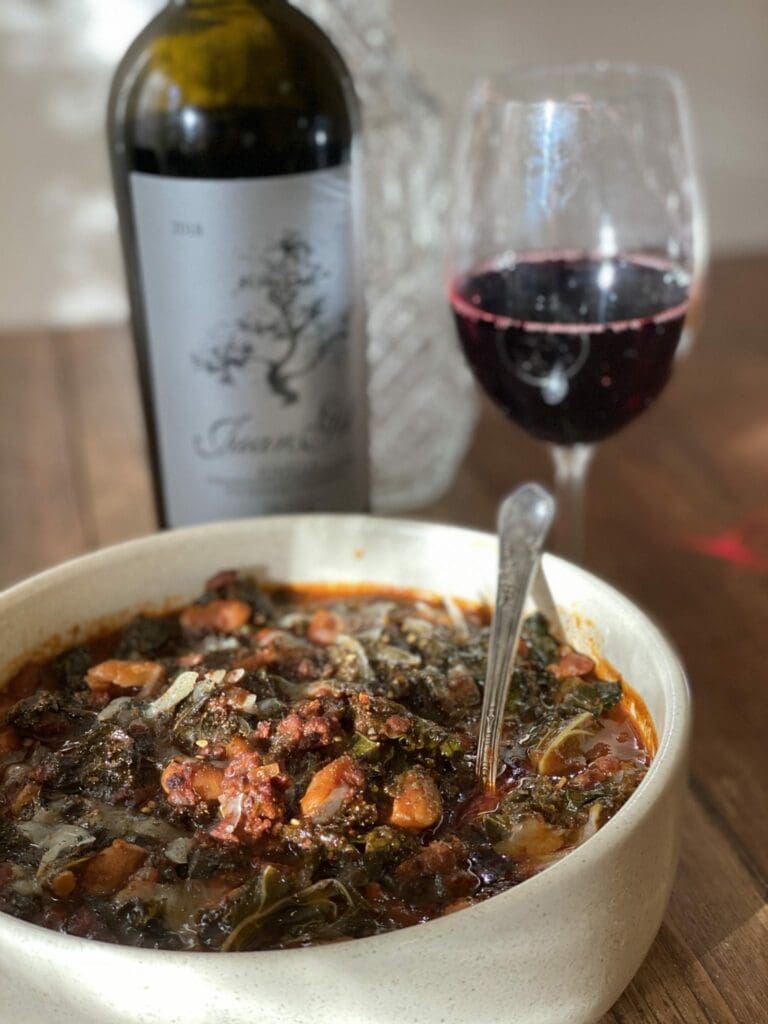 Port is a fortified Portuguese dessert wine that comes from the Douruo Valley of Northern Portugal, typically made as a sweet red wine, although examples of white port do exist. There are many different styles such as ruby, tawny and vintage port. For this pairing, I'll be talking about late vintage port, a sweet style that is moderate in acidity with tasting notes of dark chocolate, black cherry, currant, dried raisins, and prunes.
Prep time: 15 min
Cooking time: 30 min
Total Time: 45 min
Yield: 6 people
Ingredients:
1 lb chorizo
2 garlic cloves minced
'6 oz chopped kale
1 medium yellow onion
1 can cannellini
2 cup red wine
Salt
Pepper
1 tsp chili flakes
3 tbsp olive oil
1 tbsp tomato paste
2 cups tomato puree
3 cups of chicken stock
Directions:
1.) In a dutch oven, heat it up with the olive oil, once the oil starts to sizzle add the chorizo. Let the chorizo brown for a few minutes, then add the onions and garlic. Let everything saute' for a few minutes.
2.) Add the kale and cook with the onions, garlic, and chorizo. Add the tomato paste and let it caramelize for a few minutes. Turn the heat to high and add the red wine, letting it reduce by a tbsp.
3.) Lower the heat and add the tomato puree and white beans. Add the chicken stock, and give everything a good stir. Allow it to simmer for at least 30 min until it is thick enough to coat the back of a spoon. Best served with a dollop of sour cream and an extra drizzle of olive oil.
Wine Pairing:
2018 Juan Gil Jumilla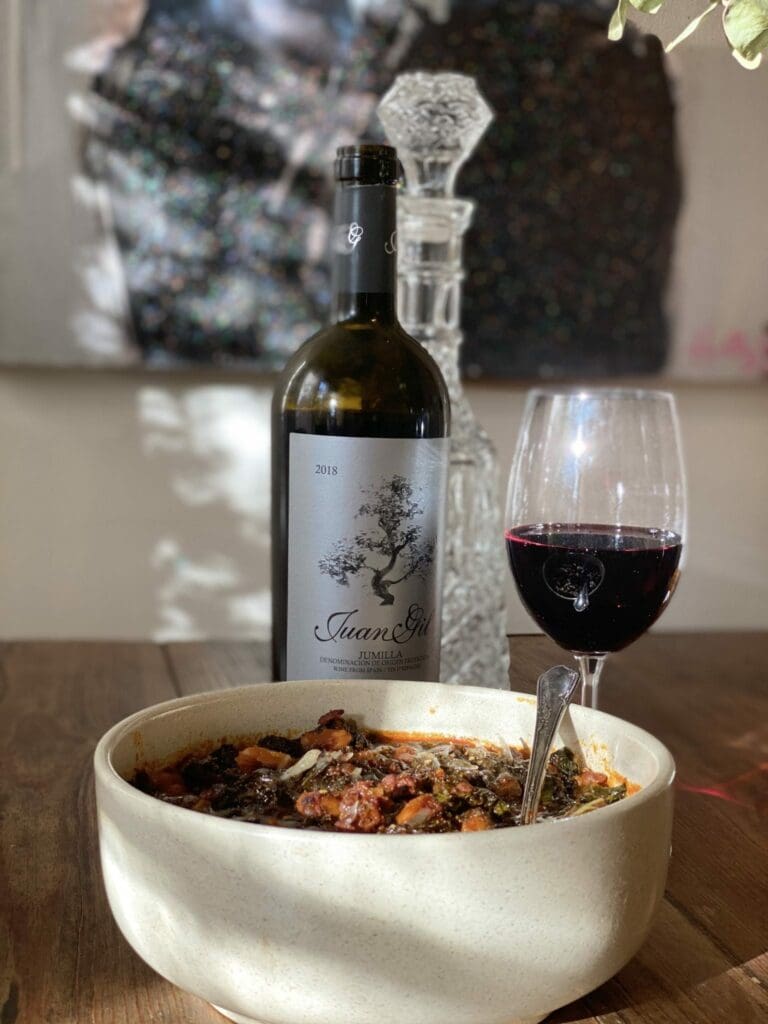 Jumilla is a Spanish wine found in the region of Murcia where the Monastrell grape (also known as Mourvedre in France and other parts of the world) grows. Monastrell is a thick-skinned low yielding berry with notes of juicy dark cherry, blackberry, smoke, and leather. This stew has such a beautiful smoky flavor thanks to the chorizo and the smoky notes that come from the Mourvedre grape further enhance it. This rich and hearty stew is a total flavor bomb and needs a wine that won't be lost standing up to it. Jumilla is the type of red wine that perfectly fits the bill with its bold juicy red cherry notes, ripe tannins, and full body. Lastly, Jumilla delivers with a good amount of acidity it has in it, cleansing the palate after each spoonful.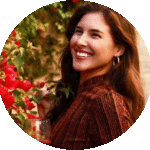 It was while attending The Culinary Institute of America that Lucia first fell in love with wine and wine pairings. To Lucia, food and wine are completely synonymous and the fact that wine can make food taste even better, is pure magic! Some of her favorite pairings include Montrachet with lobster and grower champagne with fries. You can find her pairing her recipes with her favorites wines on her successful instagram @lucilovesfood.