As a wine region, the Veneto is recognized for Prosecco, Valpolicella, Amarone, Soave, and Bardolino. But those are not the only wines in the region. West of Verona, near Lake Garda, in the region of Custoza, a white wine-producing region that was recognized in 1971, 50 years ago, as a Controlled Designation of Origin of Custoza.
The white wine of Custoza takes its name from the village of Custoza, a historic town in the Municipality of Sommacampagna. It is a region characterized by hills that were created by glacial deposits and soils that consist of calcareous, gravelly, sandy, and pebbly soils interspersed with some silt and clay. In a continental climate, days are hot, and nights are cool but tempered by the breezes from Lake Garda which dry up any rain or dampness in the vineyard. The diurnal shifts in temperature and the organic soils result in wines with salty and savoury notes and fresh acidity. The region is focused on sustainability.
The white wine of Custoza is a blend of four primary grapes – Garganega, Trebbiano Toscano, Trebbianello, and Bianca Fernanda. Garganega used to make Soave, another wine from the Veneto, adds elegant perfume and modest acidity to a Custoza wine. Trebbiano Toscano, also known as Ugni Blanc, adds freshness and crisp acidity. Trebbianello, a local biotype of Friulano, adds citrus notes and helps with the color of the wine. Bianca Fernanda, a local clone of the Cortese grape, gives pronounced aromas, crisp acidity, and linearity.
Custoza DOC must be made with at least three of the above grapes for a minimum of 70 percent. And none of these grapes can exceed 45 percent of the blend. Riesling, Pinot Bianco, Chardonnay, Malvasia, and Manzoni Bianco (a cross of Pinot Bianco and Riesling) can be used to make up 30 percent of the final blend.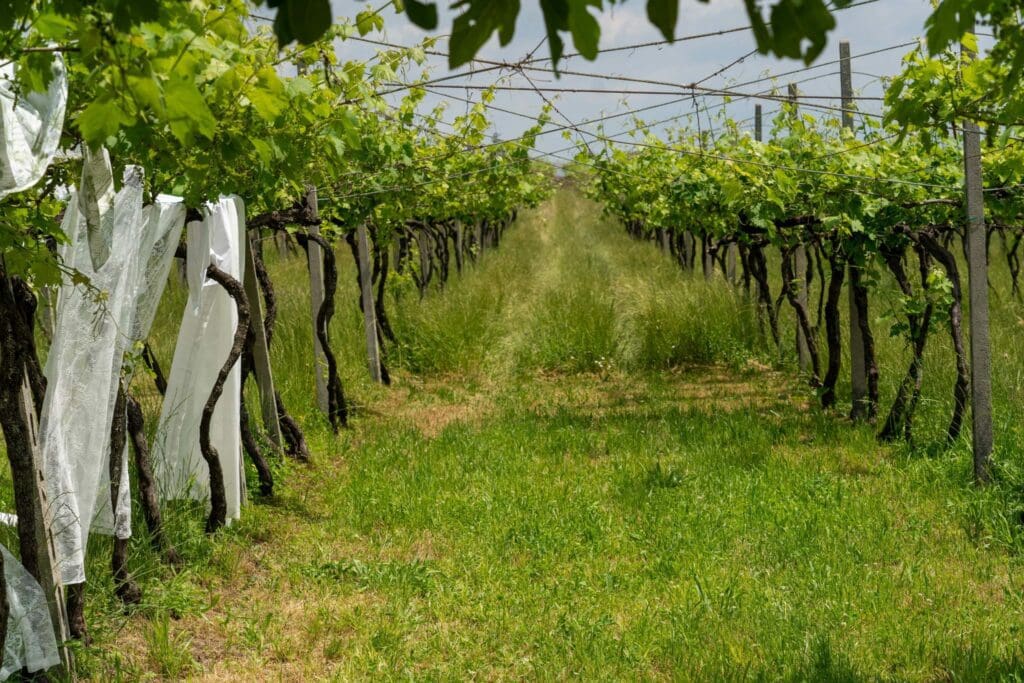 There are several versions of Custoza DOC wines. Traditional Custoza DOC must be a minimum alcohol level of 11 percent and must be aged a minimum of three months. The wines of Custoza DOC are a yellow straw color with delicate floral and fruity aromas and are meant to drunk young. Custoza Superiore DOC is a blend of the best grapes from old vines and lower yields. The alcohol must be a minimum of 12.5 percent and ageing is a minimum of five months. These deeper golden wines have more structure and depth and develop more minerality. Custoza Riserva DOC must also be a minimum of 12.5 percent alcohol but must be aged for a minimum of 12 months. Custoza Passito DOC wines are made from grapes that are dried after harvest and must be a minimum alcohol level of 13 percent. Custoza Spumante DOC can be made by Metodo Classico with the secondary fermentation in the bottle or by the Charmat method in pressurized tanks. Custoza Spumante must be at least 11.5 percent alcohol and sweetness can range from zero dosage to demi-sec.
Custoza DOC encompasses 3460 acres and consists of 480 growers, 60 wineries, and 85 bottling companies. At this time, 75-80 percent of the Custoza wines are sold in Italy but here are some producers to seek out. 
CUSTOZA WINERIES
---
Vini Cantina Ronca
The Ronca family purchased their property in Sommacampagna in 1976 and produced grapes and fruits. It was in 2000 when Massimo Ronca and his father Walter decided to focus on viticulture, replanting and increasing the total vineyard to 20 hectares. The first vintage was in 2007 and the family stop using insecticides and chemical pesticides in 2013. Focusing on organic farming, the Rona family has also reduced the pollutant emissions in the winery and relies primarily on solar power. 
Massimo Ronca 2020 Custoza
A blend of Garganega, Trebbianello, and Trebbiano Toscano, the wine is rounded but fresh with notes of apricot, peach, and spring flower. On the palate, the savoury wine is medium-bodied with fresh acidity that lifts the finish.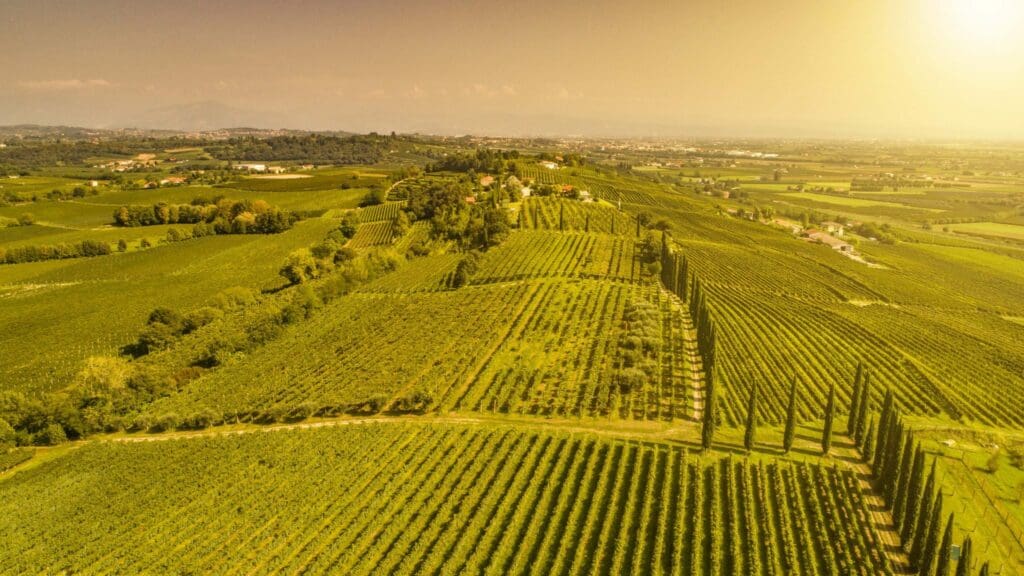 Albino Piona
Located near Lake Garda, in the heart of the Custoza territory, Albino Piona was established in 1893 by Albino Piona. Today the 45-hectare family winery is run by Albino's grandchildren Monica, Alessandro, and Massimo. With a green philosophy from the vineyard to the winery, the Piona's avoid the use of chemicals in the vineyard and use clean energy and packaging materials that are responsibly sourced. 
Albino Piona 2020 Custoza DOC
A blend of Garganega, Trebbianello, Trebbiano Toscano, and Bianca Fernanda, as well as Riesling, Pinot Biano, and Incrocia Manzoni, the grapes are vinified separately in stainless steel tanks and aged on their lees. The straw-yellow wine with greenish glints has lovely aromas of yellow spring flower, yellow stone fruit, tropical fruit, dried herbs, lime, and beeswax. On the palate, it is creamy with an enveloping texture.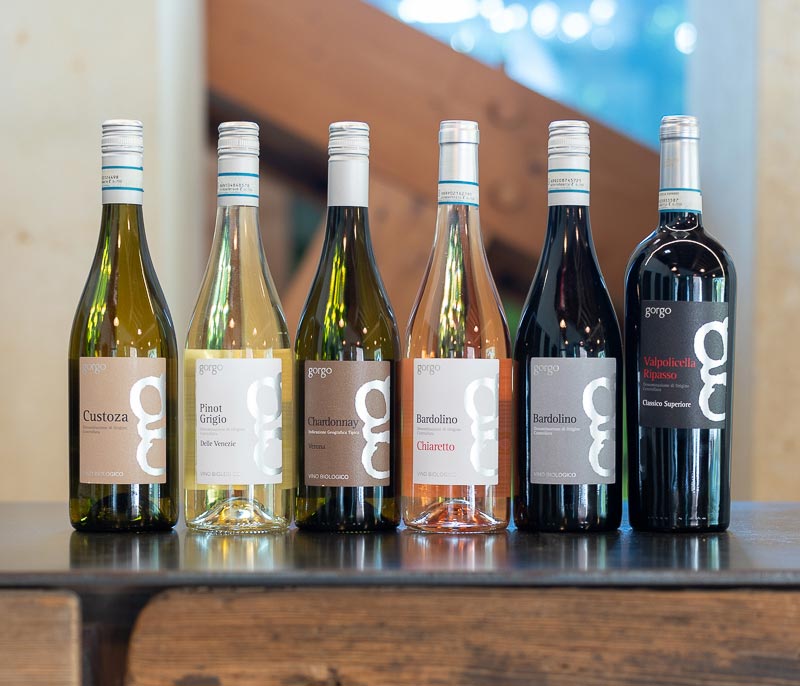 Cantina Gorgo
The Gorgo Wine Estate is a small family-owned estate located in the village of Custoza. Purchased by Dr. Roberto Bricolo in 1970 as an investment to farm vegetables, his son, also named Dr. Roberto Bricolo, started the winery in 1975. Today, Roberto's daughter Roberta is the owner of the company. Cantina Gorgo has more than 60-hectares across the production areas of Custoza and Bardolino and they have been organically certified since 2018. 
Gorgo 2020 Custoza San Michelin DOC
A blend of Garganega, Trebbiano Toscano, Cortese (Bianca Fernanda), and Riesling, the grapes come from the ancient vineyard of San Michelin. The wine has notes of pressed chamomile, apricot, orange blossom, hay, herbs, and citrus. On the palate, the wine is fresh and light, but also savory with tangy acidity and a refreshing, saline finish. 
Azienda Agricola Cavalchina
Located in the ancient Cavalchina district of Custoza, the estate was purchased in the early 1900s, but the first vineyard was not planted until 1942. Owned by the Piona family, they were one of the first wineries to put the name "Custoza" on the label. They had been selling their wine as "Soave" but by 1962, they believed that Custoza deserved better recognition. Today they have three vineyard areas that cover more than 110 hectares, and the grapes are all hand-harvested.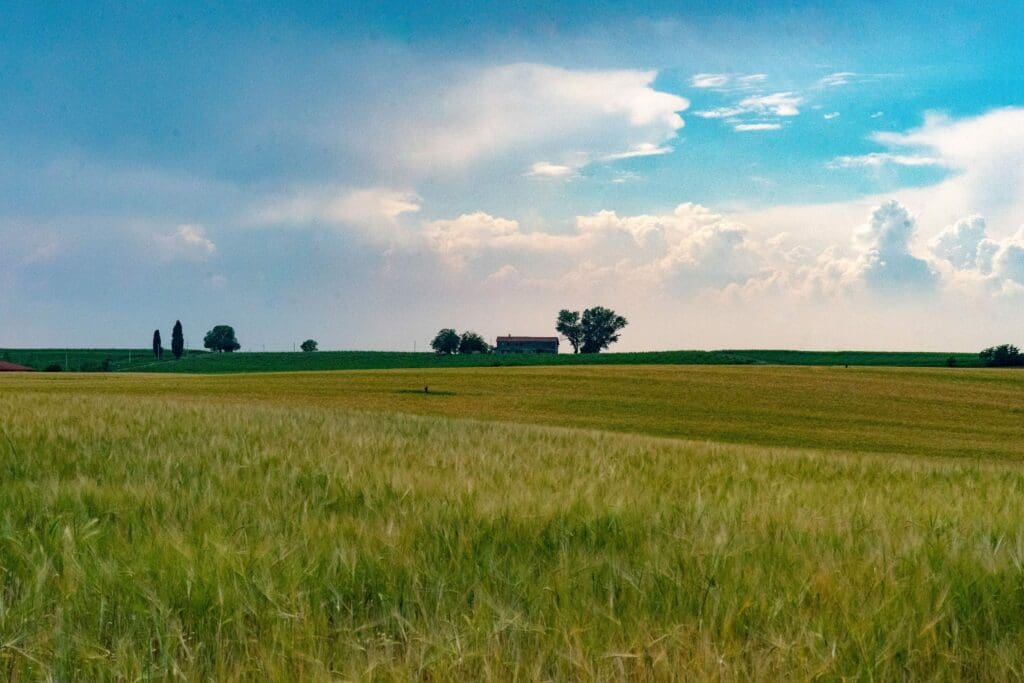 Cavalchina 2019 Custoza Superiore Amedeo DOC
The wines is a blend of Garganega, Trebbiano Toscano, Cortese (Bianca Fernanda), and Trebbianello. The Trebbiano and Trebbianello are aged for eight months in barrique. The Garganega is aged in barrel for eight months. The Fernanda grape is vinified in stainless steel. The straw-yellow wine has a citrus, ripe orchard fruit, and floral notes, as well as some spice and vanilla notes. The wine has a lot of structure on the palate but is beautifully elegant. 
Monte del Frà
For more than 60 years and three generations, Monte Del Frà has been a family winery. Founded by Massimo Bonomo, Monte del Fra was handed to his sons Eligio and Claudio, and now to the third generation Marica, Silvia, and Massimo. Today the Bonomo family have 137 hectares, plus 68 leased hectares, across all the main denominations of Verona, including Custoza. The winery is in Custoza where they have 15-hectares planted on the estate.  
Monte del Frà 2018 Custoza Superiore Cà del Magro DOC
From vines more than 30 years old, the wine is a blend of Garganega, Trebbiano Toscano, Cortese (Bianca Fernanda), and Incrocio Manzoni. The wine has beautiful graphite mineral notes as well as aromas of beeswax and yellow and white stone fruit.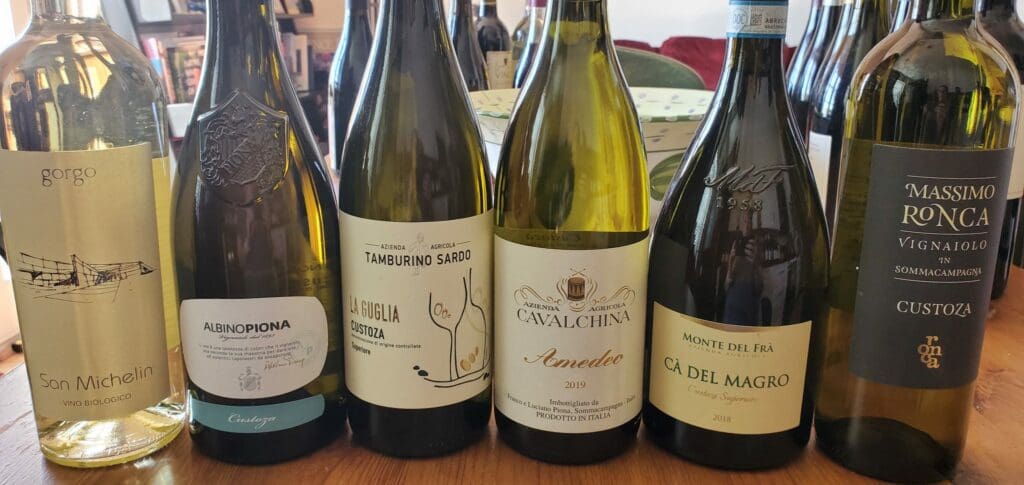 Azienda Agricola Tamburino Sardo
Founded in 1968 by Adriano Fasoli, Azienda Agricola Tamburino Sardo is today managed by Adriano and his two sons Stefano and Giuliano. The winery is located at the highest point on the hills of Custoza, known as the Tamburino Sardo hill. The vineyards are sustainably farmed including integrated pest management and no chemical weeding. 
Tamburino Sardo 2018 Custoza Superiore La Guglia DOC
A blend of Trebbiano Toscano, Garganega, Bianca Fernanda, and Malvasia, the grapes are picked late in the season and maceration is done on the grape skins to get more body and acidity. A pale-yellow color, the wine has notes of smoky minerality, hazelnut, and dried yellow stone fruit. The texture of the wine is enveloping, and it has a savory, almost salty finish.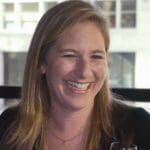 Allison Levine is the owner of Please The Palate, a boutique agency specializing in marketing and event planning for the wine and spirits industry. With over 15 years of experience in communications, marketing, and event planning, Allison is passionate about the world around her and the diverse people in it. Allison is a freelance writer and contributes to numerous publications, as well as her blog at www.pleasethepalate.com. She is the host of the podcast WineSoundtrack USA where she interviews winemakers and winery owners who share their stories, insights, and some humorous anecdotes. She also co-hosts a wine video series on YouTube called Crush On This. Allison holds a master's degree in International Communications with a focus on cross-cultural training from the American University School of International Service. She also holds a WSET Level 3 Certificate from the Wine & Spirits Education Trust (WSET) and is a member of the Circle of Wine Writers.