In terms of the West Side, New York's Chelsea and Meatpacking District neighborhoods are where it's at. Known for both quaint townhouses and luxury apartment buildings alike, these bustling downtown neighborhoods are home to a slew of great restaurants, galleries, and of course, great places to drink.
Not sure where to imbibe between strolling the High Line and perusing the latest art exhibitions? We've got you covered. Check out our guide on where to eat, drink, and stay in two of the city's most vibrant neighborhoods here.
Where to Drink in NYC's Chelsea / Meatpacking Districts
Where to Eat in NYC's Chelsea / Meatpacking Districts
Where to Stay in NYC's Chelsea / Meatpacking Districts
DRINK
75 9th Ave, New York, NY 10011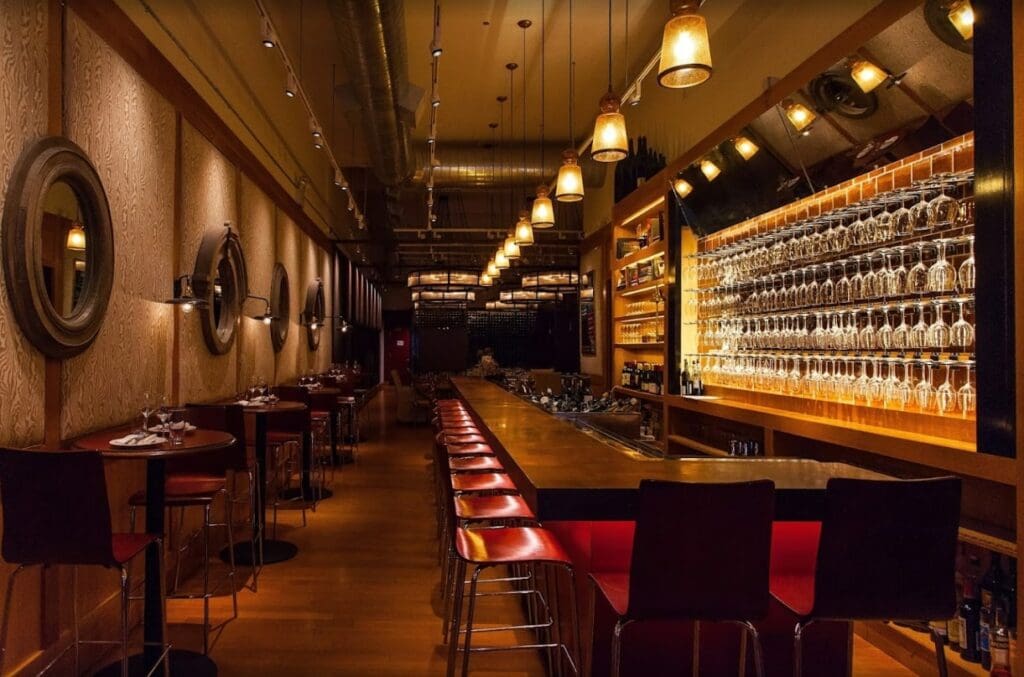 Wine lovers, Corkbuzz Chelsea Market is undoubtedly the best place for vino in the neighborhood. Situated inside of the energetic Chelsea Market, this small-yet-fierce wine bar is perfect for grabbing a glass, flight, or bottle, as well as a handful of well-curated snacks and small plates. Best of all, Corkbuzz Chelsea Market offers pours in GoVino to-go cups, meaning you can take your juice to go and pair with whatever cuisine strikes your fancy within the market.
149 W 14th St, New York, NY 10011
Situated right on 14th Street, this new-to-the-scene Georgian restaurant is an absolute must-visit for those looking to dive into the country's versatile wine scene. Although best known for traditional skin-contact, qvevri-aged wines, Chama Mama also offers a variety of still red and white pours, hailing from a number of regions found within the birthplace of wine. This may be obvious, but do not skip on the khachapuri.
542 W 27th St, New York, NY 10001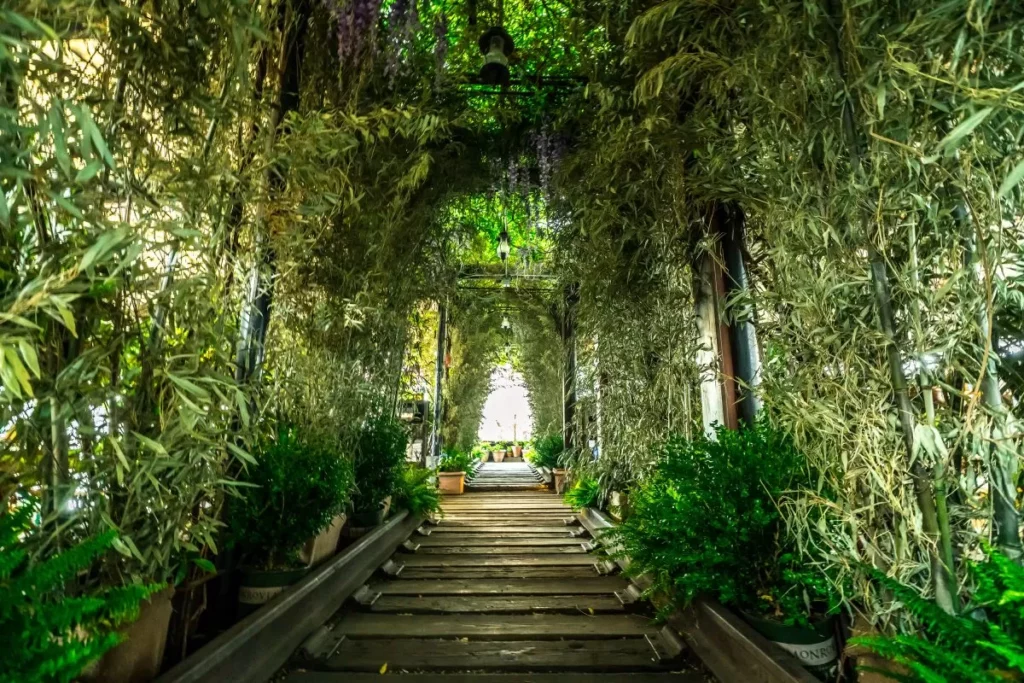 Seeking to enjoy your drink with a view? Look no further than Gallow Green. Located atop the McKittrick hotel, this little-known urban oasis provides spectacular panoramic views of the city skyline, though with way less of the noise/party vibe of The Standard's – though if that's what you're looking for, we can't recommend it enough. From Champagne Brunch to boozy happy hour, you really can't go wrong here.
132 9th Ave, New York, NY 10011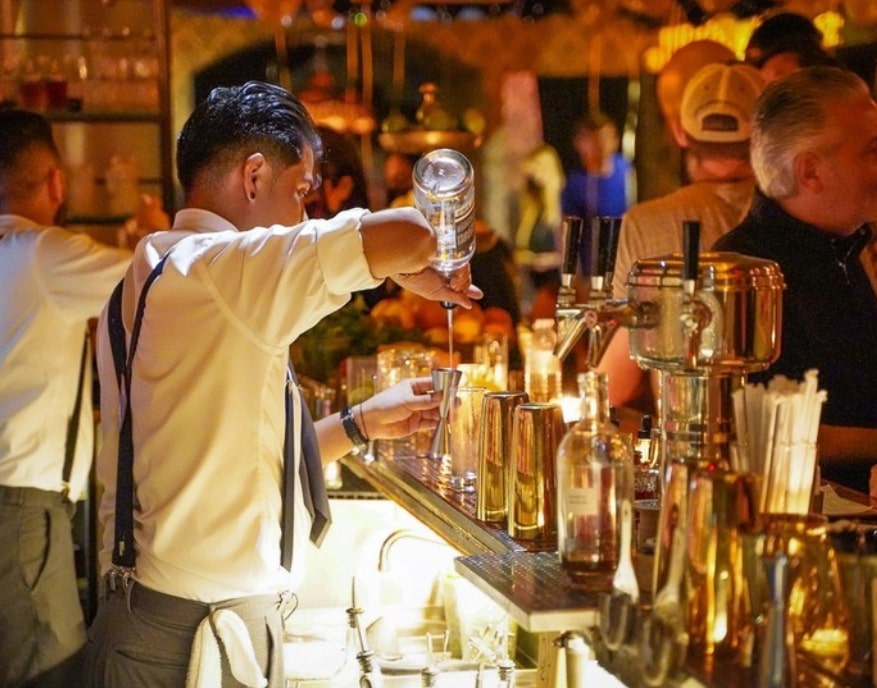 Founded by Brooklyn native Dave Oz, this 1920s-inspired speakeasy is best known for—you guessed it, gin-based cocktails— as well as a variety of other handcrafted libations. An homage to the past days of Prohibition, stepping foot into Bathtub Gin promises an instant transport to the boozy days of yesteryear (you can access the bar through Stone Street Coffee Shop). For an equally fun (and more out-in-the-open) cocktail break, check out Porchlight. 
EAT
52 Gansevoort St, New York, NY 10014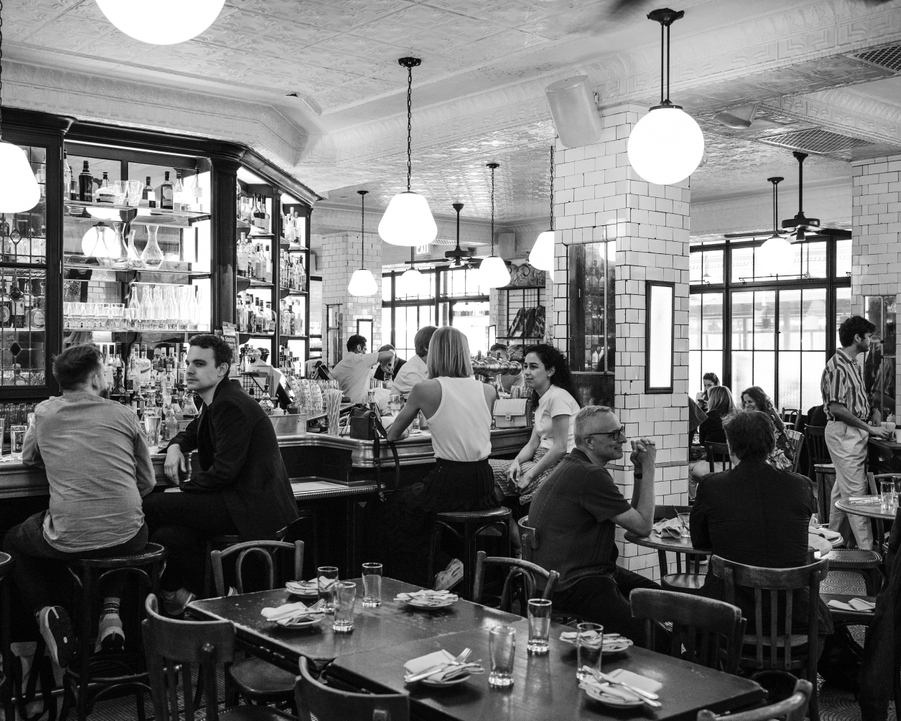 Founded in 1999 by James Beard Award-winning Keith McNally and Stephen Starr, this historic French brasserie returned to the scene in 2019 and is better than ever. Known for its salty raw bar favorites, Provençal-inspired fare, and perfectly fried pommes frites, this buzzy Parisian-inspired bistro still embodies the same see-and-be-seen attitude it did two decades back. They say don't fix what's not broken, though this celebrated resto is back and better than ever.
75 9th Ave, New York, NY 10011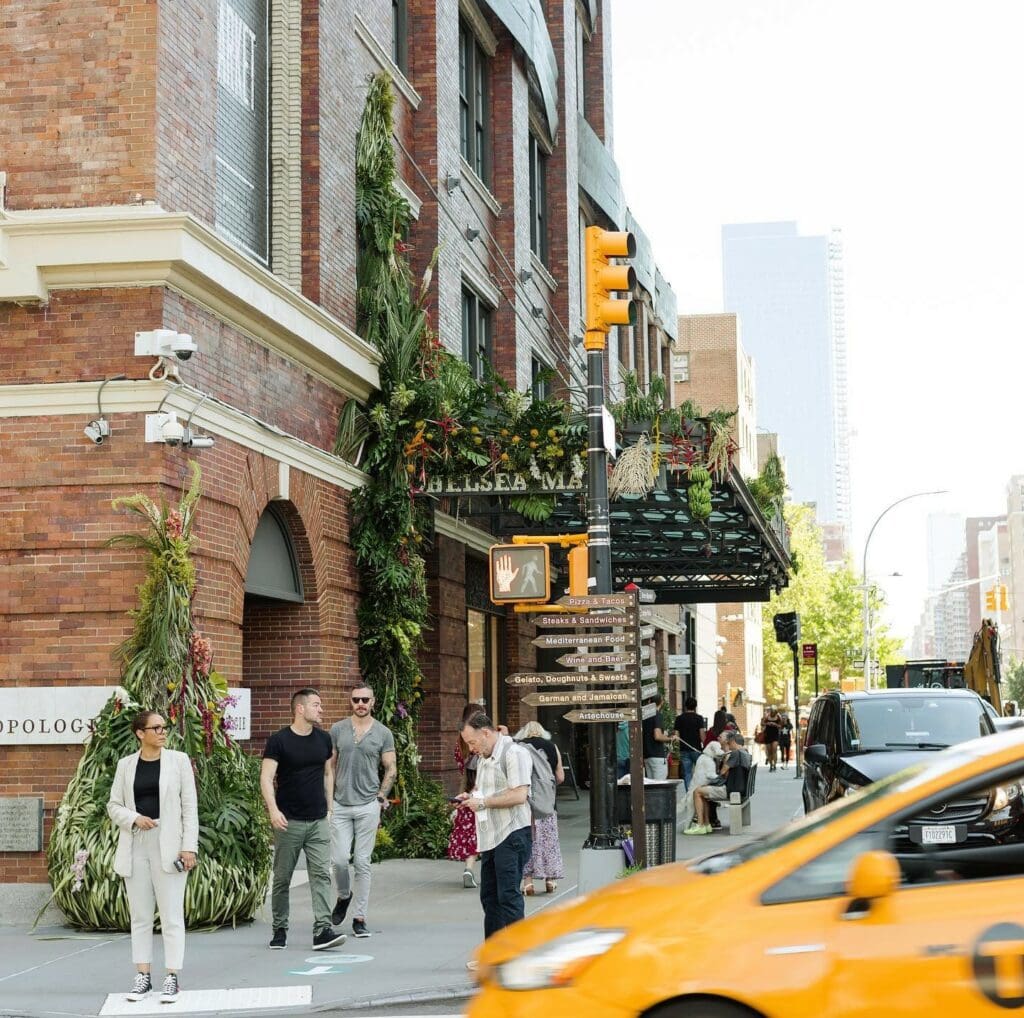 Spanning a full block's radius (14th to 15th Streets from Ninth to Tenth Avenues), this world-famous market is perfect for those looking to taste through a variety of locally-prepared foods, as well as shop a number of quaint boutiques. From Luke's Lobster to Los Tacos No. 1, a number of on-the-go options are available to grab and enjoy on site, and a few dine-in options are also to be found. Best of all, you can pair your to-go picks with pours from Corkbuzz Wine Bar!
156 10th Ave, New York, NY 10011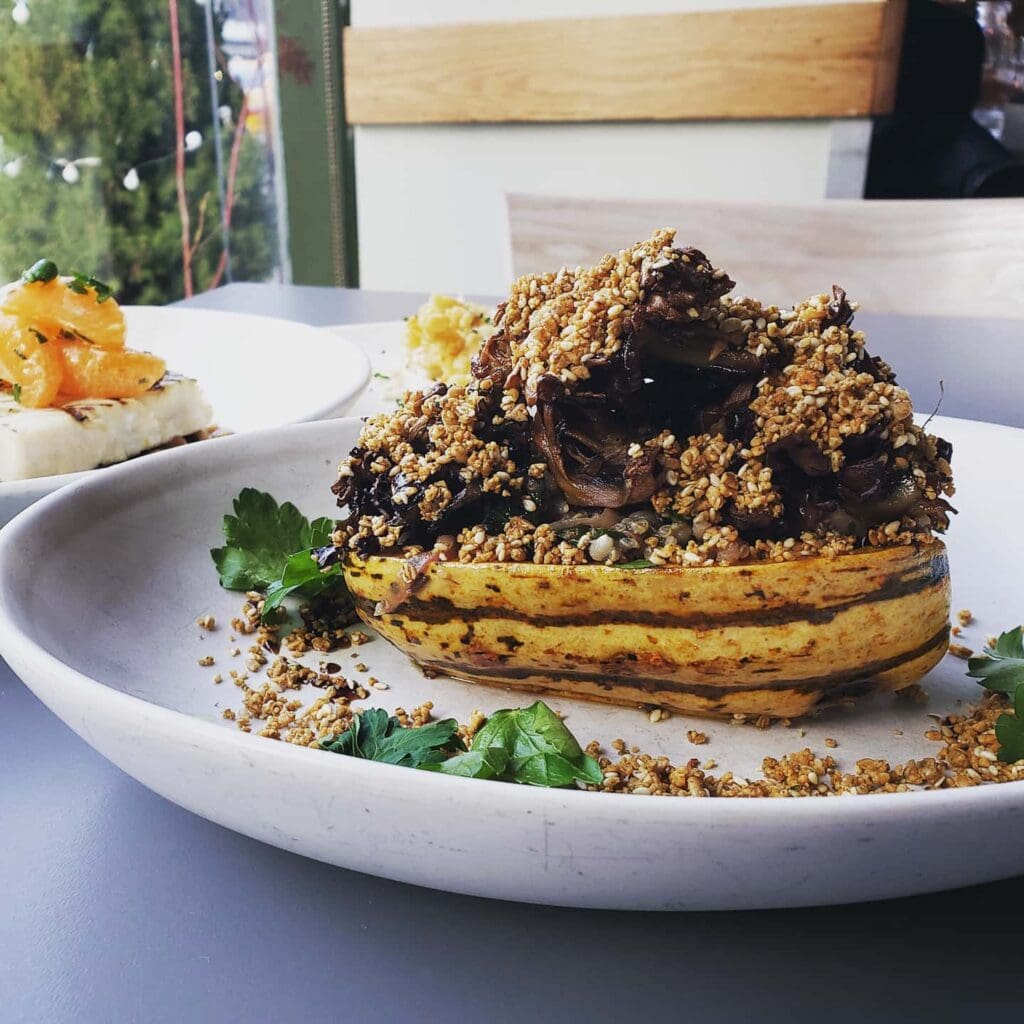 For impeccably executed farm-to-table cuisine, check out Cookshop. A neighborhood staple for locals and visitors alike, this casual all-day joint offers a variety of classic breakfast/brunch dishes, as well as simple-yet-delectable American classics for lunch and dinner – think roasted chicken, hand-shucked sea scallops, heirloom grains, and more. The restaurant also has a full bar, meaning that whether beer, wine, or cocktails is what you're craving, the restaurant can do it (and do it well).
230 9th Ave, New York, NY 10001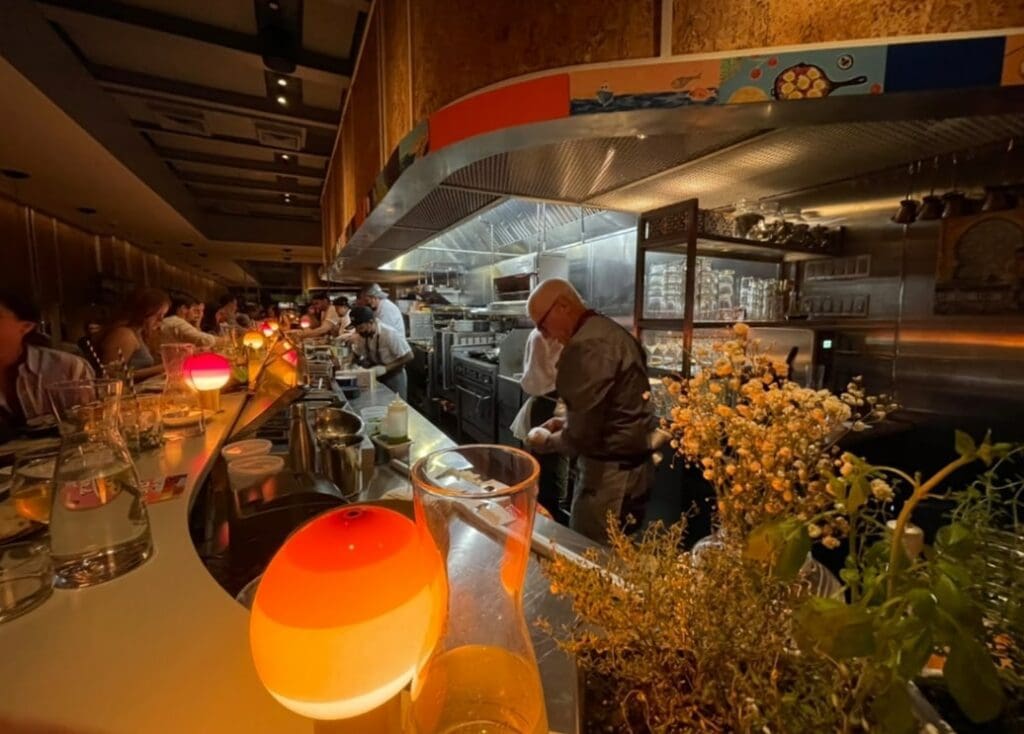 Given our love for Cookshop, it's unsurprising that Shukette comes next on our list. Founded by the same team behind the iconic Chelsea-based joint above, this newly opened Middle Eastern spot serves up classic favorites prepared over a charcoal grill. Homemade breads, spreads (including mouthwatering, tangy labneh), and "Fish In a Cage" are some of the restaurant's current highlights, though you really can't choose a bad item on this meticulously curated menu.
STAY
518 W 27th St, New York, NY 10001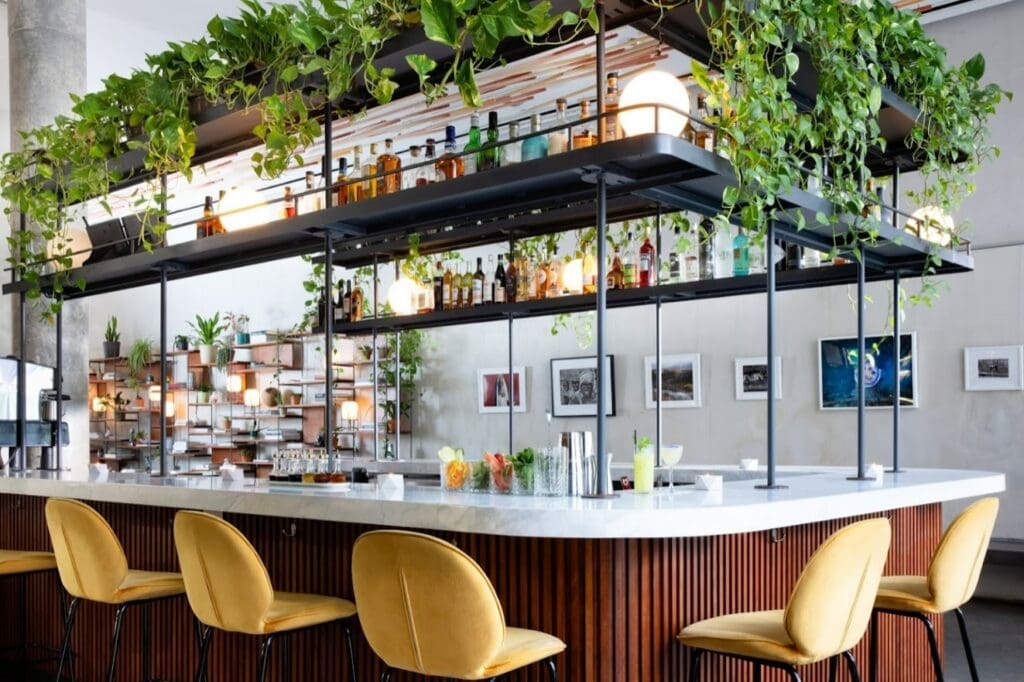 For a four-star hotel featuring curated art, modern rooms, two on-site restaurants, and a fitness center, head to Selina Chelsea. Ideally situated amongst the neighborhood's best galleries—and also within perfect walking distance from the High Line and Hudson Yards—this chic accommodation is a welcome new addition to the neighborhood. Guests can enjoy freshly brewed coffee at the on-site cafe, and for something a bit stronger, head to the on-site cocktail bar; the hotel's stunning rooftop with panoramic views of the city is simply the cherry on top.
18 9th Ave, New York, NY 10014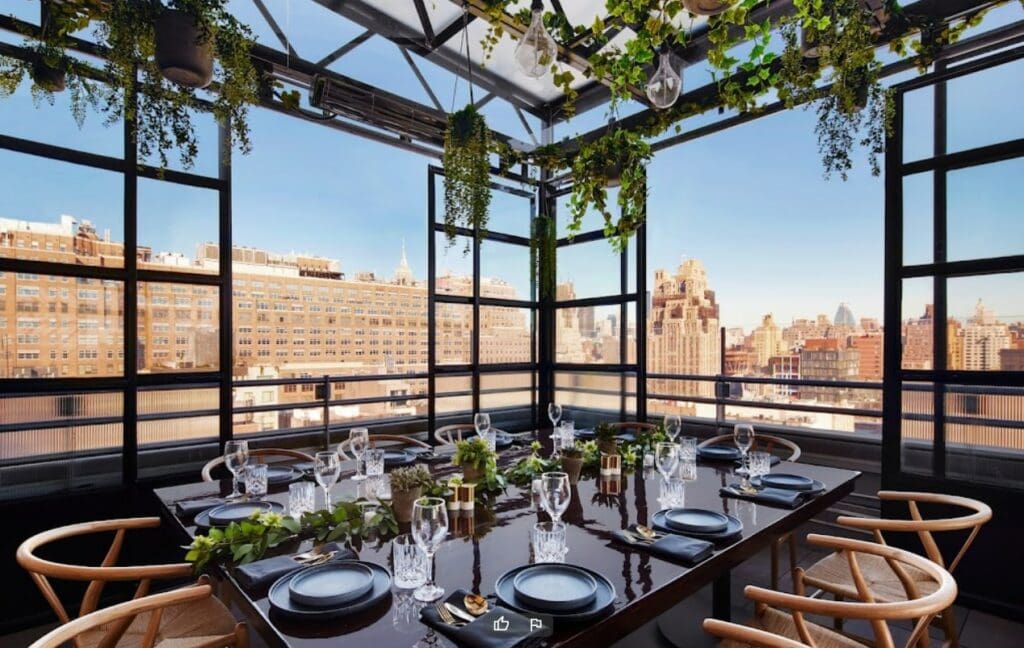 Prefer Meatpacking over Chelsea? Look no further than the Gansevoort Hotel. This longtime iconic hotel offers 186 rooms, an on-site restaurant, and year-round rooftop bar, plus a massive heated outdoor pool. Pro tip: If you're feeling nostalgic of Sex and the City-inspired 90s vibes, this historic hotel is just the ticket. For an equally trendy accommodation with a rooftop bar, 24-hour gym, and on-site biergarten, check out The Standard High Line.
300 W 22nd St, New York, NY 10011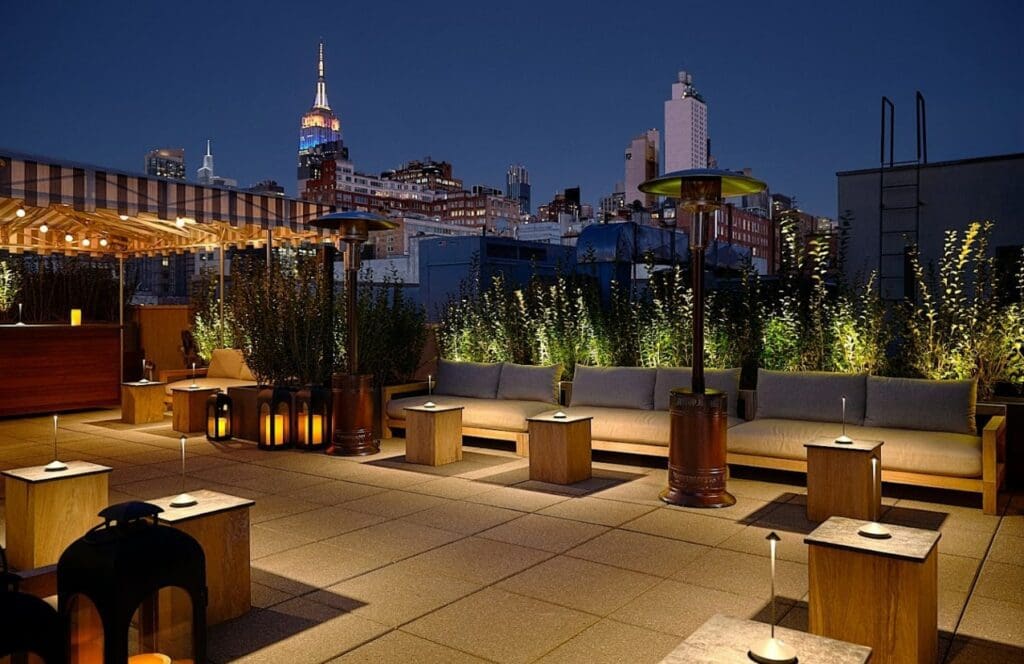 Based in the heart of Chelsea, this relatively new-to-the-scene hotel comes equipped with a 24-hour gym (featuring Technogym machines), a spa, and best of all, a rooftop wine bar. The hotel also offers an on-site café, Café Moore, for all-day-long pastries and caffeinated beverages. For gorgeous views and elegant accommodations on a brownstone-lined street, this hotel is for you.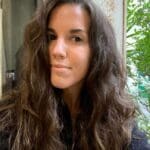 Vicki completed her Bachelor's degree at CUNY Hunter College with a double major in French Language and Italian Language, along with a minor in English and additional studies in Spanish and Polish. Her wine industry career began at Sud de France Développement in Manhattan, followed by a Wine Consultant/Buyer position at Quality House Wines. She went on to work full-time as a staff writer for VinePair.com from September 2016 – July 2017. She now freelances full-time; her work regularly appears in Food & Wine, Wine-Searcher, Beverage Media, Matador Network, Wine Enthusiast, and more.