Outdoor BBQ's are the absolute epitome of summer with the smell of grilled meat wafting in the air, watermelon juice running down your chin, and plenty of libations. Most people associate BBQs with hot dogs and hamburgers, potato salad, and frosty beer. While those are all wonderful things, it can be quite nice to switch it up by hosting a more sophisticated version. Here is my ode to the good ol' summer BBQ with a gourmet twist along with wine pairings of course.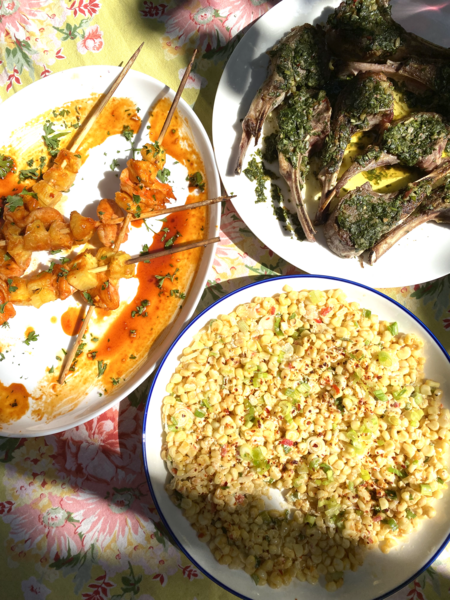 SUMMER CORN SALAD WITH PARMESAN, YOGURT, AND CHILIES
Yield: 4 portions
Ingredients:
6 ears of corn
½ cup of yogurt
1 tsp calabrian chilies
1 tbsp grated parmesan
1 tsp lemon zest
1 tbsp butter
1 tbsp olive oil
3 green onions sliced
Salt to taste
Pepper to taste
Directions:
Cut the kernels off the cob and saute the corn with butter and olive oil for 5 min.
Transfer the corn to a large mixing bowl, and add all the ingredients. Mix well and transfer to a serving platter.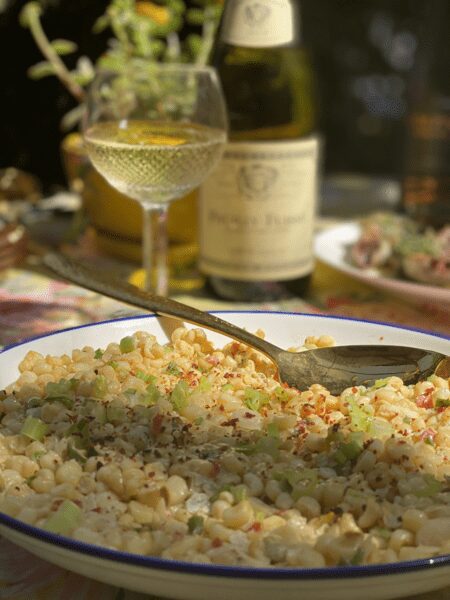 WINE PAIRING: "Louis Jadot " Pouilly Fuisse 2019
The grape found in Pouilly Fuisse is Chardonnay which brings out the sweetness in the corn beautifully while adding a nice tart element to the creamy salad due to its medium-plus acidity. The corn salad is light, bright, and fresh, and needs a wine that will complement it with that same freshness, which is exactly what the Pouilly fuisse does.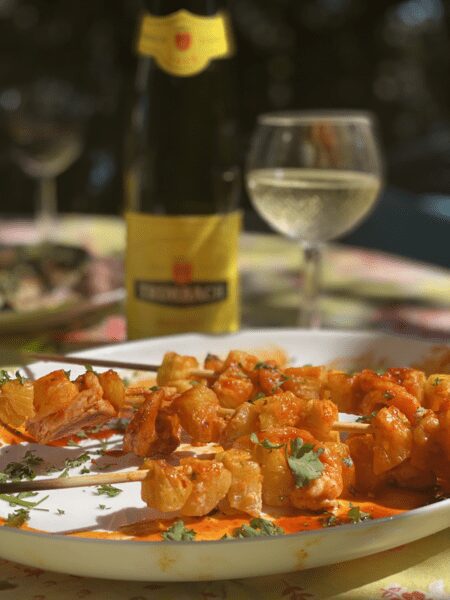 ROASTED SHRIMP SKEWERS WITH GOCHUJANG HONEY SAUCE AND PINEAPPLE
Yield: 4 Skewers
Ingredients:
2 tbsp Gochujang
1 tbsp honey
1tbsp soy sauce
1 tbsp sesame oil
3 cloves of minced garlic
1 lb of shrimp de shelled
1 pineapple diced
Large skewers
Directions:
1.) Preheat your oven to 400 degrees F.
2.) In a large mixing bowl, add the gochujang, honey, garlic, sesame oil, and soy sauce. Whisk well. Brush the sauce onto the shrimp and reserve the rest of the sauce.
3.) Skewer the shrimp alternating with the pineapple and place on a baking sheet lined with aluminium foil. Place it in the oven for 10-12 min. After you take it out, brush it with more sauce.
"TRIMBACH" Riesling 2018
Asian cuisine and wine that has some residual sugar, is such a classic and highly regarded wine pairing because the slight sweetness in the wine tempers the fiery spice that is normally found in Asian food. The shrimp and pineapple skewers were inspired by the pungent flavors of South Korea's common usage of gochujang, a sweet and spicy paste made of fermented rice flour and chillies. Riesling from Alsace tends to be dry and this wine is a perfect example, yet it still adds some mystified sweetness due to its prominent tropical fruit flavors, such as fruit cocktails.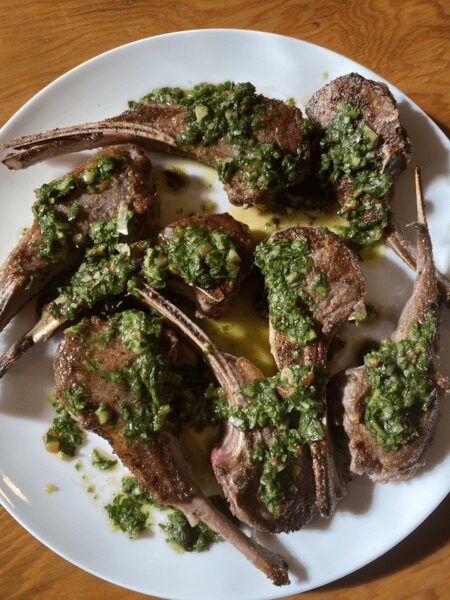 SEARED LAMB CHOPS WITH CHIMICHURRI
Ingredients:
8 lamb chops
2 grape seed, avocado, or canola oil
Salt
Pepper
Garlic powder
Chimichurri:
¼ cup of minced parsley
⅛ cup of minced cilantro
2 tbsp chopped basil
1 tsp chilli flakes
1 tsp lime juice
½ shallot minced
3 garlic cloves minced
3 tbsp olive oil
1 tsp soy sauce
1 tsp salt
Directions:
First make your chimichurri by combing all the ingredients in a medium sized bowl and whisk well. This is best when made a day ahead of time.
Take your lamb chops out 30 min before cooking them. Season the lamb chops liberally with the salt, pepper, and garlic powder. Make sure to coat both sides of the lamb chops with the seasoning.
Using a medium or large cast iron skillet add your oil and then turn the heat to high, searing each side of the lamb for 3-4 min. You may need to sear it longer depending on the thickness of the chop.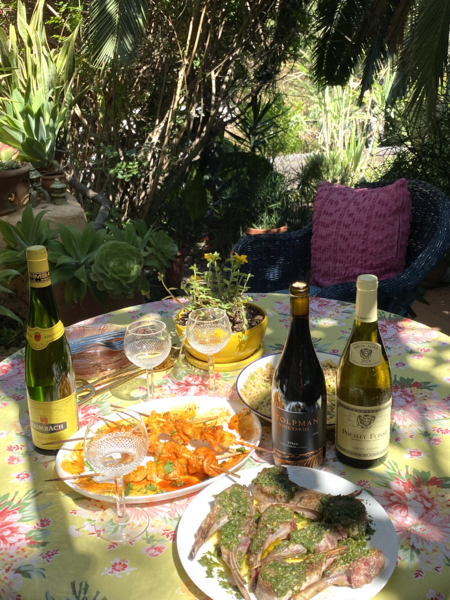 WINE PAIRING:" Stolpman" Syrah 2018
Syrah and lamb are a match made in heaven because the meaty notes in Syrah mirror the inherent gaminess that is found in lamb. Only a robust wine could stand up to the substantial and carnal feeling that one takes when they take a healthy bite of a lamb chop. Syrah is robust because of the heavy tannin it possesses and the prominent notes of dark cherries, smoked meat, leather, and raspberry.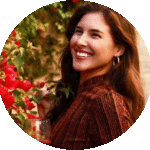 It was while attending The Culinary Institute of America that Lucia first fell in love with wine and wine pairings. To Lucia, food and wine are completely synonymous and the fact that wine can make food taste even better, is pure magic! Some of her favorite pairings include Montrachet with lobster and grower champagne with fries. You can find her pairing her recipes with her favorites wines on her successful instagram @lucilovesfood.