Thanksgiving most likely is a little different to many of us across the country. However, the idea of making food that comforts the soul remains. The problem is, sometimes we make a little too much and heating the same old leftovers can get tiresome. The following recipes are three ways to get creative with your Thanksgiving leftovers, as well as wine pairings that will make your food taste even better than you could have imagined!
CRANBERRY GRILLED CHEESE PAIRED WITH SPARKLING ROSE'
Use your leftover cranberry sauce to make this delicious grilled cheese! Cheese and fruit love each other and the tart cranberry sauce gives a nice contrast to the rich grilled cheese.
Lucien Albrecht
Cremant D' Alsace
Brut Rose'
100 % Pinot Noir
Cranberry Sauce Grilled Cheese:
Yield: Makes enough for one
Prep time: 5 min
Cook time: 8 min
Total time: 13 min
Ingredients:
1 tbsp cranberry sauce
2 slices of bread (I used sourdough)
1/4 cup of grated gruyere
¼ cup of grated gouda
1 tbsp mayo
4 roasted garlic cloves (optional)
1 tsp chipotle puree
1 tbsp grated parmesan
Directions:
Lay the bread on a cast iron skillet or regular saute pan. Spread the mayo evenly on both sides (This is a trick to ensure the grilled cheese turns a golden brown.) and flip over one side so there isn't any mayo. On the side without mayo, spread your cranberry sauce first and then the chipotle puree. Sprinkle the gruyere and gouda evenly and put the slice of bread with mayo on top.
Sprinkle each side of the sandwich with the grated parm. Turn the heat to medium high and slowly wait for the pan to heat up. Once it does, you will hear the grilled cheese start to sizzle. Leave it alone for 4 min and flip it over.Turn down the heat to medium, and cover with a lid so all that heat can get trapped in. Leave it alone again for 4 more minutes or until the cheese is completely melted
WHY IS THE GRILLED CHEESE AND SPARKLING ROSE' SUCH A GREAT WINE PAIRING?
The cranberry grilled cheese pairs so well with Lucien Albrecht's sparkling rose because that rich ooey gooey cheese is begging for a palate cleanser. Enter the sparkling rose's bubbles and high acidity which instantly refreshes your palate. The tart cranberry and raspberry notes that come from the Pinot Noir in the wine provide a beautiful complement to the zingy cranberry sauce in the grilled cheese. Lastly, those toasty brioche notes that come from the wine heighten the toasted bread flavor of the grilled cheese beautifully. Noone is overpowering the other in this pairing, it's a match made in heaven!
POTATO PANCAKES WITH CURED SALMON & CREME FRAICHE PAIRED WITH WHITE BURGUNDY
Jean Pascal et Fils
Bourgogne
Chardonnay
"Les Riaux"
2017
These potato pancakes are taken to the next level with cured salmon and creme fraiche ( french sour cream). This is a wonderful dish to serve at brunch!
Yield: 6 Pancakes
Prep Time: 10 min
Cook time: 10 min
Total time: 20 min
Ingredients:
6 cups of mashed potatoes
¼ cup of grapeseed oil
½ cup of flour
¼ cup of panko bread crumbs
2 eggs beaten
½ yellow onion small diced
1 tsp paprika
1 tsp onion powder
1 tsp garlic powder
½ cup of shredded cheddar
1 package of smoked salmon
¼ cup of creme fraiche
1 tbsp chopped chives
Directions:
In a large bowl, mix together the mashed potatoes, flour, yellow onion, garlic powder, onion powder, and paprika. Form into patties the size of a hamburger, roll in the breadcrumbs, and transfer to a lined baking sheet. Pop it in the freezer for 20 min to let it firm up and hold its shape.
In a small mixing bowl,mix together the chives and creme fraiche set aside.
Once the potato pancakes have firmed up, take them out of the freezer. Heat a large non stick pan and add oil on medium high heat. Once the oil is sizzling, add your potato pancakes and cook until golden brown on both sides. This should take about 5 min per side. Transfer to a paper towel lined plate to let them drain.
Start creating a stack with your potato pancakes by first spreading the chive creme fraiche, then a piece of smoked salmon. Repeat this process until you have all the pancakes stacked.
WHY ARE THE POTATO PANCAKES WITH CURED SALMON SUCH A GREAT WINE PAIRING?
White Burgundy goes so well with these potato pancakes because they were made with mashed potatoes, which are normally loaded up butter and cream. White Burgundy is 100 percent Chardonnay and goes through a process called lacto fermentation. This is the same enzyme that is found in milk and cream and thus mimics it. This is essentially a complementary pairing because the creamy buttery notes found in white burgundy match the butter and cream found in mashed potatoes. The mashed potatoes are so rich and lovely, yet they cry for contrast, and this is where the high acid in white burgundy comes in. Cured salmon has a nice brininess to it and is further enhanced by the lemon notes that can be found in White Burgundy.
BREAD PUDDING STUFFING PAIRED WITH BEAUJOLAIS
Domaine de Rosiers
Moulin A Vent
2017
Bread pudding is a fantastic way to repurpose your stuffing, and is so easy to make! Give it some extra love with grated parmesan and Italian sausage!
BREAD PUDDING STUFFING
Yield: 8 people
Prep time: 10 min
Cook time: 50 min
Total time: 58 min
INGREDIENTS:
8 cups of stuffing
½ cup of crumbled italian sausage
4 shallots sliced
1 tbsp butter
½ cup grated parmesan
1.5 cups cream
3 eggs
Directions:
Preheat your oven to 350 degrees.
In a medium saute pan, saute your shallots with butter and crumbled Italian sausage, until the sausage is nearly done.
In a small mixing bowl, beat the eggs with the cream and set aside.
In a large casserole dish, add your stuffing, and combine with the sauteed shallots and sausage. Add the cream and egg mixture, and mix well with the stuffing. Sprinkle the parmesan all over the bread pudding and pop it in the oven for 45-50 min. It is done once everything has set. Best served in square slices.
WHY DOES STUFFING BREAD PUDDING AND BEAUJOLAIS GO SO WELL TOGETHER?
Beaujolais and stuffing bread pudding go so well together because they both have the amount of body. Body refers to how heavy or viscous a wine feels in your mouth, and the same can be said about food. This specific Beaujolais from the cru Moulin A Vent is one of the more meaty Beaujolais. It is medium bodied, and the same can be said of the stuffing. The dark cherry notes in the wine complement the dried fruit usually found in stuffing as well. Lastly the gripping acidity found in the gamay grape (the grape of Beaujolais lends a nice contrast to the smoky italian sausage that is present in the dish.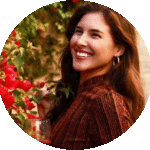 It was while attending The Culinary Institute of America that Lucia first fell in love with wine and wine pairings. To Lucia, food and wine are completely synonymous and the fact that wine can make food taste even better, is pure magic! Some of her favorite pairings include Montrachet with lobster and grower champagne with fries. You can find her pairing her recipes with her favorites wines on her successful instagram @lucilovesfood.