In part I of this mini-series, I looked at why there's no such thing as Italian food. Or rather, what most of us consider Italian food to be is really more specifically southern Italian food, for the most part. I drew a sort of culinary Mason-Dixon line across the peninsula along the ancient Roman Via Salaria, the "Salt Way" that runs from Rome to the Adriatic, dividing Italy in northern-central above, and southern below. The cuisines on either side of this arbitrary line have markedly different influences.
All regions south of Rome – Campania, Basilicata, Abruzzi, Molise, Apulia, Calabria, and Sicily (and its beautiful Lipari and Pantelleria Islands, source of brilliant dessert wines), are considered part of Southern Italy. The large island of Sardinia, too, falls under the spell of the south.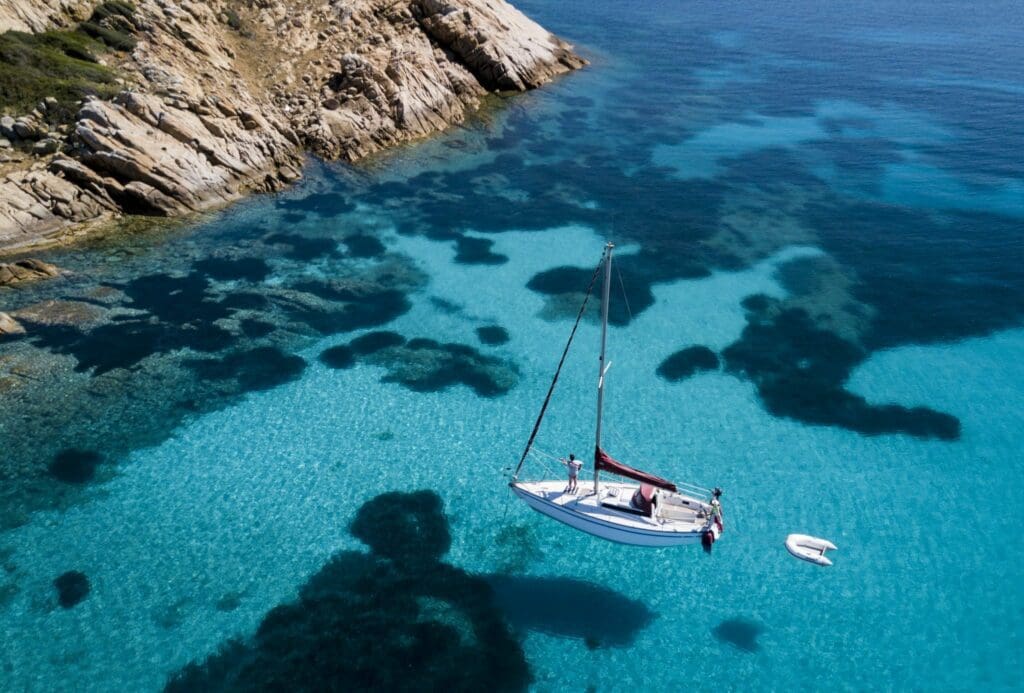 Historically, aside from the small percentage of wealthy landowners, Southern Italy was very poor. This explains the overwhelming proportion of southern Italian immigrants in North America compared to northerners, who brought their culinary traditions to their new homes and gave us "Italian food".
Most people made do with a mainly vegetarian diet, relying on garden vegetables and greens, breads and pastas, and fruits, to build up enough energy to go back to work in the fields. Yet out of this poverty emerged a cuisine of remarkable imagination, turning what little was on hand into a veritable feast for the senses. Everything is based on the quality and freshness of basic ingredients, and simple preparations, still traits of the best Italian food. Here is where you can find Italy's best figs, lemons, blood oranges, peppers, eggplant, capers, and the OG of tomatoes, the San Marzano, grown on the volcanic slopes of Vesuvius.
Seafood is naturally in abundance, from calamari to swordfish to sea bass and tuna. On feast days, lamb and kid, poultry and game birds are the roasts of choice; this isn't the land of cows or dairy products. Most cheeses are firm and aged, with the exception of the wonderfully soft and fresh buffalo's milk cheese mozzarella di buffala from Campania and burrata from Puglia.
The food here is all about freshness and simplicity, featuring vibrant flavors; lively herbs; the acidic twang of tomatoes, lemons, and capers; the salty-umami crunch of anchovies. High acid white wines and savory, but not oaky reds work best here. Not surprisingly, the majority of southern Italian wines fall into these style categories. Getting it wrong is difficult if you stick to the styles that the locals have been drinking for generations.
Insalate e Antipasti: Salads and appetizers
No Italian meal is complete without a salad of some kind. But the salads that are served at the beginning of the meal are more complex preparations, usually involving some kind of protein (seafood, meat, cheese). Simple green salads with vinaigrette are served after the main course as a digestive aid, usually without wine accompaniment.
Antipasti (singular: antipasto) means literally "before the meal." The composition and variety of antipasti served varies greatly from region to region, but they often include seafood, cured meats, olives, pickled or grilled vegetables, and cheese. Antipasti are served at the table as the first course in a traditional meal, and as such differ from the French hors d'oeuvres, which are passed around before sitting down at the table.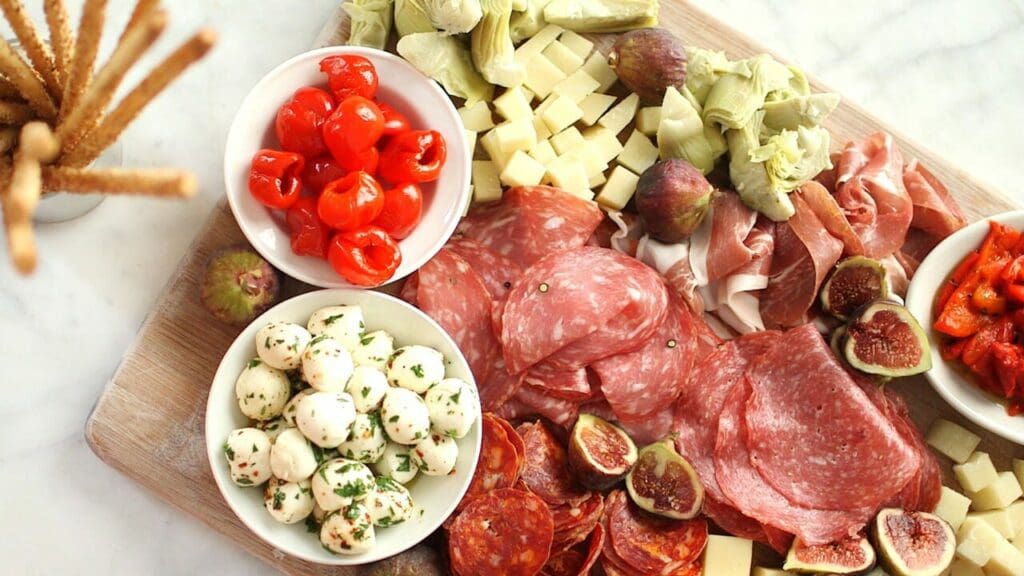 Considering that a typical antipasto platter contains a variety of ingredients and that vinegar is often featured somewhere, the best wine option is generally a bright, crisp, unoaked dry white, rosé (or even red, served with a slight chill). Don't bother looking for the perfect match, but rather think of the wine as a condiment for the antipasti, as a versatile squeeze of lemon.
Buttariga/bottarga (Sardinian smoked mullet caviar and olive oil), for example, is perfect with a lightweight, crisp, Mediterranean white like the Island's Vermentino di Gallura (Unmaredivino di Goacchino Sini, Cantina del Vermentino di Monti), though other unoaked, island whites like the salty assyrtiko of Santorini, Greece (Gaia, Sigalas) are equally compelling.
A short boat trip from Naples to the Island of Capri affords the chance to enjoy a classic Insalata caprese in its birthplace (Tomato, mozzarella di bufala, and basil), and while wines from Capri are rare, a lively Costa d'Amalfi Bianco from the stunning Amalfi Coast is foolproof (Marisa Cuomo's biancolella-falaghina blend is a reference).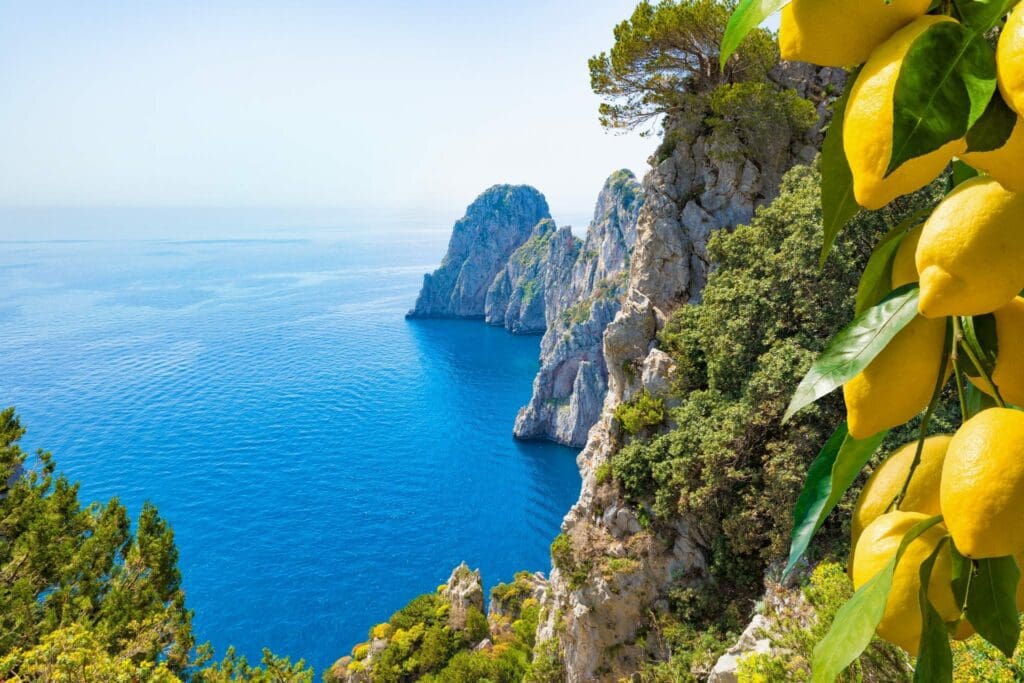 The southern Mediterranean classic Insalata di polipo (octopus salad with lemon and olive oil) encourages a similar direction with wine, such as a bright, pure falanghina from Campania, one of Italy's oldest varieties, planted for at least 2000 years (Mustilli, and La Sibilla are specialists, while Feudi di San Gregorio is widely available and reliable). If you want to raise the stakes, head inland and up into the hills of Avellino Province for Greco di Tufo, the most red of the whites wines of Campania, as locals never tire of saying, thanks to its firm structure and ageability. (Benito Ferrara, Mastroberardino, Villa Raiano).
When in Rome snacking on arancini (deep-fried rice balls filled with mozzarella), or carciofi alla romana (braised artichokes Roman-style, stuffed with mint, garlic, breadcrumbs) head for the hills to the south of the Eternal City and grab a simple but lip-smacking white from Frascati, a white blend based mostly on fragrant malvasia di candia (Casale Marchese).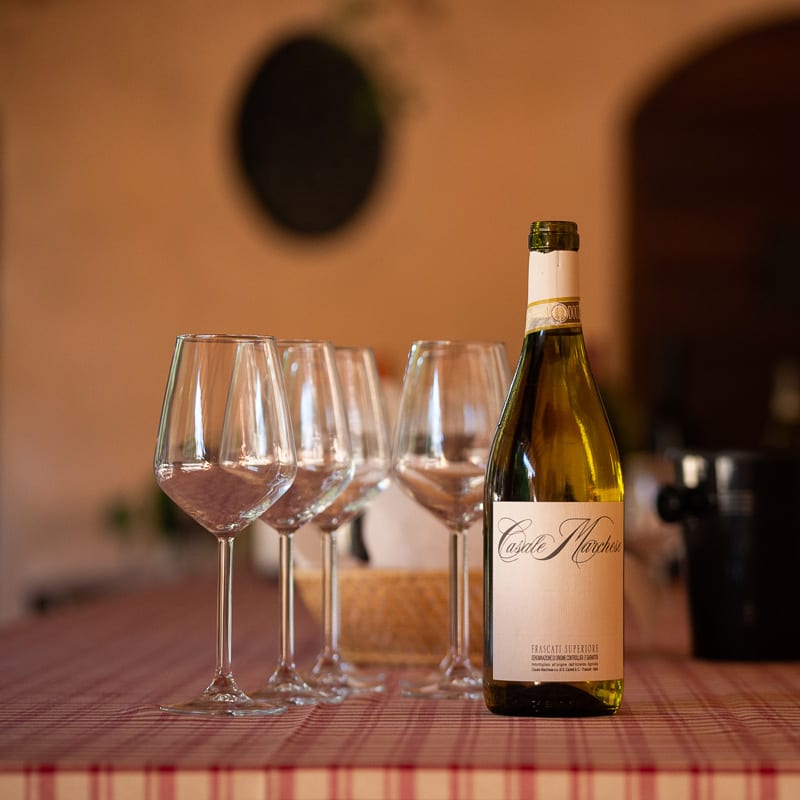 A classic Calamari fritti takes a Sicilian-Moorish twist with a dusting of cumin, which sings with a volcanic Bianco from the smoking slopes of Mount Etna (Benanti, Barone di Villagrande, Pietradolce), though sparkling Franciacorta is equally compelling. Caponata, another Sicilian specialty (sweet-sour fried eggplant, tomatoes, capers, green olives) varies from house to house and cook to cook, but generally works with lighter, zestier reds, like the delicate and fragrant Frappato from the Vittoria region of southeastern Sicily (Occhipinti, Valle dell'Acate, Planeta).
Primi: the first course
"Everything you see I owe to pasta." –Sophia Loren, Actress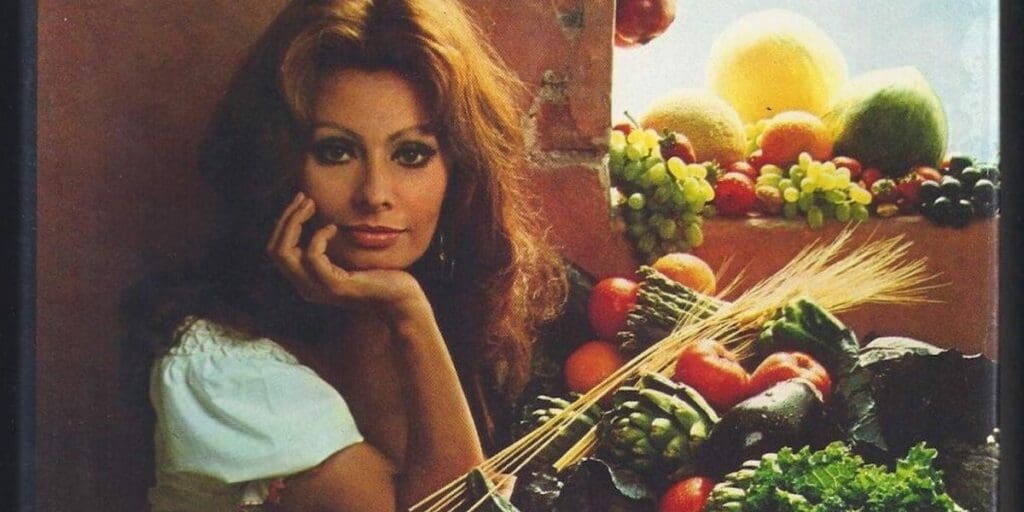 The first serious course (primo) in a Southern Italian meal is often some kind of pasta asciuta, dried pasta made from durum wheat (semolina) without egg (fresh egg pasta is a northern specialty). Sophia Loren, who grew up just outside of Naples, was intimately familiar with it. Portions are small, as the primi follows the antipasti, and precedes the main course, with salad, and dessert yet to come.
Spring brings us the simple but delightful Spaghetti con Piselli e menta (Spaghetti with mint, peas, and garlic), which calls for an equally spring-fresh white. Options abound but you'll enjoy discovering the delicate whites of the island of Ischia made from biancolella or Forastera (Casa d'Ambra), otherwise, a crisp, and stony Loire Valley Sauvignon Blanc is sure to please. A Pasta con le sarde (pasta with sardines) would suit a white made from Sicily's Inzolia (Feudo Montoni, Firriato), though the Galicians, who know a thing or two about seafood, can also supply excellent Albariño from Rias Baixas.
The more intense flavours of pasta al Nero di seppia (pasta with cuttlefish ink sauce), or a simple but delicious Spaghetti alle vongole (pasta with clams in white sauce with garlic, olive oil, and pepper) call more flavourful whites into action, such as one of Southern Italy's (and Italy's) best whites, Fiano di Avellino (Pietracupa, Colli di Lapio, Mastroberardino), planted since Pompeii was a thriving trading center. Northerners might opt for a Friulano from the Colli Orientali del Friuli.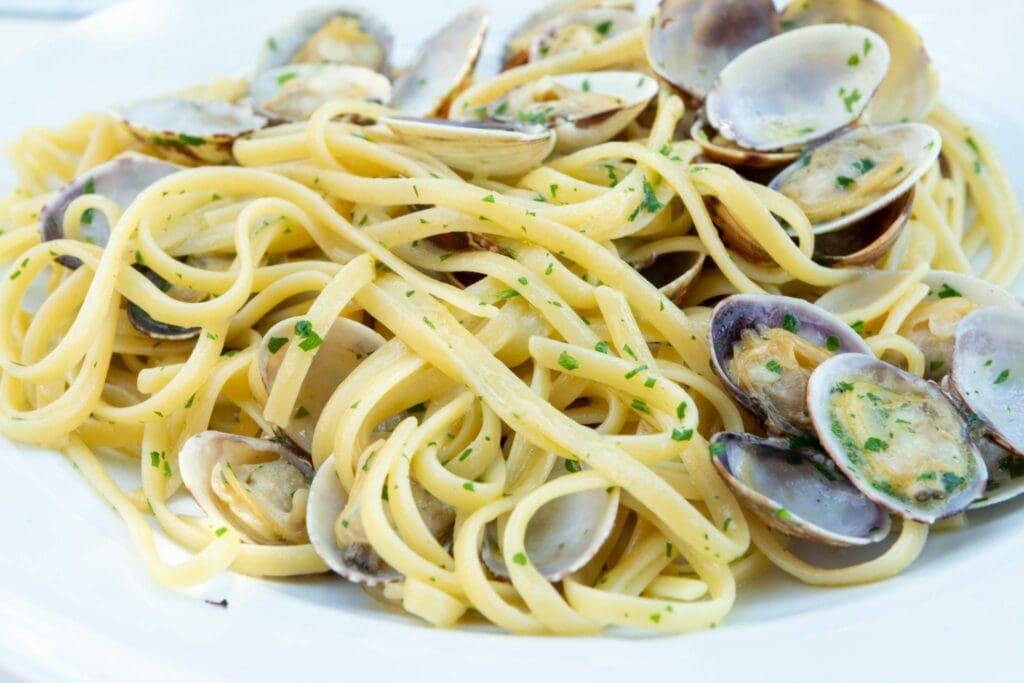 Other classic southern Italian pasta dishes that shine with similarly crisp, unoaked white wines are Rome's Spaghetti Alla Carbonara (spaghetti with egg yolks, guanciale, and pecorino), or Puglia's Orecchiette alle cime di rapa (ear-shaped pasta with rapini).
When the pasta sauce changes colour to red, the best wine options, too, usually follow suit. Sardinia's specialty, Malloreddus Alla Campidanese (semolina gnocchi-shaped pasta with sausage, tomato purée, and saffron), would most often be washed down with a smooth Cannonau di Sardegna (Antichi Poderi Jerzù, Tenute Dettori), while Lazio's classic Bucatini all'amatriciana (long tubular pasta with tomato and guanciale [salt pork], and pecorino) is well-suited to one of the region's best, little-known, light, zesty reds, Cesanese del Piglio (Terenzi, Rapillo), though of course, Sangiovese will do in a pinch. Naples's more pungent and spicy pasta putanesca (pasta with anchovies, black olives, capers, chilies), will undo most fine red wines, so go for something equally rustic, not too expensive and served with a light chill, like the piediroso-sciascinoso-aglianico blends of Lacryma Christi Rosso from the nearby slopes of active Mount Vesuvius (Cantina Olivella, Villa Dora, Sorrentino Vini)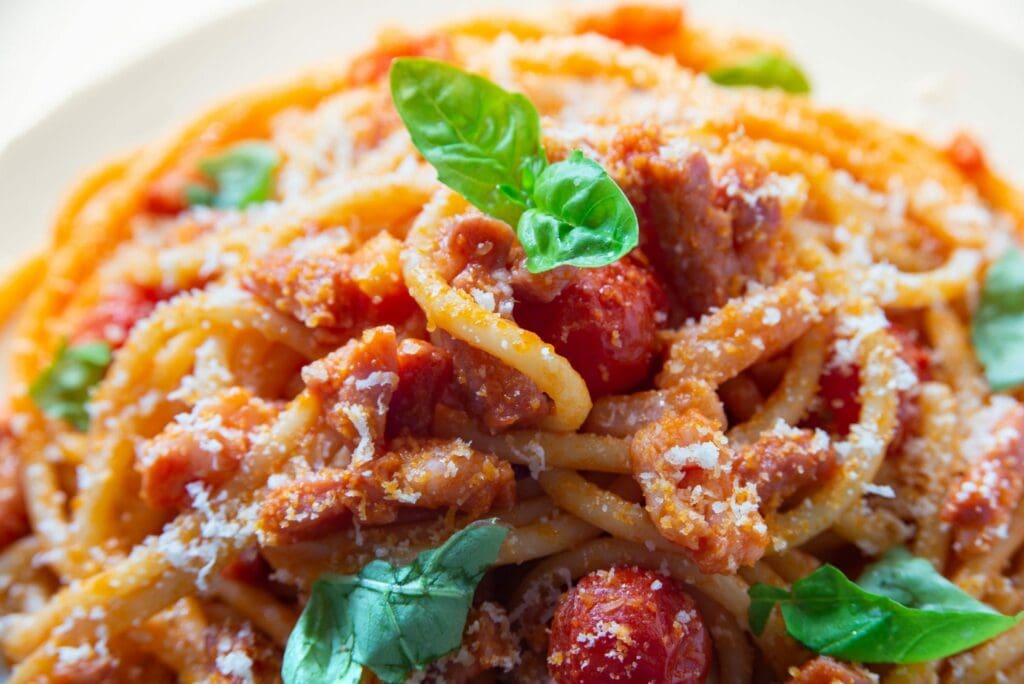 Pizze: an infinite variety
Southern Italy gave the world the pizza, in all of its glorious diversity. The pizzas from Rome have a particularly thin and crisp crust, while those from Naples have a slightly thicker, softer crust. The pizza is usually a meal unto itself, occasionally served after a light antipasto and followed by a simple green salad.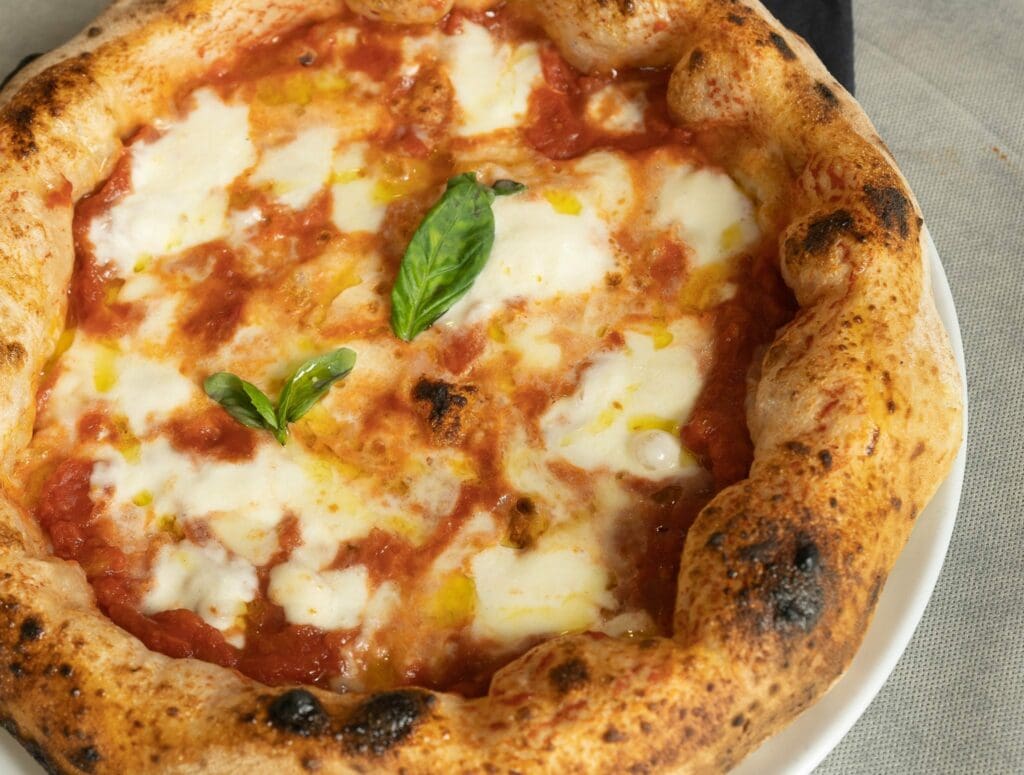 When considering which wine to pair, like pasta, it's of course the sauce that matters. All pizzas are either red (tomato-based), or the so-called pizza Bianca, white pizza without tomato. Zesty, savory, high acid reds (such as Sangiovese, Valpolicella, barbera, Nero d'avola, lighter Aglianico, and countless others) are classic matches with red pizza, meeting the acidic, umami-rich tomato sauce head-on.
Beyond that, the nuances of more or less spice (spicy sausage, 'nduja, chili peppers), saltiness (anchovies, olives, cured meats), or bitter elements (artichokes) can tweak the match slightly. White pizzas can shift either toward whites, reds, or rosés, depending on the particular ingredients, but all in all, let's not over-complicate things. Treat the wine as formally as you treat the pizza itself. It's generally a good idea to avoid big, jammy, tannic, oaky reds and oaky, creamy whites (though the latter works nicely with the ham and pineapple variation – a bizarre Greek-Canadian addition to the pizza repertoire), which tend to not to jive well with the rustic flavor of traditional wood-fired pizza.
Secondi: main courses
Secondi, or main courses in southern Italy are typically fish, poultry, or meat-based, though you can also find several traditional vegetarian dishes. A traditional Italian restaurant sells the contorni, side vegetable dishes, separately. Focus on the main course itself when considering the match, and remember that the sauce more frequently drives the pairing than the particular protein involved.
Classic Roman restaurant menu staple Saltimbocca alla romana (veal cutlet Roman-style with prosciutto and sage, simmered in white wine and butter) is a dish made for flavorful white wines, which are not Lazio's specialty. So, I'm apt to look back up north, but not too far, to one of Le Marche's great aromatic and savoury-herbal Verdicchio Dei Castelli di Jesi (Villa Bucci, Garofoli, Umani Ronchi).
Though the Tuscans claim it as their own invention, you'll find Pollo al mattone (lemon-herb-marinated, spatchcocked chicken cooked under a brick) all over southern Italy. Young, tender, free-range birds are best, and this dish can go either towards intense whites like Campania's Fiano di Avellino or Greco di Tufo, or lighter reds like Sicily's Cerasuolo di Vittoria, a blend of Nero d'Avola and frappato (COS, Terre di Giurfo, Gulfi). The latter also works perfectly with Pesce Spada Alla ghiotta (swordfish rolls in tomato sauce), as would most dry rosatos.
Staying in Sicily, Pollo al marsala (chicken in marsala wine sauce) needs a wine with some heft, such as a full-bodied, soft, wood-aged white, like a barrel-aged version of Contessa Entellina Bianco (Donnafugata), or, say, a Southern Rhône white like Chateauneuf-du-Pape blanc. Calamari ripieni Alla Siciliana (calamari stuffed with raisins and anchovies) needs a wine with the sweet fruit of its own but preferably light or no wood influence, as in one of Sicily's Grillo-based whites (Cusumano, Tasca d'Almerita, Tenuta Rapitalà), while Tonno Alla Palermitana (tuna Palermo-style marinated in white wine, lemon, garlic, rosemary, broiled, served with pan-seared sardines) takes us in a similar direction, or towards Rosato, such as one based on Sicily's Nero d'Avola.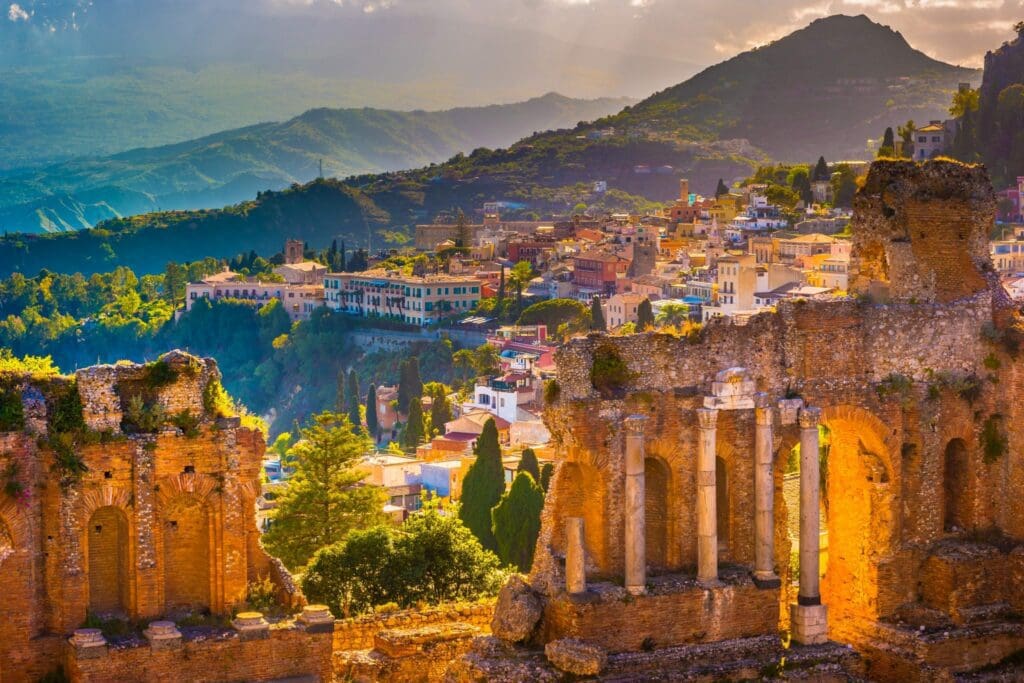 Vegetarians delight in a tiella di verdure (casserole of baked vegetable with mozzarella and basil), an Apulian specialty. It might be served with the local Locorontondo Bianco, a mild-flavoured blend of verdeca and Bianco d'Alessano (Leone de Castris, Rivera), though I'm just as likely to pull the cork on a light, herbal red along the lines of straight-up Valpolicella (Corte Sant' Alda) with a chill, or even Loire Valley Cabernet Franc if I'm feeling heretical.
Pork is naturally served all over Italy, but Sardinia turns Porcetto (spit-roasted suckling pig with myrtle) into high art, a dish formerly reserved for Easter celebrations but now served a year long. On the island, I'd be ordering a white Vermentino di Gallura (Surrau, Unmaredivino di Gioacchino Sini, Cantina del Vermentino di Monti), though lighter, fruitier versions of red Cannonau (aka Grenache) also serve the purpose. When you're in the mood for a more robust and swarthy southern Italian red, order up Agnello con le olive (roast lamb with olives, green or black) and make your way to the Aglianico section on the wine list, one of southern Italy's finest red grapes (Mastroberardino, Quintodecimo, Terra di Lavoro).
Dolci: Desserts
Dessert in southern Italy is more often than not a bowl of seasonal fresh fruit. More elaborate desserts, which frequently involve dried fruits, nuts, honey, and fresh cheese, were usually reserved for festival days and holidays, though even these have made their way into current mainstream culture and are served year-long.
Torta ai pistacchi (pistachio tart), torta ricotta e pera (tart with ricotta cream, poached pears, and biscotti), struffoli (fried dough with honey), and the classic crunchy cannoli (fried dough stuffed with ricotta cheese, raisins, and cinnamon) are often accompanied by a small glass of sweet passito-style (dried grape) wine, such as Sicily's Passito di Pantelleria (Donnafugata, Marco de Bortoli) or the fortified amber Marsala Superiore Riserva (Marco de Bortoli, Pellegrino).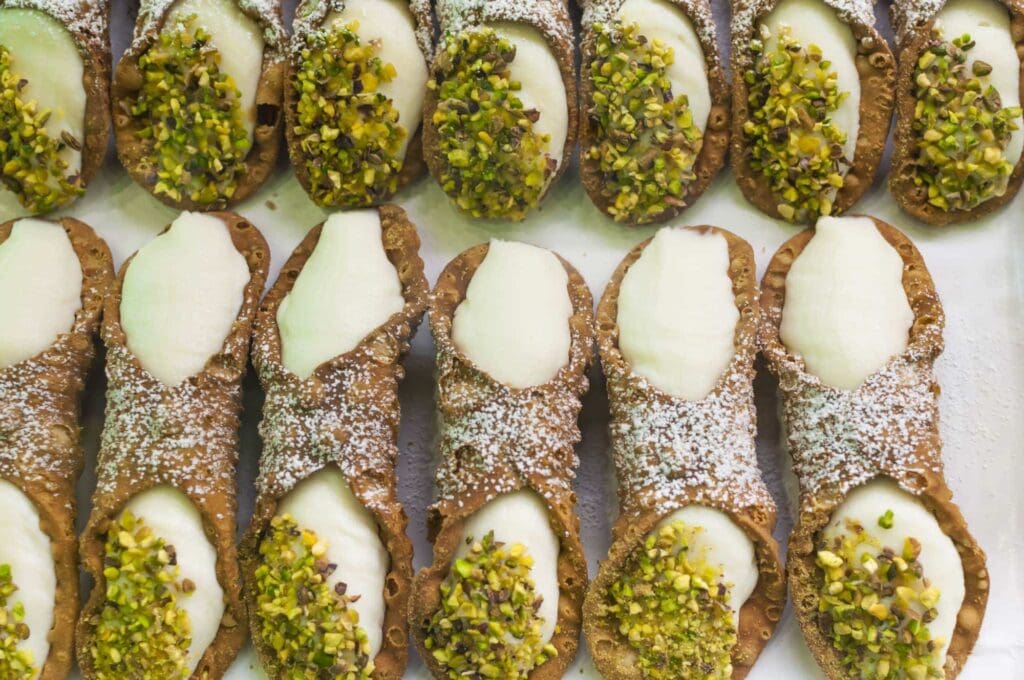 Desserts like the torta Caprese (flourless chocolate cake), or brucellato (shortbread cake stuffed with dried fig, raisins, almond), on the other hand, are remarkably well-suited to sweet, fortified red wines, like the now-rare Aleatico-based wines of Puglia and Lazio, though you're more likely to be able to find a Tawny port, or perhaps even a sweet, dried grape Recioto Della Valpolicella (Quintarelli, Dal Forno, Tommaso Bussola).
Let your exploration of Southern Italian food and wine begin!
See you around the next bottle.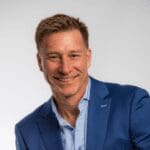 Master Sommelier John Szabo was the first Canadian to add the "MS" after his name in 2004, and he holds the WSET Diploma with honours. He is a partner and principal critic for WineAlign.com, and buyer for the WineAlign Exchange wine club, as well as columnist and consultant at CellArt.com, and feature writer for Modalina and MarQuee magazines. John is co-host of the podcast Wine Thieves, host of the IGTV series 5 to 7 Winedown, and freelances widely for international publications. His latest book, Volcanic Wines: Salt, Grit and Power, earned critical acclaim including the André Simon award for best drinks book. On the consulting side, John builds wine programs across Canada, and is currently sourcing wines for Accor/Fairmont/Sofitel Hotels in Québec.