"In prison, dinner was always a big thing. We had a pasta course and then we had a meat or a fish. Paulie did the prep work. He was doing a year for contempt and he had this wonderful system for dicing the garlic: he used a razor. He used to slice it so thin that it would liquefy in the pan with just a little oil. It's a very good system." Henry Hill (Ray Liota), in Goodfellas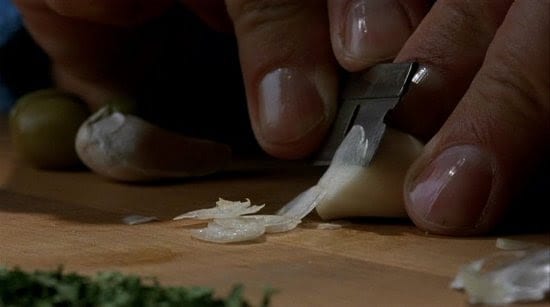 The version of "Italian food" that most of us non-Italians know is what was popularized by red-checkered table-cloth trattorias and gangster films over the last half-century. But while much of it is authentic, it's barely half the story. What we are familiar with is largely southern Italian food, brought by southern émigrés. Pizza and pasta in red sauce? Southern fare. But the reality of "Italian food" is much more diverse.
The country we know as Italy is a really a loosely federated collection of cultures, dialects, and traditions, separated by both history and geography. And Italian cuisine, too, is a function of its coloured past of invading peoples and mountainous topography, having developed independently across the peninsula, and even from valley to neighboring valley. French and Germanic influences, for example, are observed on tables in northern regions like Piedmont and Lombardy, Veneto and Alto Adige. Greek and Saracen (Arabic) invaders, on the other hand, informed many classic dishes of the south in regions like Campania, Calabria and Sicily.
Adding to the maddening complexity of Italian food is that fact that Italian cooking is, by nature, notoriously ad lib and informal. I've never seen an Italian cookbook suggest Paulie's inventive use of the razor blade to thinly slice garlic so it melts into the oil. But that's the point: In Italy, la cucina casalinga – home cooking without rules, rules. There's no single right way to do things. As the great culinary author Waverly Root once observed, if you ask for a Béarnaise in 200 French restaurants, you'll get 200 identical sauces. Ask for a ragù in Italy, and you'll get 200 variations on meat sauce. Italian food, like Italian wine, is deliciously varied and fiercely regional.
And with more and more regionally authentic restaurants popping up around the world celebrating these differences, let's take a closer look at some classic regional Italian wine and food matches, with the understanding that everyone does it slightly differently.
Italy has 20 official regions, but a manageable starting point is to consider northern and southern style cuisines. There's of course no official border that divides the country, but from a culinary perspective, roughly speaking, the country can be divided along the Via Salaria, the "Salt Way" an ancient Roman road that crosses the peninsula from Rome to the Adriatic Coast just north of Pescara, on the border between Le Marche and Abruzzo, more or less splitting the country in equal halves.
South of this road, pasta asciuta (dried pasta made from durum wheat, also known as semolina) reigns supreme, for example, even if it's popular all over Italy today. To the north, risotto, polenta, gnocchi, and fresh egg pasta are more common. Where the south calls for olive oil, the north reaches for butter or lard. Northern cooks also use less tomato, relying more on brodo (meat broth), cream or wine to moisten dishes, while the pizza is a southern Italian (Neapolitan) invention. These are just a handful of the many differences.
Starting in the north, let's take a look at some of these diverse regions and their emblematic foods – the dishes you'll likely encounter in an authentic restaurant – along with the local wines you'd most likely be served by a sommelier if dining in situ. This doesn't mean that you should only drink Italian wines with Italian foods, although that's a great place to start. But wine and food pairing knows no arbitrary boundaries and you're not tied to any traditions. Use the time-tested classics as a starting point, but experiment, too. I'm sure a Renaissance man (or woman) would have done the same thing given the opportunities that we have.
Part I: Classic Preparations from the lands north of Rome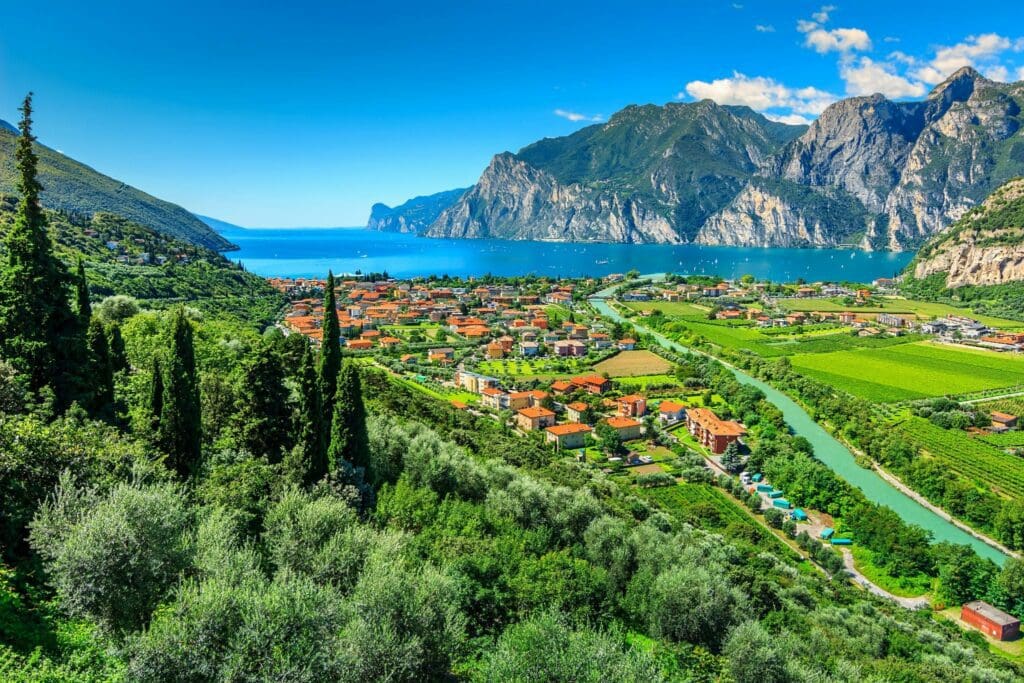 Many of the Italian culinary repertoire's classic ingredients, like Parmigiano-Reggiano cheese, prosciutto di Parma ham, bologna, arborio rice, and aged balsamic vinegar, for example, are all produced north of the Via Salaria. Northern Italy is incredibly rich in wine, too, with such well-known grapes and appellations as Pinot Grigio, Prosecco, Gavi, Dolcetto, and Barbera, Barbaresco and Barolo, Valpolicella and Amarone, Chianti Classico, Brunello di Montalcino, and Vino Nobile di Montepulciano, headlining, to name just a few.
Zuppe (Soups)
North or south, Italian soups are hearty and rustic meals unto themselves. Whereas elsewhere it seems somehow odd to drink liquid while eating liquid, Italians are comfortable drinking wine with their hearty soups — in fact one wouldn't do without it. Tuscany gives us Pasta e Fagiole (cannellini bean soup with macaroni and vegetables in a tomato-based broth with olive oil), which works perfectly with light-bodied, bright, zesty, reds like the Sangiovese-based wines of Chianti Classico (I like Isole e Olena, Castello di Ama, and Fèlsina Berardenga, among many others).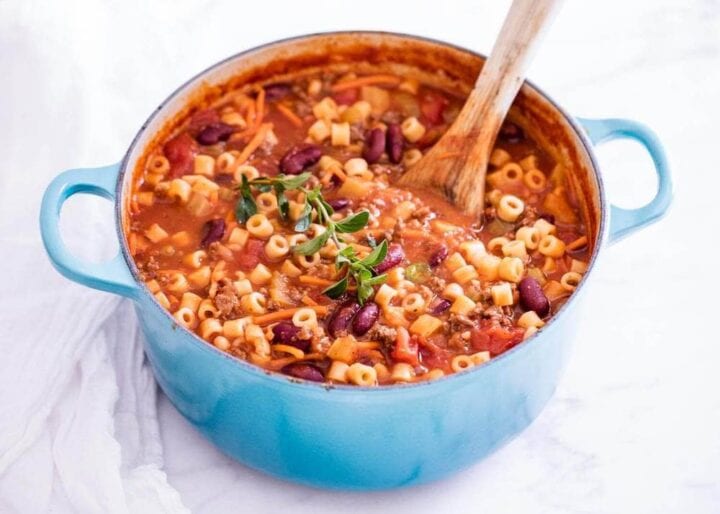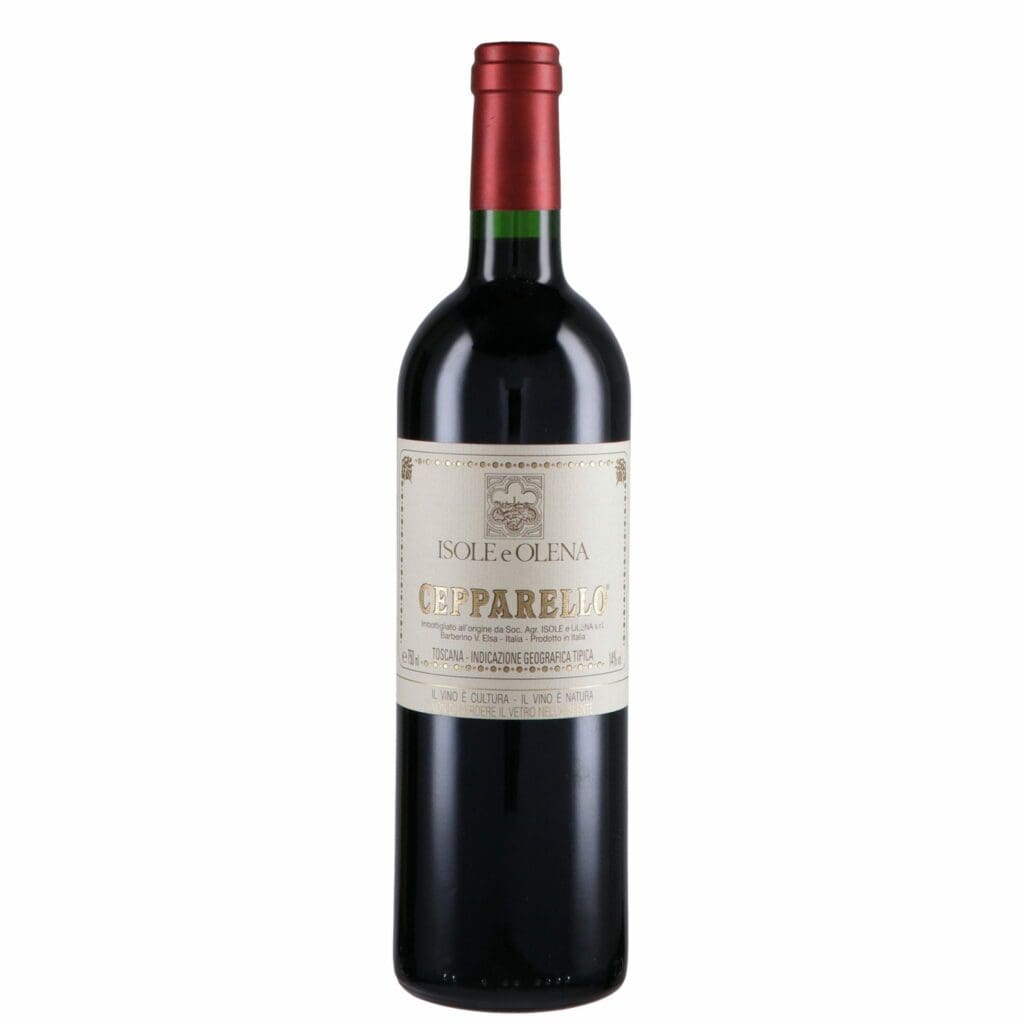 Next door in Emilia-Romagna, the regional variation on Zuppa di Pesce (fish stew of mullet, scorpion fish, squid, octopus, with tomatoes, garlic and parsley) is a treat with a lightweight, crisp, and stony dry white such as Le Marche's Verdicchio dei Castelli di Jesi (Villa Bucci, Garofoli, Umani Ronchi) or the Veneto's Garganega-based Soave Classico (Pieropan, Gini, Inama). Liguria's Minestrone alla Genovese (a lighter variation on pasta and bean soup with Parmigiano-Reggiano) calls for an aromatic, fruity, round white like Vermentino from the coastal Colli di Luni appellation (Ottaviano Lambruschi, Terenzuola, Lunae Bosoni), or a Pinot Grigio from Alto Adige (Lageder, Abbazia di Novacella, Elena Walch).
Pasta, gnocchi, polenta, and risotto
Many Italians consider the Romagnoli of Emilia-Romagna to be the best pasta makers of Italy, especially of fresh, thick tagliatelle, pappardelle, and lasagna noodles. Stuffed pastas come in the form of tortellini (belly button) or cappelletti (little hats), as well as ravioli and agnolotti, among near-infinite variations. The north's repertoire of sauces extends beyond the traditional tomato-based sauces of the south, opening the door to more varied wine pairings, and white wines come into play more frequently. Even with stuffed pasta, I find the sauce to be the driving force behind a good match. With mushroom-stuffed ravioli in a cream sauce, for example, I suggest a substantial, wood-aged white. But with the same ravioli in a red (tomato) sauce I'd opt for an earthy, zesty red. Likewise, when pairing with dishes based on potato gnocchi (dumplings), polenta (corn grits), or risotto (a rice-based dish), it's all about the sauce/main ingredients, so use that as your starting point.
Emilia-Romagna's classic Spaghetti Bolognese (spaghetti in meat sauce) is perfect with medium-full bodied, balanced, moderately tannic reds such as the local Sangiovese di Romagna (Fattoria Zerbina, Dreì Dona), or to kick it up a notch, a deep and robust, turbocharged chewy Barolo made from Nebbiolo (Mascarello, Conterno, Ascheri… too many to name).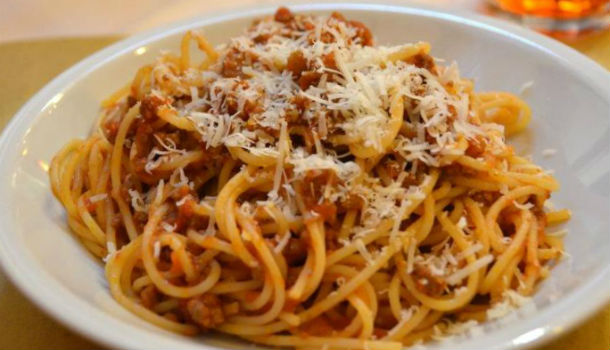 Gnocchi al Pesto (potato gnocchi in fresh basil, garlic and olive oil purée with grated hard cheese) is served on the Ligurian coast with lightweight, crisp, and stony whites such as the Pigato of the Riviera Ligure di Ponente DOC (Majè), though most crisp, lightweight, unoaked whites will do. Piedmont's famous Agnolotti al Plin (fresh pasta stuffed with veal, and vegetables, in sage-butter sauce) is a treat with aromatic, fruity, round whites like the fragrant Arneis of Roero (Vietti, Bruno Giacosa, Brovia), though the dish works well with lightly wood-aged whites as well – think cooler climate chardonnay with a kiss of oak.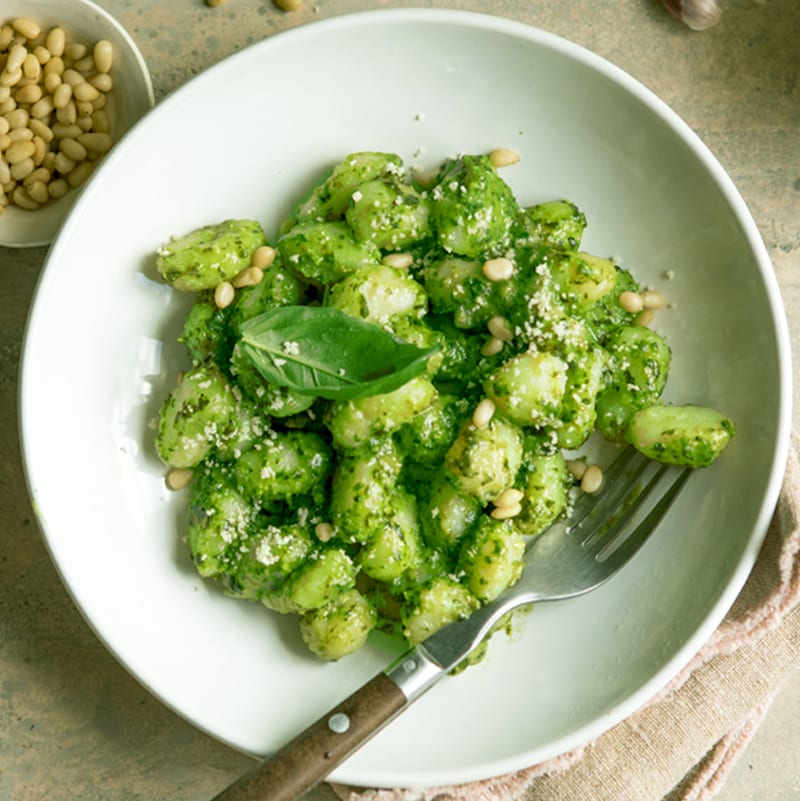 Polenta from the Val d'Aosta is rich and cheesy, often made with gruyere, fontina, with milk and butter, also calls for aromatic, fruity, round whites like the excellent local Petite Arvine (Institut Agricole Regional), or a richer style Pinot Grigio, say, from Friuli (Lis Neris, Vie di Romans, Schiopetto). Lombardy's classic Risotto Milanese from the capital features carnaroli rice flavoured with saffron and enriched with butter and bone marrow with a generous grating of Parmigiano-Reggiano and can go either white, like a richer Soave Classico, or a light-bodied, bright and zesty, low tannin red like Valpolicella (Corte Sant'Alda, Ca' La Bionda, Tommasi).
Meat, poultry, and game
Beef, lamb, pork, lamb, chicken, rabbit, and many types of game including wild boar, pheasant, hare, and even horsemeat, are all on the menu in Northern Italy. And cooking methods are no less varied: searing, stewing, roasting, boiling, and charbroiling are common techniques.
Fegato Alla Veneziana from the Veneto (calf's liver with slow-stewed onion, white wine, sage) works well with either fruity, round whites or lighter reds; think along the lines of local Soave Classico or Valpolicella, or non-Italian stand-ins like Willamette Valley Pinot Gris (Eyrie, Adelsheim, Cristom), or a straight-up Côtes du Rhône red. Carne Cruda, Piedmont's version of beef tartar with white truffle can also swing white or red, though go with something a little more delicate like Barbaresco if red (Produttori del Barbaresco, Marchesi di Grésy, Sottimano), especially when mature and redolent of truffles itself.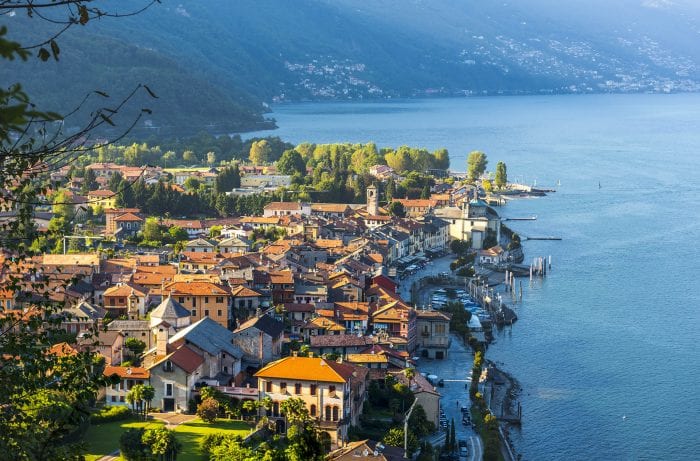 Slowly braised Ossobuco (veal shanks) from Lombardy is an invitation to pull out full, deep robust reds from the cellar, such as the Valtellina's Sforzato (Ar.Pe.Pe, Nino Negri, Mamete Prevostini), Nebbiolo made in the Amarone style, or Amarone Della Valpolicella itself (Masi, Quintarelli, Dal Forno). In a more holiday-oriented dish, Lombardy's Cappone Con Le Noci (poached capon with walnut and bread stuffing) shines with full-bodied, soft, wood-aged whites like Terre di Franciacorta Chardonnay (Ca' del Bosco), or medium-bodied, balanced reds like Pinot Noir from the Sonoma Coast (Flowers, Peay, Hirsch). When it comes to Tuscany's emblematic Bistecca Alla Fiorentina (charcoal-grilled Chianina beef T-bone steak), it's time to reach for a robust Brunello di Montalcino (Canalicchio di Sopra, Barrici, Col d'Orcia), or Stateside, a Napa Valley Cabernet Sauvignon will certainly please (Diamond Creek, Heitz, Ovid, too many..)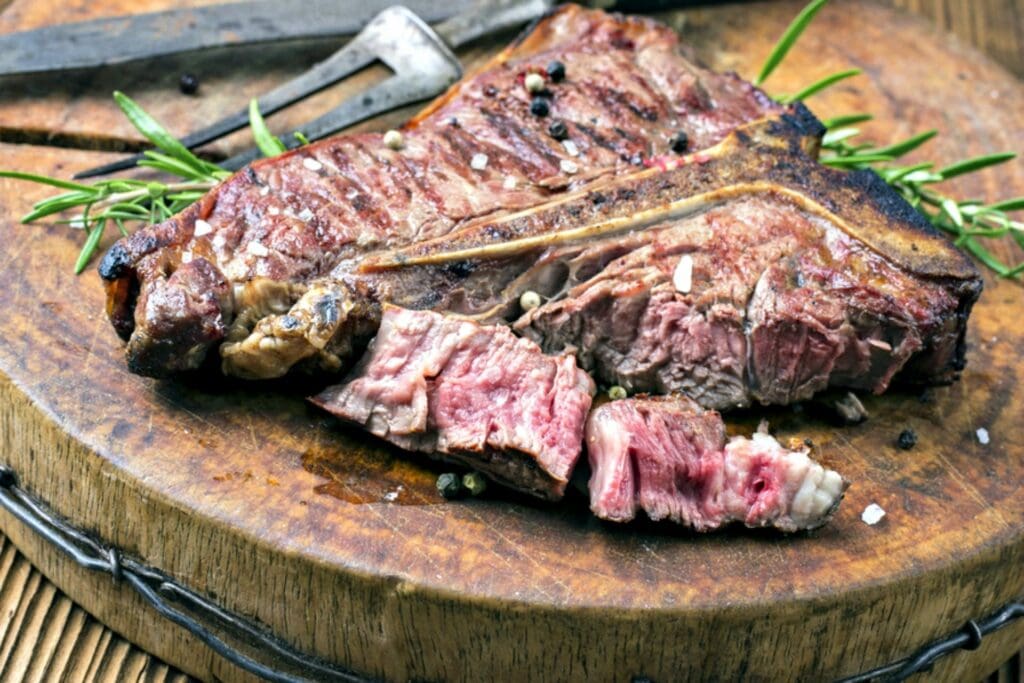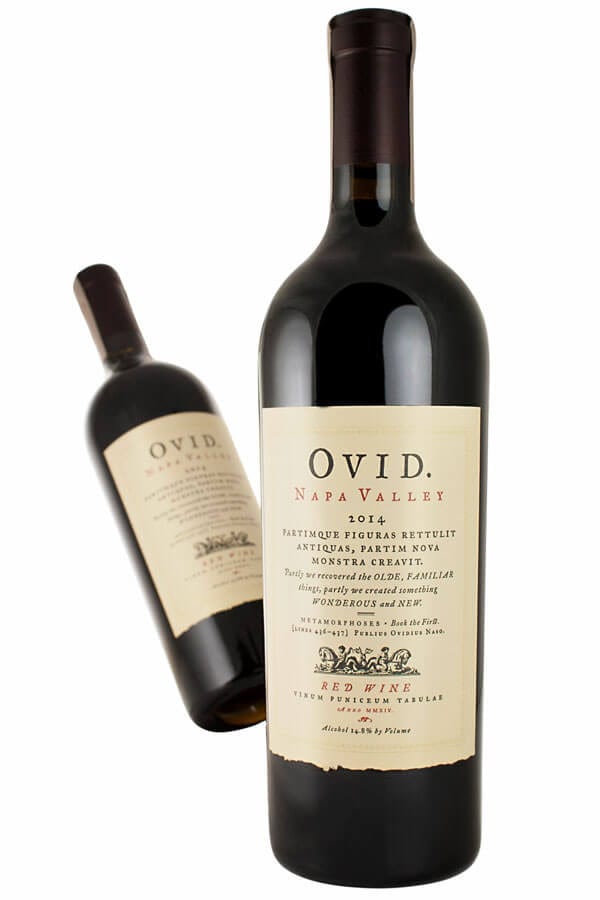 Fish and seafood
From both sea and stream, northern Italy enjoys access to a wide selection of saltwater and freshwater fish. Grouper from the Adriatic in lemon-garlic butter sauce, a typical preparation in Friuli, is often served with one of the excellent full-bodied, soft, wood-aged white blends from the Colli Orientali del Friuli (La Tunella, Bastianich, Il Roncal), or for an Austrian twist, try a later harvest, Smaragd-style Grüner Veltliner from the Danube Valley (Hirtzberger, F.X. Pichler, Rudi Pichler). The lighter olive oil-based preparation of sea bass known as Filetto di Orata alla Ligure from Liguria (sea bass with potatoes, pine nuts, green olives, lemon, basil, white wine), favors lighter whites, such as the local Vermentino. Everywhere in Italy, including the north, has a variation on the fritto misto, mixed fish/seafood, battered and deep fried, which is a chance to enjoy traditional method sparkling wines like Franciacorta (Ca' del Bosco, Bellavista) or Trentodoc (Ferrari), or fruitier styles like Prosecco (Sorelle Bronca). But, really, any still dry, crisp white like sauvignon blanc or riesling is more than appropriate.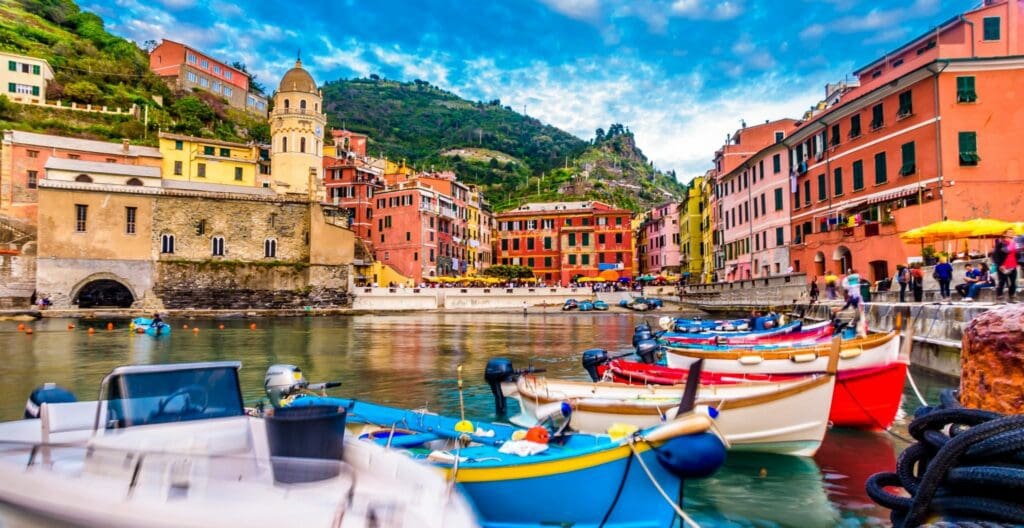 Dolci (Desserts)
The north is home to many sweet classics like zuccotto from Tuscany (semi-frozen sponge cake with brandy, ice cream, chocolate and whipped cream), which is often served with the region's magical Vin Santo (Rocca di Montegrossi) made from dried grapes, though sweet wine from nobly rotten grapes like Tokaji Aszú (Oremus, Disnokö, Pajzos) are also excellent accompaniments.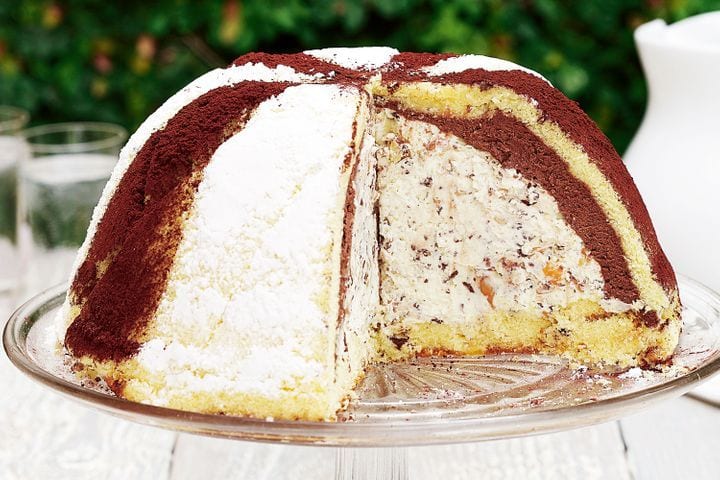 Lombardy's holiday-time Panettone (sweet bread with candied citrus fruit and raisins) is lovely with a chilled glass of lightly sparkling Moscato d'Asti (Ascheri, Saracco), while the classic Zabaglione, an egg custard made with sweet wine and sugar, is ideal with a passito-style wine like Vin Santo, especially served with some form of biscotti, though I like it with Tawny port (Taylors) when poured over chocolate, or with a lighter sweet sparkling wine like Moscato d'Asti when folded over fresh berries. Tiramisù, the famous layered mascarpone and ladyfinger dessert with cacao and espresso from the Veneto that first took north America by storm in the 1980s, is excellent with the sweet red Recioto della Valpolicella (Roccolo Grassi, Tommaso Bussola, Masi Serègo Alighieri) made from dried grapes like Vin Santo, though Port is also brilliant Dow's Neipoort, Fonseca).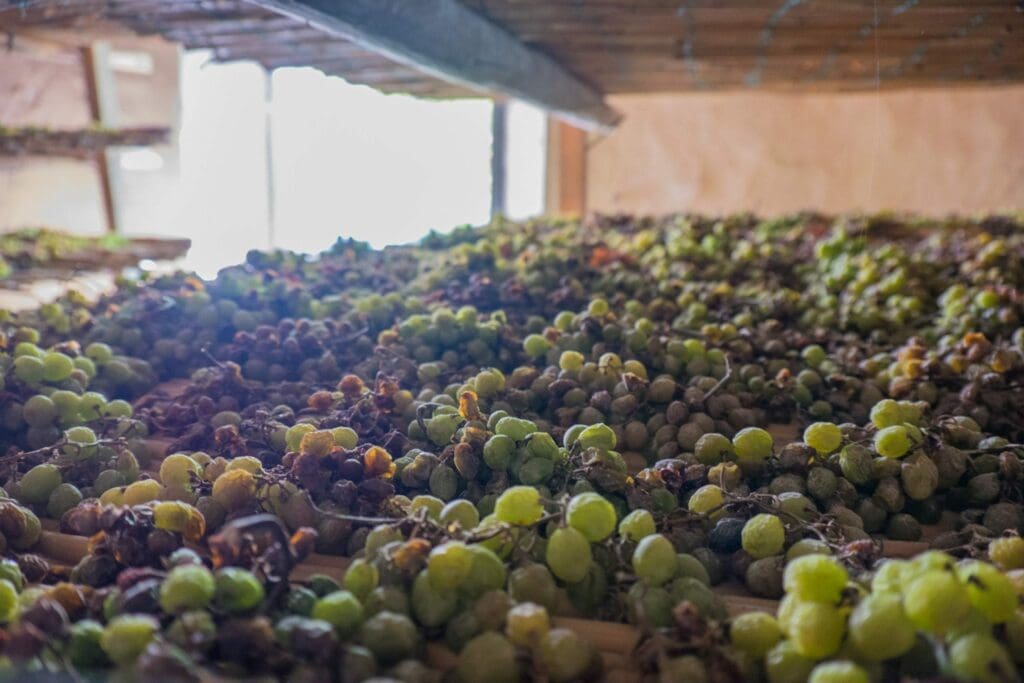 This, of course, is just the tip of the iceberg. Come back for part two when we look at the classics and favorites from the south.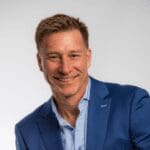 Master Sommelier John Szabo was the first Canadian to add the "MS" after his name in 2004, and he holds the WSET Diploma with honours. He is a partner and principal critic for WineAlign.com, and buyer for the WineAlign Exchange wine club, as well as columnist and consultant at CellArt.com, and feature writer for Modalina and MarQuee magazines. John is co-host of the podcast Wine Thieves, host of the IGTV series 5 to 7 Winedown, and freelances widely for international publications. His latest book, Volcanic Wines: Salt, Grit and Power, earned critical acclaim including the André Simon award for best drinks book. On the consulting side, John builds wine programs across Canada, and is currently sourcing wines for Accor/Fairmont/Sofitel Hotels in Québec.