Even in January, the sharp mid-winter sun still casts warm light across the valley, first awakening the Mayacamas Mountains with its gentler morning rays before turning its attention towards the Vaca Mountains with its more energetic afternoon glare.
Cheerful yellow mustard flowers light up the neat vineyard rows, as though to signal to the vines that another growing cycle is soon to begin. Meanwhile up in the hills, the sun fights its way through the thick overhead canopy cast by massive redwoods, alders and oaks, and bonsai-perfect but life-sized models of Douglas Firs and myriad pines, before finally dappling its light on the lower lying shiny red Manzanita trees and fragrant Laurels. Chills are quickly cast away like early morning dreams, and another day begins.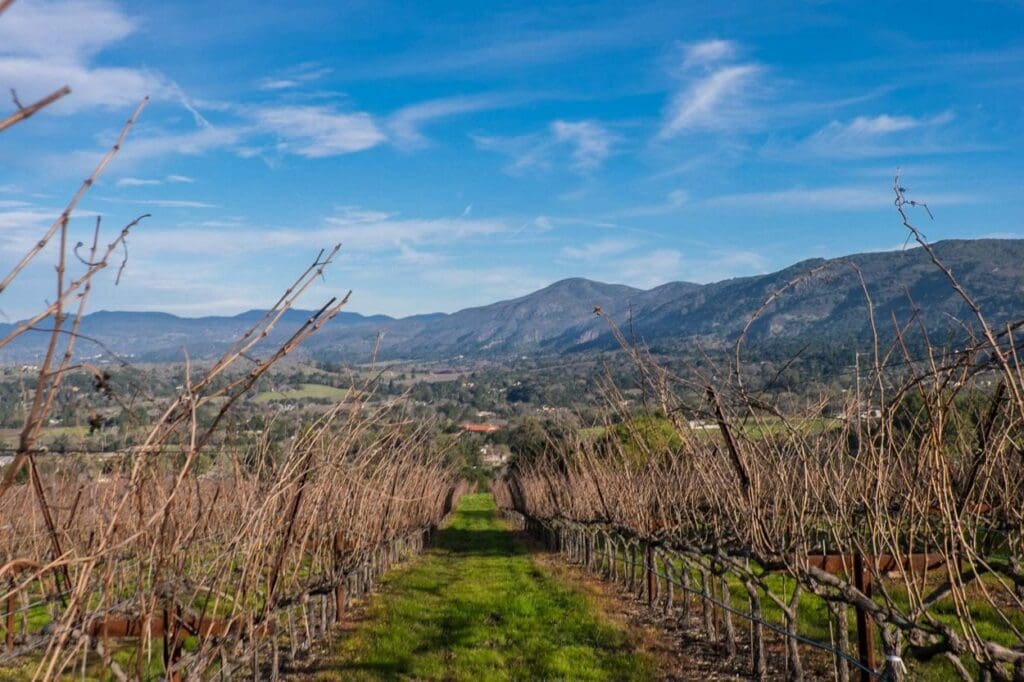 And on this day, I'm prospecting for Napa Valley's best wines grown in volcanic soils. The intriguing-sounding category of "volcanic wines" has gained a great deal of attention in recent years. International in scope, it represents a large collection of characterful, diverse, but genetically linked wines from across the world, wherever fine wine production and volcanic geology co-exist.
Although the Napa Valley is no longer volcanically active, up until about 3.5 million years ago it was a fiery landscape of end-of-world proportions, buried under lava. Indeed, other parts of California and the Pacific Northwest, sitting along the Pacific Ring of Fire, are still very much active. But today, the geology of Napa is not so uniform – it's a feature of the region that contributes to the impressive diversity of its wines. So, some detective work is required to uncover the truly volcanic wines. Setting out to visit the first winery to trumpet its volcanic underpinnings seems a logical start.
The directions I'm given to Diamond Creek Vineyards couldn't be less 21st century. Rather than a simple address to plug into Google maps, or even GPS coordinates, I'm instructed to "drive up the hill, turn right at the large silver mailbox, cross the small stone bridge, fork slightly left and follow the rustic road…" The iconic winery has no sign, and even the almighty GPS is apparently unable to lead folks there reliably. I dutifully follow the landmarks, motivated by the opportunity to taste Diamond Creek's wine called Volcanic Hill, produced since the early 1970s, and brimming with anticipation.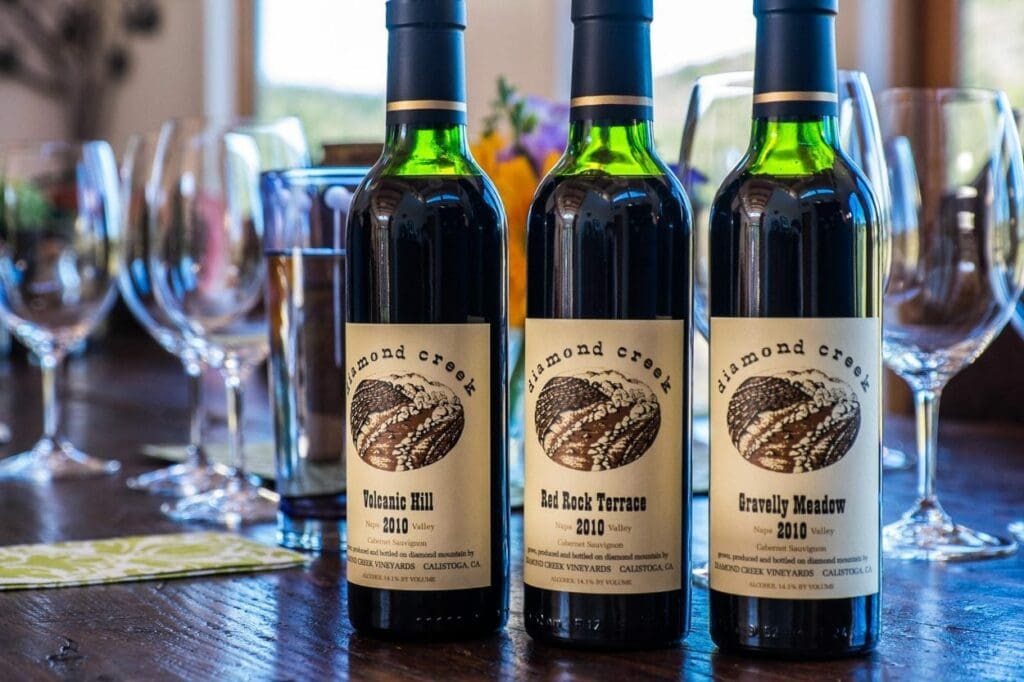 After a long search of their own, when the late Al Brounstein and his wife Boots found their future property up on Diamond Mountain in 1968, it was eighty acres of rocks, shrubs, and redwood forest. At the time, virtually all of Napa's vineyards were on the flats of the valley floor or on the slightly elevated benches of Rutherford and Oakville. Plantings up in the hills were scarce, discouraged by the sheer difficulty of working the poor, rocky ground and the distance from easily accessible water sources. Yet it would be on such ground, in many places purely volcanic, that many of Napa's future most-celebrated wines would be grown.
Brounstein set about clearing parts of his new property, and discovered three dramatically different soil types. On the narrowly pinched flatter land near the Diamond creek itself were highly gravelly soils, similar to what he had seen on the left bank of the Gironde Estuary while in Bordeaux to study winegrowing. Directly under the future winery offices was a steep, amazingly red-tinged slope (andesite), which from a distance looked as though it might be made from terra cotta. Yet across the valley on the opposite hillside, the soil was entirely different yet again, in this case a blinding white colour from deposited volcanic ash, which, it's speculated, drifted over and was deposited after the last great eruption of Mt. Konocti several kilometers to the north in Lake County.
Brounstein realized he had three very radically different sites to work with, and from the first plantings of cabernet sauvignon, he kept the wines from the three soil types separate, following the European model of site-specific bottles. The vineyards were named appropriately named Gravelly Meadow, Red Rock Terrace and Volcanic Hill.
Brounstein was ahead of his time not only for planting in the hills, but also for recognizing that dirt makes a difference, even if he probably didn't understand exactly why. At the time, the prevailing belief in Napa, and much of California, was that the soil was simply a malleable medium in which to anchor vines. Its composition and chemistry were little understood, and its impact on wine style was overwritten as much as possible by winemaking techniques. Terroir, it was thought, was just a pretentious French word and largely irrelevant, as great wine could be made using just good ole' American hard work and ingenuity. Soil wasn't going to get in the way of great wine.
Time, of course, would bear out Brounstein's beliefs. Today in the Napa Valley it's much clearer where the best wines originate, and prospecting for great sites such as what Brounstein stumbled upon has been the work of the last twenty years. Second-rate sites like the overly fertile, luxuriantly moist and deep valley floor vineyards can never, no matter how much effort and expense are thrown at them, compete with the more skeletal, freely-draining soils of the benches, hillsides and mountain ridges, that is, if deep structure, complexity, and longevity are measures of success.
Tasting Diamond Creek's trilogy of terroirs is an object lesson on soils and their impact on wine style. All three are made in a similar fashion, yet display striking differences. Volcanic Hill is always the last of the three to be presented. It's the cabernet (with a splash of petit verdot) with the most primal character, large-scaled, with massive structure, and a visceral, earthy, iron-like quality that sets it apart in the lineup. The fruit is as dark as a volcanic winter, with the lingering scent of smoke hanging in the air. The young wine sits and broods in the glass, disgruntled at the early awakening on this January morning; it's invariably the most age-worthy of Diamond Creek's wines and needs several years in bottle to properly release its intrinsic energy. As Brounstein used to joke, "It will last a hundred years. And if it doesn't, I'll give you your money back!".
Such differences in wine style are noted throughout the Napa Valley. The "mountain cabernets", grown on similarly poor, stony volcanic soils, have a markedly different character and quality than valley floor wines. They're denser, darker, quite often more tannic, yet more evenly ripe at lower alcohol, and age magnificently. The vines themselves grow more slowly, they struggle and naturally yield less fruit per acre. For a vine, it's probably hell. For a winemaker, and for wine lovers, it's much closer to heaven.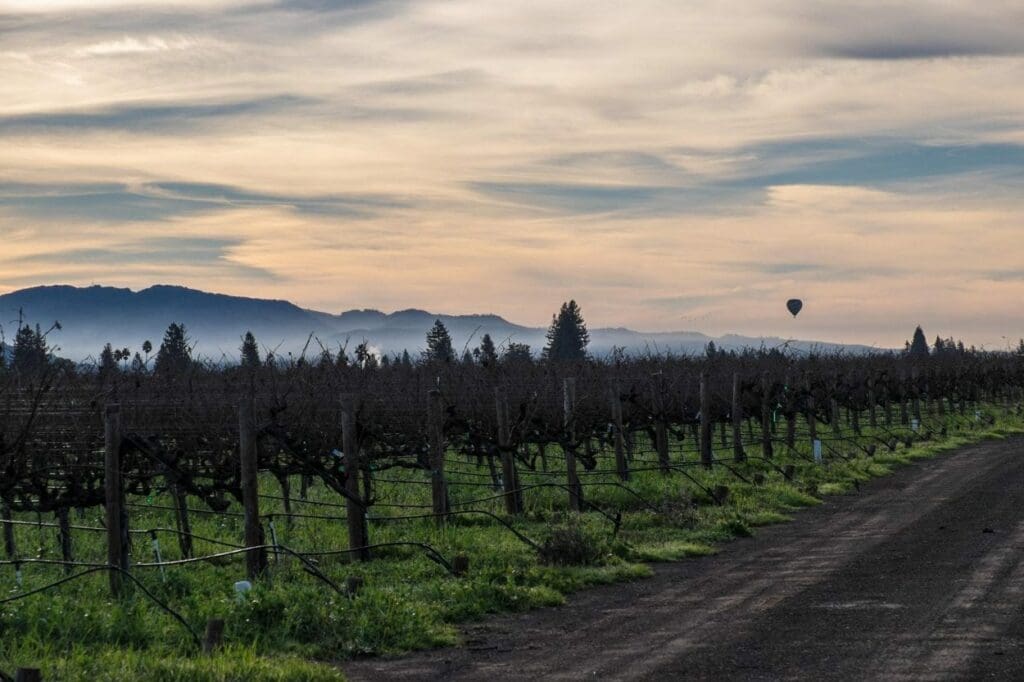 Leaving Diamond Creek behind, I continue my search by looking to the hills: the Mayacamas that define the western side of the valley and the Vacas Mountains bordering the east. Considering the complexity of the geological history of the valley, it's near impossible to draw clear lines delineating volcanic from non-volcanic terroirs. But, geology handbook and colourful soil map in hand, I'm able to roughly trace the remnants of volcanism.
In broad terms, the most 'volcanic' sites in the Napa Valley are found in the AVAs of, roughly south to north, Coombsville, the upper slopes of the Stag's Leap District, Atlas Peak, Howell Mountain, Spring Mountain, Diamond Mountain District and Calistoga, as well as Pritchard Hill, an unofficial region. What unites all of these areas is their position off the valley floor on hillsides at higher elevations, with well-drained, low-fertility soils. All these factors also play a critical role in the quality of wines they produce.
Coombsville lies in an ancient caldera (a cauldron-shaped depression left behind by a collapsed volcanic cone, after a large eruption) to the east of the town of Napa, where variations of compacted volcanic ash alternate with solid basalt bedrock. The former yields wines with greater finesse, the latter more compact and tighter. But the relatively cool climate of Coombsville, with breezes from nearby San Pablo Bay corralled by the crescent-shaped caldera, generally favors elegance over sheer power.
The Stag's Leap AVA is immediately recognizable thanks to its highly visible palisades, the towering cliffs of pure basalt shaped like columns, like the pipes of an organ, which rise above the vineyards on the east side of the valley. The vines planted higher up in these foothills of the Vaca Mountains thus dig right into the weathered basalt, such as Shafer's Hillside Select, Cliff Lede's Poetry, Silverado, or Stag's Leap Cellars S.L.V. vineyards. Vineyards further down pry into a mix of weathered volcanics, but also alluvial fans and other sedimentary materials which takes them out of this discussion.
Further east above the Stag's Leap AVA at the top of the Vaca Range is Atlas Peak AVA, where some of the highest and most rugged Napa vineyards are planted, up to over 2600 feet. There are only two access roads to this noticeably cooler and isolated area: Soda Canyon Road, which runs up from Silverado Trail, and a bit south, Atlas Peak Road, off of Hardman Lane. Booth twist and turn for some 15 miles up into the mountains where red-tinged basalt soils nurture fewer than 1500 acres, or less than a third of a percent of total acreage in the Napa Valley. But reputation is disproportionate to size; Atlas Peak is home to the Krupp Brother's Stagecoach Vineyards, one of Napa's most celebrated, which supplies grapes to many wineries. Italy's greatly admired Piero Antinori also chose Atlas Peak to establish his Napa outpost, Antica Napa Valley.
North of Atlas Peak at the top of the Vaca Range are two more eminently volcanic regions. Pritchard Hill is an unofficial AVA above the Silverado Trail where such revered vineyards as Colgin, Dalle Valle, Ovid and Continuum are established. At the very top of the hill where Ovid is found, there's virtually no topsoil, and the hard volcanic bedrock breaks through the surface like scattered islands of basalt in a shallow sea. Ovid's Winemaker Austin Peterson recalls the difficulty in planting their vineyard on Pritchard Hill in the mid-2000s, where the topsoil is measured in inches not feet, and "hundreds of tons of volcanic rock had to be removed just to get vines in the ground and allow tractors to plow without constantly breaking down".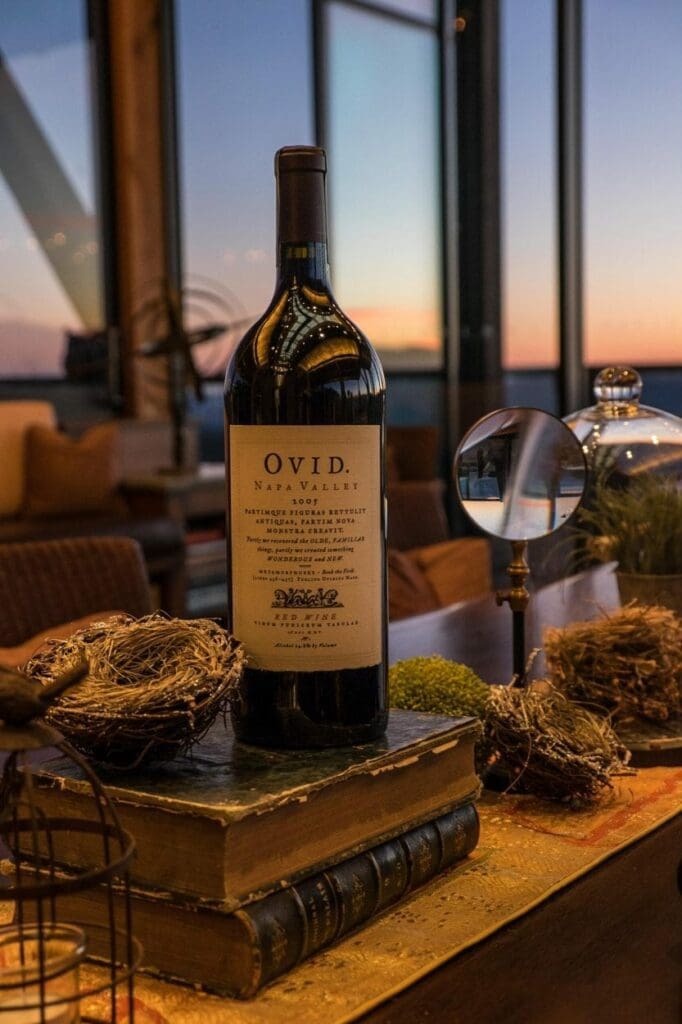 Another of Napa's most sought-after wines, Screaming Eagle, sits below Pritchard Hill towards the valley floor, though the magic of this vineyard is explained by the slice of volcanic bedrock that had tumbled down at some point in the distant past, creating a raised patch of rocky land above the alluvial soils.
Howell Mountain just North of Pritchard Hill is likewise a difficult place to access, rising up to 2300 feet above the valley. That's high enough to be above the inversion layer, meaning that days are cooler and nights are warmer than the valley floor, ensuring a long, slow even ripening period. Soils are split between volcanic ash (tufa) and weathered, iron-rich red basalt. Although Howell sees twice as much rain as further down, these soils, like all volcanic soils on the hills in Napa, are incapable of holding much water, ensuring that the vines struggle and that winegrowers can micro manage irrigation to obtain small, concentrated berries. Arkentstone, Cade, Duckhorn, Dunn and Robert Craig are just some of the wineries that produce Howell Mountain AVA wines.
Across the valley in the Mayacamas Mountains at the northern end of Napa Valley, Spring Mountain District, Diamond Mountain District and Calistoga are also sources of top-flight volcanic wines. This side of the valley is noticeably cooler and greener, thanks to its eastern-facing flanks that welcome the gentler rays of the morning sun. The flora is conspicuously different, with its tall, moss-covered redwoods and pines contrasting with the ground-hugging, scruffier, desert-like shrubs of the hotter west-facing side of the valley.
Spring Mountain is named for several natural springs that provided water for drinking and cooking to residents of St. Helena in the 19th and early 20th century. The AVA counts upwards of thirty wineries, sharing just 750 acres. Most, thus, are small, family-runs vineyards, though not all are on volcanic soils; some lie on marine sediments (Franciscan Formation), while others lie on undulating hills or terraced slopes carved out of andesite volcanic rock, as highlighted by the winery called Andesite Vineyards. Other prominent producers include Barnett, Cain, Price Mountain, Smith-Madrone and Spring Mountain Vineyard, Stony Hill and Philip Togni.
Diamond Mountain gets its name from the bits of volcanic crystals sprinkled throughout red basaltic soils and white volcanic ash, as illustrated by Diamond Creek's Red Rock Terrace and Volcanic Hill vineyards respectively. Neighboring Dyer Vineyard's tiny 2.3-acre site sits on rhyolitic tuff. Although over two dozen or so Diamond Mountain District-labeled wines are produced annually from about 500 acres, only about half a dozen wineries are located on the mountain itself, including Schramsberg's J. Davies vineyard, Reverie and Von Strasser.
The entire Calistoga AVA sits on volcanic bedrock, with, as in other parts of the valley, the lower slopes characterized by more alluvial soils and the upper slopes more purely volcanic rock. Magnesium and calcium-rich geothermal hot springs in the area reflect the past, and continuing, volcanic activity beneath the earth's surface.
It's often believed that Calistoga is the warmest region in the Napa Valley, and while the valley's hottest spot is indeed near Bale Lane at the southern boundary of the AVA, in reality Stag's Leap, for example, is a warmer growing region overall. A gentle gap here in the Mayacamas allows cooler ocean air travelling inland along the Russian River to funnel in, dropping afternoon and evening temperatures to acidity-retaining levels. Araujo, Bennett Lane, Clos Pegase, Chateau Montelena and Storybook Mountain Vineyards are some of the prominent locals.
While volcanic activity in the Napa Valley is ancient history, the development and refinement of the wines that grow upon its remnants is an enduring story. The early work of Brounstein and others continues, swelling the ranks of the world's collection of fine volcanic wines. The day is not yet finished and there is much more prospecting to do.
[This article has been adapted, revised and expanded from the Napa Valley chapter in Volcanic Wines: Salt, Grit and Power, Jacqui Small Publications, UK, by John Szabo MS.]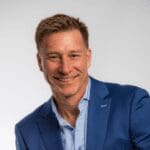 Master Sommelier John Szabo was the first Canadian to add the "MS" after his name in 2004, and he holds the WSET Diploma with honours. He is a partner and principal critic for WineAlign.com, and buyer for the WineAlign Exchange wine club, as well as columnist and consultant at CellArt.com, and feature writer for Modalina and MarQuee magazines. John is co-host of the podcast Wine Thieves, host of the IGTV series 5 to 7 Winedown, and freelances widely for international publications. His latest book, Volcanic Wines: Salt, Grit and Power, earned critical acclaim including the André Simon award for best drinks book. On the consulting side, John builds wine programs across Canada, and is currently sourcing wines for Accor/Fairmont/Sofitel Hotels in Québec.