We have all heard the story of the person who made money in the tech world who goes and spends it in the wine world. On the surface, that is the story of Davis Estates. Mike Davis started in technology and now owns a winery but there is more to tell. Family, hospitality, history, art, and even race cars are all part of the story of Davis Estates in Napa Valley.
"I'll take luck over skill." That is one of the first things Mike Davis told me as we were driving to his property in Howell Mountain. As he told me how he got to where he is today, I would definitely agree that he has had luck on his side. But I would also say that there is a little skill as well.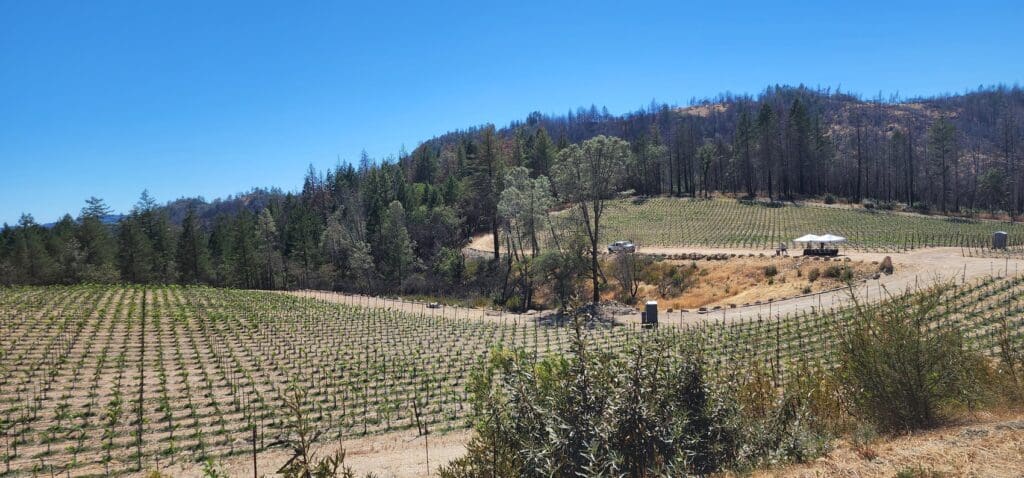 Mike Davis started a tech company, Applied Computer Solutions, in his garage in Huntington Beach in Southern California in 1989. His luck started with the success of his business through the dot.com era and Y2K, and in 2010, he sold his business. Mike wondered what was next. He and his wife Sandy had always loved Napa Valley. Having been raised in the San Francisco Bay area, he would vacation in the summers with his family in Napa Valley. So, they began to look for property.
Again, luck won. Beginning in 2008, real estate prices had gone down. Mike and Sandy were able to capitalize on this and began buying property in 2010. They started by purchasing property in Rutherford where they grow 1.5 acres of Sauvignon Blanc. In 2011, they purchased 155 acres in Calistoga. This century-old estate winery had been owned by the Saviez family and included 11 planted acres of grapes. In 2012, the Davis' purchased 10 acres in Calistoga and have 7 acres planted to grapes. They also purchased 20 acres of undeveloped land in Howell Mountain and in 2021 planted 10 acres. Davis Estates also sources from premium vineyards.
The Property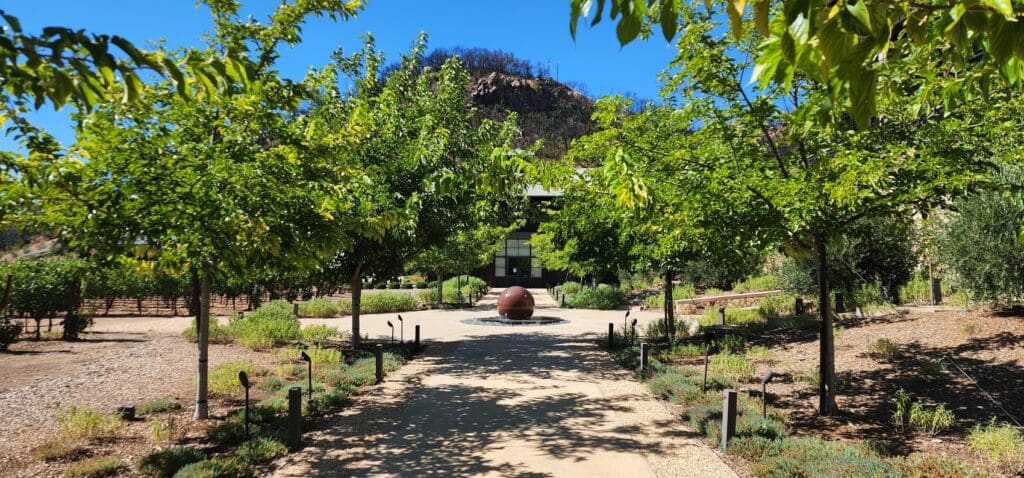 On the property in Calistoga, they restored the old winery to create a picturesque winery to welcome guests. With a degree in history from Indiana University Bloomington, Mike's interest in history is reflected in the property. The original barn dates to 1916. This barn was restored and retrofitted and has been decorated with rustic wine country charm. A large table made from staves from American oak barrels centers the room. There are two restored tractors, a 1939 John Deere and a 1944 Ford, on display. There is a 1909 Wing and Son player piano and a Big Ass Fan (that is the name on it). This barn is used for large group tastings and for club members.
A matching barn was built to mimic the look and feel of the original barn. This new barn is home to the offices and wine lab. It is considered "mission control". Davis Estates uses a Wine Sentry software system to control everything. They can access and monitor the tank controls from their desks. This allows a hands-off approach which micromanaging each wine lot for itself.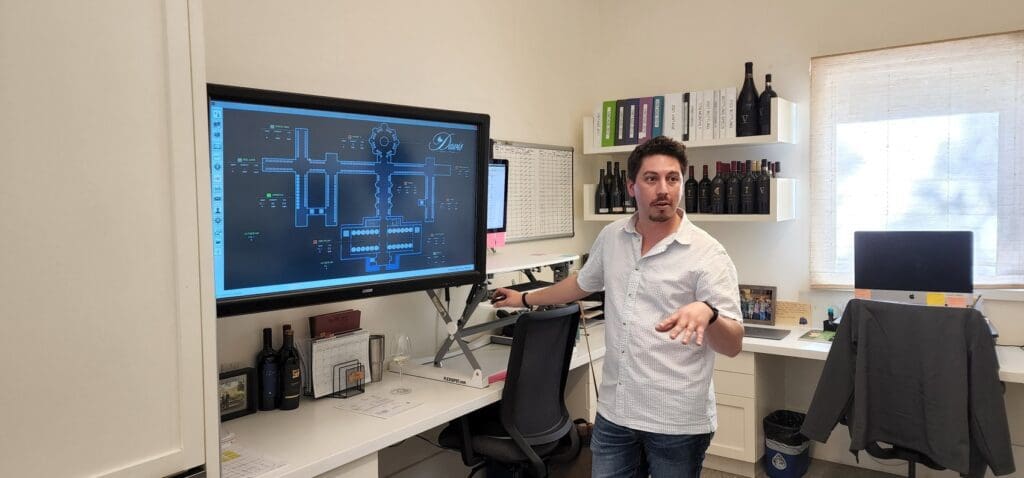 Between the two barns is the hospitality center designed by wine country architect Howard Backen. Rustic and elegant, the center includes an open kitchen and outdoor terrace with views looking west across Napa Valley.
The building has luxurious seating and is decorated with art pieces that Mike and Sandy have gifted to each other over the years. And underneath the barns and hospitality center are 11,000 square feet of caves.
The Wines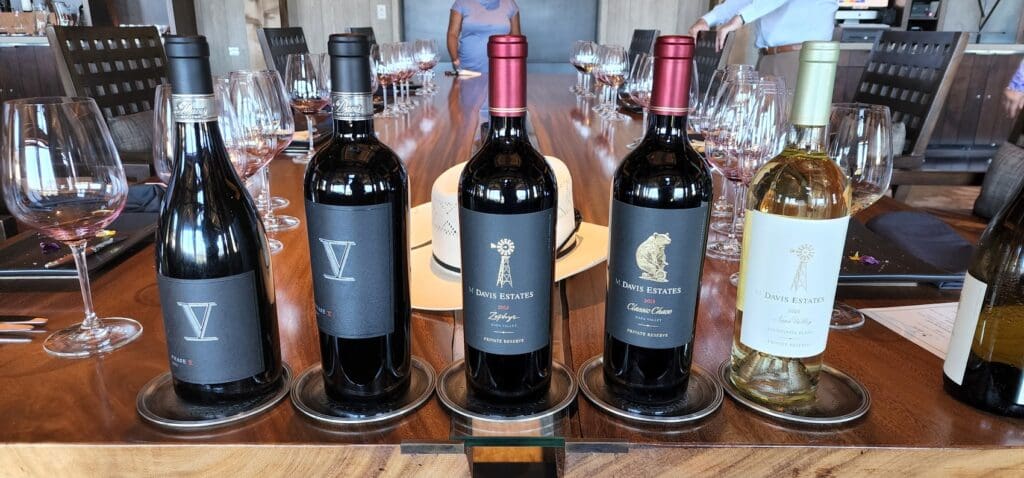 Davis Estates produces terroir-driven Cabernet Sauvignons, as well as Chardonnay, Sauvignon Blanc, Pinot Noir, Bordeaux blends. Davis Estates Wines are made by well-known winemaker Cary Gott and assistant winemaker Walter Leiva.
Mike Davis also partnered with famed winemaker Philippe Melka who is the consulting winemaker for the prestigious Phase V wines.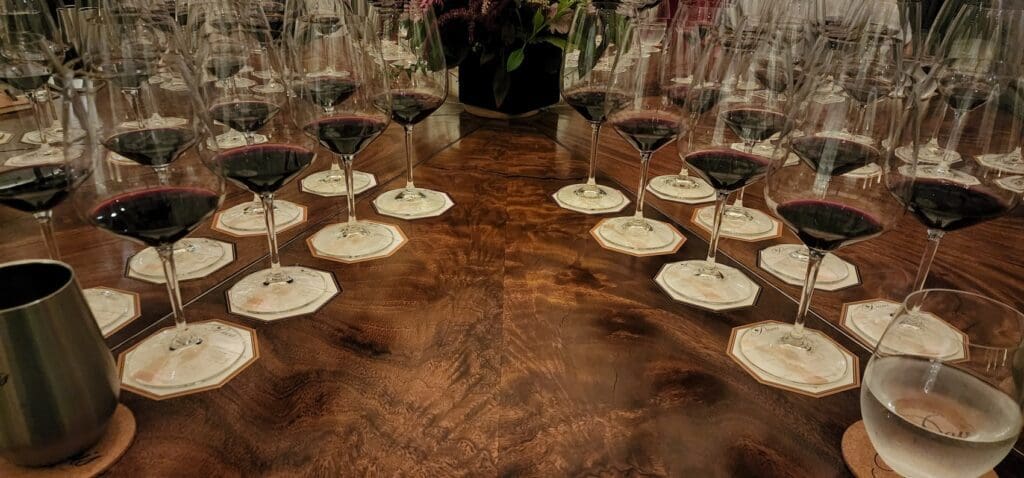 The Phase V is inspired by the five phases to get where they are today. Phase I was to find and purchase a property that captured the feeling of wine country, with its breathtaking views and ensuring a terroir that would produce wines that Sandy and Mike love to enjoy. Phase II was to farm the vineyards and land to grow grapes that express terroir. Phase III was to design an estate worthy of the wines. Phase IV was to build the winery to showcase their passion. Phase V was to open Davis Estates so that they could share their passion. They accomplished Phase V in 2016.
A Family Affair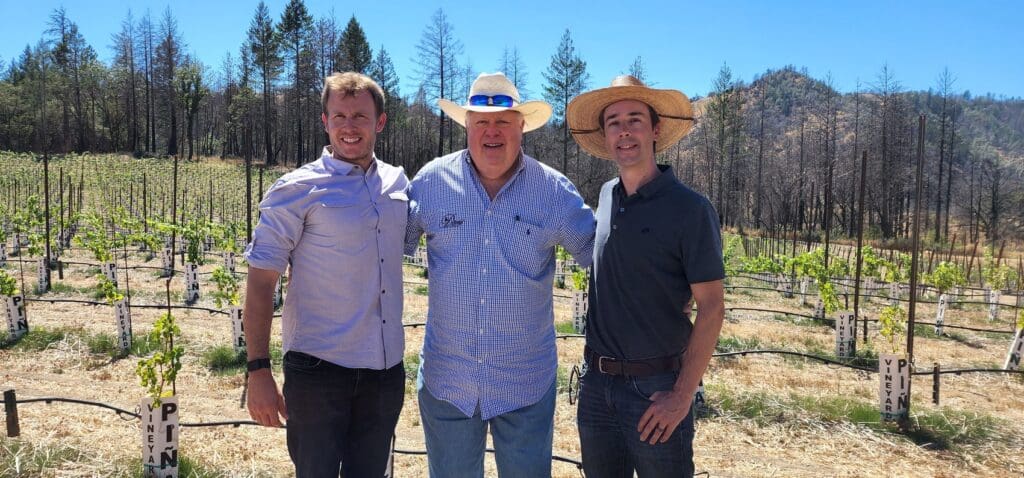 Davis Estates is a family-owned business. Mike and Sandy have two sons, Brandon and Sean. After a career as a race car driver, Brandon joined the family business full-time in 2019. He worked his way up, spending time in the cellar and the tasting room to understand every aspect of wine from bud-break to harvest to fermentation to bottle to sales. He is now the Director of Brand Development. Brandon has enjoyed the transition from race car driving to wine. While racing is a cyclical activity that kept him on the road, away from his family, wine is a slow process and requires patience, but you can see the hard work pay off at the end of a harvest or when you open a bottle of wine.
The third generation of the Davis family is now in the family. Brandon has two children, Michael Chase and Lillian James, who each have a wine named after them. The Classic Chase is a blend of Cabernet Franc and Merlot with a touch of Petit Verdot and the Lily Fleur Rosé is a rosé of Pinot Noir.
The Experiences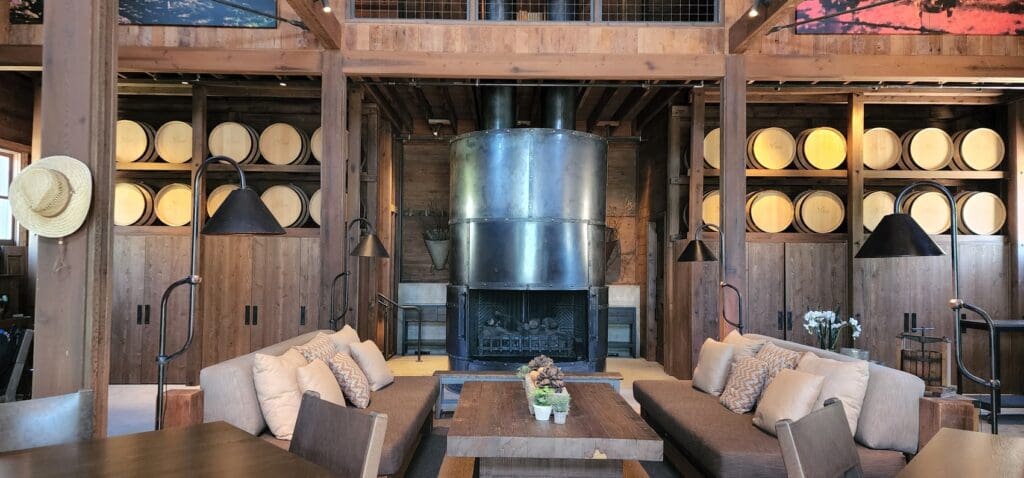 A visit to Davis Estates is a luxurious experience. As you approach the winery, you will see a 50-foot "new-antique" windmill. At the front of the entrance is a Kugel fountain, a sculpture made of a large sphere of hardstone which is carried by a thin film of water in a concave fountain basin. The 5000- pound spherical sculpture resembles a grape floating on a Cabernet Sauvignon shaped leaf.
The entrance doors to any space at Davis Estates results in a grand reveal. As the large heavy doors are opened, an exciting surprise awaits. The tasting room is arranged so that whether you sit indoors or on the terrace, you have your own private space.
Various experiences are available. The Estate Wine & Food Pairing experience includes artfully prepared seasonal delicacies by Executive Chef Mark Caldwell. On the Cave Tour & Tasting experience, your host walks you through the vineyard and estate, continuing into the Howard Backen designed, cutting-edge winery and 11,000 sq. ft. of caves, followed by a flight of current releases paired with seasonal delicacies prepared by Chef Caldwell. The Cabernet Sauvignon AVA Exploration will take you on a tour of the estate before tasting through four different AVA wines. The VIP Experience is a behind the scenes tour of the vineyards, estate, winery, and cave system following by a tasting of the most acclaimed reserve wines featuring both Davis Estates wines by Cary Gott and Phase V wines by Phillippe Melka. Chef Caldwell courses out a beautifully paired menu for a food and wine adventure.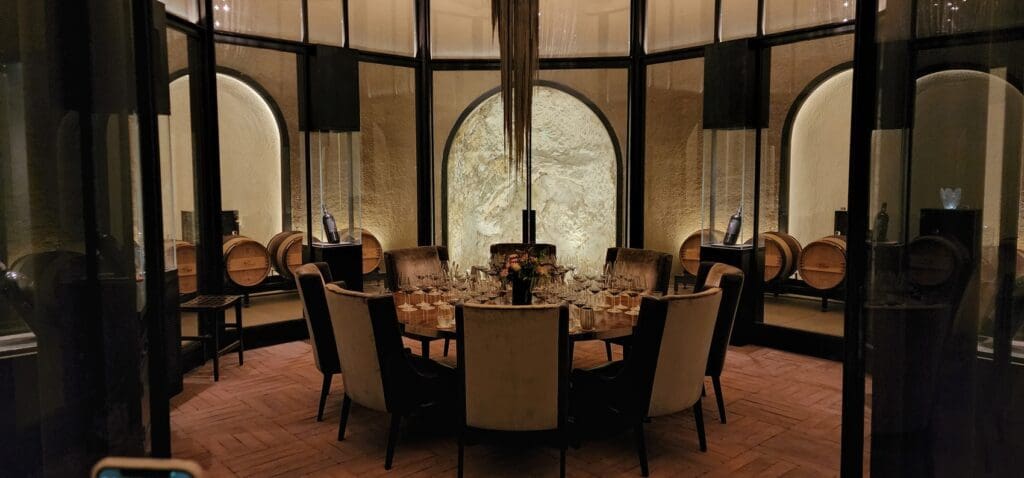 The show-stopping, Rolls-Royce inspired Phase V Cellarium is a round private tasting cave with an octagon-shaped, jewel-box-like room that is only open to Founders Club members who must enter with an infrared biometrics scanner. But if there is an opportunity to visit this space, it is rather spectacular and unforgettable as the large doors open, the lights come up, and a song such as Andrea Bocelli's "Con Te Partirò" is playing.
Mike Davis may have more luck than skill, but that luck has created a luxurious, elegant experience in Calistoga, Napa Valley.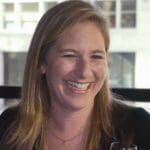 Allison Levine is the owner of Please The Palate, a boutique agency specializing in marketing and event planning for the wine and spirits industry. With over 15 years of experience in communications, marketing, and event planning, Allison is passionate about the world around her and the diverse people in it. Allison is a freelance writer and contributes to numerous publications, as well as her blog at www.pleasethepalate.com. She is the host of the podcast WineSoundtrack USA where she interviews winemakers and winery owners who share their stories, insights, and some humorous anecdotes. She also co-hosts a wine video series on YouTube called Crush On This. Allison holds a master's degree in International Communications with a focus on cross-cultural training from the American University School of International Service. She also holds a WSET Level 3 Certificate from the Wine & Spirits Education Trust (WSET) and is a member of the Circle of Wine Writers.