For special nights, my hubby and I like to order top notch takeout to enjoy at home and hearken to a fine dining experience. I do love a restaurant, but there is something to staying at home in your comfy clothes, putting on some great TV, and having the good food come to you!
Being in the wine business, I have a pretty extensive collection of wine at home. Pairing these wines with takeout is a blast. Enjoy this series as we pair exquisite wines with delectable takeout that takes it up a notch!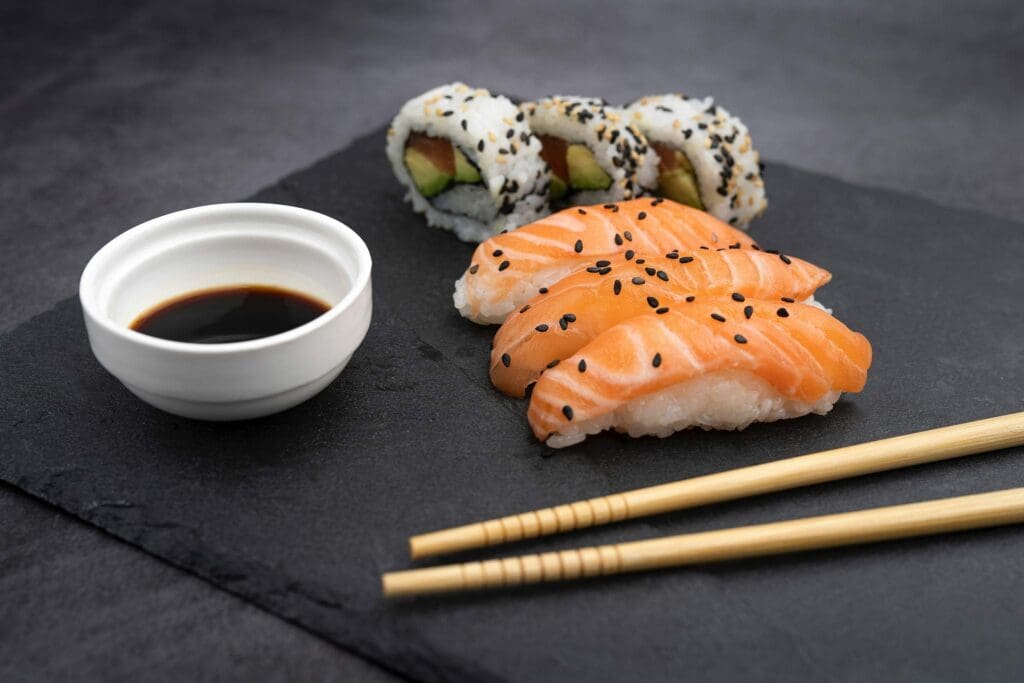 The Sushi
Sushi is a classic takeout cuisine. Those who love sushi need it, and need it regularly. I am definitely one of these sushi fiends. Living in Los Angeles, I have my choice of quality sushi that can be delivered. One of my favorites, a classic, is Sugarfish. The first Sugarfish opened in Marina del Rey in 2008. They now have 10 restaurants in LA and two in NY. Their menu features three omakase menus and a handful of a la carte options. Believe me, the omakase is the way to go.
Their omakase meal is called "The Nozawa: Trust Me" and includes: organic edamame, tuna sashimi, albacore sushi (2p), salmon sushi (2p), NZ sea bream sushi (2p), toro hand roll, yellowtail sushi (2p), sea bass sushi (2p), crab hand roll, and the "daily special". All this for $43. A STEAL. Their sushi is high quality and traditional. No crazy sauces, fusions, or California rolls.
With this simple and fresh sushi, you need a wine of the same ilk. Riesling is a perfect, classic pairing for sushi. The bracing, high acid matches the fresh salinity of the raw seafood. Also, if you have sushi with a spicy element, something off-dry might be a good foil. Today, my sushi is fresh, unadorned, and not spicy. I'm opting for two distinct Rieslings to pair with this sushi. One is a dry, high acid and the other is sweet and late harvest.
The Winery: Schloss Johannisberg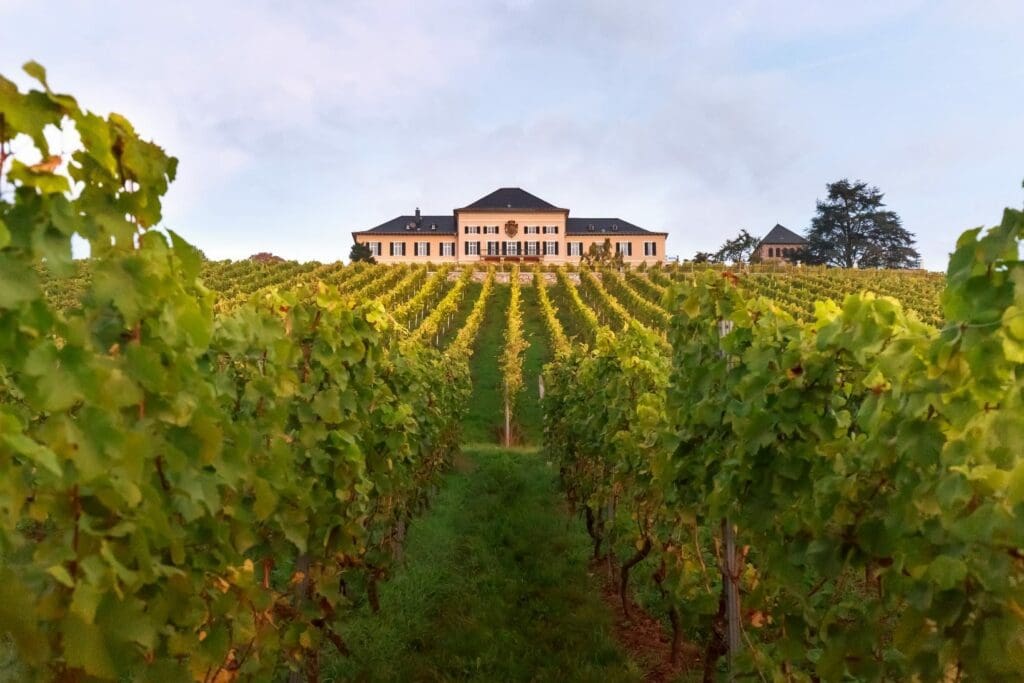 Welcome to Schloss Johannisberg, the first "Riesling only" winery in the world. Wine has a long history at this estate, originally built by Benedictine monks in 1100. Even before it was built, wine has been cultivated on this property for over 1200 years. They've made exclusively Riesling since 1720, and the history at Schloss Johannisberg does not stop there.
Their own forest lies to the north of the property, with wood from the native oaks used as the raw material to produce the barrels they use in wine production. They also have a 25,000-bottle underground cellar with wines dating back to 1748.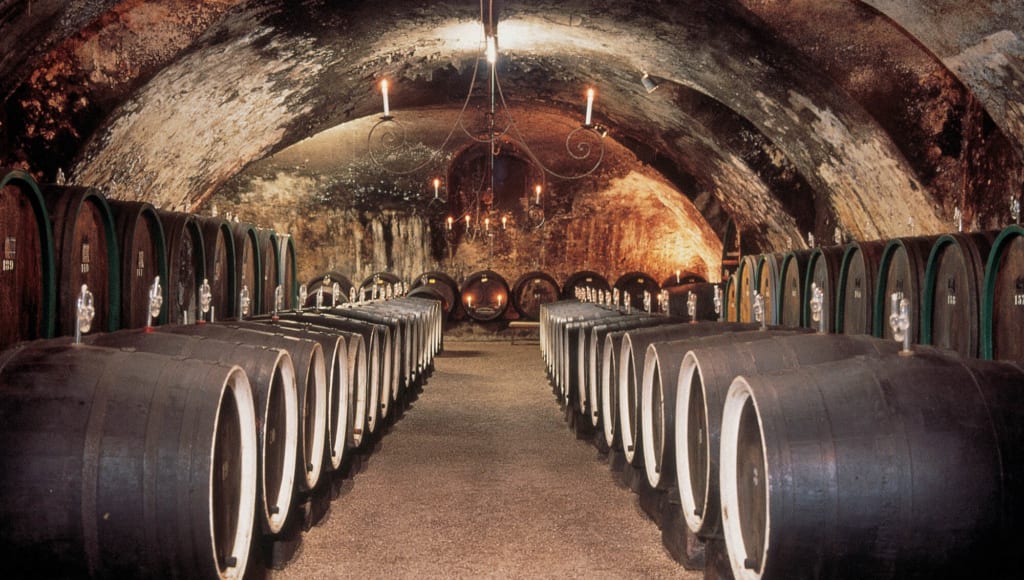 Lastly, they invented Spätlese style of Riesling (late harvest) and played an important role in the discovery of botrytized grapes. How's that for a pedigree?
The Wines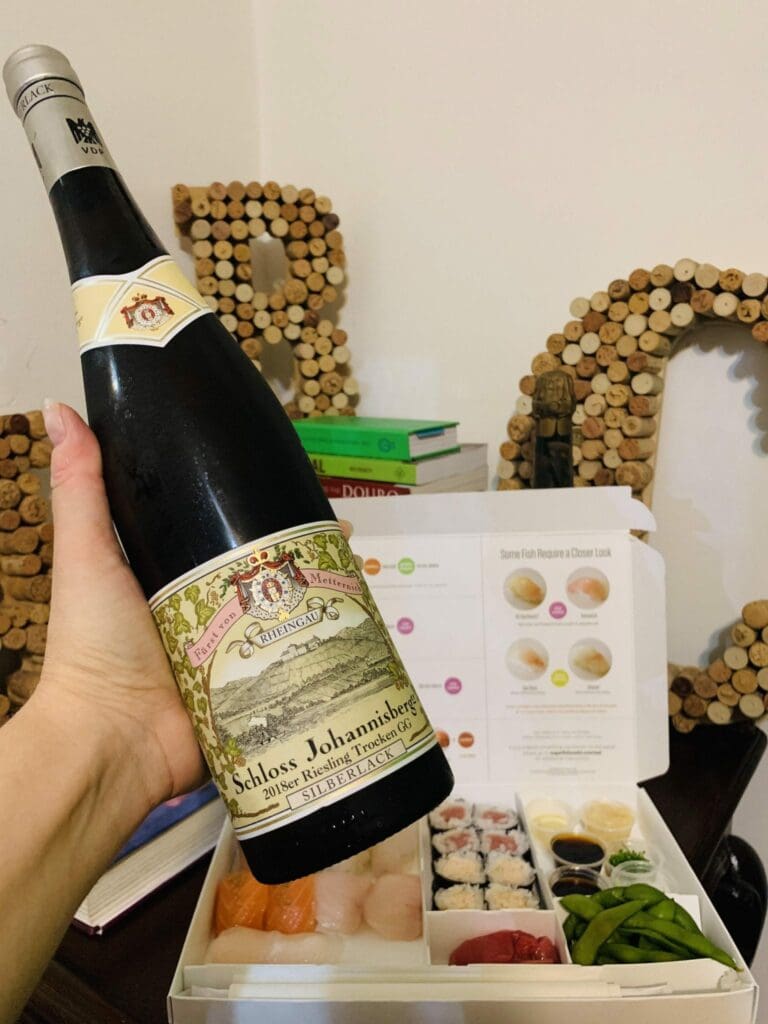 This is, quite possibly, the most exquisite Riesling I have ever had. With the Erstes Gewächs qualification, we are at the top of the Rheingau dry Riesling quality pyramid with grapes that have been classified as coming from superior sites. This wine is composed of hand-harvested grapes from a single vineyard and made in the Trocken (dry) style. Fruit notes of citrus, stone fruit (white peach), and tropical fruit (passion fruit) dance a tango in your mouth. Riesling's signature minerality keep things interesting, while salinity takes over. This brininess works beautifully with the sushi and sashimi elements of the meal. Bone dry (2 g/L residual sugar) and 13% ABV.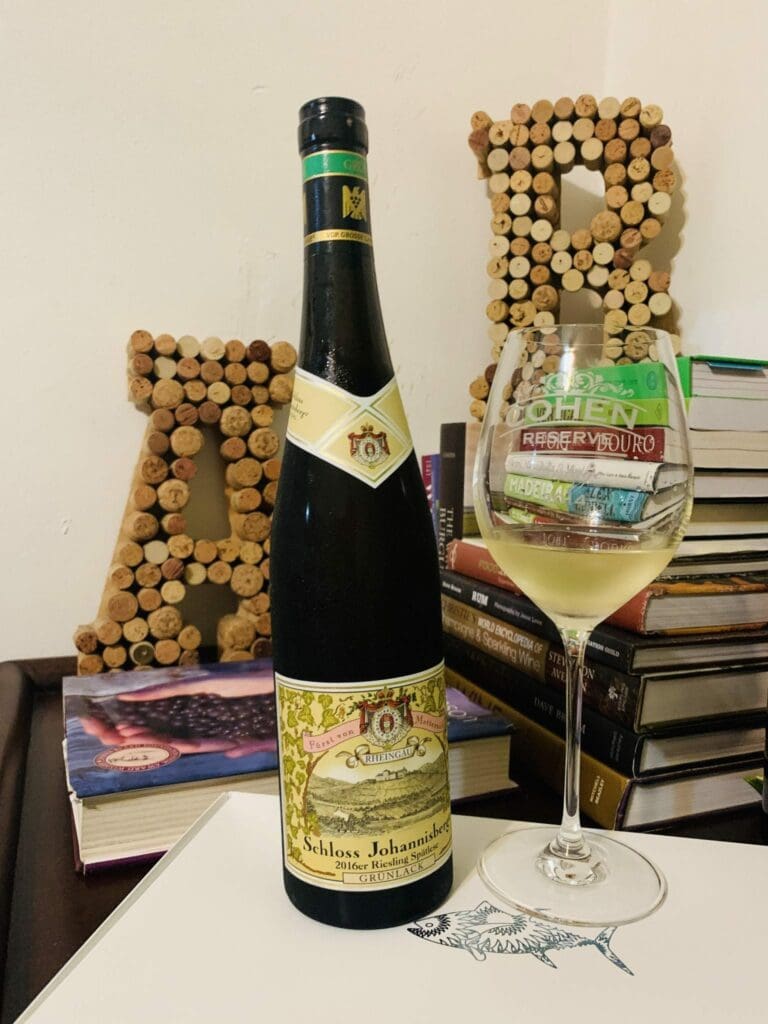 Here we see a different side of Riesling. Spätlese, late harvest style. The alcoholic fermentation is halted to leave residual sugar in the wine, in this case 78 g/L, and a lower 7.5% ABV. When you take a sip of this wine, the sweetness comes first, but the acid actually cleanses your palate. In my opinion, it tastes nowhere near as sweet as it actually is. But damn it's good. Green fruit (green apple), stone fruit (peach), and tropical fruit (pineapple) move into honeysuckle and honeyed notes. There's also an herbaceous quality to the wine that balances it all out. This beauty was the perfect pairing with both the lobster and blue crab rolls. The sweetness in the wine brought out the natural sweetness in both of the rolls.
Got Grüner?
Another great sushi wine is Grüner Veltliner, a grape native to Austria. This high acid, dry white pairs back to simple, bare sushi. This Grüner comes from a winery a bit closer to home. Wife duo Tara Gomez and Mireia Taribo run Camins 2 Dreams in Lompoc, Santa Barbara. Camins means "path" in Spanish, and this is the path to their dreams. They focus on organic and biodynamic certified vineyards and 100% natural winemaking. With only 450 cases made a year, each bottle is quite special.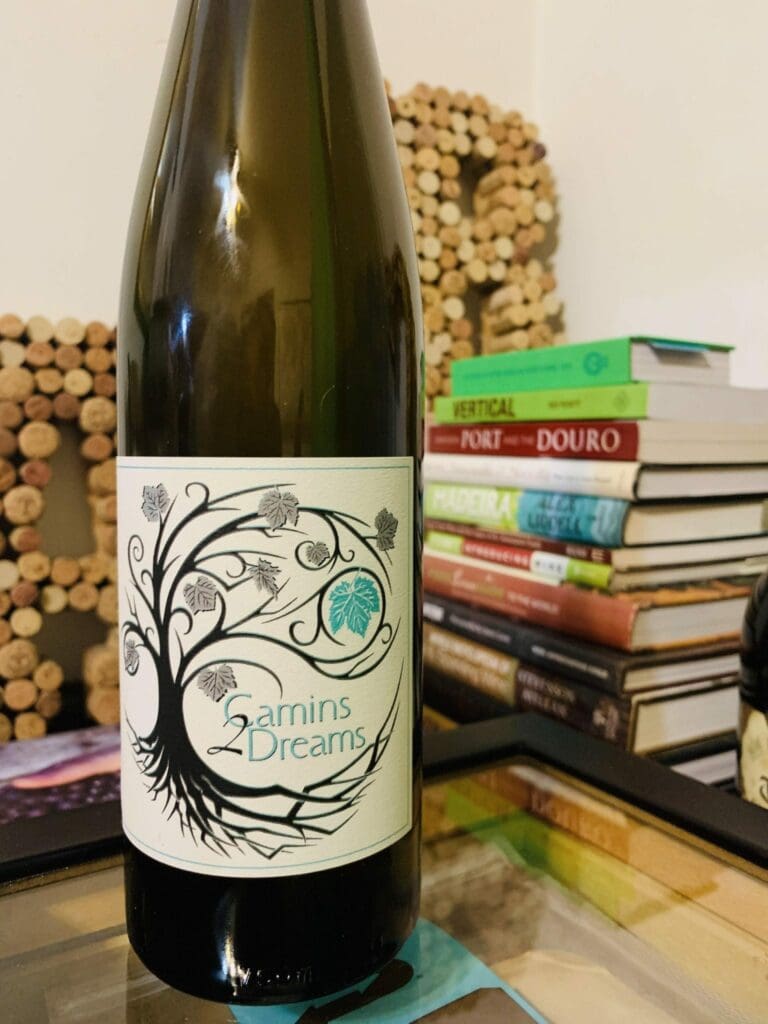 This Grüner has aromas of lime, pear, green apple, and a bit of stone fruit. A creamy texture plus vibrant acidity pair well with this sushi dinner and would also work with poké. The combination of fresh fruit notes plus high acid act as a palate cleanser between bites. Only 80 cases produced of this beauty.
With wine and sushi this good, I almost don't even miss restaurants. ALMOST.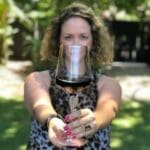 Brianne Cohen is an LA based event producer, certified sommelier, wine educator, and wine writer. During the pandemic, Brianne entertained over 7,000 people through her "Virtual Vino" online wine classes, regularly highlighting diverse (i.e. Black, BIPOC, female, and LGBT) owned wineries. She now offers both in-person (and virtual) wine tasting experiences for her corporate clients. Brianne regularly judges at international wine competitions, including the International Wine Challenge (IWC) in London and holds the WSET Diploma certificate. She writes on her own blog and for outlets such as Decanter, Vintner Project, and Kiplinger. She also holds an MBA from Loyola Marymount University. Brianne Cohen Wine & Events is a certified woman-owned business with WBENC.