Sipping in The Hidden Urban Garden
St. Clair Brown Winery & Brewery is the culmination of a vision of partners Elaine St. Clair and Laina Brown. This urban winery and greenhouse are tucked away on the edge of the Railroad Arts District in the city of Napa. The outdoor tasting garden, offering beer and wine flights, serving small bites, using many ingredients from the bounty of their fabulous culinary garden, is situated between the "traditionalist" brewery and boutique winery, on one side, and the brightly colored murals of the Railroad Arts District on the other.
Tastings take place in the relaxing garden. What better place can there be to fully appreciate the explosion of green life springing up around you, savoring the aromas of citrus and herbs while enjoying a flight of wine, or an artisanal flight of beer while munching from a selection of gourmet cheese, and small bites? This is an escape, an experience, a place where you can sit, sip, snack, and frankly, exhale away from the day's stress, as I have every time I have had the pleasure of visiting.
And, for the non-alcohol drinker, don't let that stop you from visiting and relaxing in this hideaway, as you choose to enjoy one of several non-alcoholic, homemade refreshing beverages, which include many ingredients from the garden.
Elaine and Laina-Living the Dream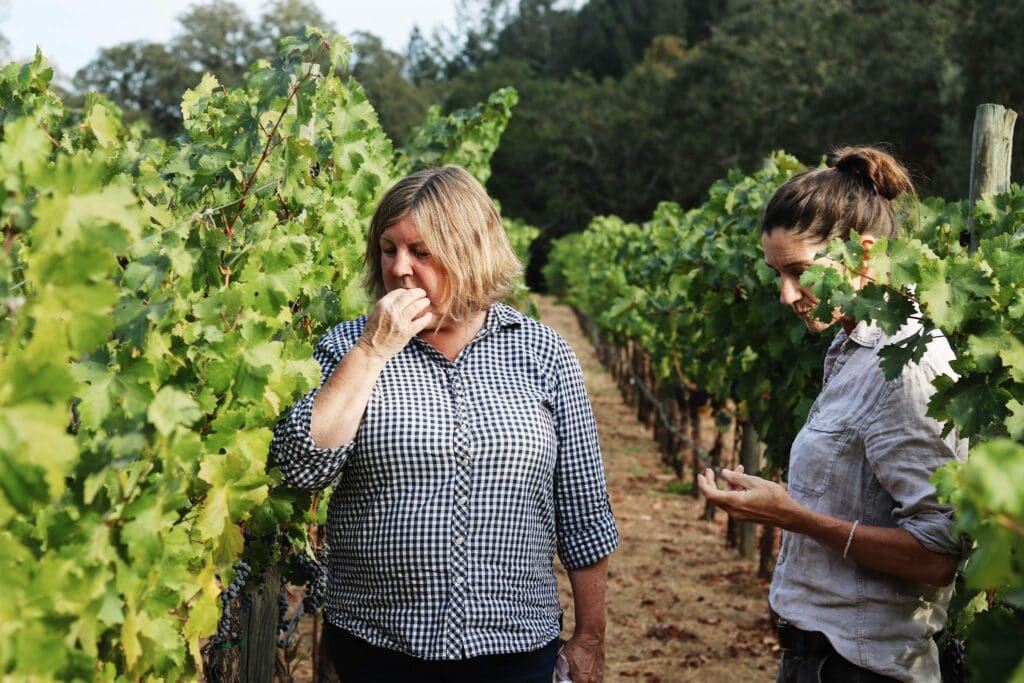 Tasting, sipping, and relishing the unique liquid sensations of Elaine St. Clair is an experience that will make your palate dance with pleasure. Adding to the uniqueness, the beers you are sipping are produced by one of (and possibly the first) women in the United States who holds the dual-title of Winemaker and Brew Master. These micro-production artisan brews are a special indulgence.
Elaine says of her beer-making style: "We make our own versions of fourteen different old-world beer styles. We brew in small lots to ensure freshness. Each beer is brewed with whole flower hops and a unique selection of malts to bring out layers of subtle flavors. The result is a well-made traditional-style beer, but like nothing, you have ever tasted."
"With my winemaking style, the art comes from blending the wine lots from different vineyards, fermentation and barrels. The vineyard is key to quality. In addition to our own Syrah vineyards, we partner with other growers who share our passion to make world-class wine. Both our wine and beers are well balanced, complex, and artfully made."
Elaine, in addition to her educational background in enology and brewing, has been a leader and trendsetter for decades in the Napa Valley beverage industry.  She spent ten years as head brewer and co-owner of Napa Ale Works, one of the valley's original breweries, while working full-time on the winemaking team at Domaine Chandon.  Following Domaine Chandon, Elaine moved on to be co-winemaker for almost ten years at Domaine Carneros.  It was here that she met Laina, director of marketing and hospitality.  Laina's background in fashion design helps drive many of the aesthetic features of the current space and experience at St. Clair Brown.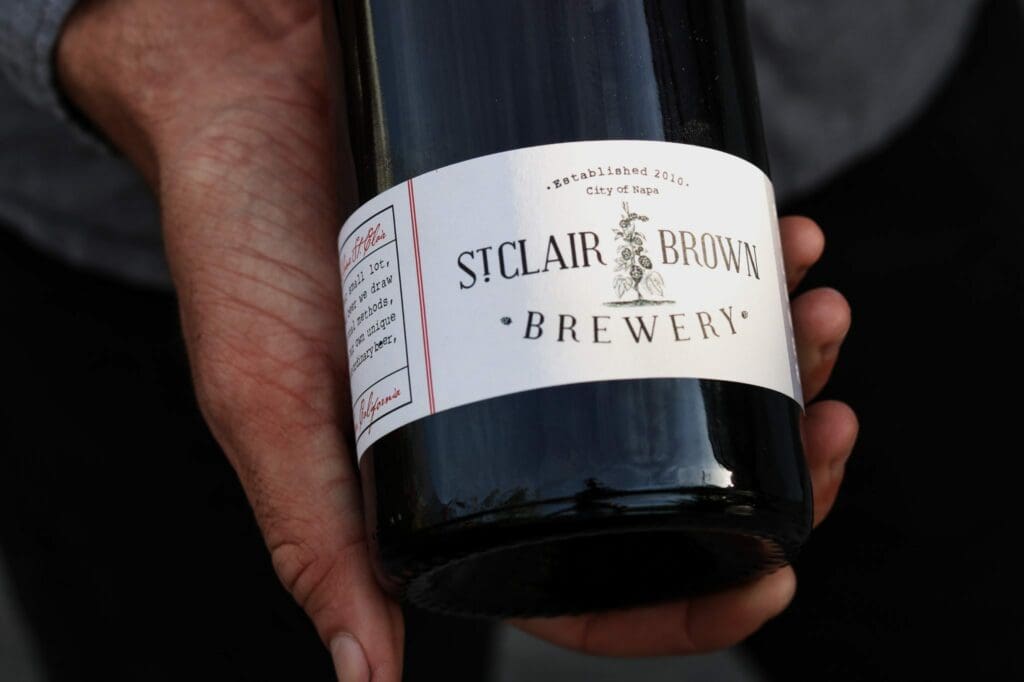 Following Domaine Carneros, Laina went on to launch Black Stallion Winery, as its founding president, bringing Elaine on board to join her and head up winemaking.  Working together again, Elaine and Laina started to craft plans for their ultimate dream:  Making small-batch ultra-premium wine and small-batch, traditionalist-style beer, redefining the meaning of "craft" beer. They envisioned having a location that would offer a retreat for their visitors, offering them a place to relax, enjoy, and accompany their drink of choice with small bites.  Keeping in mind the purity of what they wanted to offer (wines and beers are vegan*), they decided their goal would be to have an urban garden, where locals (and the fortunate visitor) would gravitate to and experience Napa Valley life at its finest and least complicated.
St. Clair Brown began life in 2013, and with the addition of the nano-brewery in 2018, Elaine realized her dream of being able to create both world-class wine and world-class beer. And Laina realized her dream of offering a space for people to come, congregate, visit, sip and munch, in a secluded garden surrounded by many of the ingredients found in their munchables, a slice of Shangri-la if you will.
When speaking to either, the smiles on their faces, sparkle in their eyes says it all. And that is the personality you will enjoy as you sit, sip and nibble.
(*) Honey Wheat Ale is the only brew that is not Vegan.
The Railroad Arts District
Following (or preceding) your visit to St. Clair Brown, be certain to allow enough time to wander through the two-mile stretch of this outdoor, eclectic art gallery.  You will notice brightly colored murals just across the railroad tracks from St. Clair Brown's winery garden.  Known as "Napa's New Cultural Garden," you will marvel at the display of murals, sculptures, and art pieces, created by local and world-renown artists.  This two-mile stretch of eclectic, energetic art is not to be missed.  For further information please check:  www.radnapa.org.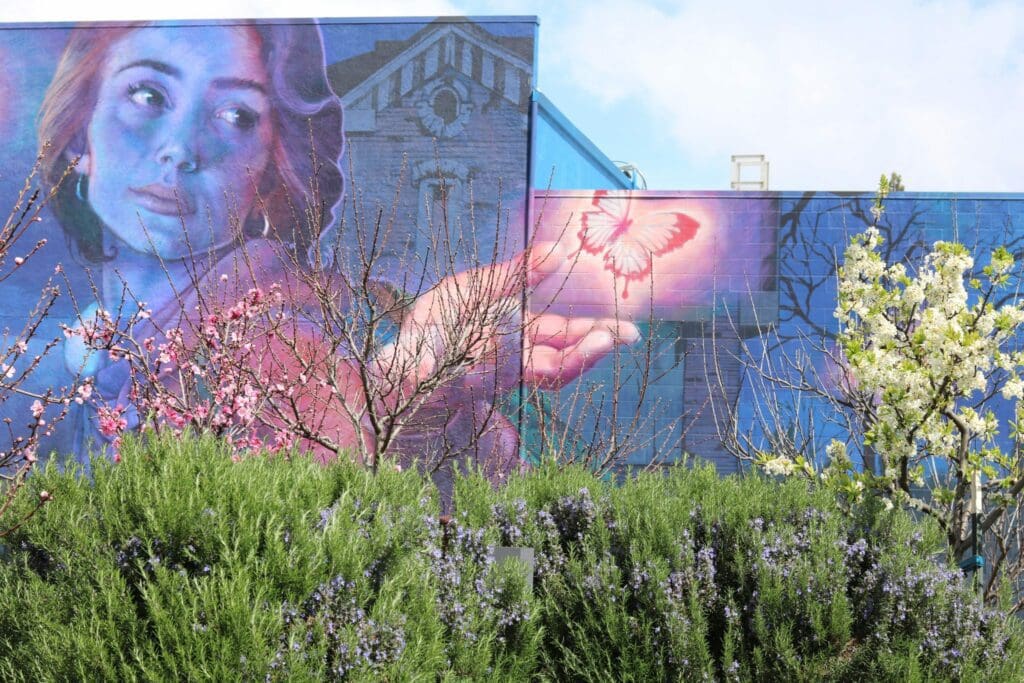 Immerse yourself in an extraordinary experience, where elegantly crafted beer and boutique small production wines await you.  Sit, linger and experience relaxation therapy, in this unique urban garden setting.  Savor being surrounded by citrus, lavender, rosemary, thyme, fig, and other agricultural delights, used in many of the menu items that accompany your beverage of choice.  And if that wouldn't be enough, add the visual pleasure of murals, sculptures and the art that beckon you, just across the way.  This is truly a tapestry of adult beverages, savory delicacies, nature, and art, melding themselves together for your sensory pleasure.
Le Menu
Beverages…. adult and otherwise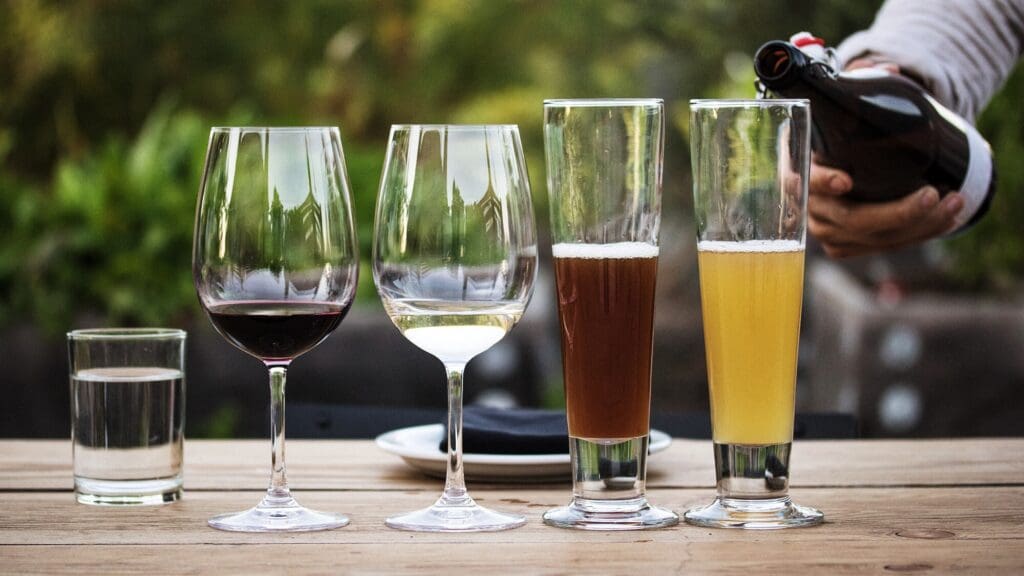 The Wine Flights
The Range Flight: Chardonnay, Zinfandel, Merlot and Muscat
The Flagship Flight: Super low production, the elite of St. Clair Brown's Wine Offerings:
Chardonnay, Estate Syrah, Red Blend, Cabernet Sauvignon
Beer Flight
Sample designer beers that are unique, from this nano-brewery (note:  assortment will change based on brewing and supply):  Honey Wheat Ale, Red Ale, Brown Ale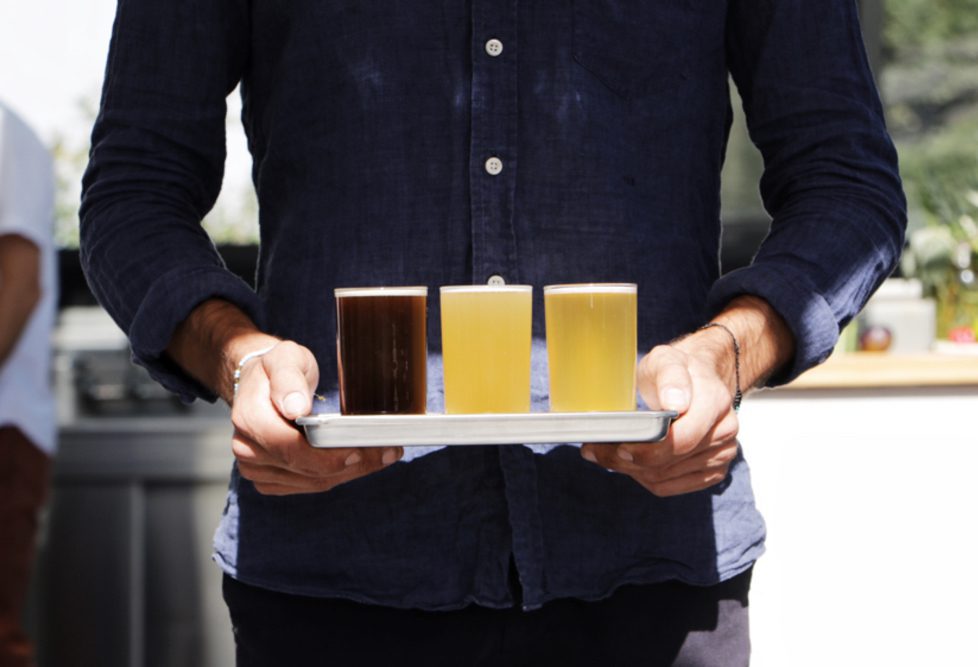 Refreshing non-alcoholic choices
Garden Soda: Naturally sweetened sodas, infused with seasonal ingredients from the garden. Designed with the help of a herbalist and local culinary expert, creating special seasonal flavors.
Lavender Bergamot Lemonade: Made from organic lemons, infused with lavender and Bergamot orange leaves (from the St. Clair Garden) …. sure to relax and quench your thirst.
Peach Ginger Iced Tea: Organic black peach tea, infused with lime leaves and organic pardon peppers from the garden, with additional house-made ingredients. Sure to please.
Enjoy small bites to accompany your beverage of choice. The menu changes depending on season and availability of fresh and garden-grown products:
*Lemon-infused Hummus-served with rustic bakery olive oil and sel gris flatbread crackers
*Pork Rillette & Fig Mostarda.  A mouth-watering pork spread, with mostarda enhanced by garden-grown figs, quince, and fennel.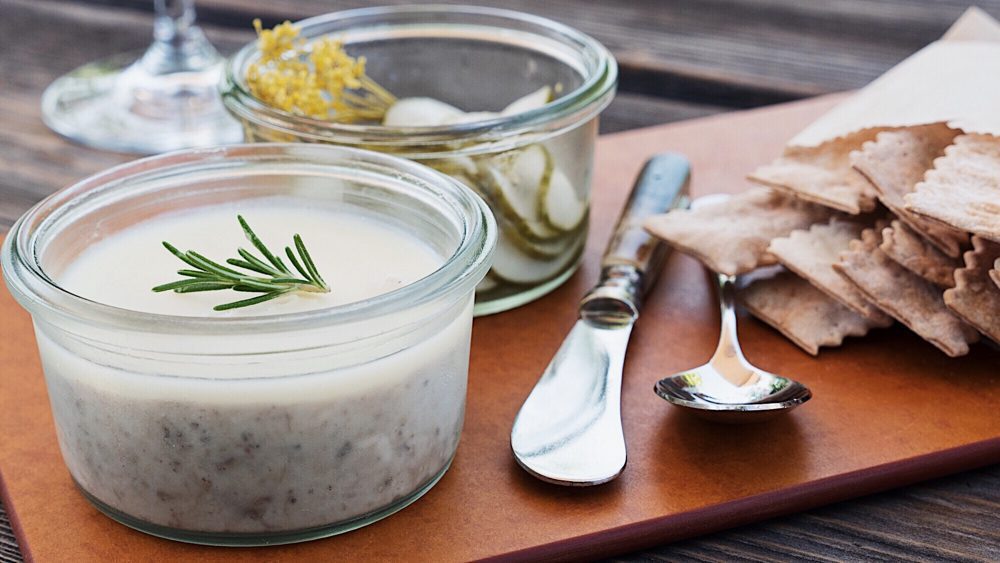 *Citrus Pistachio Chocolate Bark…. yum!!!!! Just taste it, chocolate lovers!
*Cheese Board. A tempting variety of gourmet cheese is purchased from local creamery's, accompanied with rose jelly with black peppercorn and dried rose petals.
*Roasted almonds and citrus-marinated olives
*Weekly special.  Depending on what is ripe in the garden surrounding you, this enticing weekly special may include fresh-picked figs (in lavender-infused honey), house-made cashew butter and locally made nut bread from Ollie's Artisan Baking Co.  
And….there's more (food that is)!
Additionally…. for more filling and delicious speciality food to accompany your beverage of choice, order from Mercadito Food Truck. Redefining freshly sourced, hand prepared creative Mexican dishes, Chef Valentin Atayde specializes in fresh, organic, healthy Mexican culinary dishes, (including vegan options). Mercadito food truck is parked out front of St. Clair Brown's Garden Thursday-Sunday, 12:30 pm-7:00 pm (please call ahead to confirm).
Experience the Magic!
As I spoke to Laina, she remarked, with a twinkle in her eyes and broad smile, "the garden is a little, hidden breathing space in the city. It is kind of a surprise to turn the corner and see a 1/3-acre garden and a glass greenhouse sitting in the middle of an industrial zone. We really wanted to create a space where people could slow down, relax, and enjoy each other's company while exploring our wines, beers, and garden menu. Our tastings take place in a culinary garden surrounded by raised beds and fruit trees; the garden is our tasting room. The concept is a little unorthodox, but hopefully, people leave feeling that it is possible to create a little bit of magic anywhere.
Please reserve your visit time in advance to enjoy this urban garden hideaway, amidst art, food delicacies, artisanal beer, and hand-crafted wines. Hang with the locals and "those in the know."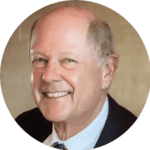 Don Sonderling is a freelance writer covering California's Wine Country lifestyle, and culture. He and his wife are constantly sipping their way from Santa Barbara to Napa, focusing on Paso Robles and the Central Coast, where they have explored for about 25 years. Don has earned his WSET2 (Wine and Spirits Education Trust) certification, has completed the Bourgogne Masterclass through the Napa Valley Wine Academy, and is a member of the LA. Wine Writers.
Focusing on the people and unique experiences to be had, Don's goal is to have people read about California's amazing wine country adventures, seeing it through his eyes, and say: "I want to go there, try that, meet them," and enrich the lives of others as his has been, by exploring California's wine roads.