Picnics in 2020 and 2021 have become more popular than ever and instead of bringing a sad ham and cheese sandwich, why not go all out and make a fun day of it like the French do with a homemade tart, salad, and salmon dish. These recipes are easy to execute and don't take much time to make. You could easily make this all in the morning and have yourself a fabulous picnic in the afternoon! It is also officially rosè season, so continue reading for each underrated rosè I chose to pair with each picnic item and why.
LEEK, HAM, AND CHEESE TART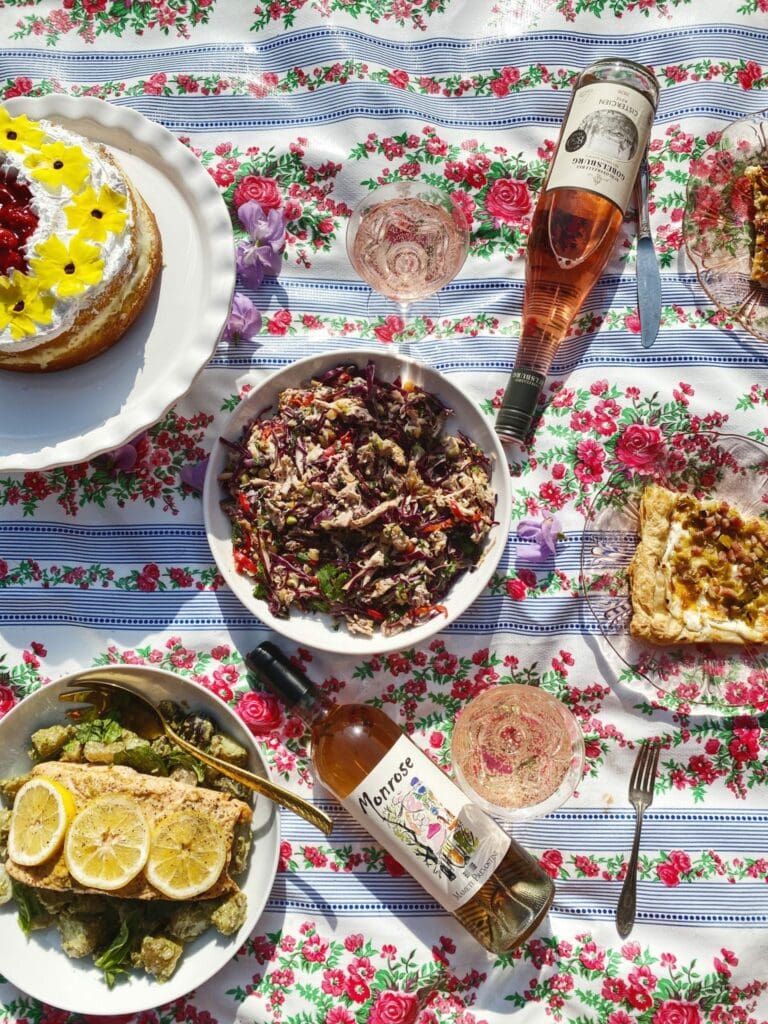 Wine Pairing: "Cuvee Susanne" Pet Nat
Grape: 100% Gamay
Ingredients:
1 sheet of frozen puff pastry
6 small leeks
1 cup small diced ham
3 garlic cloves minced
¼ cup white wine
1 shallot chopped
1 tbsp butter
1 tsp cracked
1 tsp salt
1 cup of sour cream
1 cup of gruyere
Directions:
1. Preheat your oven to 375 and defrost your puff pastry.
2. Leeks are a beast of a vegetable and can be daunting if you are unfamiliar with them. To prepare them you first lop off both the ends of the leeks. Next, split them in half with your knife and run every layer under the sink getting rid of any excess dirt. Place the layers on top of each other and slice them. Do this with the six leeks and set aside.
3. In a medium saute pan, add your butter and saute the leeks, shallots, salt and pepper. Cook until softened. Turn the heat to high and add your white wine letting it reduce to a tsp. Set aside
4. Flour a baking sheet and place the puff pastry lightly folding the edges. Spread the sour cream on top evenly, scatter the gruyere, sauteed leeks, and diced ham. Place the tarte in the oven and bake for 35 min. Allow it to cool, slice into squares, and serve.
WHY THE LEEK AND HAM TART LOVES THE PET NAT
I chose to pair the tart with the Pet Nat because the tart has a fair amount of richness due to the cheese and sour cream and needs a bit of bubbles to balance that out. Enter Pet Nat which is a perfect contender because of the tiny bubbles that can be found in the bottle, lightly refreshing your palette yet not overwhelming it with large powerful bubbles that would come from a sparkling wine made in methode traditional (the way champagne is made). Instead, Pet Nat is made using a method called Ancestral. This method of winemaking dates back to the 16th century and is the oldest way of making sparkling wine and the result of a single continuous fermentation. Anyway, back to the tart, which has little pieces of cubed ham that pairs perfectly with the Gamay grape found in this wine since Gamay and charcuterie are already a well known pairing.
Vietnamese Chicken Salad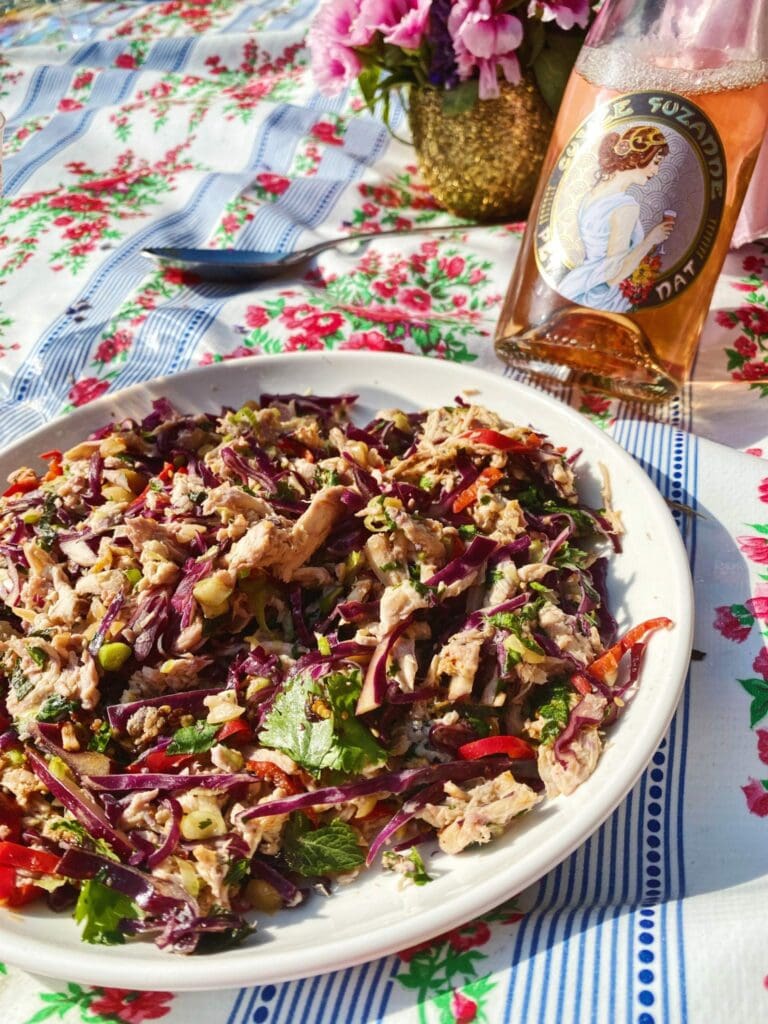 Wine Pairing: Shlosskellert Gobelsburg "Cisterion" Austria Rosè 2020
Grape: 100% Zweigelt
Ingredients:
1 rotisserie chicken
3 serrano peppers deseeded and sliced
¼ cup of sliced red cabbage
2 tbsp chopped mint
2 tbsp sliced green onions
¼ cup of cilantro
¼ cup chopped toasted peanuts
½ tbsp rice vin
2 limes juiced
½ tsp maple syrup
2 tsp fish sauce
1 tbsp soy sauce
Directions:
Pull apart the rotisserie chicken and shred it with your fingers.
2. Make a quick pickle with serrano peppers by pouring the rice vinegar over the sliced serranos. Let it sit for at least 20 min.
3. Add the red cabbage, cilantro, green onions, mint, quick pickled serrano peppers, and peanuts, shredded chicken to the bowl.
4. To make the dressing, mix the rice vinegar, maple syrup, lime juice, fish sauce, and soy sauce in a small bowl, and whisk well. Add the dressing to the salad and mix well again.
5. Allow the salad to marinate for at least 30 min before serving.
WHY THE VIETNAMESE CHICKEN SALAD AND AUSTRIAN ROSÈ ARE A GREAT PAIRING:
 I chose to pair the Vietnamese Chicken Salad with the Austrian Rosè because the salad is zippy thanks to the ample amount of lime juice found in the dressing and needs an equally zippy wine to go along with it. Austrian Rosè is perfect because of the slight effervescence the wine has along with the fair amount of acidity. The salad has a lot going on with the fresh mint, fish sauce, soy sauce, and pickled chilies and needs a wine that will allow it to shine. Since this rosè has Zweigelt as its grape, it has medium-high acidity and is medium-bodied, allowing the salad to be the star of the show and being a wonderful supporting act.
DIJON ROASTED SALMON AND PESTO POTATO SALAD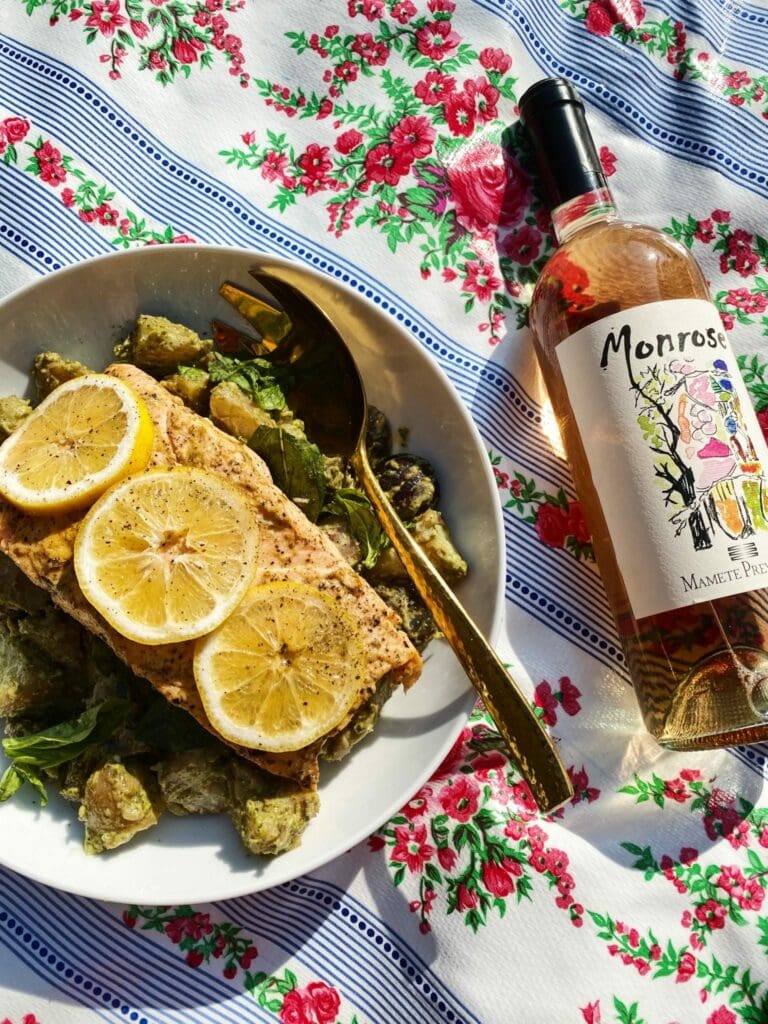 Wine Pairing: Mamete Prevostini "Monrose" 2019
Grape: 100% Nebbiolo
Ingredients:
1 salmon fillet
1 tbsp dijon mustard
1 tsp herbs de provence
1 tsp hot sauce
2 tbsp olive oil plus more for drizzling.
1 lemon juiced
½ tsp salt
½ tbsp black pepper
Lemon slices for garnish
Pesto Potato Salad
1 lb mixed small potatoes, boiled, cooled, and quartered
2 cups of basil
1 tbsp pecorino
1 tbsp grated parm
2 garlic cloves
½ cup of olive oil
1 tsp salt
1 cup of mayo
DIRECTIONS:
Preheat the oven to 425 degrees.
2. Make the pesto by combining all the ingredients except the olive oil in a blender or food processor. Slowly drizzle in the olive oil while the motor is running. If the pesto looks too thick, drizzle in a little more olive oil.
3. Mix the pesto with the mayo in a large mixing bowl and add the potatoes. Place in the fridge while you prepare the salmon.
4. In a small mixing bowl, add the dijon mustard, herbs de provence, olive oil, lemon juice, hot sauce, and salt. Whisk well and add the salmon to the marinade. Allow it to marinate for at least 30 min.
5. After 30 min, transfer the salmon to a foil-lined baking sheet, add your black pepper, and place in the oven for 12-15 min. 
6. To serve, scatter the pesto potato salad and place the salmon on top. Lay the lemon slices on top and drizzle with extra olive oil.
WHY THE DIJON SALMON WITH PESTO POTATO SALAD AND THE ITALIAN ROSÈ ARE A MATCH MADE IN HEAVEN:
For this pairing, I went with the good old saying "What grows together goes together".Since pesto is clearly Italian, I figured it was fitting to pair it with an Italian Rosè. This dish has pretty intense flavors thanks to the basil and dijon and needs to be paired with a Rosè that will not get lost in the mix. This specific Rosè has Nebbiolo as its grape, producing red fruit on the nose with raspberries and rose on the palette. The high amount of acidity and creamy roundness makes this a full-bodied wine and a perfect contender to stand up to the bold Italian flavors.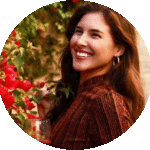 It was while attending The Culinary Institute of America that Lucia first fell in love with wine and wine pairings. To Lucia, food and wine are completely synonymous and the fact that wine can make food taste even better, is pure magic! Some of her favorite pairings include Montrachet with lobster and grower champagne with fries. You can find her pairing her recipes with her favorites wines on her successful instagram @lucilovesfood.