Where Climate, Landscape, and Soil Come Together to Grow Grapes of Excellence
Located between Napa Valley and Santa Barbara County is a wine region featuring some of the most exciting grape-growing terroirs in California. Napa Valley may be best known for its Cabernet and Bordeaux varietals, and Santa Barbara for its Pinots and Chardonnay, but Paso Robles has it all. There may be no California area that is more interesting and varied in terroir and grape growing capability than the Paso Robles AVA in the Central Coast….and what great grapes these are, producing wines of merit. The diversity of mesoclimates and microclimates present in Paso Robles yield extraordinary grapes from the multiplicity of the region's terroir.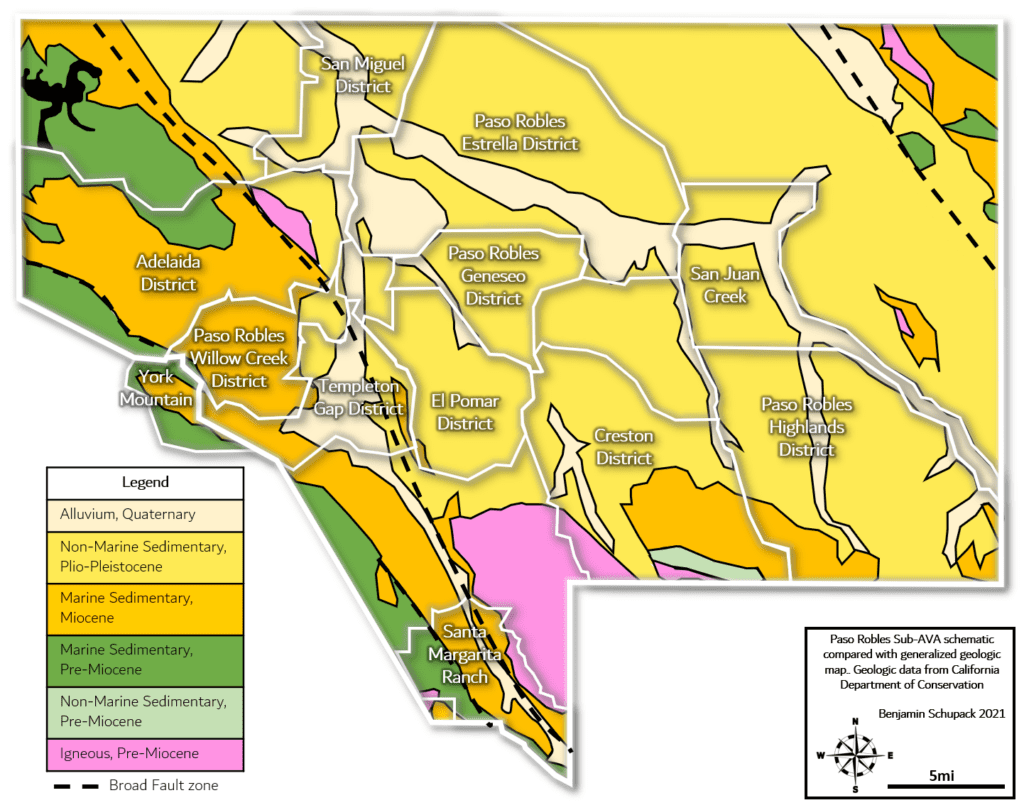 The diversity of the Paso Robles AVA is divided into 11 sub AVAs, differentiated by soil, and climate, (refer to map of the AVAs, note: York Mountain is its own AVA but on the fringe of the Paso Robles AVA).
The distinctive terroir of the Paso Robles AVA is influenced by the rich geologic history across the area (refer to map). On the western side of the AVA, the bedrock is characterized as mostly marine in origin. This area was once a submerged ocean floor (part of the Monterey Shale Formation) 20 to 5 million years ago. Soils here are rich in calcium carbonate. Just across the Rinconade fault zone to the east, the geology diverges to primarily alluvial, non-marine rock much younger in age, 5-to-2.5-million-year range. The soils on this side are mainly silty, loamy, and clay-rich. This contrasting geology and soil across the region, plus a strong climatic influence, make the Paso Robles AVA an area capable of growing an abundance of grape varietals (over 60) of the highest quality.
While visiting this unique region, you will come across level vineyards, gentle to steeply sloped hillside vineyards, valleys, hidden crevices, and plateaus. The breezes from the ocean twelve miles away can drop the temperature 50 degrees in a matter of hours, with crisp air moving into the valleys of the landscape. This is especially prevalent in the Templeton Gap, with its diurnal temperature variation. The unique terroir and climate make Paso Robles an area that grows outstanding Rhône, Bordeaux, Spanish, Italian, and lesser-known grape varieties.
There have been recent articles highlighting several elite vineyards from Napa Valley and Santa Barbara, with minimal mention of Paso Robles. Numerous Paso Robles vineyards have earned a highly respected reputation in California's wine country, for both quality and diversity of the wines produced from their grapes.
In order to grow great grapes, you must start with great dirt, and Paso Robles has that feature in abundance and variety.
When you see these vineyard names designated on a bottle of wine, you may be confident you are going to drink something outstanding.
Let's look at a few of these vineyards wine lovers should be aware of.
Carl Bowker, farmer, and winemaker made a life-altering decision to purchase land, grow grapes and make wine following the events of 9/11. As Carl relates, 9/11 jarred him and made him think: What do I REALLY want to do for the rest of my life. Being familiar with soil and plants, having grown up with a father in the agriculture business, plus having his own plant-based rental business, Carl found a unique parcel of land in the Willow Creek area of (what was then just) the Paso Robles AVA.
Purchasing the property in 2003 and replanting it in 2006, Caliza (which means limestone in Spanish) was on the way to becoming a premier Paso Robles Vineyard.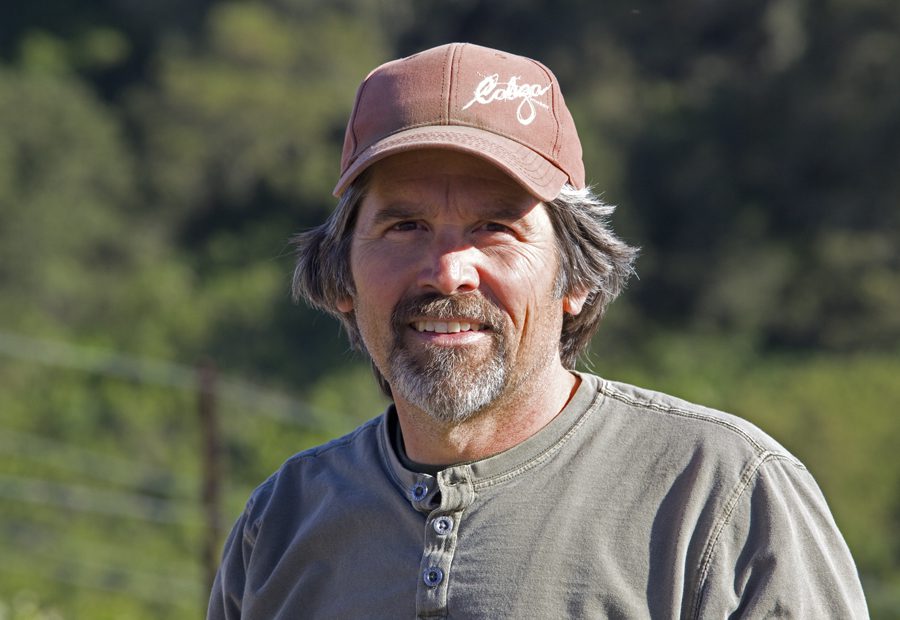 Looking at the vineyard, it is uniquely situated, with a south sloping face, and about 40% terraced. The soil type is mostly silicious shale and limestone, the result of millions of years of sea creature deposits while it was ocean floor. There are twenty-eight planted acres in Caliza's 60-acre parcel, allowing for the growth of nine different red varietals: Grenache, Mataro, Mourvèdre, Petite Sirah, Petit Verdot, Primitivo, Syrah, Tannat, Tempranillo, and two whites: Roussanne and Viognier.
Caliza wines have built a reputation, with many of them consistently scoring in the mid to high 90's by respected industry reviewers. As Carl said: "Everything starts in the vineyard. You must have great grapes to make great wine." While Caliza keeps most of the fruit for their own label, some of the other wineries sourcing from Caliza are: Copia, Jacob Toft, Levo, Turtle Rock, and Volatus. In the past Booker, Clos Solene, Linne Calodo, and others have also sourced from this unique vineyard.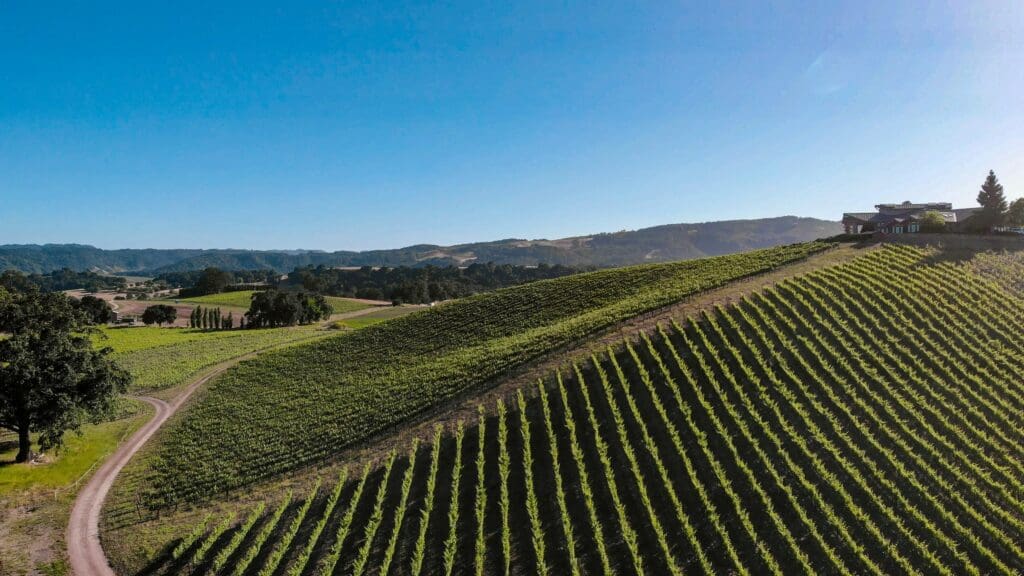 Ron Denner's 108-acre vineyard, planted over 20 years ago, is no newcomer to growing exceptional fruit producing award winning wines. Anthony Yount has been Denner's winemaker for over a decade (since he was in his early 20's). Anthony's wines are consistently being recognized as among the areas best.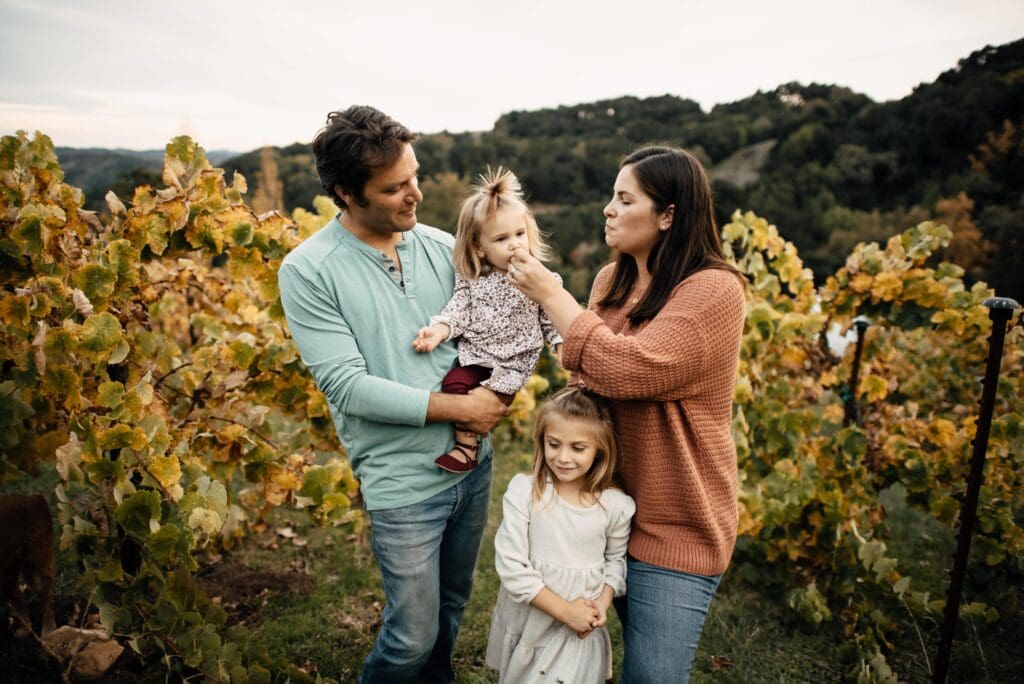 The vineyard is located up against the Santa Lucia Mountain range, being diverse in soil, elevation, and climatic variances. On this land over 20 varietals are grown, thriving in the calcareous rich soil. Some of the varietals being grown on this vineyard include Cabernet Franc, Cabernet Sauvignon, Carignan, Petit Verdot, Syrah, Vermentino, Viognier, and Zinfandel.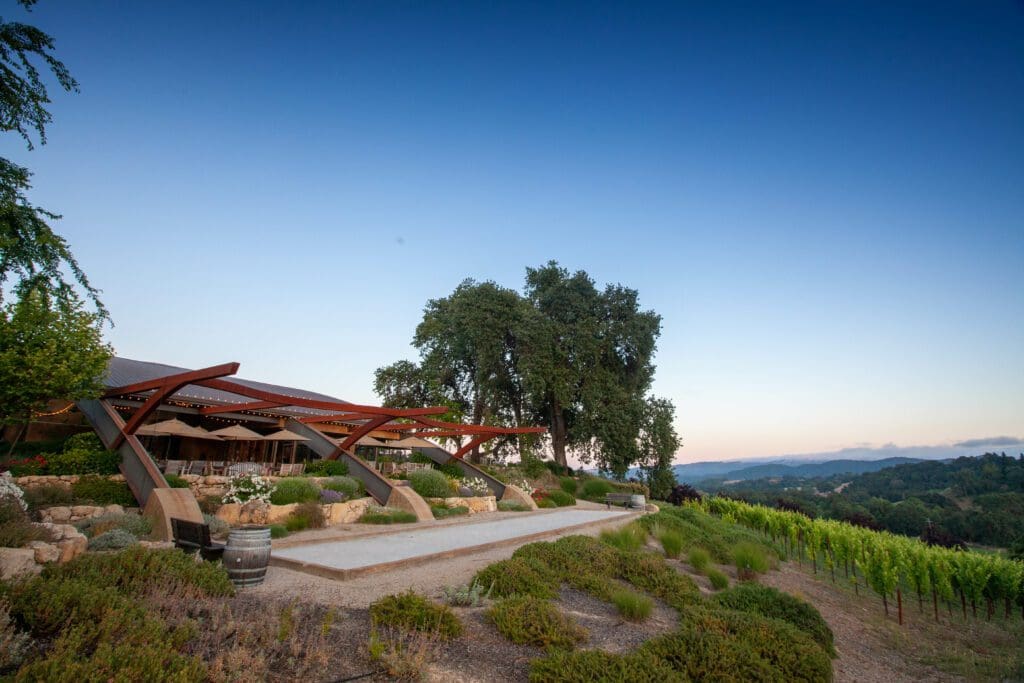 Denner fruit is sourced by several well-regarded producers, including: Aaron Wines, Booker (My Favorite Neighbor), Copia, Nicora, Paix Sur Terre, Pali Wine Co, TOP, and Torrin.
Denner Vineyards is yet another example of the variety of Paso Robles growing areas, producing exquisite Rhone, Bordeaux, and Italian varietals.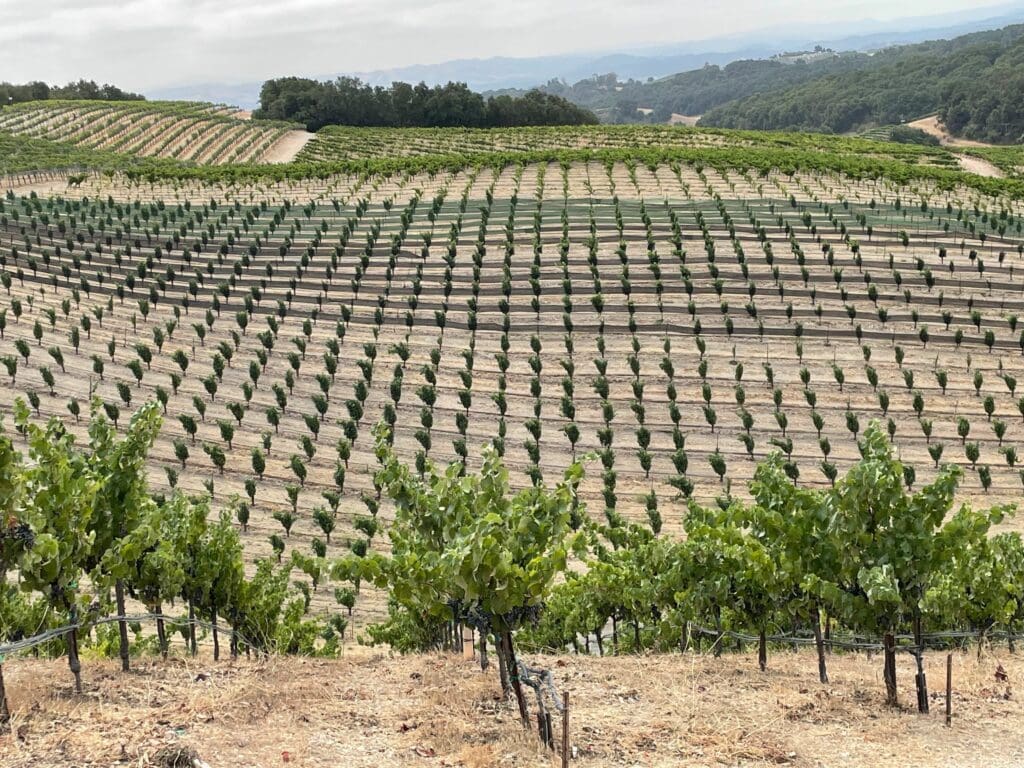 In 1982, San Fernando Valley native Bill Gibbs started a software firm, selling it a quarter of a century later, and purchased a 'vacation' home in Paso Robles. This property turned out to be the home and land of Heart Stone Vineyard, whose grapes at that time (and today), were being sold to Justin Smith of Saxum Vineyards. Traversing from software geek to dirt geek, Bill became a farmer, and started looking for an additional piece of land where he could grow more grapes…. but, not just any grapes, Bill wanted to grow selective, high quality, ultra-premium grapes. Bill found an eighty-eight-acre vineyard that was growing grapes, LOTS and LOTS of grapes; as Bill described it: high yield, low quality. When I asked Bill what attracted him to purchase this plot of land, his answer was: "Two words: Justin Smith." Bill and Justin scoured the area, and Justin told Bill: "If you buy this land, and replant it, I'll buy from you." So, in 2013 Bill and his wife Debbie purchased this 88-acre vineyard.
After replanting and restructuring (the now) fifty-eight acres of planted grapes to low yield, high-quality production, G2 Vineyard, in a short span of 7 years began making Paso Robles wine history as a grower of ultra-premium grapes., and thereby wine. Their reputation grew quickly, as winemakers sourcing from G2 were being awarded impressive high scores
G2 may be one of the most unique vineyards in Paso Robles (or all of California). With some of the steepest slopes (just go on a jeep ride with Bill to fully appreciate this), G2 is "all" that the Willow Creek area boasts; hills, valleys, steepness, gentle slopes, and rows planted with North, South, East, and Western exposure. Most of the growing areas are composed of rocky limestone shale called Gazos shaly clay loam.
Bill's farming program for his customers is simple: it is personally customized to the area, grape, and winemaker's specifications. The customer determines exactly how their block will be farmed: from canopy, to watering, pruning, and picking. The wines produced from G2 reflect exactly what the terroir is…the Paso Robles soil.
Today, G2 grows exclusively red varietals (the Grenache Blanc was ripped out due to disease): Carignan, Graciano, Grenache, Mourvèdre, Syrah, Tannat, Touriga Nacional, and Zinfandel.
G2's initial vintage was in 2014; from that time on, G2's customers have consistently been receiving high scores and praise from major industry reviewers. Just recently, noted wine reviewer Jeb Dunnuck (www.jebdunnuck.com) awarded 100-point scores to the following: Saxum's 2019 G2 vineyard designate, Saxum's 2019 Hexe (40% G2 sourced, 60% from Saxum's James Berry Vineyard), and Turtle Rock's 2019 G2 Syrah. G2 is the only independent Paso vineyard gaining such accolades this year.
Bill's customers include such super-stars as: Aaron Wines, Andremily Wines, Bushong, Clos Solene, Emercy, Jacob Toft, Levo, Nicora, Saxum, TOP, Torrin, and Turtle Rock.
To bring out the most distinct character of the land, Bill uses organic and sustainable farming practices, and in springtime, you may see a flock of 500 sheep clearing the vineyards.
Bill's efforts have paid off handsomely in a relatively short period. He was determined to reflect the unique characteristics of the Paso Robles dirt, the quality of grapes that can be grown that translates into the wines, which can come from this celebrated area on California's Wine Road.
Just Announced: Bill Gibbs just completed the purchase of another elite vineyard site less than a half-mile north of Saxum's James Berry Vineyard. To be known as "G2 North Vineyard (G2N)," this 30 acre site, with similar soil profile as the JBV, is mostly devoted to growing Bordeaux varietals. Gibbs is looking forward to the 2022 harvest.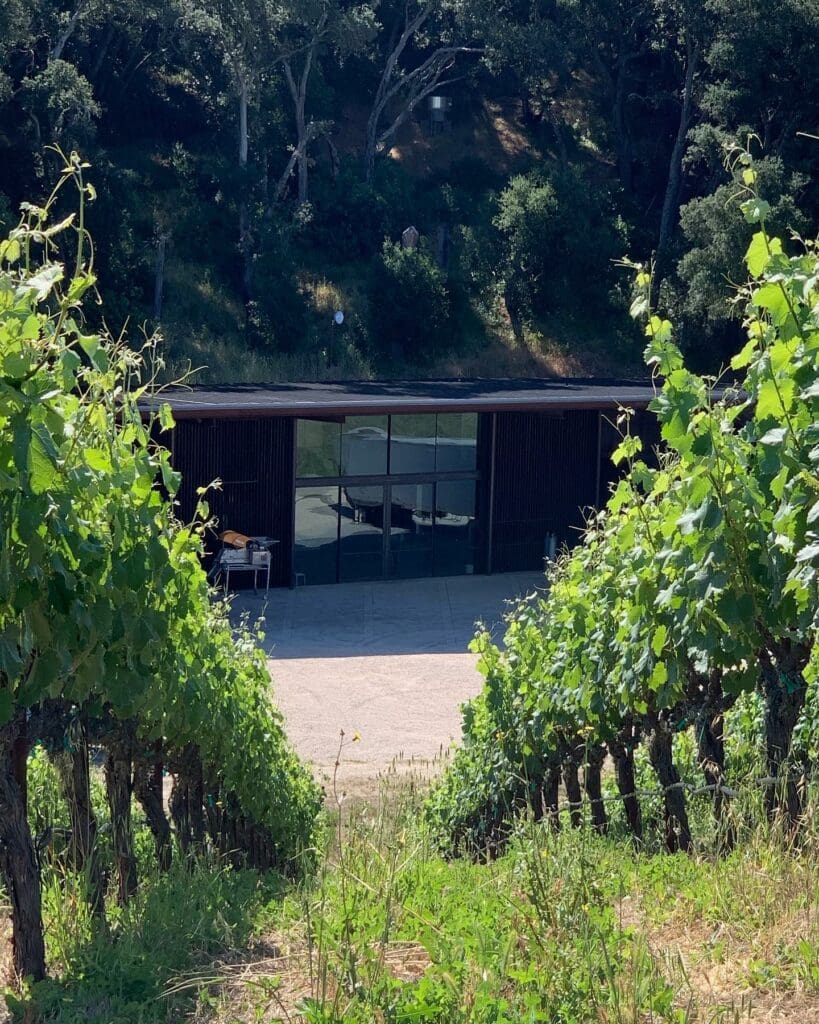 When Robert Parker's Wine Advocate and Jeb Dunnuck refer to the Smith family's James Berry Vineyard as a 'Grand Cru vineyard' you know there is something extra special coming from this piece of dirt. This 42acre vineyard is exemplified by its steep slopes, and rocky calcareous soils. Up to about twenty million years ago, this land was seabed, as exhibited by the seashell fossils and whalebone that is ever-present, (and visible in the Saxum caves). As Justin (and virtually all winemakers) will tell you, they want their wine to express the earth, the dirt, the terroir. And, once Justin explains the unique land where the vines grow, you can appreciate, and taste, what this talented winemaker does with the grapes that are grown on this property.
Consistently producing wines receiving high ratings, it is the 2007 Saxum James Berry Vineyard release that received a Robert Parker score of 100, stating as part in his review: "Utter perfection, and one of the most profound Rhone Ranger wines I have ever tasted." Parker's score was then followed up in 2010 when Wine Spectator magazine awarded this wine the rating as #1 Wine of the Year in their "Top 100." list . Recently, the 2018 James Berry Rocket Block was also awarded a perfect 100 score from Jeb Dunnuck.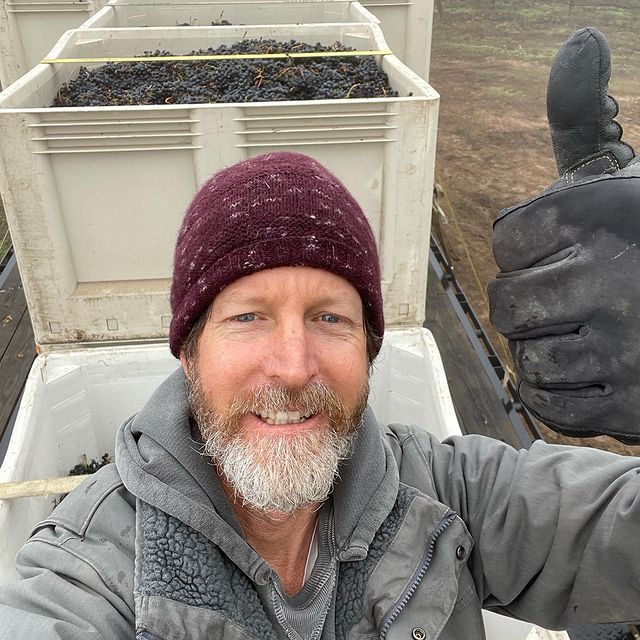 Red varietals being grown at the JBV are Carignan, Counoise, Graciano, Grenache, Mataro, Petite Sirah, and Syrah, along with three whites: Chenin Blanc, Grenache Blanc, and Roussanne.
Current customers sourcing JBV fruit include: Carlisle(Sonoma), ClosSolene, Kinero, Ledge, Torrin, Turtle Rock, and Villa Creek.
You may be assured, when you see James Berry Vineyard on a label, that you will be enjoying wine that has been sourced from one of Paso Robles most distinctive vineyards.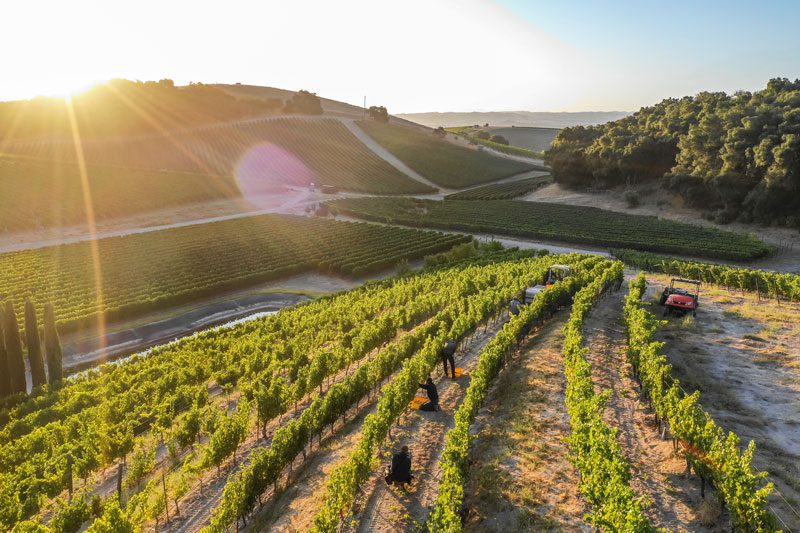 Stephan Asseo has been growing grapes in the Paso Robles soil for over 20 years, establishing a premium reputation for both the brand and grapes. A recent testament to the quality of grapes and wine from this property is Jeb Dunnuck's recent 100-point rating for the 2019 L'Aventure Côte à Côte and 2019 Estate Cuvée, (a blend of Grenache, Mourvèdre and Syrah). This exceptional vineyard property features sloping hills, various elevations, and a soil of both silicious and calcareous limestone. What was once ocean bed millions of years ago yields some of the finest fruit in the Paso Robles AVA.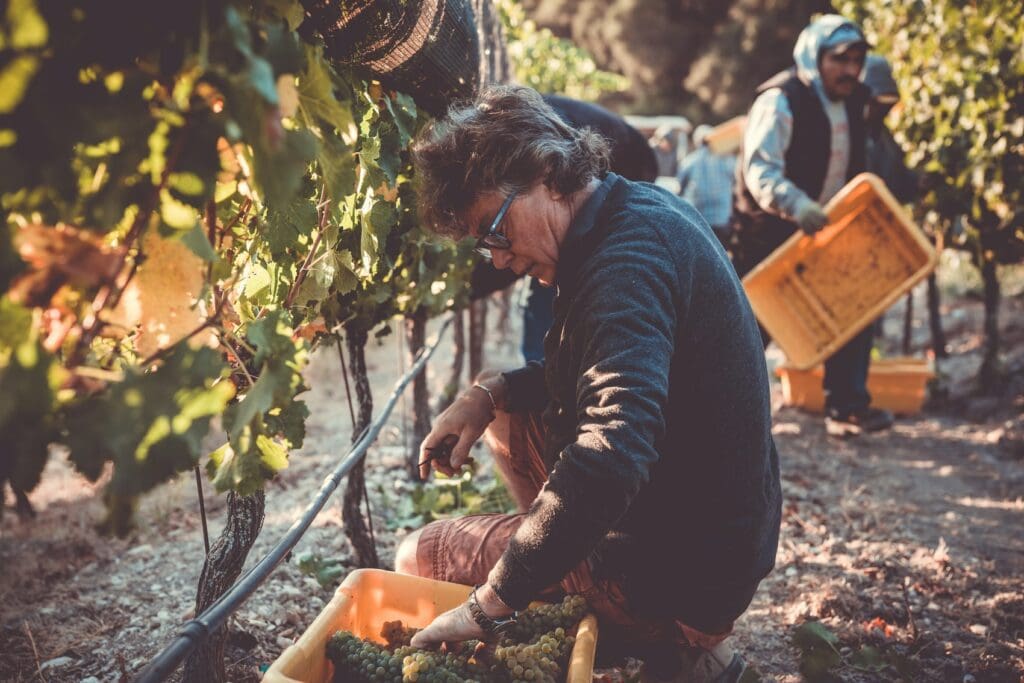 The planted 60 acres are devoted to: Cabernet Sauvignon, Graciano, Grenache, Mourvèdre, Grenache Blanc, Petit Verdot, Roussanne, Syrah, and Viognier.
Premium brands sourcing from these vineyards include: Benom, Clos Solene, Jacob Toft, and TOP.
In terms of winemaking and the vineyard, Chloé Asseo says "There are no secrets; in order to make great wine, you need to have great fruit. My father will always proudly say that 90% of the quality of our wines is the vineyard and only 10% is the winemaker."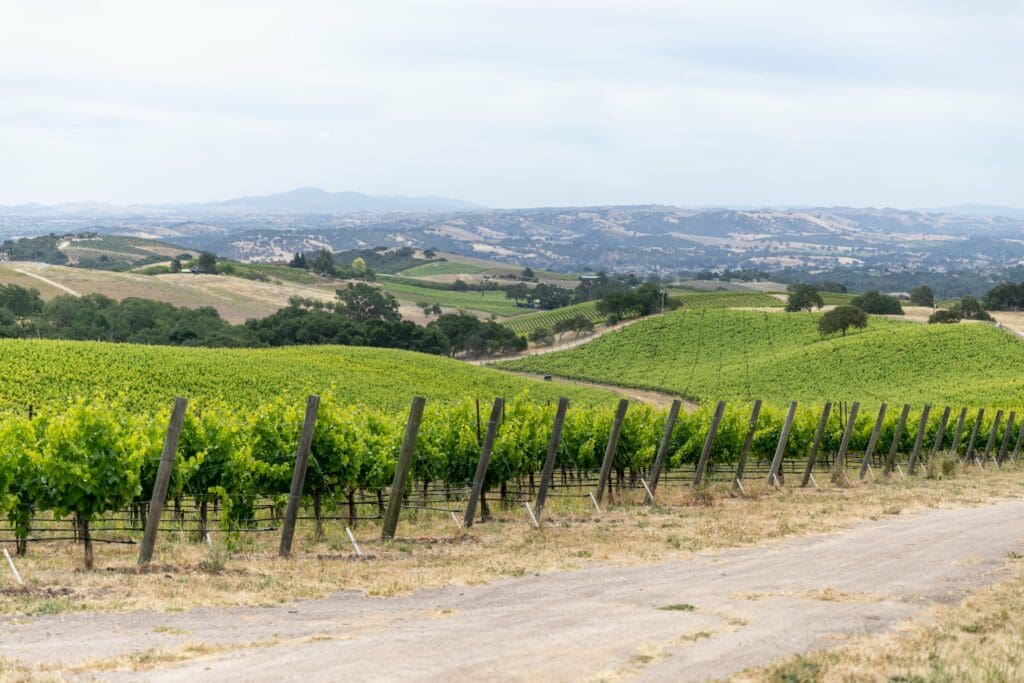 Epoch Estate Wines' Paderewski Vineyard (originally named Rancho San Ignacio) is a blend of history, land, and re-birth. It signifies all that Paso Robles grapes, and wine, is and can be.
Polish born Ignacy Jan Paderewski, a world renowned concert pianist, and Poland's first premier toured the United States, visiting Paso Robles in 1914, subsequently purchasing substantial acreage. He is credited with being a forerunner in planting almond trees on the Central Coast (actually, being the impetus for the agricultural industry) and one of the first to plant Zinfandel (on what is today known as Epoch's Paderewski Vineyard), bringing fame to that varietal because of his stardom. As the clouds of war were brewing in Europe, Paderewski's vineyard estate fell into disrepair and stood fallow from 1941 until 2004 when Liz and Bill Armstrong purchased the vineyard with a vision….to grow great grapes (Zinfandel included of course) and make great wine. Like the legend of the Phoenix rising, this unique piece of property has been nursed, tended, and has flourished as one of Paso Robles' Vineyards of Distinction.
Typical of this area, the terroir of Paderewski Vineyards is again different from other areas of Paso Robles, and Willow Creek dirt. Gentle and expansive east-west facing rolling hillsides are subject to the diurnal temperature changes of the Templeton Gap, and farming land, made up mostly of rocky calcareous soil but also having varying amounts of shale in several blocks. The unique mesoclimate provides options for growing several varietals of grapes, starting with California's and Epoch's signature varietal Zinfandel. Other varietals also grown on this diverse terroir are: Carignan, Clairette Blanche (white), Graciano, Grenache, Mourvèdre, Petite Sirah, Syrah, and Tempranillo. Coming soon: Cabernet Sauvignon, Cabernet Franc, Merlot, and Petit Verdot.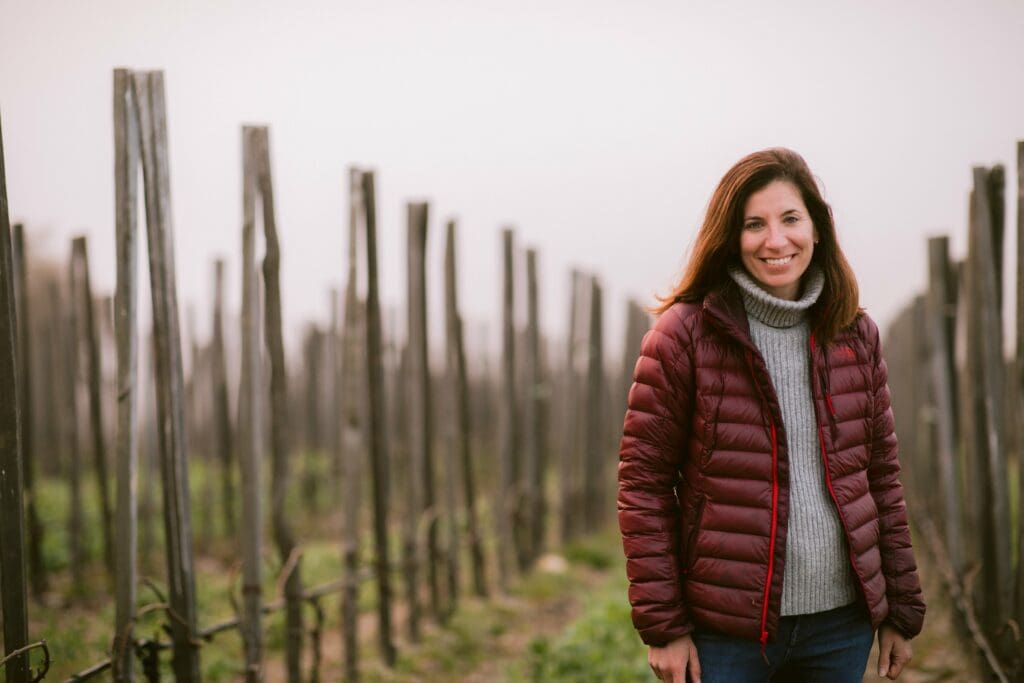 Specific vineyard sites and blocks are chosen to grow and bring out the individual characteristics of the grape and soil.
Since Epoch began releasing wines, winemaker Jordan Fiorentini has carefully crafted grapes from this unique vineyard site, and consistently receives scores from industry professionals as high as 99 points. Additionally, grapes from Paderewski are sourced by many of the areas outstanding winemakers, including: Booker , Clos Solene, Herman Story, Saxum and Napa's Philippe Melka who purchases fruit from the Paderewski Vineyard.
Epoch Estate's Paderewski Vineyard, steeped in history, is yet another unique representation of the Paso Robles AVA terroir, which is home to so many diverse and exciting grape varietals.
But Wait…. There's More
These are only some of the exceptional vineyards in the Paso Robles AVA. The best way to get a feel for the variety and complexity of wine that can be grown from the soil, and to learn about many other exceptional vineyards in the Paso Robles AVA, and who sources from them, is to spend time exploring the area, its wines, and wineries. Learn about the unique vineyards of distinction in Paso Robles' Central Coast and be aware of vineyard designates on the bottle label. This area has many extraordinary vineyards for the talented winemakers to choose from.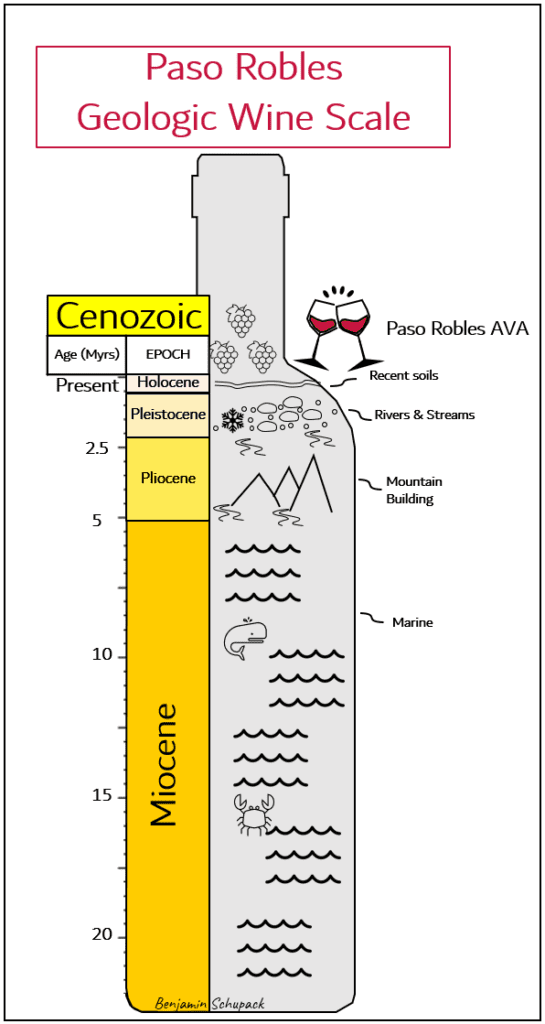 Observe the landscape and geology, talk to winemakers and staff about the geology and climate, and what it produces, in this way you will get a true taste of Paso Robles, what it offers, and unique "sense of place" and personality, that comes from each bottle.
As Renee Sferrazza (CS, wine educator, writer) noted in a recent article: "Wine is a time capsule in a bottle." This is especially true in Paso Robles-where the wines reflect climate and place-year after year.
Relish the wine as you luxuriate in the "elixir of the Gods," lovingly coaxed from grapes grown from some from the most exclusive and diverse terroir in California's Wine Country, the Paso Robles AVA.
Special thanks to Ben Schupack, Geologist, for his technical review and comments, in addition to the map and geologic image.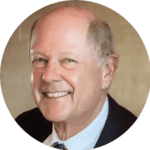 Don Sonderling is a freelance writer covering California's Wine Country lifestyle, and culture. He and his wife are constantly sipping their way from Santa Barbara to Napa, focusing on Paso Robles and the Central Coast, where they have explored for about 25 years. Don has earned his WSET2 (Wine and Spirits Education Trust) certification, has completed the Bourgogne Masterclass through the Napa Valley Wine Academy, and is a member of the LA. Wine Writers.
Focusing on the people and unique experiences to be had, Don's goal is to have people read about California's amazing wine country adventures, seeing it through his eyes, and say: "I want to go there, try that, meet them," and enrich the lives of others as his has been, by exploring California's wine roads.