Call it an "a-ha" moment, an epiphany, a moment of clarity…. or just one of those rare instances when you intuitively "know." That life altering moment came for Nick Elliott in 2005, as he re-counts: "One foggy morning, looking out over a vineyard while driving a tractor, I knew that this was what I loved and wanted to do forever."
Nick had come to Paso Robles in 2001, at the age of 19, on a construction job. He was the third generation in a family business from the Central Valley, and as he told me, "I wanted to see what the world might hold for me outside my hometown." Nineteen years later, he is still in Paso Robles, producing some of the most acclaimed wines in California's diverse wine country. Nick's training literally started from the bottom of the barrel. Fortunate enough to be working for Scott Hawley, ( of Torrin Wines, who already was establishing himself as one of a small but elite group of Paso winemakers), Nick was like a sponge, soaking up all the knowledge he could. He learned about grapes, punch-downs, vineyards, terroir, the art and science behind winemaking, and that unique "place" called Paso Robles-with its varied micro-climates. He also learned about the many grape growing regions in the Central Coast-and their uniqueness. No amount of formal education could have taken the place of Scott's mentorship.
In 2009, almost a decade after arriving in Paso Robles, still learning under Scott's tutelage, Nick produced his first vintage, Euphoric (Grenache) and Buxom (Syrah-a varietal which became Nick's first love). Two years later, prior to his release, my wife and I were introduced to Nick. We met in the barrel room of Villacana Winery; Nick was there with two bottles and glasses on top of a wine barrel. He was shy and nervous as he poured for us, soft-spoken and humble, with a subdued excitement; I think we were the first "public" people he poured for. It only took a sniff and small taste to know we were sipping an exceptional wine and had met someone special.
THE DREAM BECOMES REALITY
Acclaim for Nick's wines was instantaneous. Jeb Dunnuck (Rhone Report) awarded 90 points to Euphoric and 92 to Buxom, and Doug Wilder (Purely Domestic Wine Report) rated the wines a 97 and 96. Nick has continued to receive raves and high ratings every vintage since from the most respected of sources, including Wine Spectator, Wine Advocate and several others.
Over nine years, Nicks' range has expanded. He produces single vineyard varietals and blends, and an elegant white Rhone blend, "Undisclosed." His reputation for producing small lot, premium wines has opened doors (or vineyards) to him, and he sources from some of the most prominent vineyards throughout the Central Coast.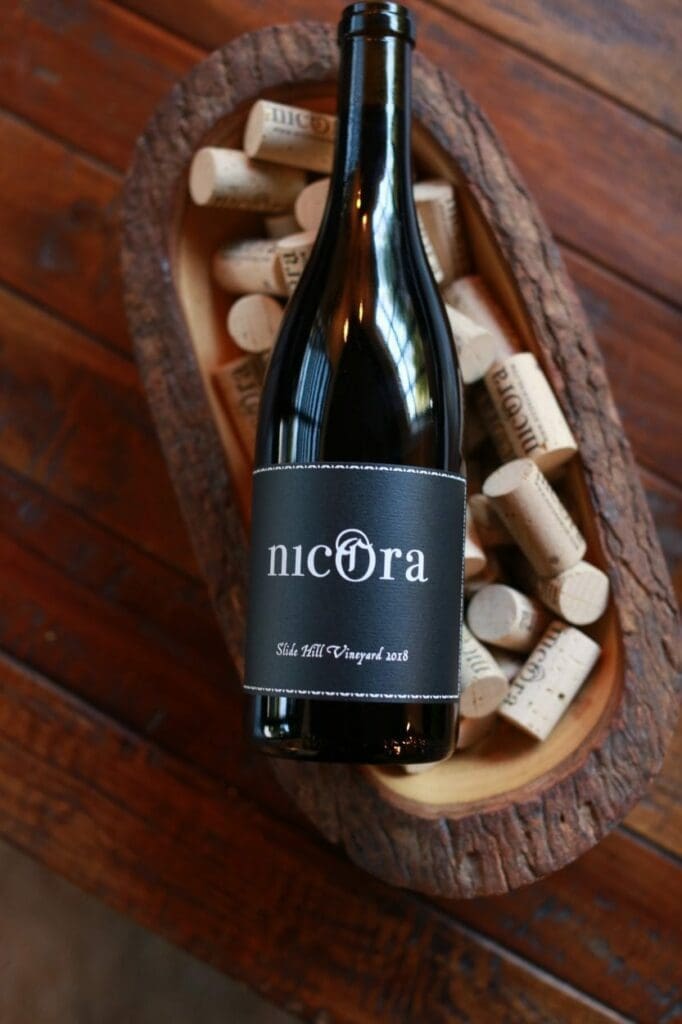 Nick is involved in every aspect of production, which still includes cleaning out his own barrels, as he used to do as a cellar rat for Scott Hawley. Although Syrah is his first love, and he focuses on making single vineyard varietals, Nick relishes the challenge of blending, showing off the differences that are inherent in each and every vintage. Nick's objective is to be able to express the nuances that he coaxes from the grape and puts into the bottle.
Nicora remains a small, 1,200 case, elite production winery, every aspect having Nick's stamp on it. Nick's winemaking philosophy is simple and direct. What he likes best is "the unique challenges that are tied to Mother Nature and adapting to whatever that may be." Nick Elliott has earned a reputation as one of an exclusive group of young winemakers in Paso Robles.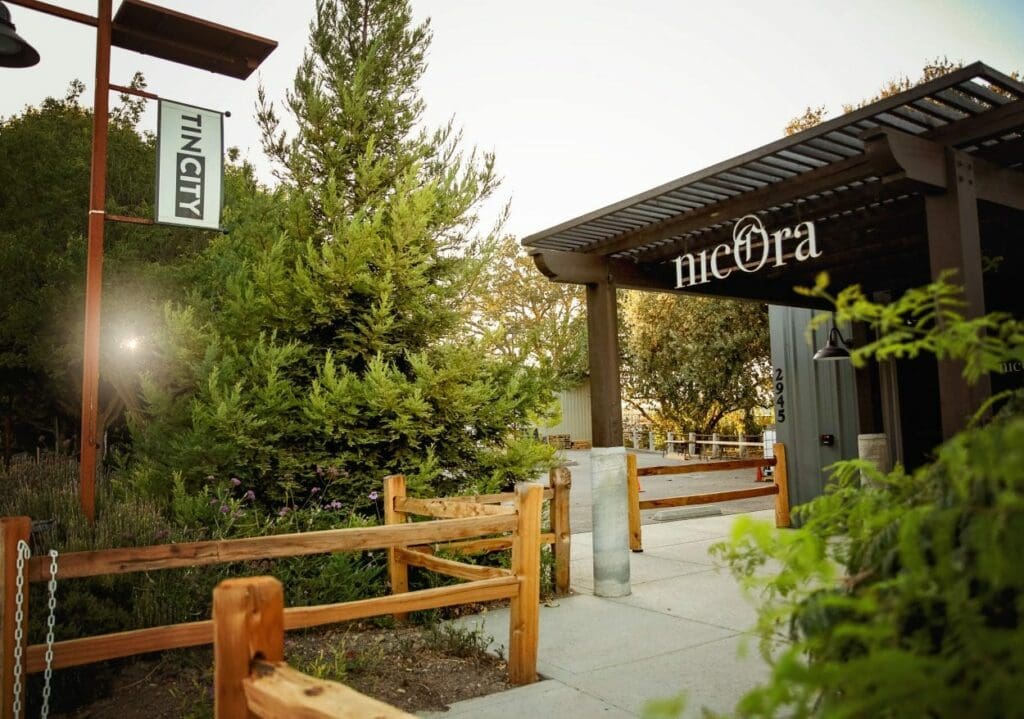 PAYING IT FORWARD
Always grateful for the mentoring he received from Scott Hawley, several years ago Nick began to "pay it forward," after meeting another young "wanna be" winemaker (who is Nick's age), Stanley Barrios of TOP Winery. Stanley also came from a different industry, without any direct connection to wine, and in about five years, has gone on to follow in Nick's footsteps, taking his place among some of the finest of Paso Robles' premium winemakers.
HE'S STILL THE SAME
Since first meeting Nick on that chilly afternoon, much has changed in Nick's life. He is married, and his wife Elissa works in the tasting room, in addition to taking care of raising their new one-year old daughter. Despite his success, Nick is still that same humble, appreciative "kid" we first met almost a decade ago. The nervousness is gone, replaced by a quiet confidence, but the smile and sparkling eyes and excitement remain, along with a great appreciation for all that have encouraged him on this journey.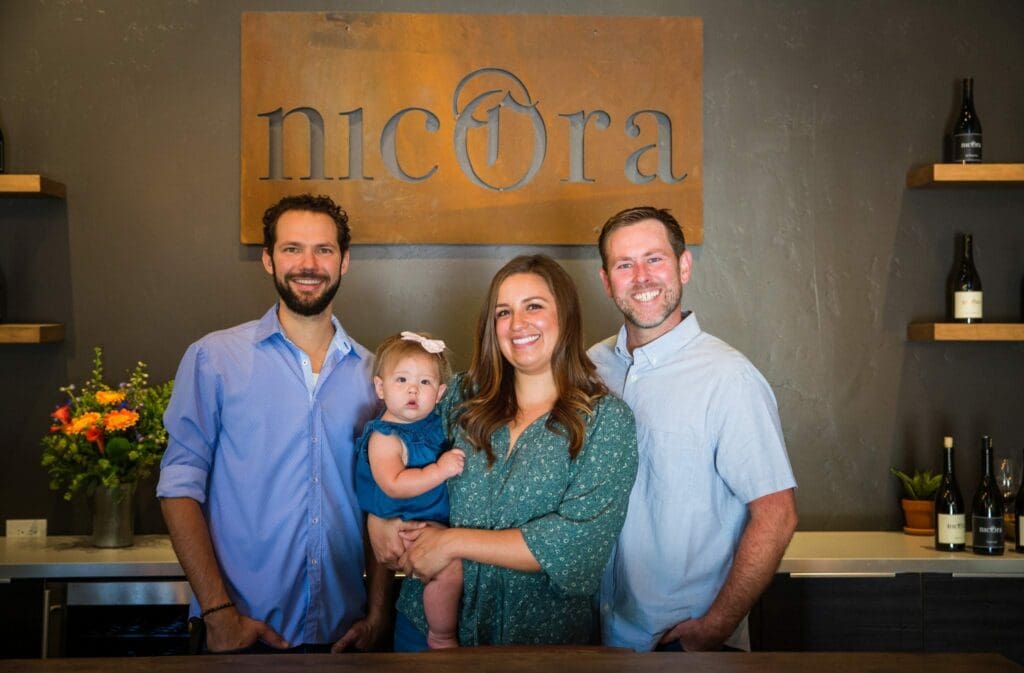 I DID IT MY WAY
Nick Elliott saw a dream on that foggy morning in the vineyard, never imagining that six years following his 2009 vintage, he would receive that coveted 100 point score, for his 2018 Slide Hill Vineyard Syrah, from Doug Wilder of Purely Domestic Wine Report, (who has reviewed each and every of Nick's releases). When I asked Nick his reaction to this honor, he replied: "I was elated and grateful. The most satisfying thing for me is to know I did it my way, with hard work, passion and dedication."
Nick Elliott is part of a new, exciting generation of winemakers, honing their craft in Paso Robles.
Thank you, Nick, for following your dream, and bottling your passion to share with others.
Learn more or schedule a tasting here!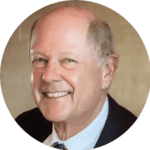 Don Sonderling is a freelance writer covering California's Wine Country lifestyle, and culture. He and his wife are constantly sipping their way from Santa Barbara to Napa, focusing on Paso Robles and the Central Coast, where they have explored for about 25 years. Don has earned his WSET2 (Wine and Spirits Education Trust) certification, has completed the Bourgogne Masterclass through the Napa Valley Wine Academy, and is a member of the LA. Wine Writers.
Focusing on the people and unique experiences to be had, Don's goal is to have people read about California's amazing wine country adventures, seeing it through his eyes, and say: "I want to go there, try that, meet them," and enrich the lives of others as his has been, by exploring California's wine roads.