Dance, wine, and a whole lot of firecracker energy collide in the 'Crown Heights Office' of Brooklyn-based Marquita Levy. Born in Chicago to an American mother and Panamanian father, Marquita Levy grew up in Evanston, Illinois. Dreams of dancing and Political Science led her to the University of Chicago, though Vodka Cranberries were mainly what filled her cup, not wine. Post-college, Marquita's love of dance led her to the Berkshires in 1990, which unexpectedly ruled her world for the next 12 years.
"[Dance] was the hardest thing I would ever do – so far, that is," she recalls, comparing her ballet classes to the likes of signing up for Freshman Spanish Honors and accidently landing in AP Spanish. However, it was this hard work, perseverance, and above all, the need for a flexible gig that pushed her into the world of wine. While dancing, she scored a gig at Tuchi Milan, a restaurant within the Lettuce Entertain You group.
A Taste of the Good Life (and the Challenges That Go With It)
"I went in for the interview, and they hired me that day," she recalls. At the restaurant, she started as a busser, was moved up to a food runner, and then her chance came – she was asked to be trained to be a Front Waiter. "This position required intense wine training," she explains. "They asked me what kind of wine I drank. I told them I drank vodka cranberry and Zima, and Bailey's on ice on special occasions. No one spoke. They told me to be on time for mandatory wine training [that week]." She remembers her first day of wine training with great detail, citing the shiny spit buckets, charcuterie boards, and fancy olive oils that lined the table. The tasting featured Italian wines, ranging from Prosecco to Amarone.
"Vertical lightning strikes from the Veneto pierced my heart," she says. "I might have fainted. I was wine unconscious for the first time. Wine did what it do. I was in love at first site specific vineyard!" she exclaims. Shortly after, she became the restaurant's top seller of Amarone.
However, not all that glimmers comes easy. "The hardest moments were feeling the isolation, and ever persistent gaze of eyes on me waiting for me to fail," she says. In sixth grade, her mother sat her down after her first experience with racism and privilege at school. This only lit her fire going forward. "In short, I was paving the road. I was paving the unpaved road, to make it easier for others to see that the Wine Life was most definitely a road that could and should be taken," she affirms, stating that moments of being uncomfortable far outweighed the amount of support and genuine hope for her success. She notes that most of her discomfort came from microaggressions, covert racist talk, and a whole lot of ignorance from her peers.
"People asked me why I spoke so well, congratulated me for going to college, asked me what type of black I was, was I mixed with something, told me I was just "too pretty" to be all black, touched my hair, asked about my hair," she recalls, citing that many clients were surprised that she was actually knowledgeable about wine.
Wine and Dancing: One In the Same?
Marquita likens dancing and wine to virtually being one in the same. "You can't skip steps or cheat, and you must know basic technique if you want to be good – not great, just good," she says. Practice is imperative, and repetition, memory, and constant learning are key. "There is an art to being a Sommelier. It is choreography. The language of dance and wine are forms of the same Lingua Franca," she explains. And at the end of the day, both require passion, perseverance, and ultimately result in joy, despite the fact that her race and gender are brought to the table every time she works.
Today, Marquita finds particular joy in Gruner Veltliner, Southern Rhone Grenache, Rioja, and all things Spanish wine. "And of course, the Sangiovese Fight Club. Chianti ALL DAY. Can I get a Fontodi?" Some of her current favorite producers include Knoll, COS, Forlorn Hope, Reeve, Boekenhoutskloof, Agrapart (for a splurge), and Gamay at all times.
What's Next for Marquita Levy?
Currently, Marquita can be found dominating the streets of Brooklyn for Volcanic Selections, a small, sustainably-focused distributor founded by sommelier Jeff Porter. "I hope to have 20 accounts open by April, and by the end of the year, I hope I can make it to 60-80," she says. Marquita is also responsible for hosting the company's weekly #WinemakerChat series on IG Live, which she hopes to expand to include weekly features on wines. "I'd also like to create a newsletter for my accounts. Oh, AND SELL A SCHIST LOAD OF WINE!"
So what's next for Marquita Levy? "This year, I'm going back to school to take the Certified Specialist of Wine exam, which is in preparation to become a Certified Wine Educator and also to enter the WSET Diploma program, which is a prerequisite for the Master of Wine," she says, additionally citing her goals of becoming a Level 1 Cicerone, ramp up her wine blog, study Spanish and French, and get married to her long-term boyfriend (now fiancé!)
At the end of the day, the stories and people behind wine are what drives Marquita's passion. "Basically, I want to be a storyteller for all of our winemakers and to be of service [to my clients]: food pairings, tastings, wine descriptions, any support they need in terms of tasting, and always to share Wine Joy. There's no greater vaccine in the entire world."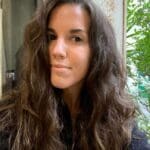 Vicki completed her Bachelor's degree at CUNY Hunter College with a double major in French Language and Italian Language, along with a minor in English and additional studies in Spanish and Polish. Her wine industry career began at Sud de France Développement in Manhattan, followed by a Wine Consultant/Buyer position at Quality House Wines. She went on to work full-time as a staff writer for VinePair.com from September 2016 – July 2017. She now freelances full-time; her work regularly appears in Food & Wine, Wine-Searcher, Beverage Media, Matador Network, Wine Enthusiast, and more.