From community gardens to paper straws, making sustainable choices is something that is becoming more important to many of us. As wine and food lovers, we are uniquely positioned to integrate some of these practices into our everyday lives, presenting us with the exciting opportunity to think creatively when it comes to what we're going to cook, and which wines we'll pair. Vegetarianism has long been one of the most widespread ways people choose to eat more sustainably, just look at how popular Veganuary was! As a world traveler, I tend to gravitate towards diets inspired by people who eat what's available to them while focusing on low food waste. Many cultures have been responsibly consuming food (meat included) for centuries. The disposal of food is a luxury most prevalent in the West, and when we look East we find a population who have long been eating dishes inspired by a low-waste mentality. In my quest to incorporate more of this philosophy into my own diet, I partnered with Verna Gao to bring you this Asian fusion dinner party. I met Verna working in London, where we quickly bonded over our shared love of food, travel, and social justice. Verna is the creator behind many popular viral Asian food recipes, both on Instagram and TikTok. She has written articles for The Independent and was named by TikTok as one of 22 Creators to Watch for 2022.
As I started to think about the wines that would accompany our meal, my mind was instinctively drawn to European cultures like French and Italian. This made sense as wine plays such a prominent role in their way of life in comparison to many cultures in the East, where drinking isn't a mainstay staple for religious, financial, or accessibility reasons. Some of these behaviors are shifting, and we at Monarch Wine like to stay on top of the latest global trends. China, for example, is always on par with the United Kingdom as the 5th country in the world with the largest wine consumption! So if you don't typically think of pairing Asian cuisine with wine, I'm here to help you get started.
On my trip to Asia, I had one goal in mind, to eat as much as I possibly could. My first stop was Singapore where I needed to stay out of trouble so figured a self-induced food coma would do the trick. Singapore is known for its firm legislation (I'm sure you've heard about the no gum chewing law), but what I find most taxing – is the booze tax (sometimes referred to as the 'sin' tax). Alcohol is consumed in Singapore (mostly by immigrants) but doesn't typically play a key role in the dining experience. This might seem strange for those of us looking for a multi-course meal coupled with fun libations, but I quickly came to find out there was enough flavor in this cuisine to quench any thirst. Singapore is home to some seriously fine dining like Chef LG Hang's Restaurant Labyrinth (which was awarded a Michelin Star this year), but where you really want to be is the Hawker Centers. These open-air complexes contain endless stalls selling an array of diverse, affordable meals, while diners sit at communal tables lining the streets. One of the most popular staples in these markets is Hainan Chicken, where (you guessed it) the dish is made from an entire chicken. It's a simple, comforting, kid-friendly, meal that can be made in one pot, and leave you with delicious broth to freeze for weeks to come. This dish is going to take center stage at our dinner party, but first – let's tease our taste buds with a refreshing opening act.
Starter: Lemongrass Prawns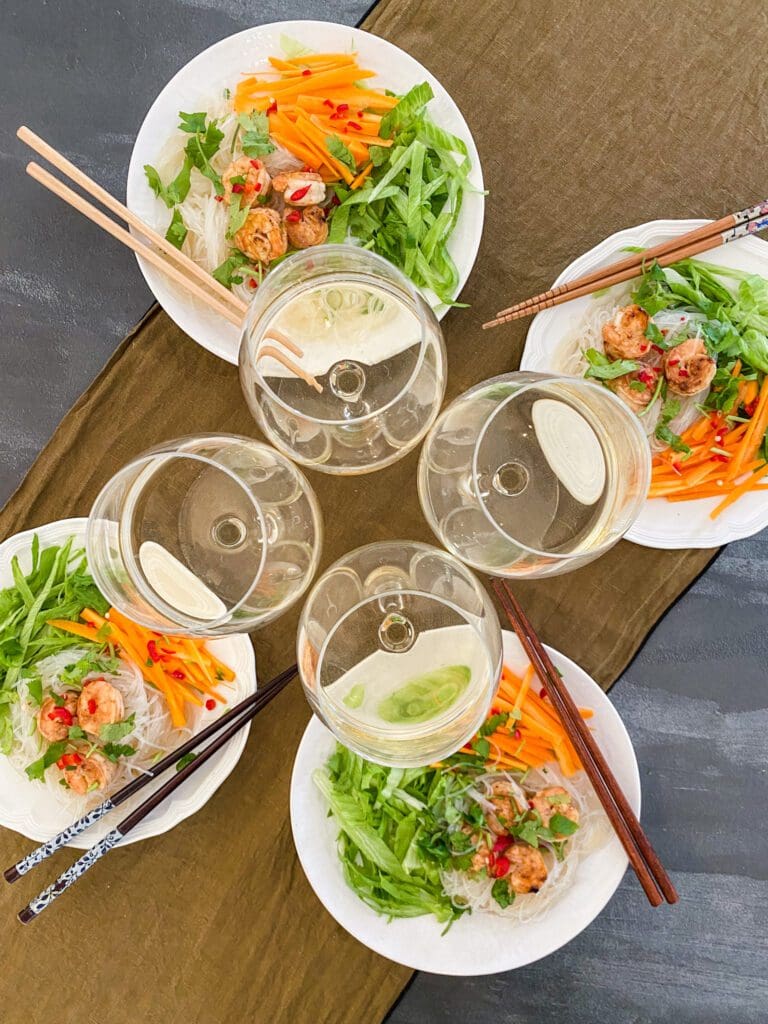 This Thai-inspired dish can be made in a flash, and leaves plenty of wiggle room for creative interpretation (aka – using anything you have leftover in your fridge). Open your bottom drawer for any veg on their last legs, and 'quick pickle' them to serve alongside your prawns. We reached for carrots and chilies.
prawns
vermicelli noodles
marinade for prawns:
quick pickles:
The best thing about this dish is that it allows you to do the prep work before your guests arrive, giving you time to welcome your crew, and start popping bottles! Marinate your prawns ahead of time in a mixture of fish sauce, sugar, lemongrass, and lime juice. Simultaneously, you can 'quick pickle' your veg by slicing them finely – otherwise known as 'julienne' (the culinary world always leading back to Europe), and letting them steep in a container of sugar, salt, and rice vinegar.
Once your guests have settled in – cook your noodles according to the package, add your prawns to a hot pan for 2-3 mins on each side until pink, and assemble your effortlessly gorgeous starter!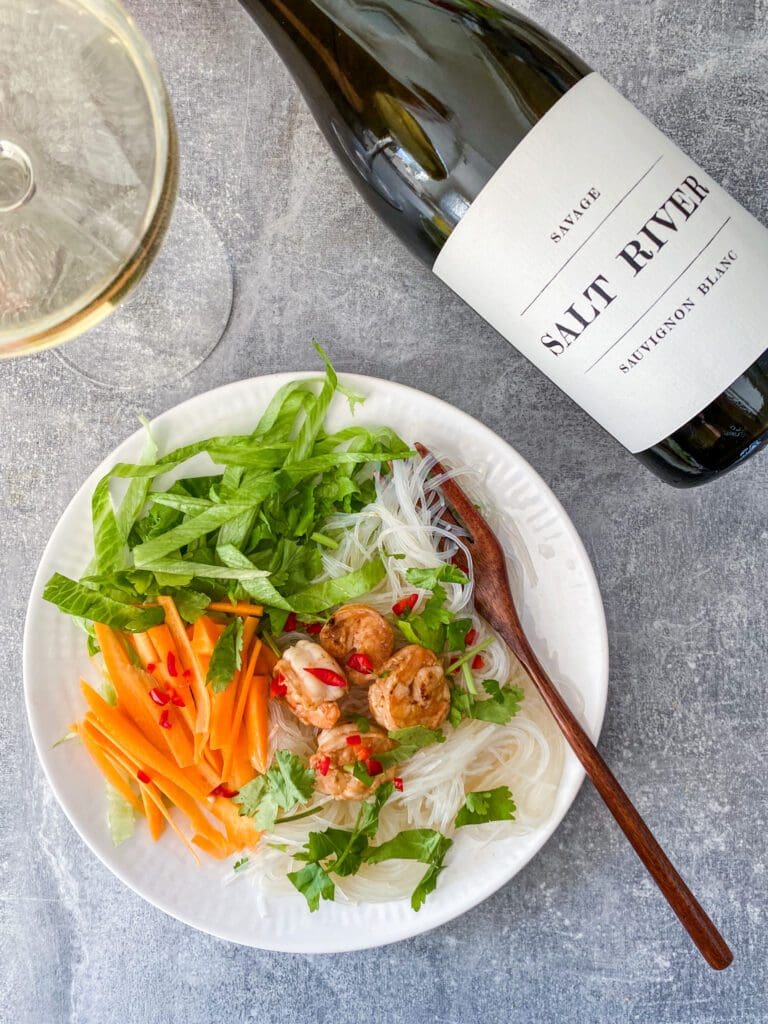 I knew Sauvignon Blanc would be my move with this refreshing prawn dish, but in the spirit of thinking creatively, I wanted to look outside of the regions we're typically drawn to when thinking of Sauvy B (France, New Zealand). My mind landed on the seriously sought after Savage Wines, as Duncan Savage is the most awarded winemaker in South Africa for Sauvignon Blanc and Semillon. In 2020 he released his first single varietal Sauvignon Blanc, which I was lucky enough to track down (only 500 cases were made). Lucky for you 30K bottles of the 2021 release were exported to the UK and US, and are pulling in rave reviews. 
Salt River is a suburb of Cape Town near a neighborhood called "Brooklyn", which I found very apt given Salt River is reminiscent of Williamsburg, Brooklyn, or Shoreditch, London in their pre-gentrification haydays. The maritime climate and high altitude create perfect conditions for the small, hand-selected parcels this wine originates from. It is fermented for 4 months in a combination of stainless steel tanks, the ever so trendy concrete eggs, as well as old barrels, which leave it with a kiss of vanilla and citrus spice. Alongside our prawns, its bright acidity is rounded out by the umami flavors from the fish sauce. Fresh bursts of crunchy asparagus, lime rind, and starfruit, created a tropical tango when pressed up against the lime juice and sugar in our dish.
Amuse Bouche
Feeling extra fancy? Pour some of your chicken broth (from your main dish) into shot glasses and top with diced tofu for an eye-catching palate cleanser!
Main: Hainan Chicken Rice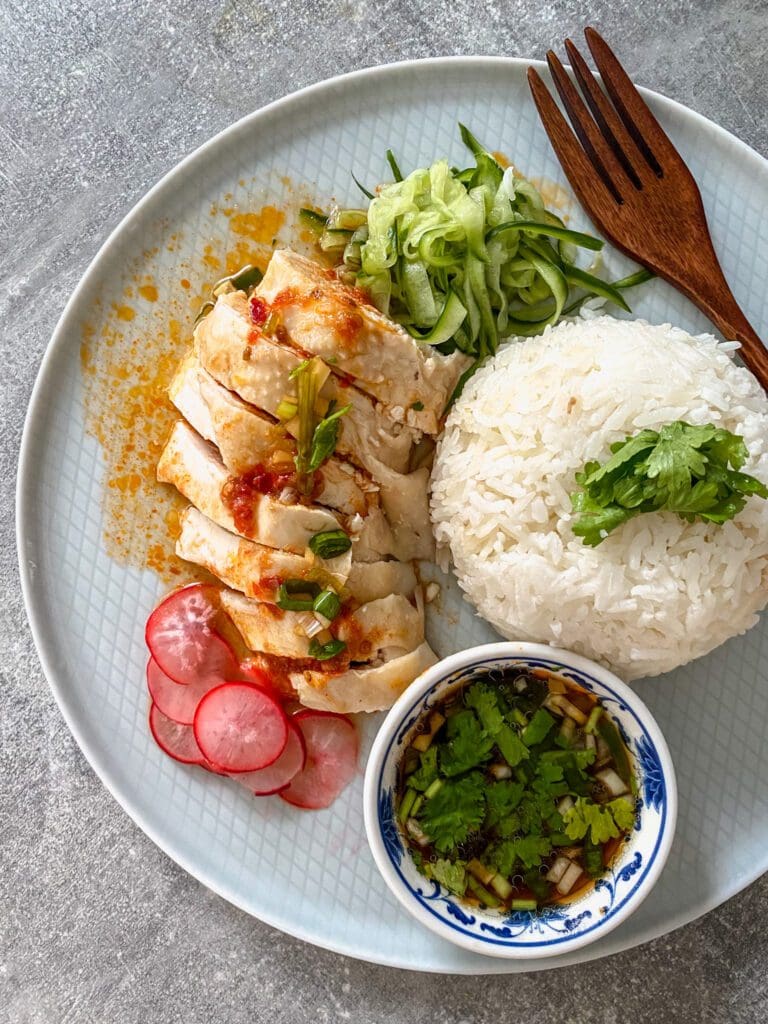 For the main event, head straight to the source with Verna and her recipe for Hainan Chicken Rice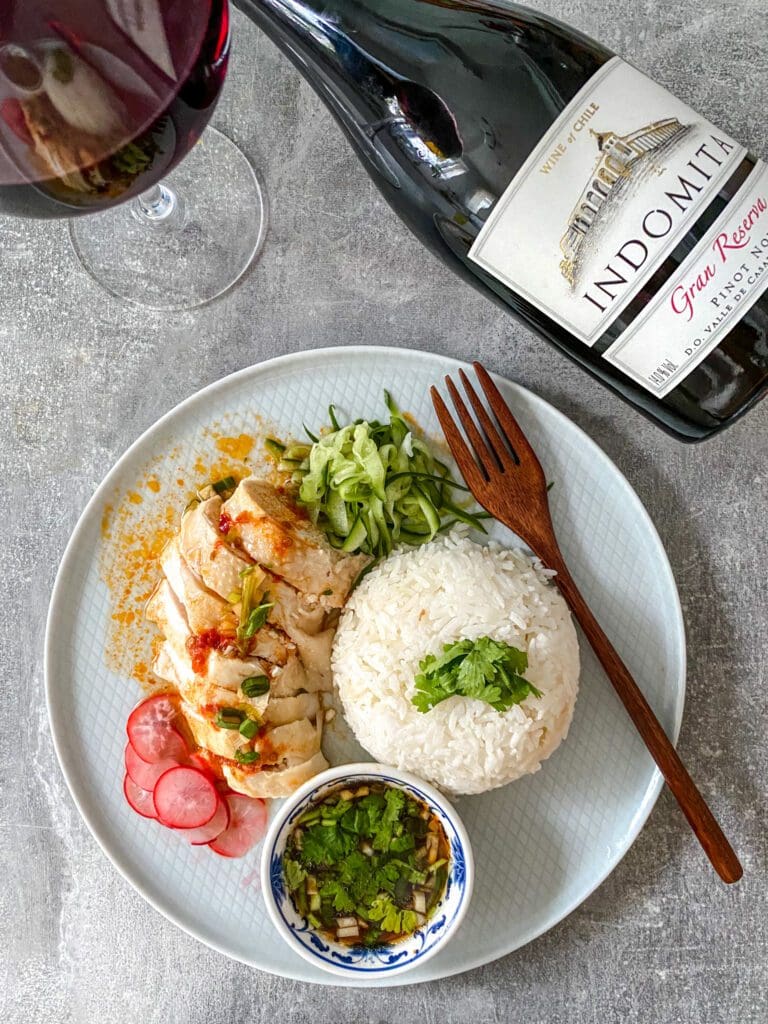 Pinot Noir is a popular variety for food pairing, as its versatility ensures it will play nicely with everything from salads to game. France is the world's largest Pinot Noir producer, with regions like Bourgogne (Burgundy) and Champagne, but in the playful spirit of this dinner I wanted to move outside of the Eurocentric box and towards South America, currently producing some far-out expressions of this smooth red. Chile's Casablanca Valley has the perfect climate for ripening the tricky Pinot Noir grape, as well as being one of the most sought-after tourism destinations in the world. Tucked in the valley between the bustling cities of Santiago and Valparaiso, you'll find Viña Indómita. This relatively young winery (founded in 2001) takes a minimal intervention approach in the vineyards, with an utmost respect for the environment. These practices include renewable energy generation, the use of lightweight bottles to reduce carbon emissions, organic wine production, forest conservation programs, and cultivating native flora and fauna. They also prioritize Corporate Social Responsibility (CSR) by favoring the employment of locals, in turn promoting economic activity within their community. 
When I opened this Pinot, the aroma immediately took me back to summers in Pennsylvania spent picking ripe strawberries. As I filled our glasses, more savory elements of licorice, vanilla, baking spices, and a hint of crisp bacon lazily crept up my nostrils. On the palate the wine was fresh, bursting with red currant and bramble, the perfect coupling for the savory flavors in our Hainan Chicken. It's wines like Indómita that have put Casablanca Valley on the top of my wine tourism list to explore their sustainable wineries, restaurants, and what I hear are some of the best sunsets in the world.
Dessert: Mango Pomelo Sago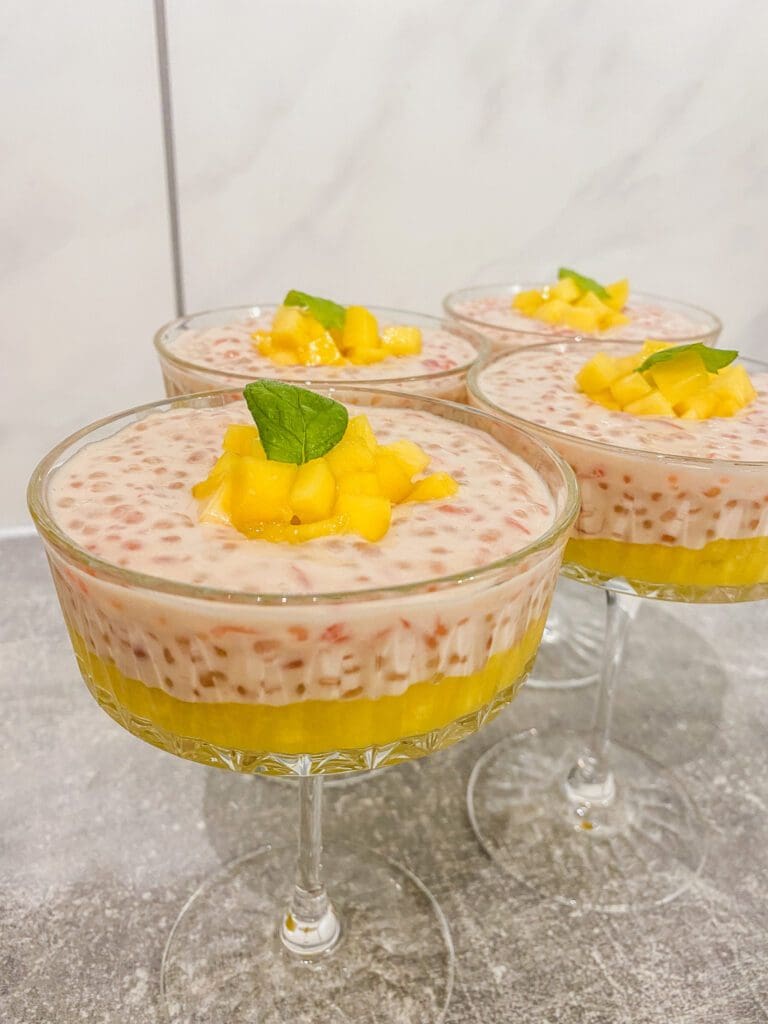 There are a couple of origin stories for this dessert, and they both tie back to chef Wong Wing-chee, from Hong Kong. It is said that he invented this dessert when he was setting up the first branch of his restaurant Lei Garden in Singapore. Some say he was simply inspired by local ingredients, while others say he invented the dessert to make good use of leftover pomelo after making Lo Hei (salad) for Chinese New Year. Served chilled, this dessert is ultra-refreshing post-meal, not too sweet, and pairs brilliantly with dessert wines. Bonus – it can be served in glassware presenting itself like a work of modern art on your table!
mango
mango puree
pomelo (or grapefruit)
sago (tapioca pearls) – you may recognize these from Boba Tea
coconut milk
evaporated milk
sugar
Prep your fruit by pulling apart the pomelo pulp, and cutting your mango into cubes. To make a mango puree you can either purchase canned mango or pulse some of your fresh mango.
Next, we'll cook our sago, which I adore buying because they're so gorgeous (like food jewelry!) and give me an excuse to head to my local Asian market. Boil water, add sago and reduce heat to medium. Simmer until your sago pearls are translucent, drain and rinse. Combine your pearls with coconut milk, evaporated milk, and sugar to taste, let this mixture cool in the fridge.
Like elements of our starter, you can prep pieces of this dessert ahead of time, and simply assemble when you're ready giving you more time to focus on your companions. When it's time to assemble these picture-perfect desserts, add mango puree to the bottom of a glass, layer on your sago mixture, top with diced mango, pomelo segments, and a drizzle of condensed milk for a hint of sweetness.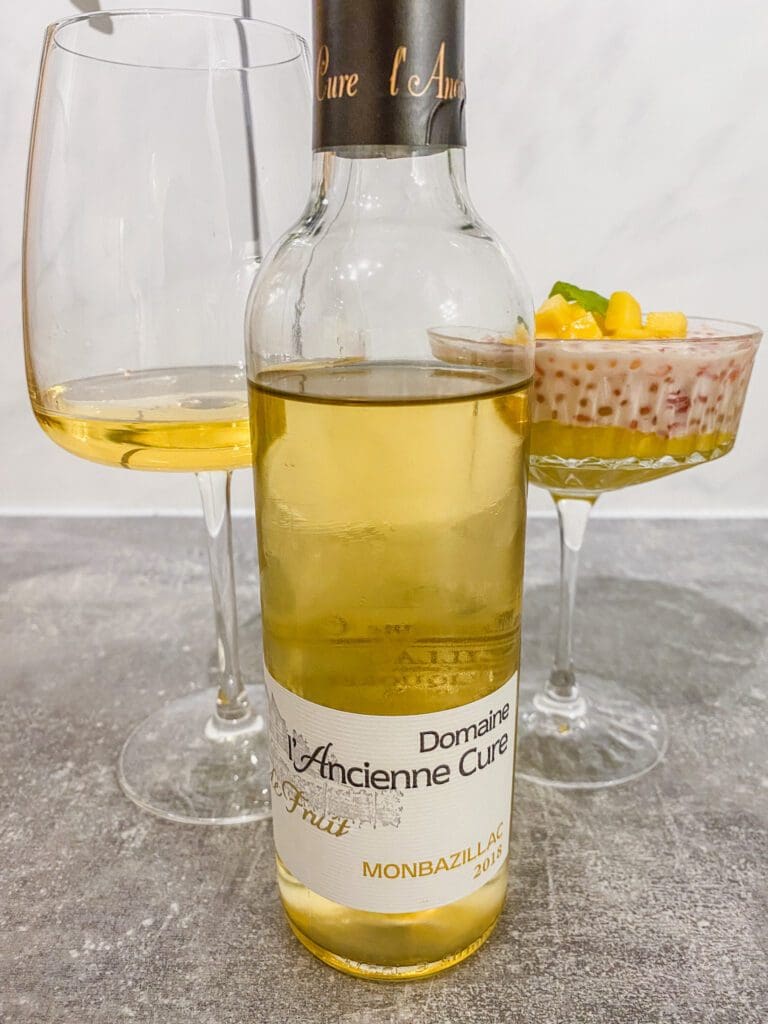 In being conscientious of food waste we can be equally aware of wine waste. It's important to consider how many (and what type of) bottles you open for a gathering. Magnum formats are becoming more and more popular with Somms and home consumers alike as the wine ages slower, due to the lower level of oxygen-wine-ration within the bottle. Once opened, Magnums can keep your wine vibrant and fresh for over a week, as opposed to a traditional bottle, which will only last 3-4 days. Magnum bottles also add a great aesthetic to any party as the format feels celebratory in itself. I adore them for a large gathering, but when having a more intimate dinner, I often reach for smaller formats like half bottles, mini boxes, or cans, as they present us with the opportunity to taste more wines with less chance of waste.
Serendipitously, dessert wines often come in half bottles, which is what I paired with our Mango Pomelo Sago. Domaine de L'Ancienne Cure is located in Southwestern France, outside of Bergerac, which is home to 12 recognized AOC's (appellations d'origine contrôlée) including Monbazillac, known for producing sweet white wines. I chose this particular Domaine for its innovative practices in organic farming, biodynamics, and range of sulfur-free wines. My personal passion and work around wine focuses on what I call 'modern wine' – an ethos of modernizing ancient principles to serve our current environmental, economical, and geopolitical needs. This family-owned property was founded in the mid 19th century, and has been producing wines from organic farming since 2012. The 'Jour de Fruit' is made with Semillon, and 10% Muscadelle. The grapes, a combination of botrytised (noble rot) and raisined (late-harvest), are all handpicked and sorted on 'Fruit Day'. 'Fruit Day' is a practice derived from biodynamic principles, when the moon is in any of the Fire Signs (Aries, Leo, Sagittarius). Biodynamicists see wine as a living organism which responds to the moon's rhythms in a similar way to the human body. Not only are these practices implemented in the vineyard, major players in the industry consult a biodynamic calendar before scheduling tastings. For obvious reasons this 'Fruit Day' wine felt like a harmonious partner for our fruit-based dessert (it would also be dreamy with a hunk of blue cheese!). I chilled this wine and pulled it out as we were finishing up our main, which gave it time to open up and blossom with aromas of mango, candied orange, and peach. On the palate there was a hit of richness by way of toffee, the perfect finish to this gorgeous meal in which we didn't waste a drop or a bite! 
Wine and food play a massive role in our lives for many reasons, but most importantly as a vehicle to bring people together, presenting us with safe spaces to share our experiences, triumphs, and fears. Around our table, the conversation led to the tragic rise in hate crimes against Asian individuals on a global level. We all felt strongly that in order to truly appreciate a culture, you can't pick and choose the pieces that suit you while neglecting to respect their origin. Asian cuisine is an easily accessible, comforting, staple that people from all backgrounds rely on around the world. As we take part in consuming this food, we must appreciate and respect the people who have made it possible by generously sharing their history, heritage, and culture. Verna has set up a fundraiser for the Chinese Community Centre, and I encourage you to find ways in your own community to #StopAsianHate. Wherever your dinner conversation may lead you, I hope these pairings have inspired you to invite your loved ones over for a low-waste Asian fusion meal.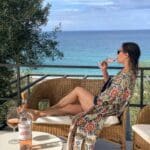 Lucy Spain is an International Wine Professional currently based in London, with certifications from the American Sommelier Association, and a WSET Level 3 Award in Wines. Her experience acting and writing as a proud member of the Screen Actors Guild, as well as 10 years in Media Technology, make her uniquely qualified to present wine in a fresh way. She focuses on fostering diversity, equity, and inclusion in the industry, and uses her background in tech to look at the ancient art of winemaking through a modern lens. You can find her work at lucyspain.com, and say hello on Instagram