"A loaf of bread, a jug of wine, and thou…."
These words, written by Omar Khayyam in the 12th century, are possibly the most famous words in the poetry of wine. Romantic by themselves, to the sommelier, these words may have a far different meaning than they do to the mainstream wine lover, who simply wants to romance a special someone with a jug of wine.
The sommelier may have questions about the bread, such as: What kind of bread, what is the flavor, what are the components? They would want to be familiar with and consider the aroma and taste. Is it fruity, cheesy, sweet, tart, or savory, and how is the crust? Once the sommelier understands the components of the bread, they would need to think about the wine, and know something about "thou," such as, what is their flavor preferences and palate like? Once the sommelier has ascertained those facts, then the proper wine may be recommended.
In order to suggest a wine that will pair well and please the palate, the sommelier must possess a wealth of knowledge and experience. Most people think of a sommelier as someone with knowledge about wine and food, which is undeniably correct, but they must also be able to read people. Their knowledge is on a totally different level from most of us, as noted by the task of pairing the "perfect" wine with the loaf of bread.
Jeff Osborne is such a sommelier, with a depth of knowledge and experience, accumulated by extensive travel, tasting wines and experiencing wine regions throughout the world. Additionally, he has worked at some of the most respected Hotels and Relais et Chateau on both coasts of Canada. When you talk to Jeff you begin to understand exactly "what" it takes to earn the distinction of Sommelier…. which goes far beyond the palate.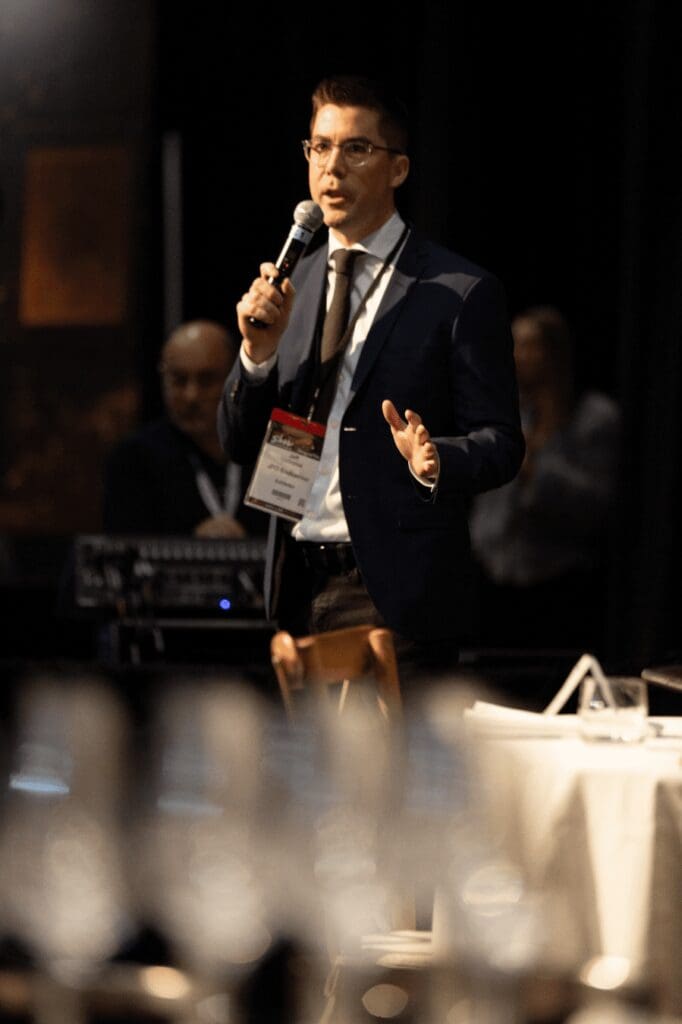 Everyone has an "A-ha" Moment – NOT!
My first impression of Jeff, as we virtually met and sipped together on face time, was that of a young man, containing unbridled enthusiasm, who almost had trouble reigning in his infatuation and passion with wine and food. Jeff simply exudes enthusiasm, energy, and happiness with a sparkle in his eyes and a broad smile as he talks about wine and food. My first thought was, "this is going to be fun."
It wasn't more than a few minutes after we started to talk that Jeff mentioned to me that I'd probably want to know what his "A-ha" moment was. I kind of laughed and replied that I really hated using that expression, as it was so overdone…. but yes, I would like to know! His reply was not what I expected. Jeff said he never had an actual "a-ha" moment, that his career and infatuation with wine, pretty much just evolved.
Growing up in a family of food lovers, Jeff described the food around the family table as being "rustic, small town Canadian," and he loved it. Although not an "a-ha" moment, he was influenced by his brother who became a chef. Consequently, Jeff entered the hospitality industry, focusing on restaurant management, pursuing his profession in Mexico, Turks & Caicos, and the Bahamas. Eventually this led back to Canada, where Jeff became the GM at George Restaurant, one of Toronto's most acclaimed fine dining establishments.
Curiosity and a yearning to just know more, and to build his confidence, Jeff enrolled in the Level 1 WSET course. Finding the wine education to be intriguing and irresistible, one thing led to another. He went on to complete both the Level 2 and Level 3 courses. He then went on, pursuing a new goal, becoming a CMS (Court of Master Sommeliers) certified sommelier. As Jeff told me: "Wine education just became contagious."
Complementing his formal education, additional learning included intensive travel to many of the world's great wine regions. Even though Jeff said there was no real "ah-ha" moment, it was time spent in Italy where he fell in love with Italian wines. The Italian personality and culture of passion, food, wine, people and "famiglia" simply spoke to him.
Establishing a firm reputation in many arenas, Jeff moved on to focus on wine, moving into sales at Grape Brands, an Italian wine focused Toronto wine, and spirits distributor. At the same time, to supplement his income, he started working at Langdon Hall Hotel & Spa, one of Canada's premier luxury hotel/restaurants, (and a member of the exclusive Relais & Chateau worldwide network of luxury properties), as sommelier.
Working at Langdon Hall allowed Jeff to pursue his passion for learning, educating, and serving the public. With the broadest of smiles, Jeff commented on what he loves is "to teach guests why wine is awesome-and what it pairs well with."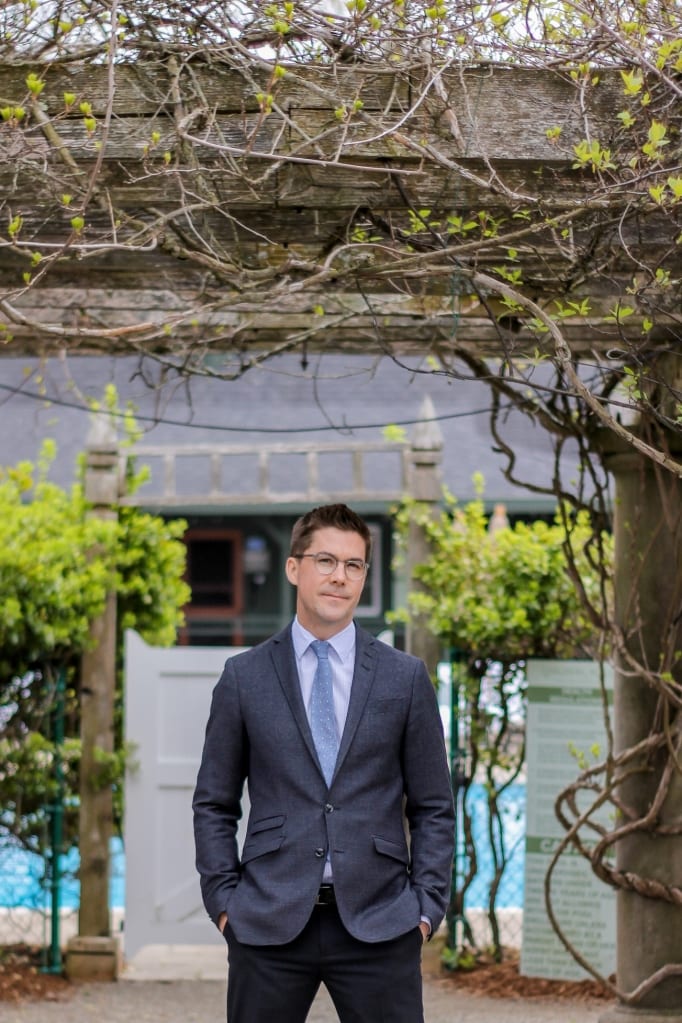 Continuing to Evolve
Relying on his knowledge, connections, and experience, plus always yearning to discover, Jeff was about to challenge himself yet again, making a career change. Now joining the wine & craft spirts division for Breakthrough Beverage Canada, a national organization in both Canada and the U.S., focused on consignment sales across eastern Ontario, Jeff is able to put all the pieces together, gleaned from his years of education, industry and consumer relationships and travel.
Joining Breakthrough Beverage, one of the things that excited Jeff the most with this importer/distributor of premium brands, was having the opportunity to influence their wine portfolio (of course, with an emphasis on Italian wines).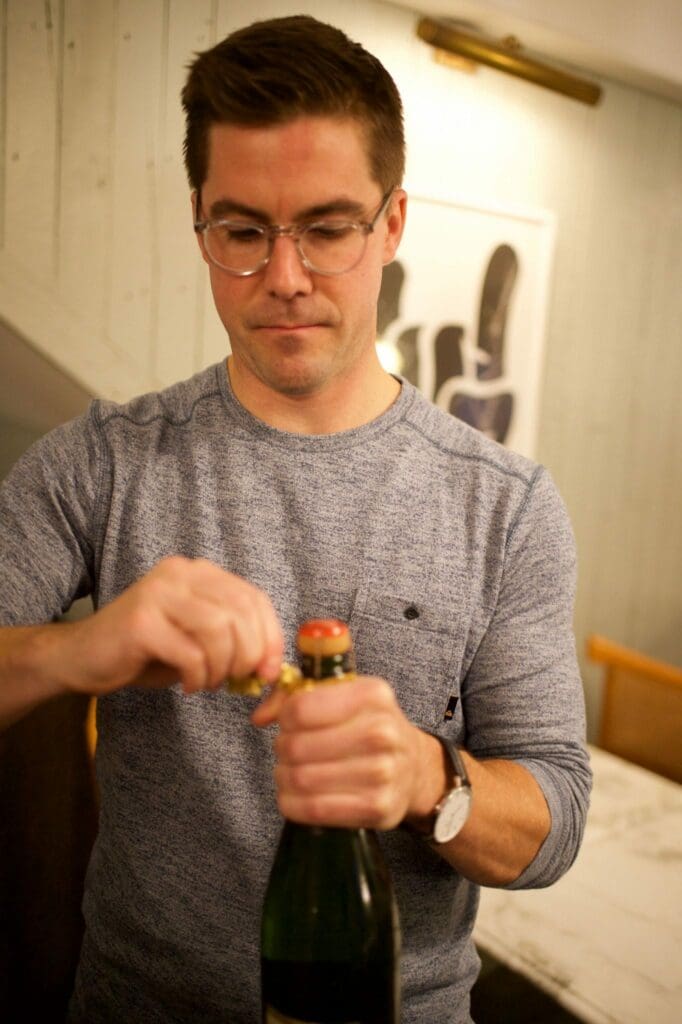 As a testament to Jeffs knowledge, personality, and passion, in addition to his position at Breakthrough, he continues to work occasional shifts at Langdon Hall. This allows Jeff to keep current with consumer tastes and trends and being able to guide diners in their choice of the perfect pairing for their meal.
Jeff has never been afraid of challenges, or of re-inventing himself by starting new ventures from the ground up, even though this called for significant salary reductions. He always kept his eye on the future "prize."
Today, Jeff is excited to be an integral part of a sales team where he is able to put his extensive experience to work, selling premium wines and spirits within a national organization, while being able to educate staff and customers alike.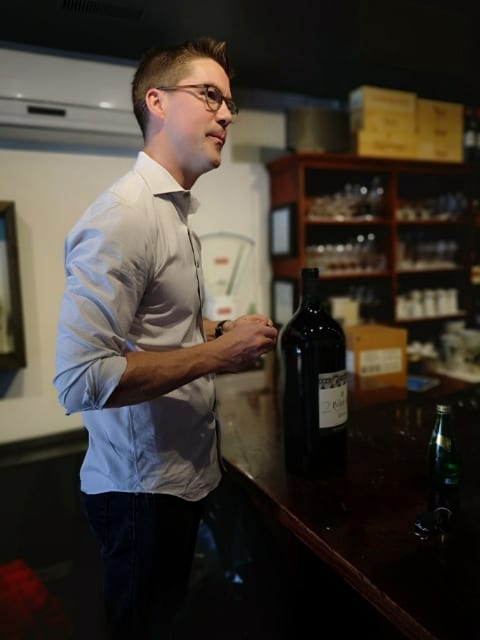 Jeff simply loves all the "fun, cool exciting things in the wine world," and being associated with Breakthrough, plus Langdon Hall, is the best of both worlds. He continues to learn and pass on his knowledge to consumers and professionals alike.
As we spoke about his position at Breakthrough, Jeff mentioned, that his curiosity, love of learning and education brought him to realize that "sales is my true calling, and I wish I had found it earlier." I'd say, having found his "true calling" while in his 30's, being able to utilize all the tools he had accumulated, seems like a fairly satisfying position to be in, at just about any age. As the saying goes, "if you love what you do, and do what you love, you will never work a day in your life." This seems to apply to Jeff.
Full Circle
In the beginning, it was curiosity and learning that brought Jeff into the energizing world of wine. He has never lost the hunger for learning, or for teaching. It was exactly a year ago, at the RC Show in Toronto, Canada's premier hospitality trade show event, Jeff, through his newly formed JPO Endeavor, put on a sommelier competition, attracting some of the country's most respected sommeliers to a competition. With several parts to the competition (and a $3000 prize), the main event was the "service" competition. Jeff was on stage, as MC, in front of an enthusiastic crowd. Hosting this event, and seeing the response was exciting to Jeff. Although postponed this year due to Covid-19, looking forward, Jeff's "post-COVID-19" goal is to make this an annual competition.
Jeff Osborne is far more than an accomplished wine aficionado with the distinction of being a certified sommelier. He is an historian, educator, philosopher, psychologist, businessman, motivator. He is multi-talented, weaving his various talents, knowledge, and experiences into a mélange so that he is able to guide others to maximize their experience with wine and food and people. His enthusiasm is contagious, and as he says himself, "I love the balance of adventure and bringing the pieces together." And where wine, food, culture, and people are concerned…. he is a master, and the definition of "hospitality."
Personally, after spending ZOOM time with Jeff, and myself being infected by his eagerness and demeanor, I am looking forward to the time when I can share a loaf of bread and a jug of wine with Jeff Osborne, Sommelier-and learn from him.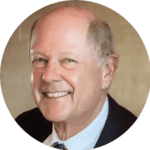 Don Sonderling is a freelance writer covering California's Wine Country lifestyle, and culture. He and his wife are constantly sipping their way from Santa Barbara to Napa, focusing on Paso Robles and the Central Coast, where they have explored for about 25 years. Don has earned his WSET2 (Wine and Spirits Education Trust) certification, has completed the Bourgogne Masterclass through the Napa Valley Wine Academy, and is a member of the LA. Wine Writers.
Focusing on the people and unique experiences to be had, Don's goal is to have people read about California's amazing wine country adventures, seeing it through his eyes, and say: "I want to go there, try that, meet them," and enrich the lives of others as his has been, by exploring California's wine roads.