Nestled in the midst of gorgeous Santa Barbara County, a new vision in winemaking is adding vibrant character to the panoply of California wines. Camins2Dreams has taken root in an industrial area, motifs of metal and wood underscoring a diligent effort to do one thing: dazzle us with wine. No vineyards surround, but the place pulses with a warmth cultivated by the artistry of its two creators – Mireia Taribó and Tara Gomez – a wife and wife team whose beautiful story matches the richness of their bottles. Pride Month is the perfect time for Monarch to introduce them to you.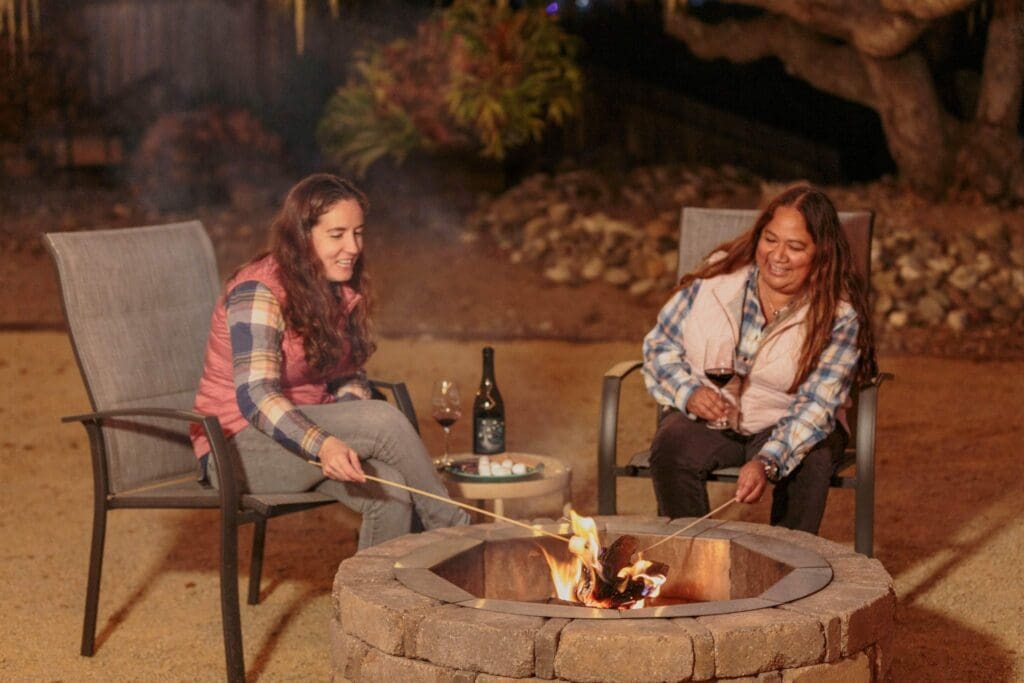 A Match Made in Harvest Season
In 2006, Mireia needed just one more thing to complete her winemaking education – a harvest. Raised in Catalunya, in Northeastern Spain, she already held a Bachelor's in Chemistry from the University of Barcelona and was eager to complete her Enology degree at the University of Rovira and Virgili. To do that, she chose to step away from the Old World for a season and intern at J. Lohr Vineyards in Paso Robles, "When I first landed there, I was shocked. It was huge. Millions of grapes coming in and out in trucks bigger than any I had ever seen. You can do anything here!"
Her adventure would begin an appreciation for both Old and New World vineyard methods… and would also introduce her to the love of her life.
It was at J. Lohr that she met Tara, who was working there after earning her degree at Cal State Fresno and beginning her professional training at Fess Parker Winery in Los Olivos (closer to where they would eventually call home for Camins2Dreams). A California native, Tara's first vineyards were pure Central Coast. They were from two very different worlds, but found an early spark over wine, one of their favorite subjects, "We both share the same passion."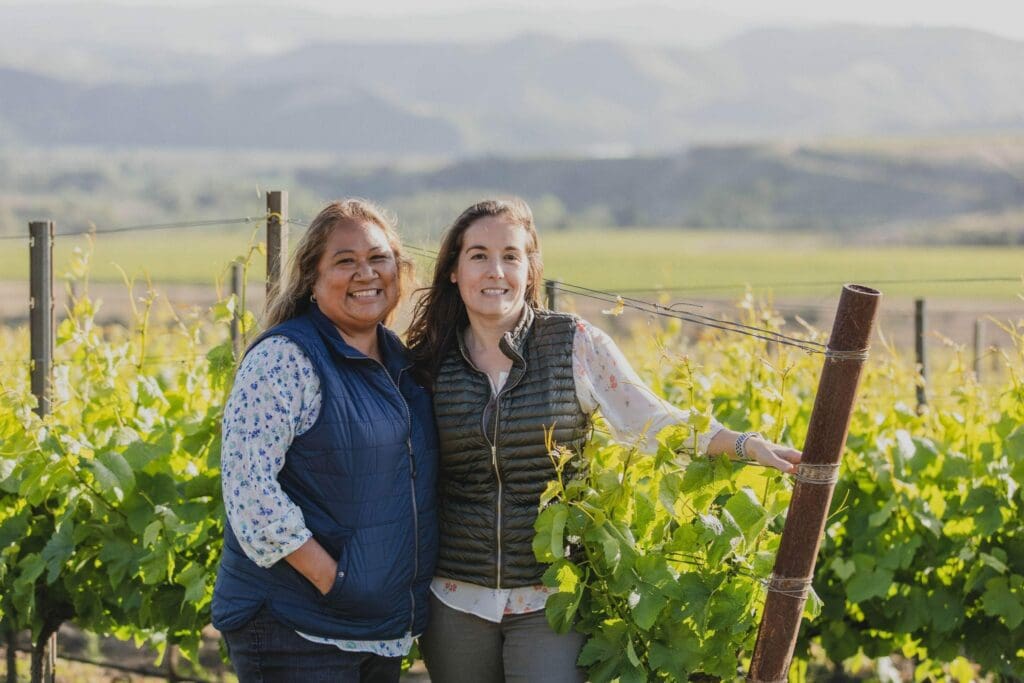 An International Harvest
At J. Lohr and beyond, Tara helped introduce Mireia not only to New World winery methods… but America itself. After that, it was time for Mireia to return the favor. In the next chapter of their mutual wine journey, they travelled across Europe, tasting every wine and region they could. Tara's palate learned an appreciation there for the fresh and lower-alcohol Old World wines – so different from the big and bold Californian varieties she was used to. Their European tour wasn't all sightseeing, however. It was also time for them to experience the diligent labor that went into two separate harvests at Castell d'Encus in Mireia's home country.
It was there they stomped the grapes of the Pyrenees together, helping Castell d'Encus with their very first harvest. Tara marveled at the hard work involved with creating wine with an Old World style, "It was very hands on and labor intensive. Sunrise to sunset (and sometimes beyond). That's exactly what I fell in love with – the old ways of wine making that are still in use today." Together they fought snow and extreme temperatures, fermenting in 12th Century rock vats. They were far from those big trucks at J. Lohr, instead helping to form a human chain to carry supplies through the ancient woods.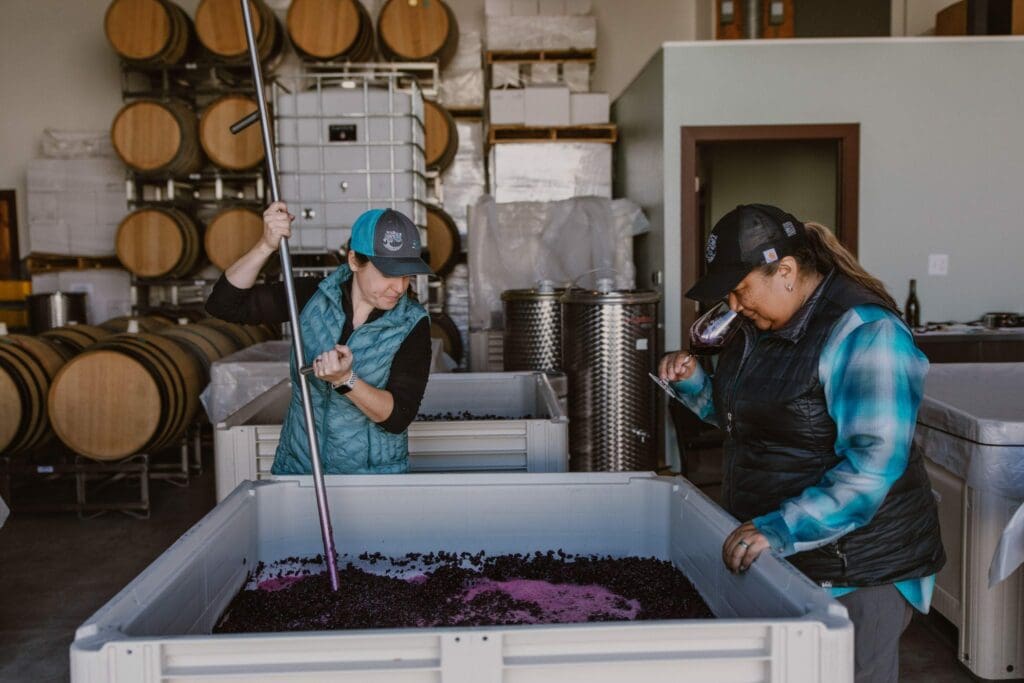 A Winery Built for Two
Together they wanted to bring that authentic craftsmanship back to the country where they first met as well. They've created a style Tara knows honors both Old World and New World methods. An international duality that pulses in the heart of Camins2Dreams, "Here in America, we have all the technology and a lot of it can be really manipulated. We take a little bit of both Worlds and incorporate what we really like about the two styles into our winemaking."
Proud of her Chumash heritage, Tara named her first label after a village from her ancestry – Kalawashaq', meaning "Shell of the Turtle." That same Chumash Tribe would prove to be integral in making their dream become reality. Upon their return to California, Tara found that her Tribe had purchased the Camp 4 Vineyard. It was there that she persuaded them to let her start Kitá Wines…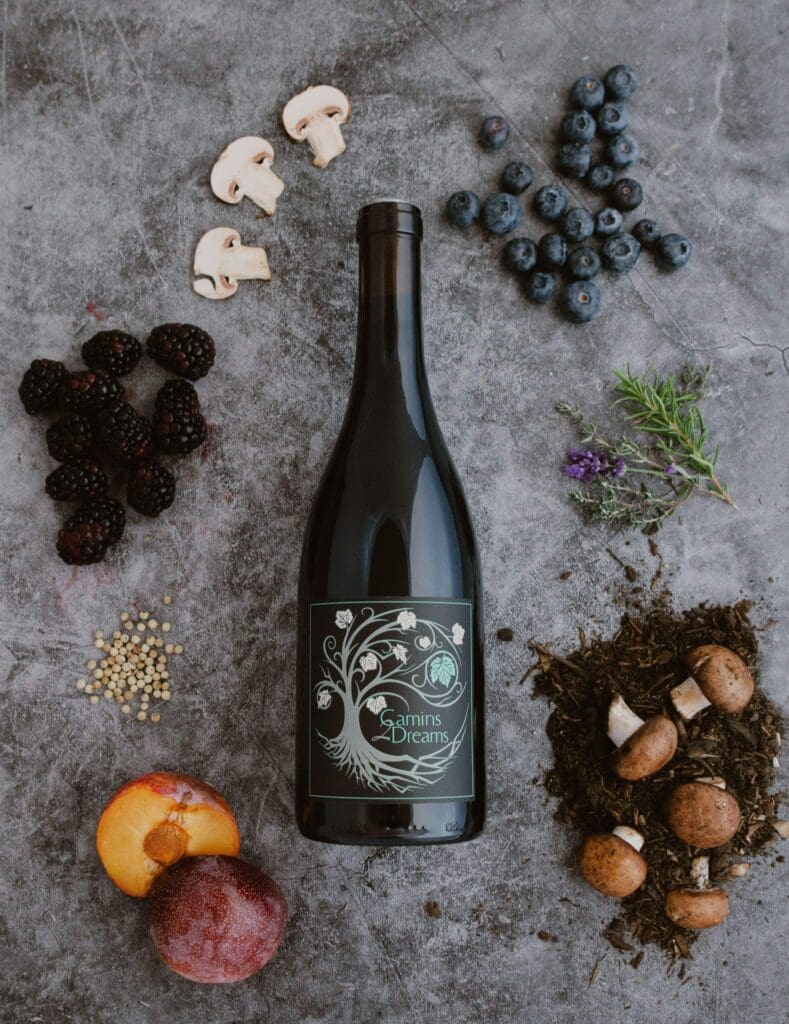 … and then, later, Camins2Dreams with Mireia finally as her partner in both life and wine at the same time. The root of the name comes from the Catalan word for "path." For them, "The Path to our Dreams" is not just the name of their winery, but the adventure of their lives as well.
Authentic as the Land it Comes From
They use grapes from the nearby Santa Rita Hills, whose cool climate and foggy East-West transverse coastal valleys make for some complex Grüners and silky, approachable Syrahs. The two are both still scientists at their core, constantly surprised as they learn more about the variety of notes that can be found, even in vineyards so close together. For Tara, that focus on the land means much in regard to its place in her Chumash heritage – and a respect for that soil is a foundational value in everything they do.
They foot stomp here just like they did in Spain, and pick early to capture the acidity and make their wines as food-friendly as those Mireia remembers introducing to Tara there. Their exploring is ever-evolving, however. This year, they began to branch out into the Santa Ynez Valley to see what their Albariño, Carignan, and Gamay grapes have to offer to the future of their varietal profiles.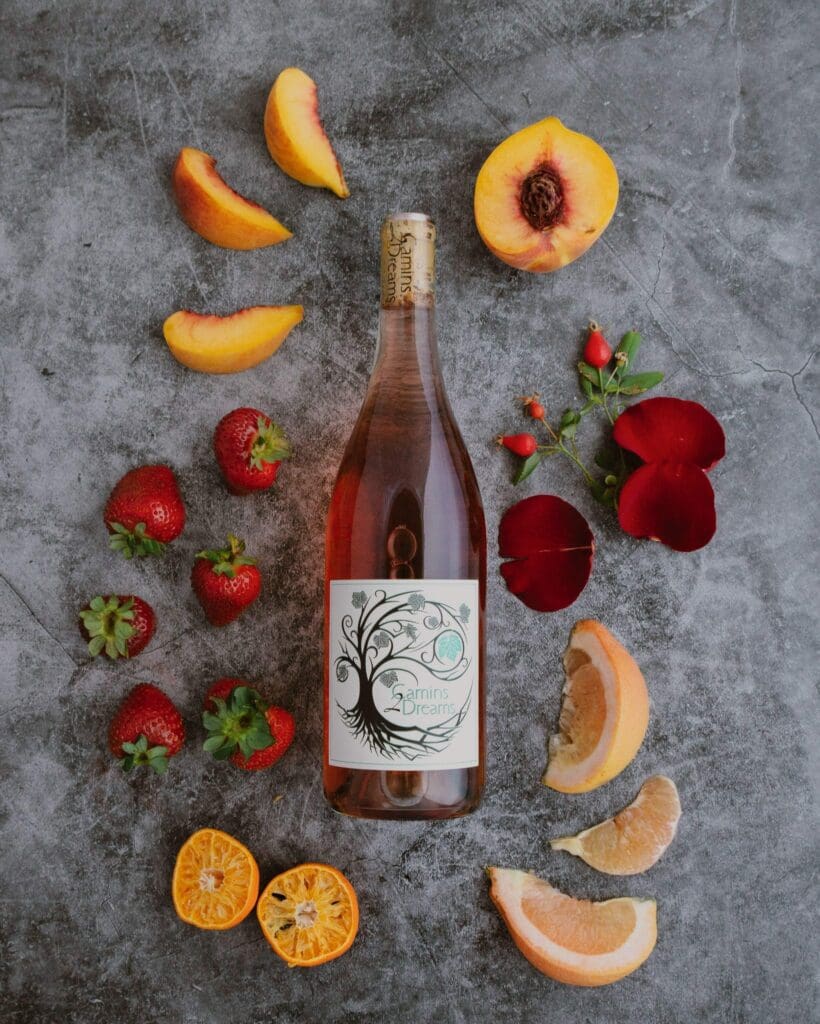 No matter the grape involved, the two pride themselves on minimum intervention, aiming for freshness by using only natural yeast. That's not just a philosophy, but Tara's personal preference as well, "I've really always been a hands-on person. I like to be minimalist and respectful. Listen to your grapes. Listen to your vines and let them speak."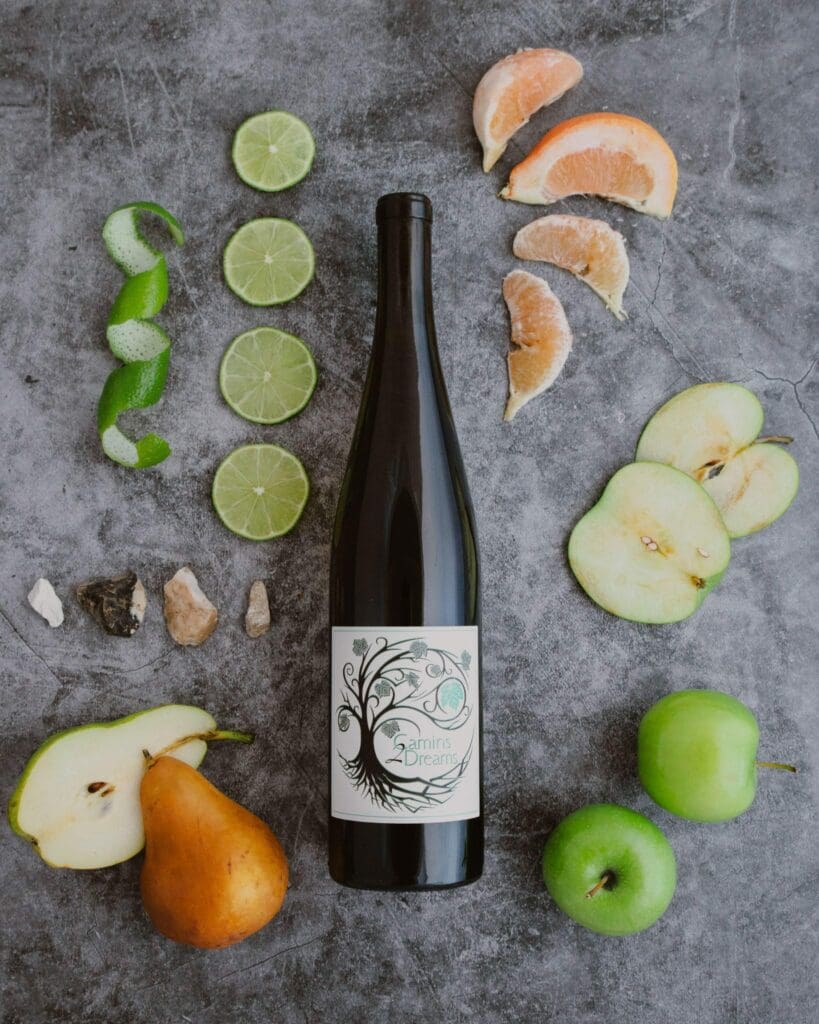 A visit to Camins2Dreams should be a new addition to the wishlist of any wine lover thirsty to experience delicious wines created with artistry, wisdom, and a focus on respect and sustainability. On a personal level, travelling there is a chance to meet Tara and Mireia themselves. The two make up the entire staff and love to be right there when their visitors experience their wines for the first time. For many, working so close with their partner would seem like a daunting lifestyle. For them, however – as Mireia puts it, "Working together is a lot of great joy." Taking the winery's name as a touchstone, one could say it's a path they've always dreamt of.
Picture Courtsey: Craft and Cluster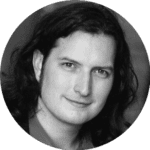 For Kevin, being a writer has always required a great deal of wine. He never dreamed he'd be able to combine his love for the two. His screenwriting includes works for Paramount, MTV, Warner Brothers, 20th Century Fox, Bad Robot, and his role as Executive Story Editor on "Blood & Treasure," an action adventure show on CBS and Amazon. Before that, his thirst for sketch comedy led to pieces for The Onion and National Lampoon – as well as the stages of UCB, HBO Workspace, Comedy Central Stage and festivals in San Francisco, NYC, Vancouver and beyond. He's a write-at-home dad always ready for a winery road trip… especially a dog-friendly one.