If you've ever dreamed of becoming a winemaker in California, here's an inspiring story.
It begins by wondering how someone raised a Southern Baptist in South Carolina, where alcohol was frowned upon and what was on the table was probably Coors Light or Jack Daniels, and who studied English literature and economics at the University of Virginia and never set foot in a winemaking school, managed to become one of California's most sought-after consulting winemakers.
The answer, of course, is hard work and aptitude, open-mindedness, and a little luck along the way.
You'd never know from the soft-spoken and humble demeanor of Thomas Rivers Brown, 48, that he's counted among California's most accomplished winemakers, mentioned in conversations alongside long-established greats like André Tchelistcheff and Helen Turley. Brown is currently responsible for over 40 winemaking projects in Napa and Sonoma, including cult classics like Schrader Cellars, Maybach Family Vineyards, and Revana Family Vineyard, among many others, alongside his own family winery, Rivers-Marie in Sonoma with his wife Genevieve Marie Welsh. He has a waiting list of hopeful winery clients.
How he manages it all, and at such a high level, is a bit of mystery.
Inspired By Provence
Brown's first exposure to fine wine came from the cellar of his college sweetheart's father, a wine collector with a house in Provence. "That's where I got first immersed in wine", Brown recalls of a summer holiday in the south of France. The attraction was immediate. After college in 1996 at the age of 24, with scant job prospects and a growing curiosity about wine, Brown jumped in his Honda and drove from South Carolina to the Napa Valley to try his luck. He started knocking on doors, literally, looking for work in the wine trade. He was sleeping in a friend's closet.
He eventually landed a job at the All Seasons wine bar in Calistoga, a local hang out for the wine trade, where he began absorbing as much as he could about wine. Reflecting back, Brown describes how the experience of his early days in Napa taught him what was valuable. "I was impressed by the inclusive, community spirit I encountered", he says, not the expected closed-door sobriety of a corporate world. "And you can sleep in a closet when you're 24", he laughs. "Maybe today, not so much!"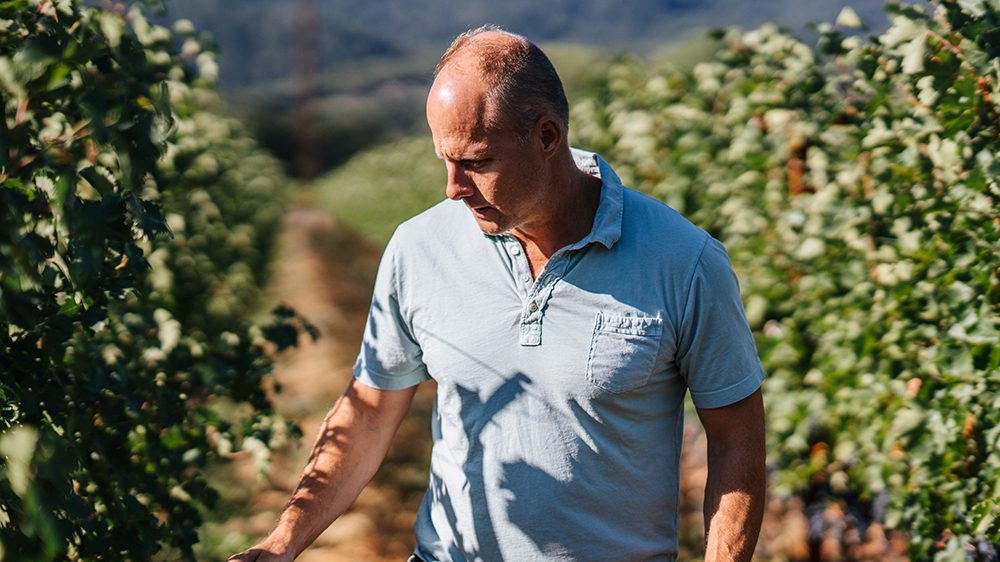 One auspicious day, Ehren Jordan, winemaker at Turley Wine Cellars at the time, came into the bar and he and Brown struck up a conversation. The chance meeting would prove pivotal; Jordan, who recognized Brown's energy and attention to detail, later invited him to work at Turley Cellars. And the rest, as they say, is history. Brown still cites Jordan as a major influence on his winemaking approach. "He had a real focus on vineyards. As a winemaker, he spent 50% of his time in vineyards", Brown recalls, of a period in which grape growing and winemaking were largely separate operations.
Fast-Rising Napa Stars
Another major break came for Brown in 2000 when he landed not one but two high-profile consulting jobs, with Fred Schrader of Schrader Cellars and Tor Kenward of Tor. Both were well-heeled, fast-rising stars in Napa. It was also Brown's first opportunity to work with Cabernet from the famed To Kalon Vineyard, owned mostly by Andy Beckstoffer and the Robert Mondavi Winery. He still works with Schrader (now owned by RMW), and has his pick of the best parcels of To Kalon.
Brown's focus on vineyards is still one of the things that sets him apart today, his not-so-secret to success. Indeed, his lack of formal winemaking education proved an asset in the end, naturally inclining him towards a minimalist winemaking approach (or "cautiously interventionist"). After all, working with excellent quality, healthy grapes requires less manipulation. For Brown, this generally means no enzymes, flavor or color enhancements, reverse osmosis or spinning cones, or other common tricks of the consulting trade that serve to regularize quality and style and make up for substandard fruit. On the contrary, Brown's wines shine for their individuality, for their natural reflection of vineyard characteristics.
Wanted: Quintessential AVA expressions
When seeking new vineyards for his clients, his guiding principle is to ensure that he has access to the best blocks within a given region, those farmed to exacting standards and which deliver the "quintessential AVA expression". When directed to expand the Revana range of AVA-designated wines, for example, he went straight to the Steltzner vineyard in the The Stag's Leap District. Richard Steltzner is a figure of particular importance in Stag's Leap, having planted just the second vineyard in the AVA in 1964 (after Nathan Fay). The pedigree is thus long; Steltzner supplied grapes for the 1972 Clos Du Val Cabernet Sauvignon that placed in the famed Judgment in Paris in 1976, as well as for Joseph Phelps's inaugural vintage of Insignia, among others.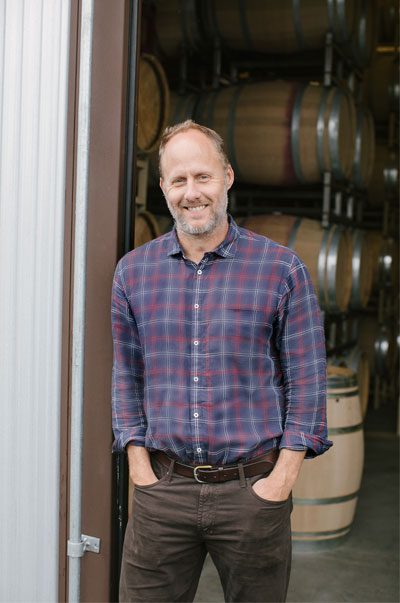 Brown managed to gain access to Steltzner's oldest vines for Revana, rooted in the AVA's characteristic iron-rich red volcanic soils that yield the archetypal, expressive floral and dark fruit aromatics, and elegant, silky tannins that Brown was after.
He describes some of the other cabernets he makes for Revana, highlighting their individual AVA characteristics: "The estate cabernet [from Saint Helena], a warm area, is a more fruit-forward, rich wine, with red and black fruit. Howell Mountain is the opposite, a black-fruited, very savoury, mineral, dried herb, and crushed rock type of expression, while the Rutherford has that classic 'dust' character and baking spice, leading with more red fruit, more ethereal than rich, a more intellectual wine."
The No-Fly Winemaker
Another secret is that Brown can afford to be more hands-on than many "flying winemakers", those with clients all over the world who have little time for the day-to-day and often consult by phone and provide a recipe. Many of Brown's projects are produced at his own Rivers-Marie facility, a new, 9,000-square-foot, $9 million winery in Calistoga, designed specifically to accommodate his growing list of clients along with his own production. Here he can taste daily when needed and pay attention to the small details that make the big difference between good and excellent.
Among the trends, he's observed in Napa is an undercurrent away from conventional farming. It's more challenging to get the older generation to make the conversion to organics (or biodynamics), he laments, pointing out an estimated 30% increase in costs, depending on the specific parcel. But it is happening.
Organic Winegrowing: A Darwinian Evolution
And for Brown, not only is farming organically the right thing to do, but more pragmatically, "it makes better wine." In conventional farming, he believes, chemical applications "prop up weaker vines". Whereas with organic viticulture, you get a sort of Darwinian evolution: the strong plants, those that produce the best fruit, survive and thrive, while the weaker ones are eliminated and eventually replaced, or the site abandoned altogether.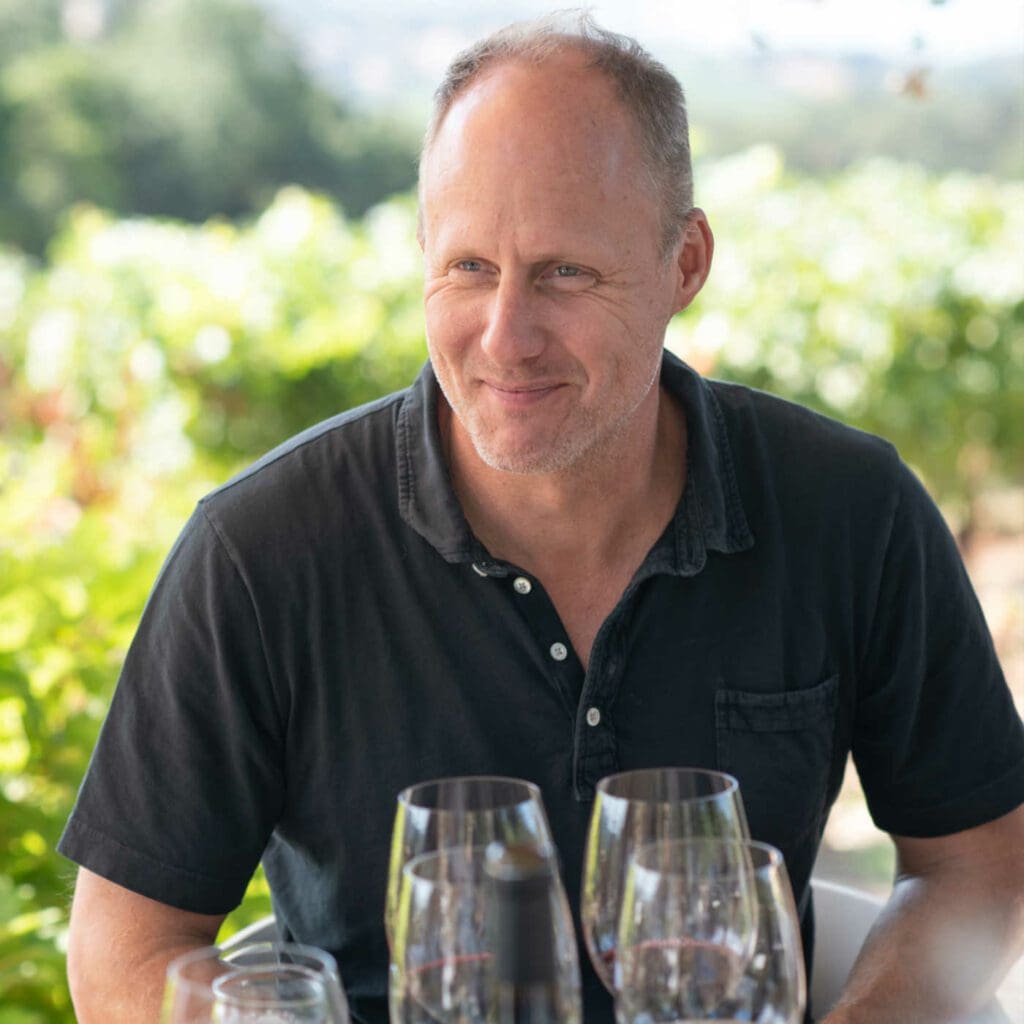 When I ask Brown about the hobbies he pursues when not making wine, he chuckles. "Wine appreciation!". "When I'm not making it, I'm researching it and drinking it". I'm not surprised. Such single-mindedness is no doubt part of his success. While other winemakers often suffer from "cellar palate", a myopic worldview in which you're exposed only to the wines you make and thus lose sight of both your own production as well as what is happening elsewhere in the world. Brown's obsession with other wines takes him outside his cellar, expanding his vision and inspiring new ideas.
It's Still Old Napa Cab to Me
And what does he drink? "Champagne, white Burgundy, Brunello, Barolo, Barbaresco, Châteauneuf-du-Pape…", that is, pretty much anything other than cabernet, the grape with which he has largely made his reputation. On those odd occasions when he does drink California cabernet, it's old. "Age dictates what I drink", he says. "I like old". And indeed, the one wine he points to specifically as his inspiration was a bottle of Warren Winiarski's 1978 Stag's Leap Wine Cellars cabernet. It's an acknowledged privilege that he can spend 10s of thousands on wine each year for both indulgence and inquiry.
Brown still has several chapters to write, yet he sums up his fortunate path thus far: "It's very fulfilling to take something you're passionate about and turn it into a business." That's a dream many of us have, too.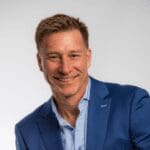 Master Sommelier John Szabo was the first Canadian to add the "MS" after his name in 2004, and he holds the WSET Diploma with honours. He is a partner and principal critic for WineAlign.com, and buyer for the WineAlign Exchange wine club, as well as columnist and consultant at CellArt.com, and feature writer for Modalina and MarQuee magazines. John is co-host of the podcast Wine Thieves, host of the IGTV series 5 to 7 Winedown, and freelances widely for international publications. His latest book, Volcanic Wines: Salt, Grit and Power, earned critical acclaim including the André Simon award for best drinks book. On the consulting side, John builds wine programs across Canada, and is currently sourcing wines for Accor/Fairmont/Sofitel Hotels in Québec.