Valentine's day is just around the corner now, and our options are pretty limited. Why not go all out and make a lavish 3-course dinner for your loved one and pair it with wine? The following recipes have specific aphrodisiac ingredients that will have you racing to the bedroom before you finish dessert. However, I urge you to try and wait, because the dessert is exceptional!
Clams with Charred Scallion Butter and Gremolata Paired With Chablis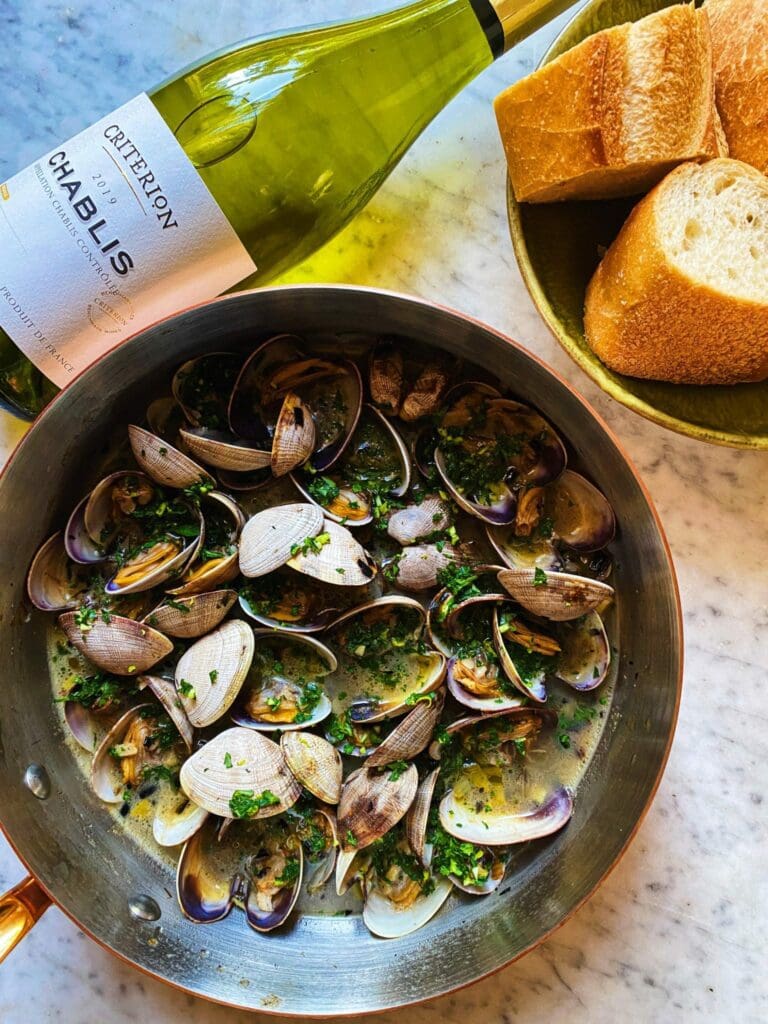 Wine Pairing: 2019 Criterion Chablis
Yield: 4 people
Prep time: 10 min
Cooking time: 10 min
Total Time: 20 min
Ingredients:
1 lb of manilla clams
1.5 tbsp minced garlic cloves
½ lemon squeezed
1 tbsp parsley
1 tsp lemon zest
4 scallions
4 tbsp butter softened
¾ white wine
Directions:
Scrub and soak the clams in water for at least 20 min to get rid of the sand.
In a cast-iron pan, char the scallions on high heat for 7 min. They should be charred, blackened, and softened on all sides. Transfer to a cutting board and chop. Mix well with the softened butter and lemon juice. Set aside.
To make the gremolata, mix the parsley, ½ tbsp of the minced garlic, and lemon zest in a small bowl. Set aside.
In a large pan or dutch oven, turn the heat to medium and add charred scallion butter. Add a tbsp of the remaining minced garlic, and cook for 3 min. Next, turn the heat to high and add your white wine. Add your clams and cover with a lid. After 2 minutes give the pan a good shake, and check on it again in 5 min. All the clams should have opened by now, and if not, then chuck those that have not.
Transfer the clams to a serving bowl. Reduce the butter and wine sauce for a min and add more butter if you so choose. Pour the scallion butter sauce over the clams and top with the gremolata.
WHY CHABLIS AND CLAMS WORK: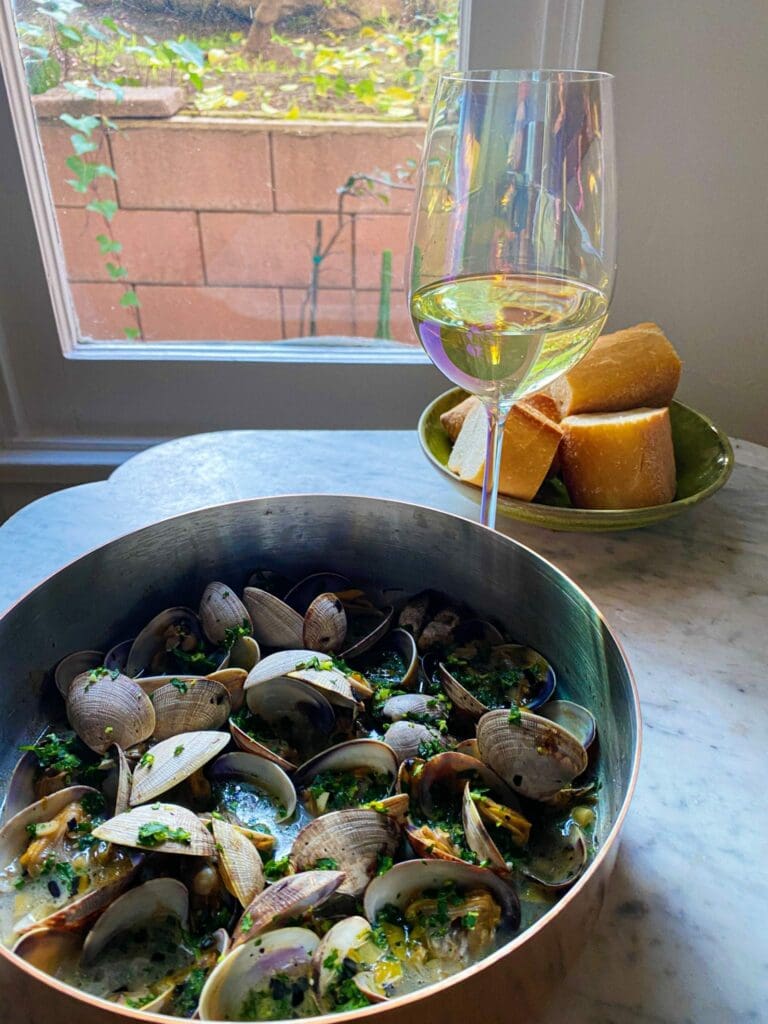 Chablis is a wine region in the northernmost part of the wine region Burgundy France. The grape is Chardonnay, and this grape experiences much less use of oak, than the other parts of Burgundy. Chablis wines are crisp, clean, and austere with notes of green apple, pear, lemon, lime, and white flowers. The limestone soil found in Chablis contributes to its beautiful and prominent minerality and structure. A slight brininess can also be found in the wine, perfectly mirroring the briny clams. These clams already have lemon juice in them as well as lemon zest, and the tart lemon notes in the wine bring these out even more. Lastly, the rich butter sauce needs a fair amount of acidity to cut through that richness, and Chablis's high acidity fits the bill perfectly.
Red Wine Braised Short Ribs with Garlic Confit Parsnip Puree Paired with Barbera D' Asti.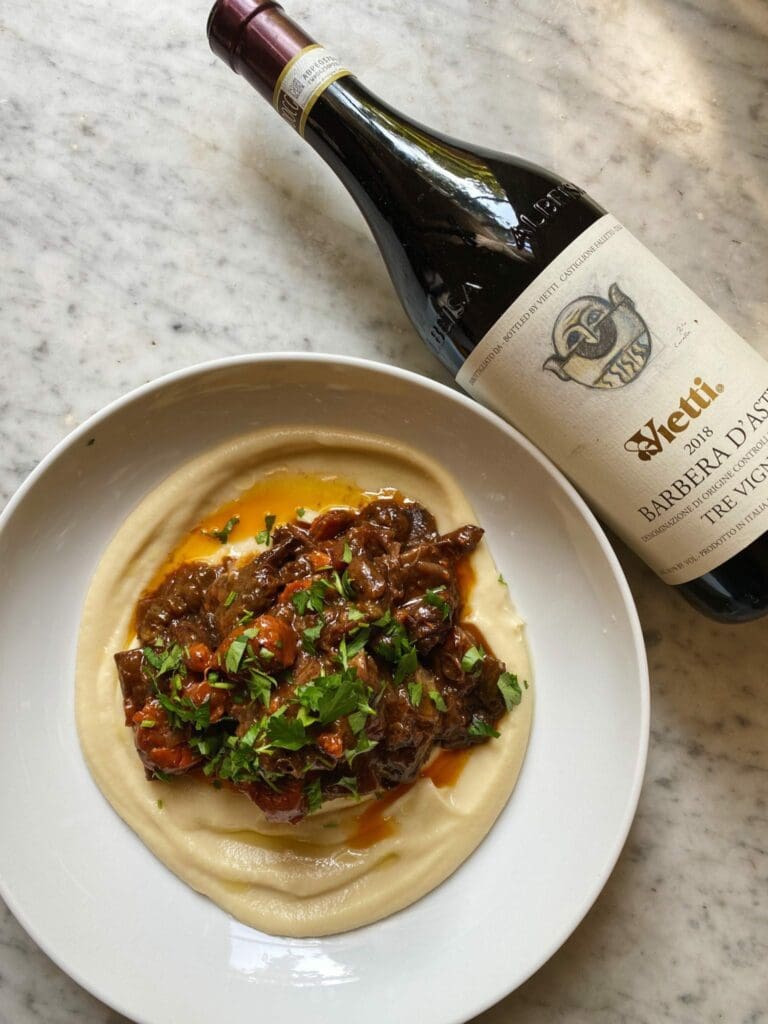 Wine Pairing: 2018 Vietti Barbera D' Asti
Prep time: 15 min
Cooking time: 4 hours
Total time: 4 hrs 15 min
Yield: 6
SHORT RIBS:
Ingredients:
2 lbs of short ribs
2 carrots diced
2 stalks of celery diced
4 oz of mushrooms quartered
1 yellow onion diced
2 garlic cloves chopped
1 tbsp ginger puree
1 tbsp oyster sauce
1 tbsp soy sauce
1 tbsp mirin
2 sprigs of thyme
1 tbsp tomato paste
¾ of a bottle of hearty heavy bodied red wine
2 cups of beef stock
3 tbsp flour
1 tbsp grapeseed oil
1 tsp salt
1 tsp black pepper
Directions:
Preheat the oven to 300 degrees F.
Take the short ribs out of the fridge 30 minutes before you plan to cook them up, and liberally season with salt and pepper. Heat a large dutch oven with the grapeseed oil on high heat and sear the short ribs in 2 batches. Every side should be nice and brown and caramelized. Once every short rib has browned, remove them to a plate and set aside.
Turn the heat to medium and saute the carrots, onions, celery, and mushrooms in the oil and beef fat. While the vegetables are cooking, add your mirin, oyster sauce, and soy sauce. Once the vegetables have softened a bit, add the tomato paste and let it caramelize for a few minutes. Add your flour and give everything a good stir. Add your red wine and let it reduce for 15 min. Nestle in your short ribs and add your beef stock. Transfer to the oven and cook for 3.5 hours or until the meat is fork-tender.
PARSNIP PUREE
1.5 pounds of peeled and thinly sliced parsnips
1 cup of milk
2 cups of chicken stock
8 cloves of garlic
2 cups of olive oil
1.5 tsp salt
Directions:
First, make the confit garlic by bringing the olive oil and garlic to a very low simmer in a small saucepan. Let the garlic cook for at least 30 min. Make sure you save that delicious garlic oil!
Next add your sliced parsnips, milk, and chicken stock to a medium-sized pot. The parsnips should be covered by the milk and chicken stock, and if not, then add more milk. Add your salt and garlic confit, and bring to a boil. Once boiling, reduce the heat to a simmer and simmer for 20 min or until the parsnips can easily be pierced with a knife. Transfer the cooked parsnips to a blender and add the simmered milk and chicken stock until it barely covers the parsnips. Blend on high. Transfer the puree back to the pot and stir in some of that delicious garlic oil. Season to taste and serve with the red wine braised short ribs.
WHY DO SHORT RIBS AND BARBERA D' ASTI PAIR WELL TOGETHER?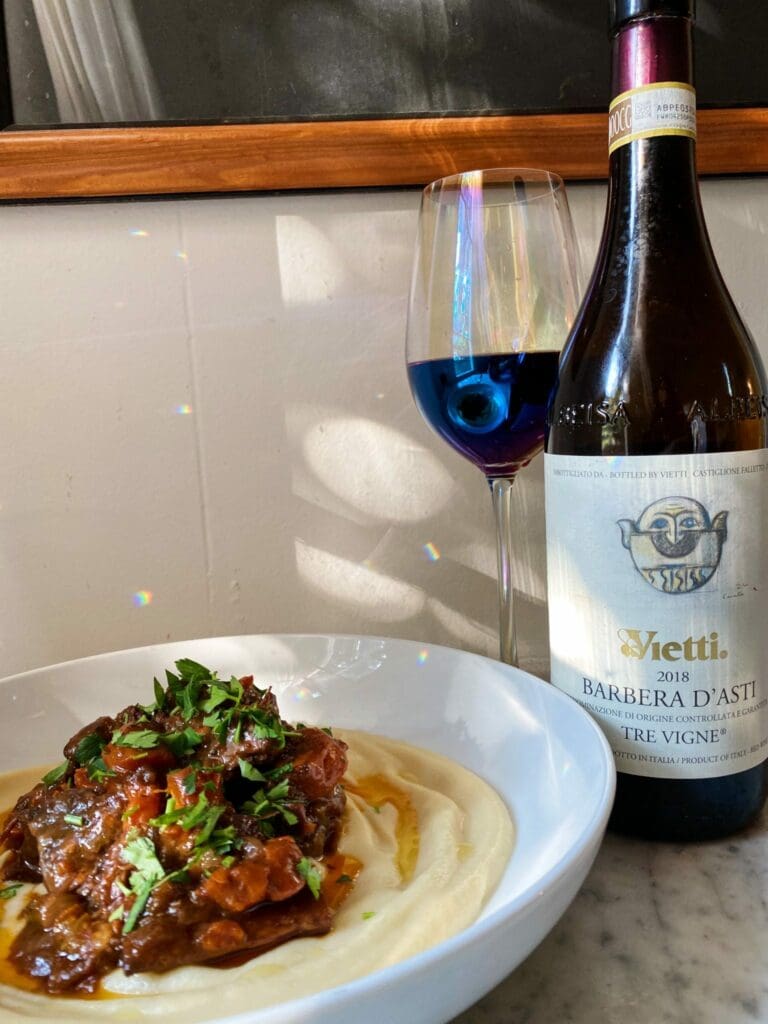 Barbera D' Asti is a medium-bodied red wine that hails from Asti, in the Piemonte region of Italy. The climate is very cool there, so the Barbera grape retains a high amount of acidity. On the nose, it has dark fruit notes of cherry, blackberry, currant, and plum. The fair amount of tannins and high acidity cut through the fatty short ribs while the dark fruit notes provide a nice contrast, allowing both players to do their part.
Dark Chocolate Pot de Creme Paired with Black Muscat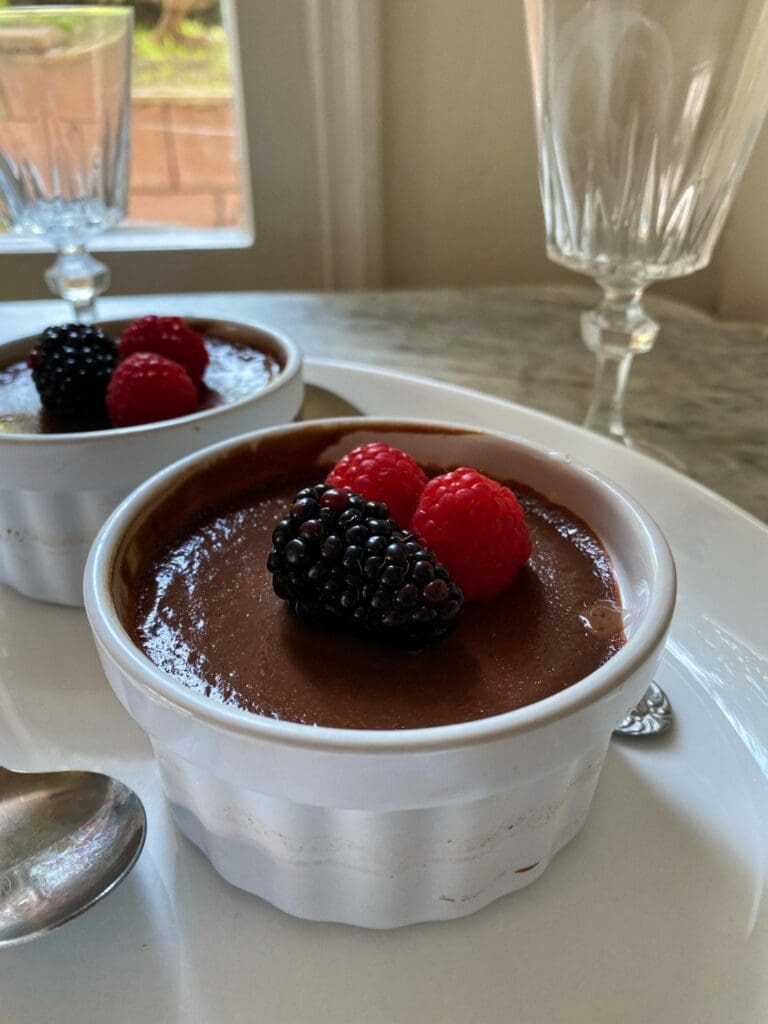 Wine Pairing: 2018 Quady "Eysium" Black Muscat
"I mean chocolate is the sexiest food out there. Period."
Yield: 4
Prep time: 7 min
Cooking time: 30 min
Total time: 37 min
INGREDIENTS:
5 oz of unsweetened high quality dark chocolate
2 cups of heavy cream
½ cup of milk
¾ cup of granulated sugar
1 tsp vanilla
½ tsp salt
5 egg yolks
A mix of berries for garnish
Whipped cream (optional)
Directions:
Preheat the oven to 300 degrees F.
Chop the chocolate into very small pieces.
In a small saucepan, bring the heavy cream and milk to a simmer. Turn off the heat and whisk in the chocolate until completely melted. Allow the mixture to slightly cool. It should look like chocolate milk.
In a medium mixing bowl, whisk the egg yolks, sugar, vanilla, and salt. Add the chocolate mixture and whisk constantly until all the ingredients are incorporated.
Strain the mixture into another bowl, and spoon into medium-sized ramekins. Place the ramekins in a roasting pan or whatever will hold them, and pour boiling water halfway up the ramekin. Place in the oven and cook for 25-30 min or until set.
Garnish with berries and whipped cream.
WHY DARK CHOCOLATE POT DE CREME AND BLACK MUSCAT?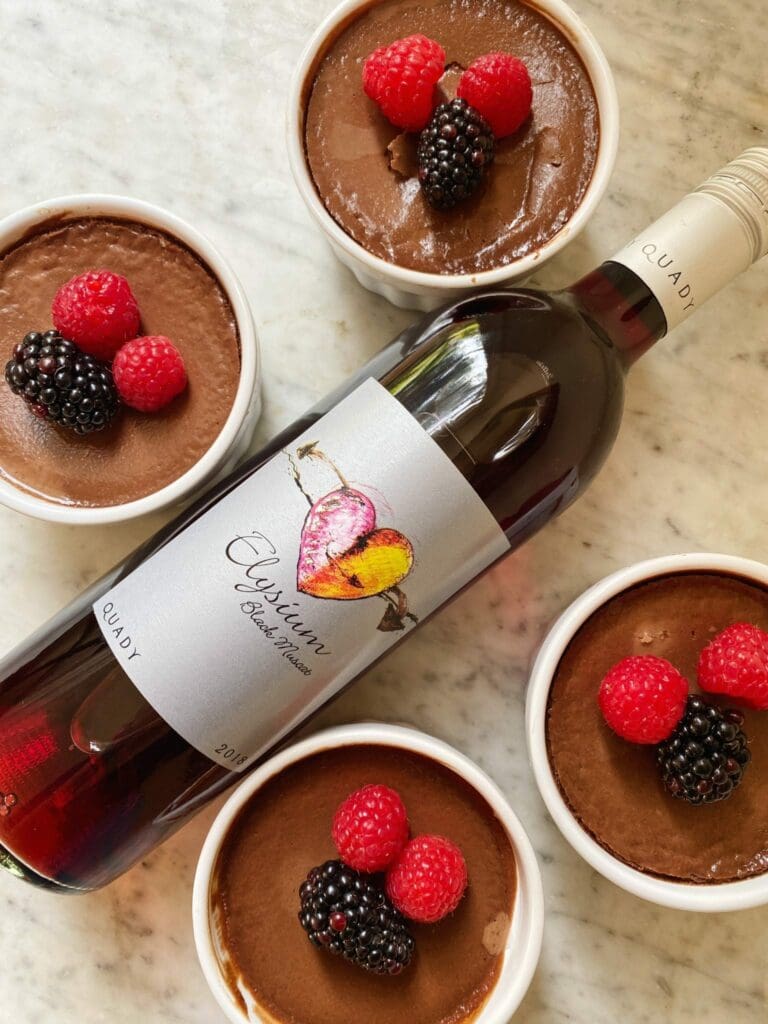 Black Muscat is a highly aromatic grape planted mostly in California and Australia. Prevalent notes of crushed rose petals, raspberries, and litchi can be found in wines made with this grape, and enough acidity to keep it from being cloying. This grape tends to be turned into a dessert wine. When it comes to pairing this wine, chocolate is a perfect contrasting pairing because of the berry fruit notes the wine lends to the dark chocolate pot de creme. It's essentially as if you poured the raspberry sauce over your pot de creme. Sounds delicious right? Some of my favorite pairings involve wines that add an extra "ingredient" to the dish. This pairing is a perfect example.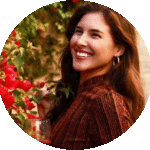 It was while attending The Culinary Institute of America that Lucia first fell in love with wine and wine pairings. To Lucia, food and wine are completely synonymous and the fact that wine can make food taste even better, is pure magic! Some of her favorite pairings include Montrachet with lobster and grower champagne with fries. You can find her pairing her recipes with her favorites wines on her successful instagram @lucilovesfood.